5 Best PC Cleaners for Optimizing Your PC in 2023
Last Updated by Enemali Okwoli on February 01, 2023
Although some PCs come with built-in optimizers, they aren't really effective and still leave your system slowing down. Using a free PC cleaner is equally not advisable as most of them have hidden spyware and ransomware that could infect your computer.
The best PC cleanup tools easily remove junk, delete duplicate files, caches, cookies, and browsing histories, and remove unnecessary processes. Luckily, you can find optimization tools as part of a premium antivirus suite. In addition to speeding up your PC, you also get 100% real-time protection against threats.
I tested 20+ PC optimizers and handpicked the ones with the best performance. Although every antivirus on my list does a great job at cleaning your PC, I found that Norton performed the best.
Quick Guide: 5 Best PC Cleaners Within an Antivirus Suite
Best PC Cleaners Within an Antivirus Suite — Full Test Results in February 2023
Key Features:
Junk and duplicate file cleaner.
Startup Manager.
Disk Optimization.
Graph (Performance dashboard).
Malware protection.
Norton has the best PC cleaning and optimization tools. It offers the most advanced cleaning and speedup features that remove clutters and improves system performance. In addition to speeding up my PC, Norton also provided a superior malware protection engine. It detected all forms of malware like adware, viruses, bloatware, and unwanted programs slowing down my PC.
The Startup Manager feature allowed me to disable or delay startup programs affecting my PC boot time. I also found Norton's Disk Optimization feature pretty helpful. It rearranged file fragments scattered across my PC, improving its performance.
The Norton File Cleaner feature also helped remove clutter, temporary files, and folders, speeding up my system in just a few minutes. I also like how the Graph dashboard shows all changes Norton makes on my PC, monitors processes and their CPU usage, allows me to optimize my boot time, get firewall notifications, and much more.
All these cleanup features are available on all Norton 360 subscriptions. However, if you want to delete browser cookies or shred sensitive files, you will need to add the Norton Utilities Ultimate plan to your antivirus subscription during sign-up, which comes at a low price. This add-on allowed me to search specific folders, remove junk and duplicate files, clean up my browsing history, and restore mistakenly deleted files. However, the feature I like the most is the automated PC care that works even when my PC is idle.
Norton has basic and advanced antivirus plans like the Norton Antivirus Plus, Deluxe, and Ultimate Plus. I prefer the Ultimate Plus plan because it is the most feature-rich plan which can quickly clean and optimize your PC while keeping you protected from all types of malware. You can try Norton risk-free for 60 days using its money-back guarantee.
Key Features:
Junk cleaner (QuickClean).
File shredder.
Web Boost (Browsing speed up).
Malware protection.
McAfee is another antivirus with impressive PC cleaning and optimization features. It offers multiple cleanup features that improve PC performance and even the websites you visit.
During my tests, its QuickClean feature scanned my PC and removed over 2GB of cookies, junk, and temporary files, freeing up space. Additionally, it provided a report after each scan, showing all the detected junk files as well as a 1-click option to remove them all.
I also found McAfee's Shredder feature quite helpful. Ordinarily, when you delete a file from your PC, it doesn't automatically go away. Even if you empty your recycle bin, it can still be recovered. The shredder feature permanently deletes files you choose by overwriting them multiple times, ensuring your file is gone forever.
McAfee has 3 shredding methods — basic shred, safe shred, and complete shred. Basic shred overwrites a file twice before deleting, safe shred overwrites a file 5 times before deleting and finally complete shred overwrites the file 10 times before deleting. You can also shred whole files in the recycle bin at once.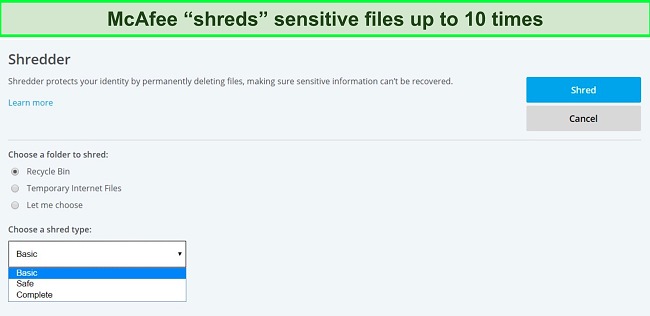 McAfee's Web Boost feature speeds up your browsing by automatically stopping the auto-playing of videos on the pages you visit. I was surprised that my browsing speeds and battery life noticeably improved when enabled. The only downside is that Web Boost is only available as an extension on Google Chrome for Windows 8 and 10. While McAfee doesn't match the excellence of the Norton antivirus engine, it worked pretty well in preventing ransomware and other harmful malware that could slow down my PC.
McAfee offers a wide range of subscription plans depending on how many devices you want to protect and optimize your PC. However, the cleanup feature is only available for the Premium and Advanced subscription plans. The Premium plan is very affordable, but I prefer the Advanced plan because it has extra features like identity protection. Luckily, all McAfee plans are backed by a 30-day money-back guarantee, so you can trust that it will work for you, and you can get a full refund if it doesn't.
Key Features:
Junk and duplicate file cleaner.
Application Uninstaller.
Startup Manager.
Browser cleaner.
Malware protection.
TotalAV offers one of the easiest-to-use PC cleaning and optimization tools. The System Tune-Up tab has multiple PC cleaning tools like the Junk Cleaner, Duplicate File Finder, Application Uninstaller, Startup Manager, and Browser cleaner, which provide an easy way to remove unwanted files/programs and speed up my PC. TotalAV's antivirus engine also detected and blocked all forms of malware that could infect my PC and slow it down.
I like the Startup Manager feature, which helped me control the apps that load upon startup. Such apps usually delay your device's boot time, and TotalAV's Startup Manager surprised me with a long list of all the apps that do this on my computer. With a simple toggle switch in the Startup Manager, I could disable them from auto-starting.
The Junk Cleaner feature worked flawlessly during my tests, removing 1.01GB of junk files. Similarly, the Duplicate File Finder also detected and removed about 1.84GB of duplicate files, which freed up space and made my PC faster. I also liked TotalAV's Smart Scan feature, which provides an all-in-one PC optimizer and malware scanner.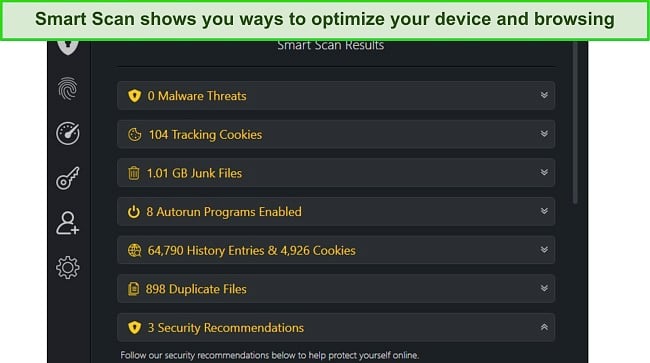 The App Uninstaller is one of my favorite features. When you uninstall a program on your PC, it leaves registry files and other residual data that could slow down your PC when they accumulate. However, when I tested TotalAV's App Uninstaller, it removed all the residual files from my PC.
The browser clean-up feature removed browser history and cookies to ensure my privacy. Advertisers usually use trackers to monitor your internet activities and serve you ads. Fortunately, the Browser cleaner feature removed all cookies from all my browsers simultaneously.
TotalAV's apps are very intuitive and make cleaning your PC seamless. All TotalAV's plans come with the System Tune-Up tools that optimize your PC quickly. However, I recommend the Total Internet Security plan as it gives you additional features like a VPN and an ad blocker.
The Total Internet Secuirty plan covers up to 6 devices and ensures all-around protection for your system. You can try all TotalAV's plans risk-free using the 30-day money-back guarantee.
Key Features:
Junk cleaner.
Startup Manager.
File shredder.
Browser cleaner.
iolo offers tons of excellent PC cleaning and optimization features. iolo System Mechanic Pro offers multiple optimization tools, including the PC cleanup tools that remove junk files and apps, a startup optimizer that improves PC boot time, speed-up tools for improved PC performance, and a drive scrubber that permanently removes files on drives.
The PC Cleanup tab allowed me to clean different types of junk, including browser history and cookies, registry files, unwanted files, and broken shortcut links. I like that I could remove specific kinds of junk and fix registry issues individually or simply use the 1-click button to remove all the unwanted files on my PC at once, which allowed my system to run faster and more efficiently.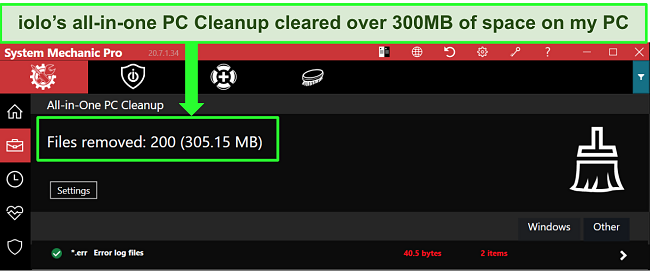 I also like iolo's startup optimizer feature. It analyzed the programs on my PC to determine which programs start automatically when I turned on my PC and gave me the option of stopping unnecessary programs from starting. By switching off items like Adobe Reader, email monitoring, and an automatic updater for a rarely-used program, iolo reduced my PC's startup time from 30 seconds to less than 15.
In addition, iolo offers another set of speed-up tools that optimize my CPU and RAM utilization by diverting power away from unnecessary processes. I was particularly impressed by the Memory Mechanic, which took seconds to run and recovered almost 1.5GB of RAM.
iolo System Mechanic Pro has some pretty good PC cleaning and optimization features that puts your PC at peak performance. The System Mechanic Ultimate Defense plan, which is the best plan, offers more than just speed-up tools. You get extra features such as antivirus, password manager, and privacy protection. Yet, its price is much higher than competitors like Norton and TotalAV. iolo's edge is that it covers unlimited devices and has tons of unique speed-up tools. You can try iolo risk-free using its 30-day money-back guarantee.
Key Features:
Junk Cleaner.
Registry cleaner.
Browser cleaner.
Malware protection.
Bitdefender has a simple one-click disk cleaner, but it isn't as comprehensive as the other tools on this list. The one-click disk cleaner removes junk files, eliminates temporary files, disables browser cookies, and fixes registry issues. During my tests, Bitdefender removed 3.89GB of junk files in just a few minutes, after which I noticed that my PC performance improved significantly.
While the one-click optimizer is good, it isn't as customizable as the other options like Norton, TotalAV, and iolo. I prefer a PC cleaner that allows me to choose the specific types of files I want to remove. Moreover, the one-click feature doesn't have a Startup Manager that would help to speed up my boot time by preventing some programs from starting when I start my PC.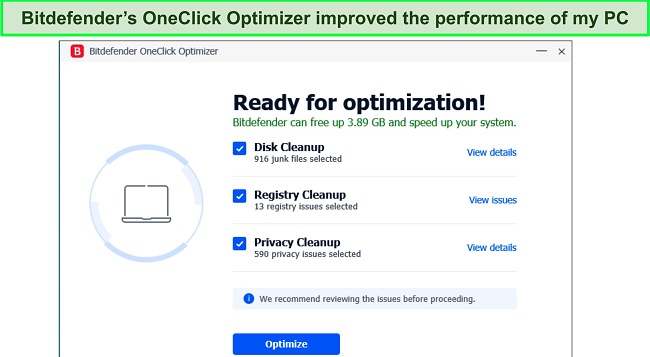 Bitdefender has a robust antivirus engine that provides 99.7% real-time protection against all forms of malware, including adware, spyware, and bloatware, which could slow down your PC. Also, Bitdefender's anti spam feature conveniently connects to Outlook or Thunderbird and filters out junk mail.
Bitdefender has various plans, but the one-click PC cleaner is only available on the Total Security plan, the most feature-rich plan. You can try the Total Security plan risk-free using Bitdefender's 30-day free trial. It should give you enough time to try the optimization tool and other features like a password manager, VPN, and parental control tools.
Try Bitdefender PC optimization
Warning! Avoid These 2 Antivirus Brands
1. Avast
I don't recommend using Avast to speed up your PC at any point. Using an antivirus to speed up your PC or protection from malware doesn't have to put your data at risk. Unfortunately, Avast has been caught stealing customers' private data and sharing it with advertisers.
2. AVG
Avast acquired AVG in 2016 and integrated it entirely into its ecosystem. Avast's poor reputation for selling customers' data leaves less to be desired for privacy-conscious users like myself. To keep your data private and safe, avoid AVG.
Quick Comparison Table: 2023's Best PC Cleaners for Optimizing Your PC in 2023
| | | | | | | |
| --- | --- | --- | --- | --- | --- | --- |
| Antivirus | Disk Cleaner | Application Uninstaller | Startup Manager | File Shredder | Browser Cleanup | Money-Back Guarantee |
| 1. Norton | ✔ | ✔ | ✔ | ✔ | ✔ | 60 days |
| 2. McAfee | ✔ | ✔ | ✘ | ✔ | ✔ | 30 days |
| 3. TotalAV | ✔ | ✔ | ✔ | ✘ | ✔ | 30 days |
| 4. IOLO | ✔ | ✔ | ✔ | ✔ | ✔ | 30 days |
| 5. Bitdefender | ✔ | ✘ | ✘ | ✔ | ✔ | 30 days |
How I Tested and Ranked the Best PC Cleaners for Optimizing Your PC in 2023
PC Cleanup and Optimization features — Ensuring that your PC achieves peak performance is essential. That is why I selected the best PC Cleanup and optimization tools that offer the best features for totally removing junk files, improving boot time, and providing privacy by removing browser cookies. All the tools in my list meet these conditions and effectively speed up your PC.
Malware protection — After optimizing my PC, I also wanted to stay protected from malware. Some malware like adware, spyware, and viruses affect your PC's performance by slowing it down. A regular PC cleaner and optimizer won't fix that. I chose software that provides malware protection alongside PC optimization tools.
Ease of use — An intuitive PC Cleaner and Optimizer makes speeding up your system seamless. I chose the tools that offer fast cleanup time, easy-to-use apps, and can work on multiple devices.
Value for money — Getting a trustworthy PC Cleaner and Optimizer doesn't have to break the bank. This is why I focused on shortlisting the most affordable tools that offer good value for money. I also ensured that I only tested the PC cleaners that offer free trials or money-back guarantees and allow you to test the features risk-free.
FAQ: Best PC Cleaners for Optimizing Your PC
Do PC cleaners and optimizers actually work?
Yes, the ones on my list do! They work by removing junk files, improving system boot-up times, and removing browser cookies and potentially unwanted programs (PUPs). However, some third-party cleaners do act as viruses or spyware. PC Accelerate Pro is an example. So, it is vital to use a trustworthy PC cleaner and optimizer like Norton, which offers a much better way to keep your PC at peak performance.
Furthermore, when you use an average PC cleaner, it might not work because the slowdown might be caused by malware that has infected your PC. In addition to removing junk files, a PC cleaner and optimizer should have an antivirus program that removes dangerous programs and malware that could inhibit the performance of your PC. Norton and McAfee have an advanced antivirus engine that provides real-time protection against all forms of malware.
Are PC cleaners safe?
Yes, the ones I have tested and listed are safe. However, not every PC cleaner software on the market is safe. Some are actually malware designed to steal and sell your data. PC Accelerate Pro is one of such. It is essential to use a reliable and trustworthy PC cleaner to protect your data from getting into the wrong hands.
You need a PC cleaner that doesn't sell your data and protects you from harmful malware. If a PC cleaner doesn't have an antivirus suite as part of its offering, I wouldn't recommend going for such. I tested 20+ PC cleaners within an antivirus suite to help you find the best ones that will keep you safe.
Will a PC cleaner or optimizer better my gaming experience?
Yes! PC cleaners can optimize your computer by removing excess files and unwanted programs, freeing up system resources. When gaming, you need less strain on your CPU and RAM to avoid slowdowns and lags. Some of the best PC cleaners like Norton and TotalAV, beyond removing junk files and optimizing boot time, allow you to stop the processes on your PC with considerable CPU utilization, thereby helping it stay at peak performance for gaming.
Malware also affects your gaming experience by slowing down your PC by consuming substantial memory. A regular PC cleaner wouldn't pick up malware infestation and as such, won't improve your gaming experience. Luckily, all the PC cleaners and optimizers on my list offer reliable protection against all forms of malware that would have brought your PC to a crawl.
Get the Best Tools to Improve Your PC Performance
If your PC constantly suffers from slowdowns, it's most likely due to junk files, unwanted programs, or malware. It's frustrating when you want to use your PC for different activities only to wait for minutes for your PC to boot, load a program, or access a service. This doesn't have to be so when you use a PC cleaner and optimizer software to improve the performance of your PC.
The best PC cleaners and optimizers scan and remove junk files, temporary files, caches, browser cookies, and unwanted programs, and fix registry issues. However, malware could also be responsible for your system slowdown, which a regular PC cleaner won't be able to fix. This is why it's crucial to have a PC cleaner that has an antivirus package as part of its offering to help you remove unnecessary files, including all forms of malware that affect your PC's performance.
I tested over 20 PC cleaners and optimizers to shortlist the best ones that can speed up your PC and protect you from malware. After testing for junk removal abilities, speed of scans and removal of unnecessary files, malware protection, ease of use, and value for money, I can confidently say Norton 360 is the best PC cleaner and optimizer on the market. Luckily, you can test Norton's features risk-free using its 60-day money-back guarantee.
---
Summary — Best PC Cleaners for Optimizing Your PC in 2023