Visit TorGuard Website!
TorGuard

Review 2023: Before You Buy, Is It Worth It?
TorGuard Overview 2023
Torguard is primarily focused on meeting the needs of Torrent users, as its name suggests. With over 3000 servers in more than 50 countries, I was interested to see if TorGuard could compete with the other established VPN names. So, I spent some time testing out its features.
As part of its mission, TorGuard provides Socks5 proxies and allows BitTorrent downloads on all its servers. The service also offers thousands of servers throughout the world, excellent connection speeds, and military-grade AES encryption. On the other hand, I find it a bit disappointing that it cannot unblock most geo-restricted websites.
You can test out TorGuard by registering for a free 7-day trial available only through its Android and iOS application. Additionally, you can test TorGuard out on your other gadgets completely risk-free as it's backed by a 7-day money-back guarantee — if you don't like it, you can request a full refund.
Don't Have Time? Here's a 1-Minute Summary
TorGuard Unblocks Netflix and Amazon Prime Video (But Can't Access Hulu, HBO Max, Disney+, or BBC iPlayer)
TorGuard VPN has a different approach to streaming services than other VPN providers. While its standard subscription service supports streaming, it doesn't do an excellent job. I was able to access US Netflix and Amazon Prime Video. Beyond that, I couldn't access my accounts on Hulu, HBO Max, Disney+, or BBC iPlayer. These streaming services denied me access while using a VPN.
You can solve this issue by opting for the pro subscription service if you require reliable streaming functionality. All of the features of the standard plan will be available to you along with an exclusively dedicated streaming IP address. It will, however, be $3 more expensive than the standard package. I find this pricing choice odd considering most premium VPN services include this service as part of their basic package.
The service delivered solid streams for the platforms I could access with its standard subscription service. There was no interruption in the streaming of the videos. It's not surprising that TorGuard's streaming performance was so good given the fast download speeds.
Netflix and Amazon Prime Video: Unblocked
I was able to stream Netflix and Amazon Prime Video shows in perfect HD using TorGuard. Logging into Netflix and watching movies was easy, I simply connected to a US server and was able to access my American Netflix library. I didn't experience any buffering, and I was able to watch in high definition.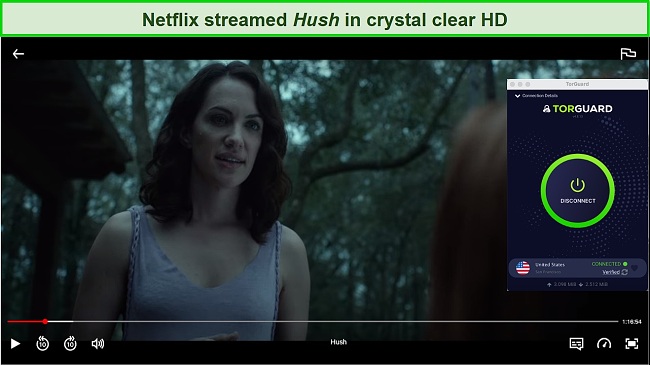 Amazon Prime Video also streamed smoothly while connected to TorGuard. I was able to watch Criminal Minds in perfect HD quality and didn't experience any interruptions.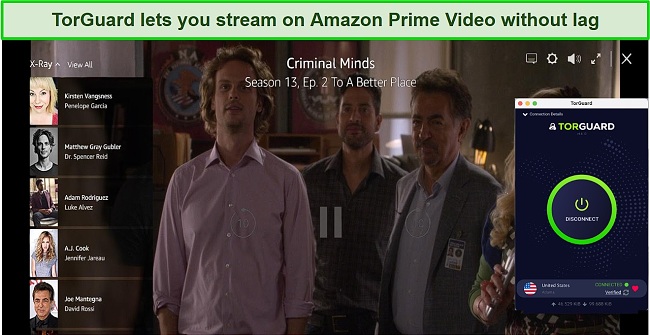 I tried several different servers, and all of them had consistent speeds and overall quality when unblocking both Netflix and Amazon Prime Video.
Hulu, HBO Max, Disney+, and BBC iPlayer: Blocked
Despite the success with Netflix and Amazon Prime Video, I wasn't able to unblock any of my other streaming platforms. Hulu and HBO Max both gave me trouble when I tried to log in. The sites both accepted my credentials, but when I tried to stream anything, Hulu and HBO detected that I was using a VPN.
Disney+ wouldn't let me log in though I tried several times. Since TorGuard is also unable to unblock BBC iPlayer, it can be said that streaming is clearly not TorGuard's strong suit.
The good news is that there are several VPN providers that are capable of defeating geographical restrictions without charging any extra fees. ExpressVPN has particularly proven to be one of the best options for keeping up with your favorite movies if you are seeking a streaming VPN service.
Fast Speed on Short-Distance Servers
I find TorGuard VPN's speeds to be good enough to meet most of my needs. You will receive even better results if you select the WireGuard tunneling protocol. If geolocation concerns are irrelevant to you, you can choose a VPN server that is physically close to your location for the most effective performance.
Using a VPN will result in reduced speeds as a price for its advantages. The traffic you send through a VPN gets routed through a server, while also being encrypted. This extra work consumes computing and bandwidth resources, resulting in lower connection speeds. A good VPN service will do all the work behind the scenes, so you won't notice it if your internet connection is fast.
Speed Test Results
TorGuard is generally fast, but the speed drops the further you are from the server. Its ping time is also reasonably stable. Thus, you should not experience significant lag or buffering while performing data-intensive tasks such as streaming and gaming.
The speed tests were conducted using a high-speed internet connection in the United States. As a first step, I checked my download and upload speeds without a VPN. My base speed averaged 35.74 Mbps for downloads and 32.23 Mbps for uploads. This data served as a benchmark for evaluating the drop-off in speed. Following that, I checked my upload speeds, download speeds, and latency with TorGuard servers in the U.S., UK, France, and Australia, respectively.
As can be seen in the screenshot below, TorGuard provides consistently fast upload and download speeds. While its speed is not fast enough to rank in our list of the fastest VPNs, it does deliver impressive results. Download speeds in the US, UK, and France are fast enough for streaming video and playing online games non-interrupted.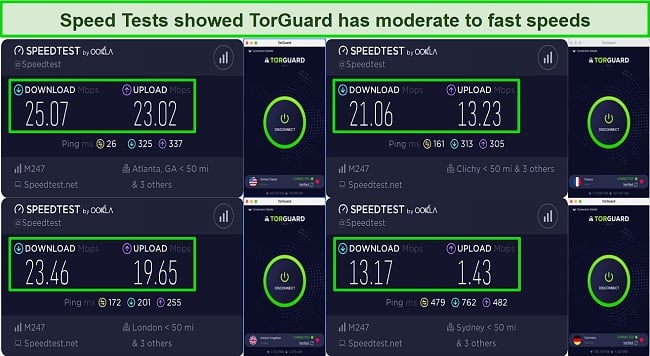 There was a considerable slowdown in download speeds in Australia, but that is understandable given the distance. Please keep in mind that these numbers may vary based on your location. However, they provide a fairly accurate representation of TorGuard's overall speeds.
Is TorGuard Fast Enough for Gaming? Yes!
You won't find an ideal ping rate with TorGuard's servers. This is disappointing considering how good download and upload speeds are. When you're gaming, you want your ping rate to be low in order to avoid stuttering, connections being dropped, and delays in graphics.
With a top-of-the-line PC, hardware isn't a bottleneck for me. I also regularly get a latency of 10ms with my standard connection. I play several games online, as well as multiplayer ones that need to connect to servers. I always test Civilization V because it relies on a low ping rate for multiplayer games and a consistent internet connection. Otherwise, you will be removed from the game. When I tried the game, I had issues right away.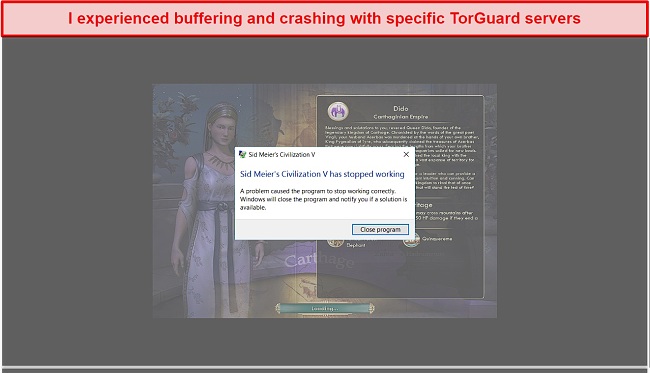 Despite connecting to servers in the USA (the ones with the lowest ping rates), I still experienced connection drops and stuttering. When testing other games with similar requirements, they had issues as well, even outright crashing.
Why Most Speed Tests are Pointless & How We Correctly Test VPN Speeds
Speed determines how fast content uploads, so if you're torrenting or streaming, you want the speed to be somewhat identical to your regular internet speed. Since a VPN encrypts your data, it usually takes a bit longer to send your data back and forth, which can slow down your connection. However, if your ISP deliberately slows down your connection (also known as throttling) a VPN might increase your internet speed. Testing a VPN is somewhat pointless because new servers pop up and affect speed. Your speed can also differ according to your location, so your speed test might not match ours. Having said that, we tested the speed in numerous locations to provide you with the average.
Server Network — Impressive Server Network
TorGuard has extensive coverage of servers. The network has more than 3000 servers in 50+ countries, providing coverage across much of the globe. With such a wide collection of server locations, you have a wide variety of options to choose from.
This network is also well spread out across most regions. You can find a great selection of servers in Europe and a solid server network in North America and Asia. It also operates in countries with strict internet regulations, such as Turkey and Russia. The fact that TorGuard's expansive reach extends to the Middle East and Africa makes it even more appealing.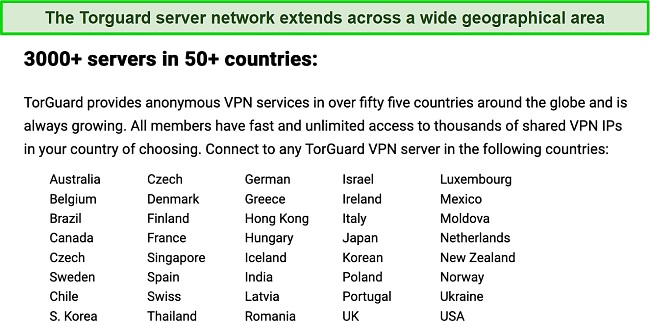 It is also important to note that TorGuard owns its DNS server, which ensures the security of your personal information. TorGuard claims that it does not use virtual servers. The company maintains only servers that are located in the country they claim to be located in. It is a nuanced but important consideration, as physical servers can often provide more reliable connections than virtual servers.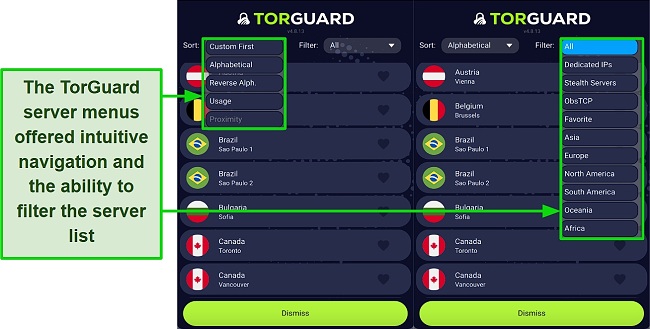 The option of obtaining a dedicated IP address is also available. It should be noted, however, that this service is subject to an additional charge. The company also guarantees that you will have unlimited bandwidth, speeds, and the option of switching servers at any time. Choosing servers and switching between them was a breeze thanks to its intuitive server menus and filtering capabilities.
Security — Excellent Protection
TorGuard provides all of the necessary tools and features to ensure that you have a secure VPN experience. The following is a rundown of every security feature TorGuard's applications possess:
Strong Traffic Encryption – You can trust that your information is protected with military-grade AES 256-bit encryption. Several of the best VPN providers use this form of traffic encryption because it offers a high level of compatibility, performance, and security.
Top-of-the-line encryption protocols options – TorGuard employs the Wireguard protocol by default. Also supported are OpenVPN, IKEv2, and IPsec, all with some flaws, but all relatively secure.
Kill switch and auto connect – Together, they prevent information from leaking out of your system before or after a VPN connection is established. Additionally, you can add apps to the App Kill settings that will automatically close when TorGard loses connection.
Port forwarding – This feature can boost torrenting speeds or allow remote access to your devices by rerouting incoming connections around NAT firewalls.
Tracker Blocker – TorGuard also prevents malware from infecting your computer and blocks any intrusive ads from appearing on your screen. Turning this feature on takes some digging, as it's hidden under a random DNS tab within the Network section.
Split tunneling – This nifty feature allows you to use the VPN tunnel for some apps while keeping your real IP for all other apps or services. Unfortunately, it is only available on Android, leaving Windows, Mac, and iOS out in the cold.
Dedicated IP – TorGuard is also able to provide you with a dedicated IP address in any country of choice. Their dedicated IP provides even greater security for your sensitive information and is perfect for businesses and highly secure data transfers.
Stealth VPN – This technology cloaks your VPN traffic as regular traffic to get past firewalls. You can use this tool to bypass Deep Packet Inspection and access highly restricted regions.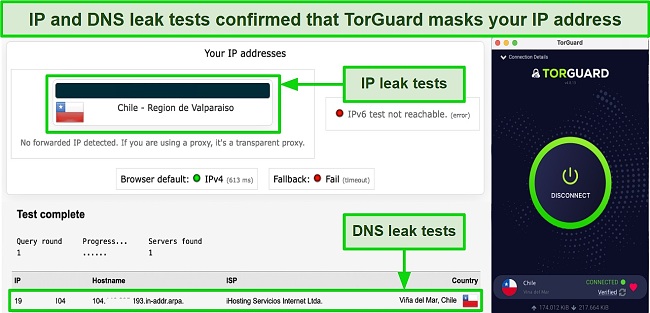 To investigate the effectiveness of TorGuard's protocol-encryption combination, I tested it for WebRTC leaks, IPv6 leaks, and DNS leaks using the default specifications. Results were clean across all tests, and this was true in several different locations.
Privacy — Uncompromising Privacy
TorGuard complies with a strict privacy policy. This concise document contains only the essentials, without any legal jargon or unnecessary fine print. TorGuard is also forthright about the data it collects instead of focusing on what it does not collect.
You do not have to worry about the provider storing your IP addresses, VPN sessions, or websites you visit when you use its service. Your email address is the only personal information TorGuard stores to send subscription information, payment confirmations, responses to customer inquiries, and TorGuard promotional offers.
Additionally, it collects anonymous website analytics, apache server logs, and customer email correspondence. The provider indicates you can request all personal information be removed at any time by contacting the support department.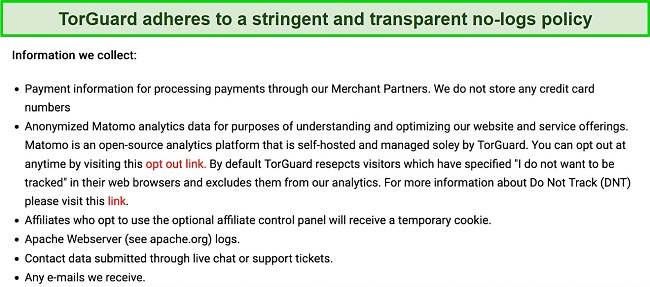 TorGuard is based in the US which means that according to US law, the VPN provider is legally obliged to provide information about their users to government agencies. This is an agreement that gives the federal government the right to request any internet data for national security purposes. That said, since TorGuard doesn't keep any log of your activity or visited sites, it has nothing to hand over or be seized.
Torrenting — Suitable for Torrenting
TorGuard is specifically designed for torrent downloads, so you are free to use it in that capacity. Many popular torrent apps are supported, including BitTorrent, Vuze, uTorrent, and qBittorrent. Plus, it's a zero-log service, meaning that no record of your torrenting activities is kept. As an additional feature, TorGuard offers SOCKS5 proxy services to hide and replace your IP address.
The port-forwarding feature of TorGuard makes it particularly convenient for torrenting. By using this tool, you are able to route torrent connections directly to your computer, which greatly increases the speed of torrenting overall. It also offers good speed, which is very important when downloading and uploading content.
With its large number of servers, advanced settings, and no bandwidth restrictions, this VPN is one of the best available. If you do attempt to torrent any content, however, you should make sure you adhere to your local laws before engaging in P2P file-sharing. Do local research and confirm that the content is in the public domain.
Does TorGuard Work in China? Yes!
TorGuard's servers are designed for stealth, unlike many other VPN vendors who are cautious about this topic. With such a configuration, the online footprint of the server and proxy is hidden behind a tunneling protocol that provides extra security. In this way, you are able to fool deep packet inspections that are actively sniffing out VPNs with your movements that are disguised as regular foot traffic.
According to TorGuard's user forums, TorGuard works best in China if you connect to servers located in the US, Taiwan, Singapore, Japan, or Hong Kong. It will be necessary to download TorGuard before you travel to China because the website is blocked.
As a further confirmation, I emailed the team asking for guidance on ensuring the connection would work while I was in China. I received a response just over five minutes later with instructions to enable STunnel in the app settings to have a successful connection.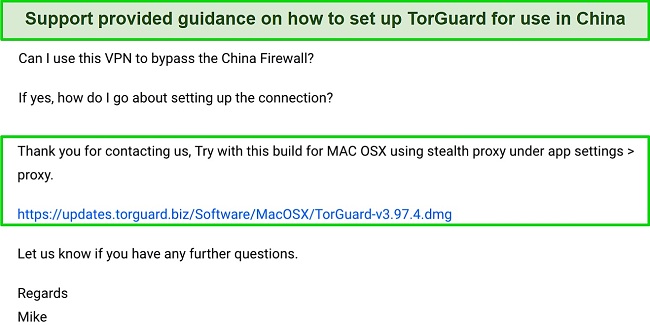 The common practice is that China fights VPNs by technologically blocking them, and not by chasing after the people who use them. Using a VPN in China does not provide you with the license to commit illegal acts, so please use extreme caution when using one.
If you're looking for a VPN that works in China every time, ExpressVPN is a private network you should consider. It is one of the few out there that guarantees you safe access to your online accounts in China.
Server Locations
Australia
Belgium
Brazil
Canada
Chile
Czech Republic
Denmark
Finland
France
Germany
Greece
Hong Kong
Hungary
Iceland
India
See all supported locations...
User Experience
- 5.0
/ 10
Simultaneous Device Connections — Up to 12 Devices
TorGuard users can connect up to 8 devices on its Standard plan, and 12 on its Pro version. Compared to other top VPNs on the market, you can connect more devices with TorGuard. However, I did experience a slowing in speeds with only three devices connected, so users may want to consider connecting each of their devices to different servers and taking advantage of port-forwarding to prevent crowding.
Device Compatibility — Cross-Platform Compatibility
TorGuard is compatible with a larger range of hardware and software than an average VPN. Supported platforms include Windows, macOS, Linux, Ubuntu, iOS, and Android. Chrome, Firefox, and Microsoft Edge browser extensions are also available. It is also compatible with third-party software such as BitVise SSH Client and AnyConnect.
TorGuard provides a wide selection of VPN routers that are pre-flashed for use with the service. Other devices VPN users may have, such as gaming consoles, Smart TVs, or HD players like Roku and Apple TV, will need to connect TorGuard through Internet Connection Sharing, which is a multi-step process involving your computer and device settings.
Ease of Setup & Installation — Intuitive Menus
After an initially slow sign-up process, I installed TorGuard quickly and easily on my computer. I had to enter my credentials at least four times before resorting to resetting my password through its website.
When it finally accepted my credentials and logged me in, using TorGuard was straightforward. I purchased the standard version of TorGuard, and had control over multiple facets, from changing the color scheme to more complex options like my encryption type, tunneling type, and organizing servers to better suit my location.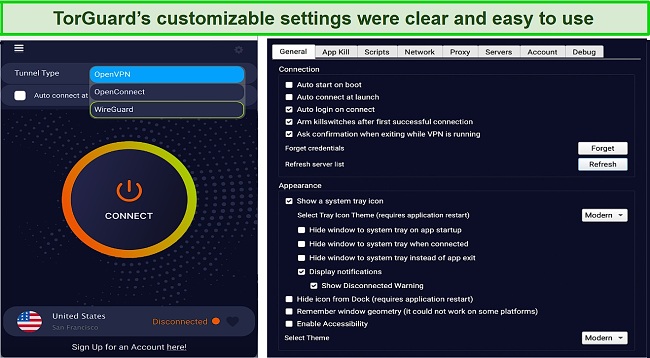 The settings section seems to be designed by an expert for users who are experienced with VPNs. An inexperienced user may have difficulty identifying which configuration settings are fundamental and essentially unimportant.
Steps to Installing TorGuard on Windows:
Sign up for a TorGuard subscription. Get started installing TorGuard on Windows by signing up for the service if you haven't already. The app can be downloaded before you sign up, but you'll need to create an account to use it.
Download the TorGuard Windows VPN app. Click "Download" at the top of the page, and then select the appropriate operating system for your device. 

Run the file that you've downloaded. You will be prompted to accept the license terms of the company. Install the program by following the on-screen instructions provided by the installation wizard. 

Launch the TorGuard app. With the app installed, you just need to input your login details, select a server, and connect. 
There is a decent level of customer support available. While it is possible to make some improvements to the customer service of this VPN, it is among the industry's best. To begin with, there is a live chat feature, which is always good. Keep in mind, however, that this is not always available. The service agents seem friendly and polite, but a lot of their responses are prewritten, which can be frustrating.
A ticket can be submitted directly on the company's website or via email if you don't wish to contact live customer support. As part of this review, I submitted multiple tickets to TorGuard to clarify multiple aspects. My queries were answered promptly. In one instance, I received a response within less than 20 minutes of sending the email.
An FAQ page and knowledge base with helpful guides are available for self-service. You will find information on almost everything related to TorGuard's service in the knowledge base. The TorGuard team is available via Twitter in addition to its on-site support channels. TorGuard also maintains an active community forum where users can ask basic questions and get answers.
How We Test Customer Support and Why Should You Care
We personally test the customer support team of every VPN we review. This means asking technical question through the live chat feature (where applicable) and measuring the response time for email questions. Whether you need to connect to a specific server, change your security protocol, or configure a VPN on your router, finding a VPN with quality customer support should be important to you.
The TorGuard pricing structure consists of two tiers, both of which have their own sub-plans. Depending on your requirements, you can choose either the Anonymous VPN plan or the Business VPN plan.
The Anonymous VPN tier offers both standard and pro pricing options. Both plans offer similar features, including access to over 3,000 servers, unlimited bandwidth, malware, ad blocking, and stealth proxy access. The plans differ in that the standard plan allows eight simultaneous connections while the Pro plan provides 12 simultaneous connections and a streaming IP. TorGuard claims that the streaming IP address cannot be blocked by streaming services because they are unique.
Businesses that want secure access to corporate data can choose from TorGuard's Business VPN plans. Your choice of plan will provide access to a user portal, data leak protection, unlimited bandwidth, 5-20 email accounts, and 1-10 dedicated IP addresses.
TorGuard's only drawback is its money-back guarantee. The vendor, in contrast to the industry-standard 30-day money-back guarantee, offers a 7-day money-back guarantee for paid plans. It is easy to comprehend why this is the case, as the company provides a complimentary 7-day trial via its iOS and Android apps. Additionally, I experienced disappointment when my refund was not processed, even though I followed the guidelines outlined in their refund policy.
Payments can be made via credit cards and debit cards, including Visa, MasterCard, and American Express. Cryptocurrencies such as Bitcoin and Litecoin can also be used for anonymous subscription purchases. Other supported payment methods are CoinPayments, Amazon Pay, Paymentwall, and Gift cards.
TorGuard offers the following plans
Final Verdict
TorGuard VPN is a solid VPN that worked as expected. You have a lot of customization options with this VPN, allowing you to make it tailored to your preferences. Its open-source policies, transparent business practices, and out-of-the-box solutions set it apart from other virtual private networks.
As far as privacy and security are concerned, nothing can be faulted. The app uses military-grade AES-256 encryption, keeps no records, and uses tunneling protocols that are safe. It also offers impressive speeds, has an extensive server network, and can connect more devices than most top VPNs allow.
There are a few drawbacks, though. Pricing is a bit steep, and streaming – which is included at no additional cost with highly rated VPN services – can only be accessed through the pro plan subscription. The fact that TorGuard is located in the United States is another cause for concern.
ExpressVPN beats this competitor in terms of privacy and speed, as well as its ability to unblock all major streaming services. It comes with a 30-day money-back guarantee so you can try it out for yourself completely risk-free. If you're not satisfied, you can always get a full refund.
FAQs About TorGuard
Is TorGuard good?
Yes, TorGuard is a good VPN that offers a wide range of features.
It offers
military-grade encryption
, supports torrenting, and may even function in countries with highly restrictive laws, such as China. This VPN also offers a robust network of servers to protect your privacy online. Unfortunately, it is pricey and isn't great for unblocking streaming platforms. So, I'd suggest looking elsewhere for a VPN if this feature is more important to you.
Can I use TorGuard for free?
We rank vendors based on rigorous testing and research, but also take into account your feedback and our commercial agreements with providers. This page contains affiliate links.