SurfBlocker Overview October 2020
I wasn't sure if SurfBlocker would be a good parental monitoring software for my family since it lacks a mobile app and advanced features. It's a Windows-only software, and it only has two basic functions: a web filter and screen time restrictions. If that's not enough for you and you need an app that can monitor both computers and mobile devices check out my Qustodio review.
I'm on a quest to find the best program to prevent screen time addiction and filter the internet for my 5 kids, ages 5 to 16. I've tested over 50 different apps and now I'm comparing and reviewing them to help you decide which is the best one for your family.
I found a great deal that includes a 30-day money-back guarantee, which gave me more than enough time to test it out on the family computer.
Features
8.0
I found SurfBlocker to be a very basic program. It does two things and two things only, it has a web filter and time management tools. There is no dashboard, no parental alerts, no social media monitoring, and no screenshots.
The SurfBlocker App has an easy-to-use interface and I had to enter my password before making any changes.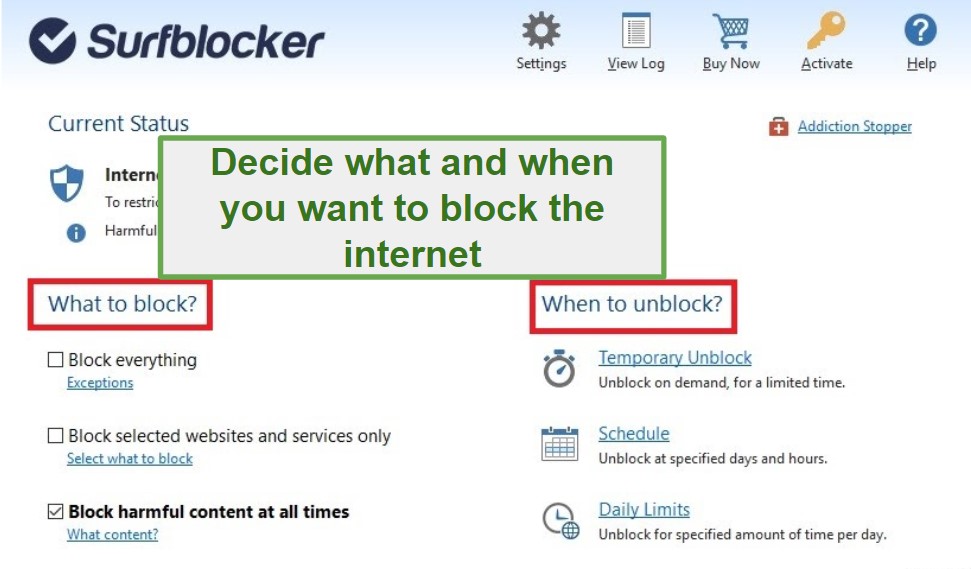 An Easy-To-Use Web Filter
I was impressed with the simplicity of the web filter. The left side of the SurfBlocker app has three options:
Block Everything: This was the easiest way to block internet access for the computer. One thing I liked about this is the "Exceptions" option. It was helpful if the kids said that they only needed the computer for homework or to check their email. It gives me the flexibility to keep certain services unblocked or allow specific websites and programs.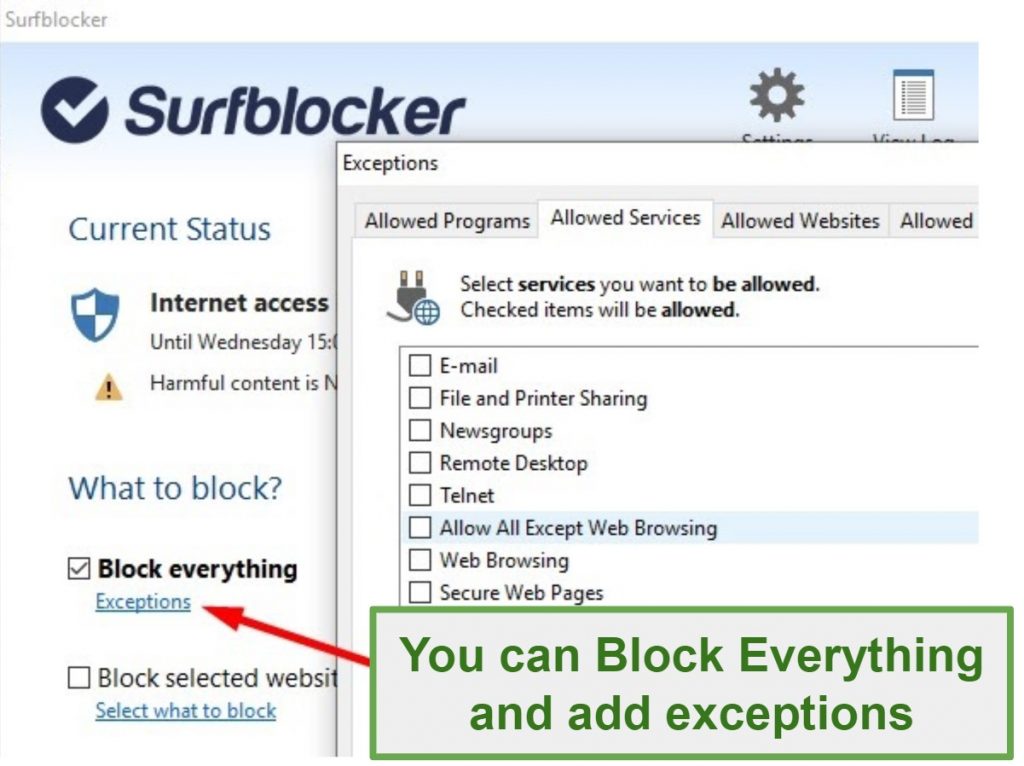 Block selected websites and services: I found this to be a great feature when I needed to block websites that were distracting the kids (social media, sports, and entertainment sites, for example) from doing what they were supposed to be doing. It isn't really necessary for blocking dangerous or adult websites since those are taken care of in the next category. You can't have both this option and the Block Everything category activated at the same time.
Block harmful content at all times: This is the filter that I always leave on. It blocks websites by categories and also gives the option to add specific websites to the blacklist. While I didn't have any "false positives" or clean websites that were blocked, no filter is perfect and it would be nice if there was an option to add websites to a protected or whitelist.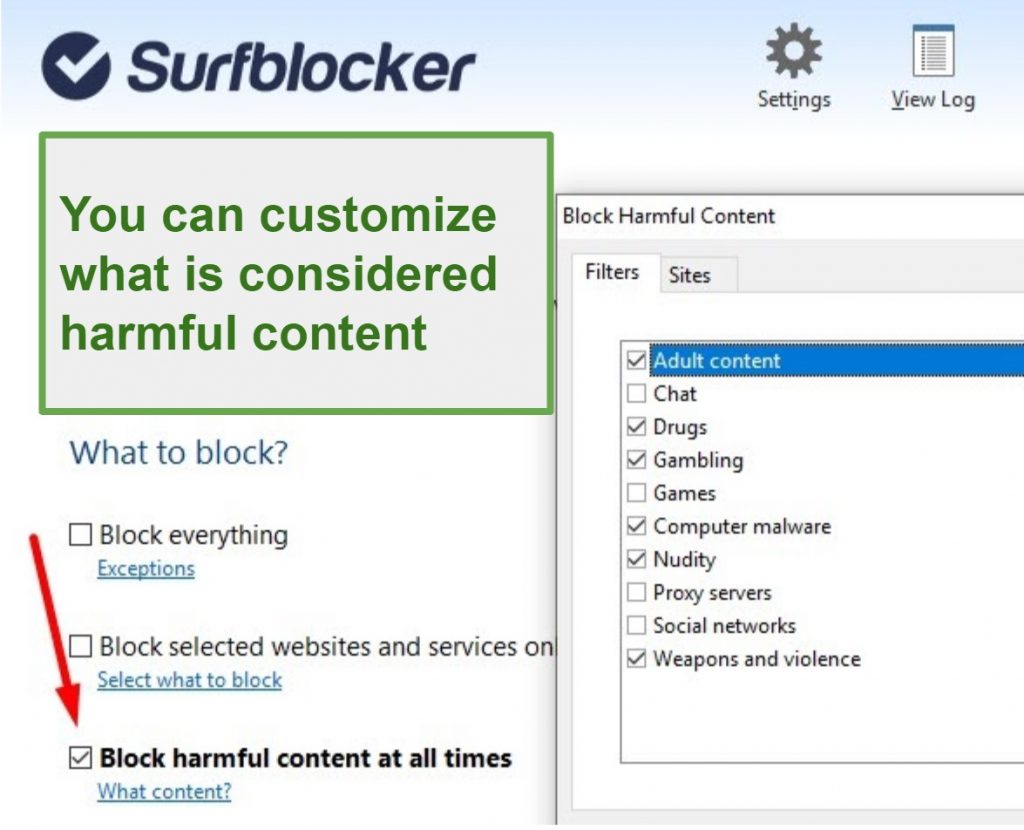 Regardless of which filter you use, when the kids try accessing a site that is blocked, they will see the standard "Site can't be reached" message from the web browser. There is no mention of SurfBlocker, which is useful if you don't want the kids to know that you've put a web filter on the computer.

Screen Time Addiction Prevention
There is both a daily schedule and daily time limit option, although it wasn't clear to me how to set them up. At first, it seemed simple, click on the Schedule or Daily Limits option and set the limits. However, when I did this, nothing happened and the internet remained unblocked.
Here is what I figured out you have to do:
Turn on the Block Everything option. This will only start blocking the internet when the limit has been reached or the schedule is set to restrict the internet.
Open either the Schedule or Daily Limits and set your limitations.
I like that there is a setting in the Daily Limit section where you can choose what to do in a situation where the daily time limit has expired, but there is still time remaining on the schedule. In other words, when my son uses up his 3 hours by 6:30 pm, and the schedule won't block the internet until 7 pm.

When you have the daily limit on, the kids will be responsible to start the timer when they are using the computer. They will have to click on the SurfBlocker logo on the icon tray to open the application. When the timer is paused, assuming the schedule is either turned off or set for the internet to be off, the internet will be blocked.
This is a huge flaw in the program and makes the daily time limit useless unless you truly trust that kids will start it every time they start using the computer.

Pro Tip – You can prevent the kids from changing the clock, which would affect, the schedule feature, in the settings of the SurfBlocker application.

A unique feature that SurfBlocker has is called Addiction Stopper. It will block access to the SurfBlocker application, which will prevent anyone, even you, from changing the time limits.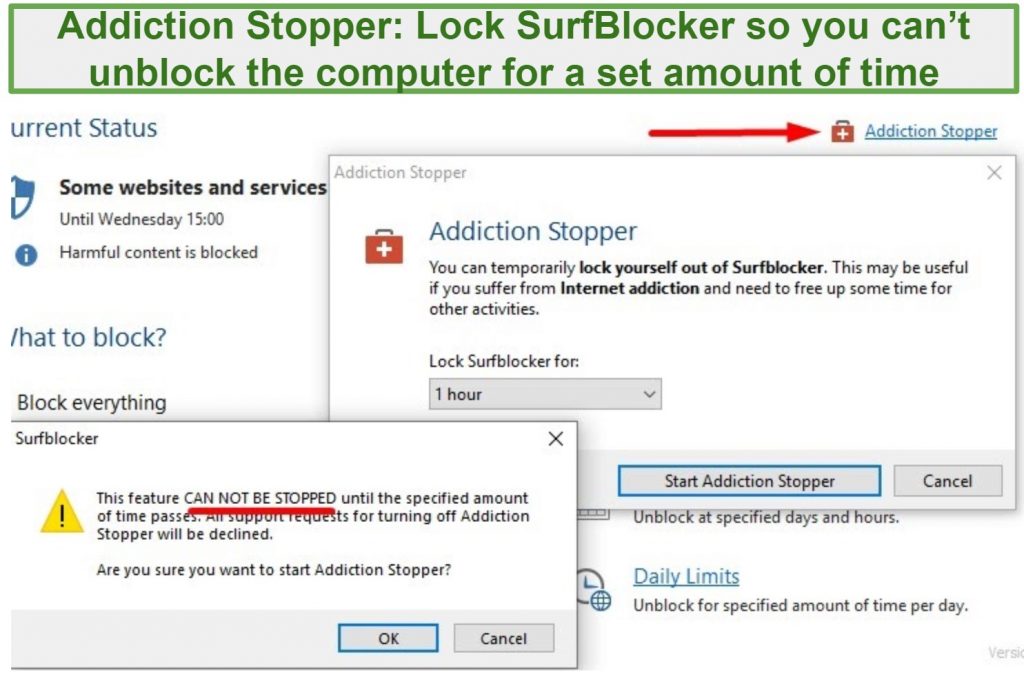 Installation
10.0
The installation process was quick and simple. It took less than 2 minutes to get everything up and running. The one thing you have to remember to do is temporarily turn off your antivirus program, otherwise, it might flag the file as a trojan. This is standard with monitoring programs since they need access to block your internet, which can be viewed as a threat.
Ease of Use
8.0
The web filter couldn't be easier to use. For some reason, it won't work with the Edge browser, but SurfBlocker automatically blocks Edge so you won't have to worry about it.

It took me some time to figure out how to get the time restrictions to work, but once I did it was an easy program to manage. The schedule can be set up in hour-long intervals and the daily limit can be set to the minute.
Support
9.5
SurfBlocker has an excellent knowledge base that answers most questions involved with setting up, troubleshooting, and using its desktop app. It's where I found the answer to my question regarding setting up the time restrictions.
There is also the option to send an email through the contact form if you can't find the answer or have questions about billing. I put the 30-day money-back guarantee to the test, received a response the following day, and quickly received my refund.
Try SurfBlocker risk-free for 30 days!
FAQ
🤑Is SurfBlocker Free?
There is a free version of SurfBlocker that includes both the web filter and time management tools. However, it has one major flaw – there is a Bypass link that will let your kids make adjustments to the settings and time restrictions, without a password.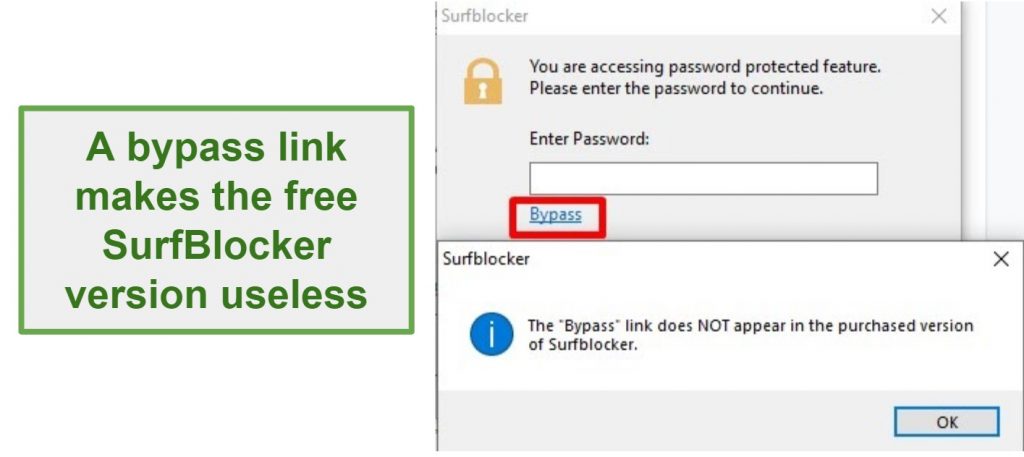 🤓What platforms are compatible with SurfBlocker?
Surfblocker works with Windows 7, 8, and 10. It doesn't work with Mac, Android, or iOS devices.
😎Why did my antivirus flag SurfBlocker?
Due to the way that SurfBlocker works and the access it needs to your computer, it has many similar properties as malware or spyware. Therefore, when you install the file you must temporarily disable the antivirus.
🤩Does SurfBlocker include a log of what websites or apps the kids are using?
SurfBlocker is not a monitoring software. There are no alerts when the kids try and visit a restricted website, or keep a log of what activities are happening on the computer.
Pricing
9.8
When you get a subscription to SurfBlocker it includes a single computer. If you want the software on multiple devices, you will need to get multiple licenses. The price includes free updates and upgrades for the first year.Check out this hidden discount page to get the best price online
SurfBlocker offers the following plans
Bottom Line
I like that SurfBlocker understands its niche and isn't trying to force a lot of extra features in its software. It is not a monitoring software. If you want to see what your kids are doing online, you should check out my SentryPC review. However, if you just want to make sure that the kids are not going to harmful sites or spending hours on the computer, SurfBlocker is a great option.
You can find great deals on SurfBlocker hidden deals page, but before you commit to a yearly plan, I suggest you test it yourself with their 30-day money-back guarantee.