5 Alternatives to DAZN For Streaming Sports (Tested July 2022)
Last Updated by Benjamin Walsh on July 01, 2022
DAZN is a popular site across Europe and the rest of the world for sports streaming. However, because geo-restrictions are implemented to ensure the service abides to broadcast licensing laws, the site is only available in specific countries.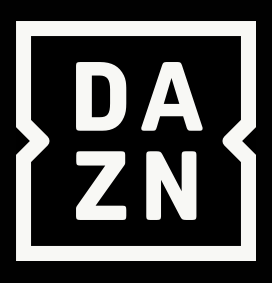 Typically, we would suggest using a VPN to bypass these geo-restrictions and watch DAZN to your heart's content. However,
DAZN has recently implemented a method to make using the service with a VPN more difficult
.
To purchase a subscription to the service, you need a credit card from a country the site is available. For example, if you use ExpressVPN to connect to a server in Canada, you could access the site, but you would need to subscribe using a Canadian bank account. They also have strong geo-blocks in place, although we have found a few VPNs that can still bypass the DAZN block.
So, in this article, we name some alternatives to DAZN that can be watched from anywhere in the world as well as which VPNs you should be using.
Here is a quick guide to our top five DAZN alternatives.
Live Stream Sports with ExpressVPN
Like DAZN, these subscription-based alternatives will provide you with most of the major sporting leagues and competitions plus coverage of sports with lesser following.
What separate these services from DAZN is that you can use a VPN to access their sites and don't need a local credit card to purchase a subscription.
1
FuboTV – US-based service that has a wide range of live sports

In our experience, we've found that
FuboTV is the best alternative for DAZN
. FuboTV is an American based service and the ideal platform to cater to your needs; covering pretty much
every major sport across all leagues
.
With FuboTV, you have access to top sports channels, including:
NFL Network

beIN Sports

Fox Sports

NBA TV

Eleven Sports

NBC Sports
Plus many more.
If you're using a premium VPN service, you can connect to a server in the US, log into your FuboTV account and watch all the sports you desire.
A basic FuboTV package will cost $44.99 per month, but that grants you access to over 75 channels including the sports channels, two simultaneous streams, and Roku and Fire TV support.
If you don't want to commit to a subscription right away, you can sign up to the 7-day free trial to test it out.
2
Sling – Get the sports package and watch all the top sporting events in the US

As another big player in the sports streaming industry,
SlingTV provides you with enough coverage to easily rival DAZN
. Although SlingTV is an all-around TV channel provider,
there are still plenty of sports, leagues, tournaments, and teams you can follow using this site
.
Here's what sports you get:
ESPN (1,2, and 3)

FS1

FS2

NFL Network

NBCSN
After thorough testing, we can confirm that you don't need a local credit card to sign up to the site. However, if you're outside of the US, you will need a VPN.
Once you have one, connect to any server in the US, log into SlingTV, and watch away.
The basic package starts at $25 per month which is much cheaper that FuboTV. Furthermore, there is a 7-day free trial if you are unsure.
3
Eleven Sports – UK-based sports channel has the best football matches and more

Eleven Sports is the cheapest subscription-based service on this list, but it is also considered by many as the best
. At £4.99 (around $6.58) per month, you gain access to a range of sports.
Eleven Sport's territories cover a range of locations including Belgium/Luxembourg, Italy, Poland, Portugal, Taiwan, UK and Ireland, and the US. Each region offers multiple sports relevant to that location.
UFC

Basketball

Football

Golf

F1

NFL
Plus many more.
Eleven Sports broadcasts the games directly instead of showing them through different channels. You can connect to a VPN server in the location of the sport you want to stream and watch away.
Stream Eleven Sports with CyberGhost
4
beIN Sports – Wide range of live sporting events

BeIN Sports provides you with a range of different sports from across the globe
. By navigating the website, you can
check live scores, keep up to date on tables and fixtures, and watch the latest news stories in the sporting world
.
Some of the sports on offer:
Football

Tennis

Basketball

Cricket

Rugby
More importantly, you can watch live coverage through beIN Sports Connect. However, this service is only available in a select few countries so you may need to use your VPN to connect to one where the site is available.
All you need to do is activate your VPN, sign in to your beIN account and either click "Watch Live" or "TV Guide" for all the available sports.
5
Eurosport – The leading sports channel in Europe

Eurosport is a
pan-European sports network is a major sports broadcaster
and can serve as an excellent alternative to DAZN.
With your Eurosport subscription, you gain access to live streaming on Eurosport 1 and Eurosport 2, on-demand videos like match highlights and exclusive footage, and Multi-Camera. Multi-Camera allows you to watch your favorite sports from a magnitude of different angles, resulting in an immersive streaming experience.
Here's what you can watch on Eurosport:
Tennis

F1

Football

Cricket

Athletics
Pricing for this streaming platform is rather inexpensive. If you commit to an annual pass, you're looking at £4.99 (around $6.60) per month, but if you want to pay monthly, the service will cost £9.99 (around $13.20) per month.
If you're outside of Europe, you will need to utilize a VPN to connect to a server in Europe. We recommend connecting to a server in the UK, Switzerland, or Germany as they have been known to provide the best streaming quality.
Stream Eurosport with ExpressVPN
Two Best VPNs for Streaming Sports
The VPN you choose should not only provide you with excellent protection against online threats but when it comes to watching your favorite sports from anywhere in the world, you need a high server count as well as a fast and robust connection.
So, without further ado, here are our top two picks for best VPN.
1

ExpressVPN – High speed servers are excellent for streaming sports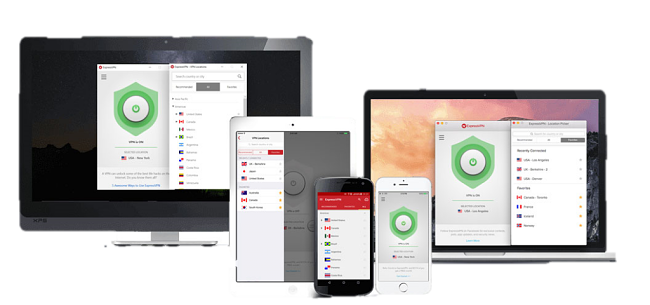 Over 3,000 servers in 160 locations spanning 94 countries

Unlimited bandwidth

Impressive speeds and performance

AES 256-bit encryption
ExpressVPN is a globally popular VPN. With dedicated servers all across the globe, you can easily overcome geo-restrictions and watch all the sports you want. Furthermore, ExpressVPN offers impressive connection speeds and a no throttling policy, meaning you won't be continually dealing with interruptions.
In addition to a high server count and incredible speeds, you also have the added benefit of security. As a premium VPN service, you get a premium level of protection. The AES 256-bit encryption is pretty much uncrackable, meaning you're able to stay safe when streaming online.
Live Stream Sports with ExpressVPN
2

CyberGhost – Has servers optimized for streaming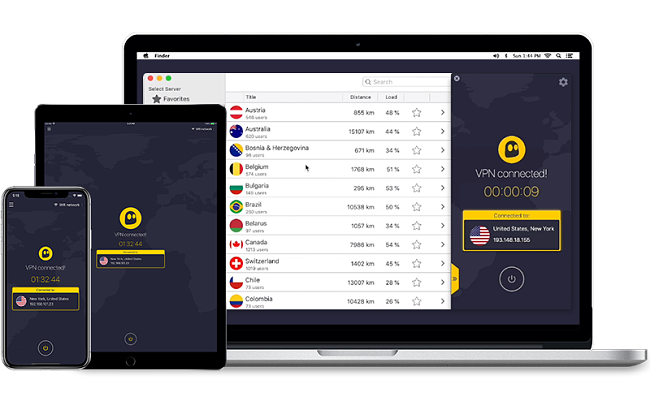 Dedicated streaming section on the app

Over 3,500 servers in 60 countries

Unlimited bandwidth

Extra speed feature
CyberGhost's dedicated streaming feature allows you to optimize your VPN for streaming which is ideal when you're looking to watch the major events from a range of sports. To ensure a fast, uninterrupted streaming experience, be sure to turn on the extra speed feature also.
CyberGhost VPN has an extensive secure server network. As a result, you will have no trouble finding the right server in the country you want, including the major players like the UK, US, and Canada. For security, the service provides robust encryption, ad and malware blocking, and DNS Leak protection.
Live Stream Sports with CyberGhost
Regardless of which VPN you decide to choose, we can guarantee that if you pick one from this list, sports streaming will be a safe and efficient experience.
If you have the means to subscribe to DAZN, ExpressVPN, and CyberGhost VPN can bypass the geo-restrictions to be able to stream anywhere.
If you can't circumvent the credit card safeguard, we recommend trying FuboTV, Sling, Eleven Sports, beIN sports, or Eurosport as alternatives, or a combination of the services together.
---
Summary: These Are The Best VPNs for Streaming Sports in 2022
Top Choice