Valid PrivateVPN Coupon: Save up to 83% Today + 12 Months Free (Tested December 2019)
Last Updated by Mackenzie Pringle on August 18, 2019
PrivateVPN is a fantastic VPN and is known for its impressive torrenting capabilities. With this service, you'll be receiving nothing but the best security and privacy features, ensuring that your information is always hidden from prying eyes. However, there's a catch, as PrivateVPN is a premium quality service that means they can charge customers a much higher price.
Thankfully, we've found a fantastic deal that will save your money and allow you to purchase PrivateVPN for a fraction of the cost.
If you're at all familiar with VPNs, you probably would have noticed that the longer you sign up for a subscription, the better deal you'll be receiving. PrivateVPN is no different in the way they market their plans. They currently offer three plans for varying lengths of time, and you can choose to sign up for either one month, three months, or one year.
If you visit PrivateVPN's website without clicking on our coupon link, you'll already be offered a fantastic deal on their annual plan. You can save up to 64% if you decide to go with their annual plan and they'll even throw in a free bonus month.
However, by clicking on our coupon link, you'll be transported to an exclusive deals page. Here the discount drops to a massive 83%, and they'll give you an extra 12 months completely free of charge.
When you break it down, our coupon will save you over $100 a year for the first two years, which means that by ordering the 24-month plan, you'll only be paying $0.06 a day for PrivateVPN.
Offers this great don't come around often, so we'd suggest you get in quick as it could end at any time.
PrivateVPN Short Review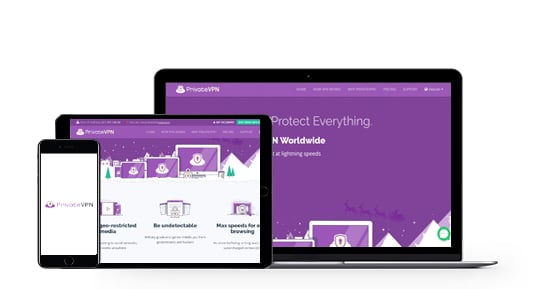 Incredible torrenting capabilities
Strong security and privacy features
Protects six devices simultaneously
150+ servers in 60 countries
30-day money-back guarantee
This VPN cares about protecting its users and has the features to back it up. With 256-bit AES encryption, OpenVPN, L2TP, PPTP, IKEv2, and IPSec protocols, IP/DNS leak protection, an automatic kill switch, and a strict zero logs policy. These features were designed to hide your personal information from the prying eyes of hackers, cybercriminals, government agencies, and your Internet Service Provider (ISP). PrivateVPN is dedicated to ensuring your online anonymity and protection, so you don't fall victim to any cyber attacks.
This VPN doesn't have the most extensive library of servers with only just over 150 servers located in 60 countries around the world. Despite being significantly smaller than it's competition, PrivateVPN packs a punch, and we've seen their server numbers increase dramatically in the past year. If this VPN can continue adding servers at such an immense growth rate, we have no doubt they'll catch up in no time. You'll have global access with PrivateVPN's servers, and while there are a few countries only hosting one server, major countries such as Australia, the US, the UK, Europe, and Canada all have multiple backup servers for you to choose from.
Just like any provider, PrivateVPN has its downfalls. While it's connection speeds are satisfactory, we wished that they were faster as there were a few times we had to deal with buffering and loading screens while connected to their service.
They're also one of the few premium VPNs that are unable to unblock Netflix. We understand that Netflix has some very sophisticated firewalls in place which not many VPNs can bypass, but it does come as a disappointment from service with so many other brilliant qualities. The only thing that brings us solace is knowing that by not pouring its resources into bypassing Netflix's geo-restrictions, PrivateVPN has focused its attention on your security and privacy instead.
This VPN's torrenting capabilities are by far its biggest seller. We torrented over 50 movies and television series to test out just how brilliant they were and found no issues whatsoever. With PrivateVPN you'll have full peace of mind that none of your information is being leaked while P2P sharing and torrenting. You'll also be able to reliably download whatever you like whenever you want to.
Finally, with this service you'll be able to protect up to six devices at the same time, meaning that your entire household will be protected while they browse the web. It's also compatible with most devices and has dedicated applications for Mac, Windows, Android, iOS, and Linux.
If you're still unsure about committing to a subscription with PrivateVPN, you're in luck as they offer all new users a 30-day money-back guarantee. This way you can test out the service and all of its features for yourself to decide whether or not it's the right fit for you.
The Bottom Line
PrivateVPN has some of the best prices available for VPNs, but like every other service out there, the prices are not permanent. Most VPN prices are always trending up, so your best route is to get in on the lower prices when you can.
Don't take our word for it though as we'd highly recommend taking full advantage of their 30-day money-back guarantee offer and testing out PrivateVPN for yourself.
Click on the button below to lock in the current price and ensure you're saving the most money. You'll then be able to browse the internet and use torrents extensively while having the full assurance of total privacy via an economical and practical VPN.