CyberGhost Works With US Netflix – Just Follow These 3 Steps
Last Updated by John Bennet on June 20, 2022
No matter what type of device you are using, the basic steps to bypassing the Netflix Geo Block are all the same.
First you need to purchase CyberGhost VPN. They have an excellent 45-day money back guarantee, so you can try it out risk free.
Connect with a US server, ideally from their Netflix optimized servers
Log in to your Netflix account and you should have access to shows that are generally reserved for viewers in the US.
If you want device specific instructions or to see what other services CyberGhost can unblock then read on.
Table of Content:
Many people use a VPN specifically to stream Netflix. What they don't know is that many services simply can't bypass the geo-restrictions imposed by this streaming company.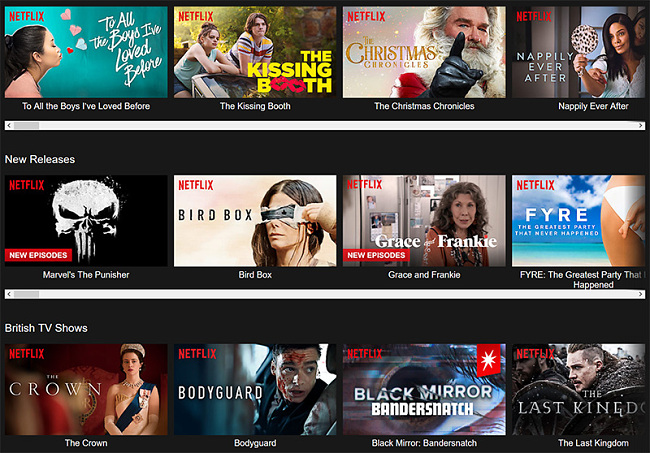 Netflix
goes to great lengths to keep people out, just like other media companies, however due to it being the
largest streaming service
available it has been able to develop some very complex blocking software.
Luckily, CyberGhost is one of the few VPNs that has perfected the art of evading detection. Let's take a closer look at how to watch Netflix anywhere in the world with CyberGhost.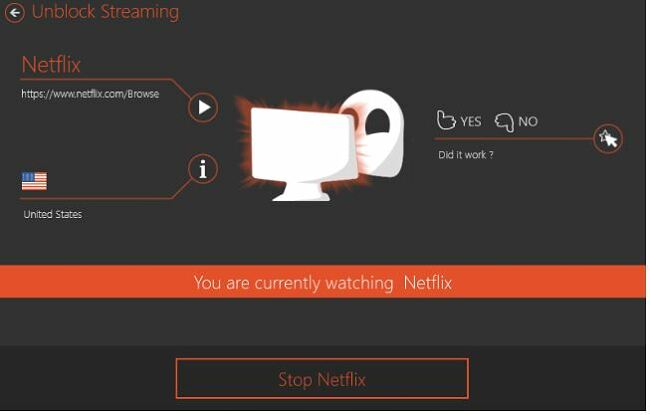 Netflix and VPN Providers – The Battle Continues
Netflix has a lot to lose if it doesn't protect the content licensing agreements with its clients. That's why it invests a lot of money in blocking VPN connections.
How does Netflix know that you're using a VPN ?
Netflix employs reverse-engineering practices to find IP addresses of VPN servers. They discover many of the server addresses and effectively block them as well.
That's why you need to make the best decision when looking for a VPN to get around the Netflix geo-blocks. The top providers are constantly updating their IP addresses to prevent restrictions.
Guide For Watching Netflix with CyberGhost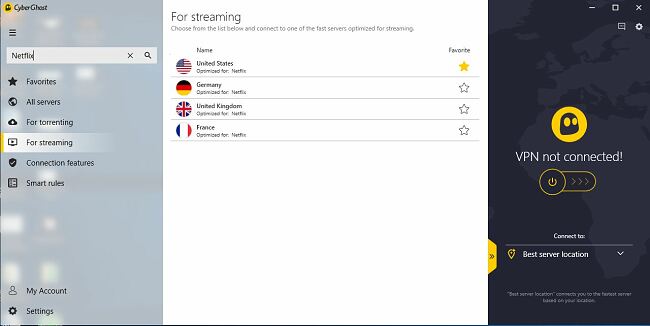 No matter what device you want to
access Netflix
on, whether it be your phone, computer, or TV, we've got a
step by step guide
on how to use CyberGhost to watch Netflix so you can have unlimited and unrestricted access to all the content you could ever need.
Access Netflix on Windows with CyberGhost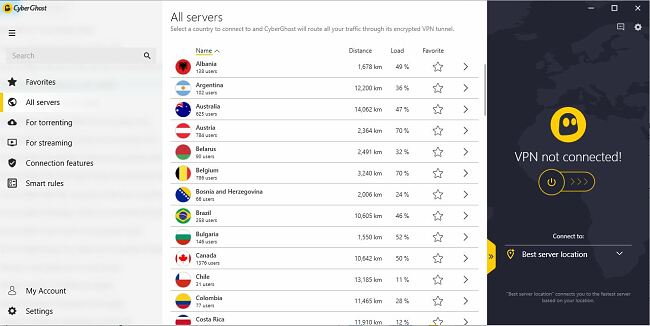 Open CyberGhost.
From the home screen, click on "Unblock Streaming."
Move your mouse cursor over Netflix and click on "Play."
CyberGhost then connects while opening a browser window with Netflix US on it.
Go ahead and minimize your app and stream as usual.
Access Netflix on Android with CyberGhost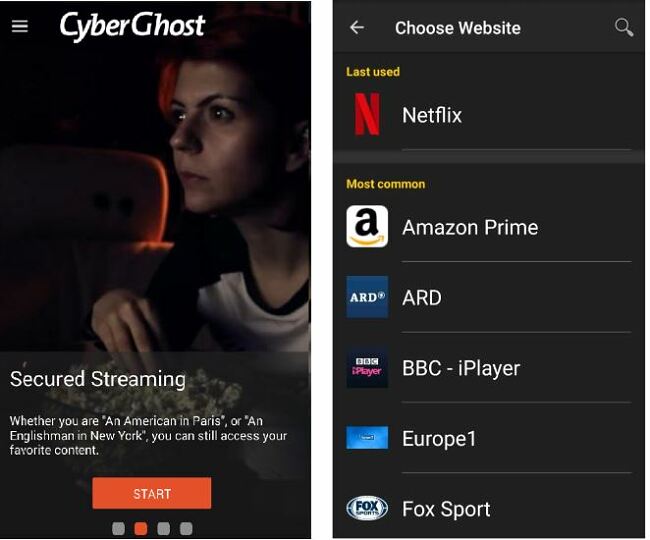 Open your CyberGhost app.
Swipe left until you see the "Secured Streaming" profile.
Click "START."
Tap "Netflix" and click "United States." CyberGhost automatically connects you to the server best suited to streaming in the country.
Start your Netflix app and begin watching your favorite content.
Access Netflix on iPhone with CyberGhost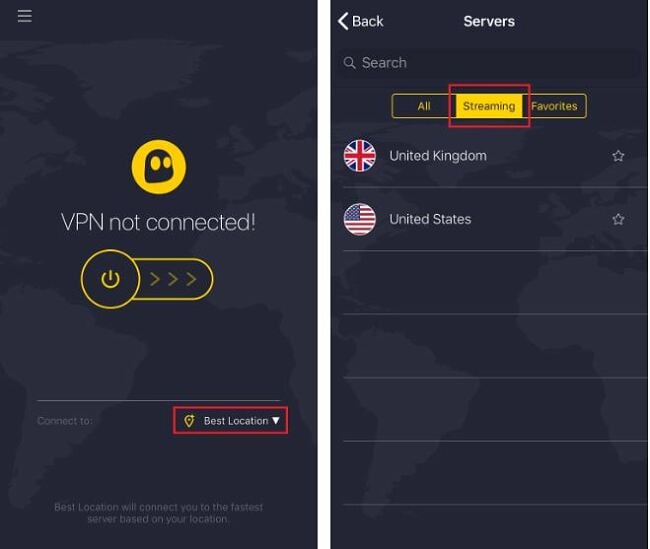 Open your CyberGhost app.
Click on the Server Choice area – the default is "Best Location."
Tap the "Streaming" tab and pick the United States.
The app automatically picks a US streaming server for you.
Once you establish the connection, you'll receive a connected message.
Minimize the app and begin watching Netflix on your iOS device.
Access Netflix on Mac with CyberGhost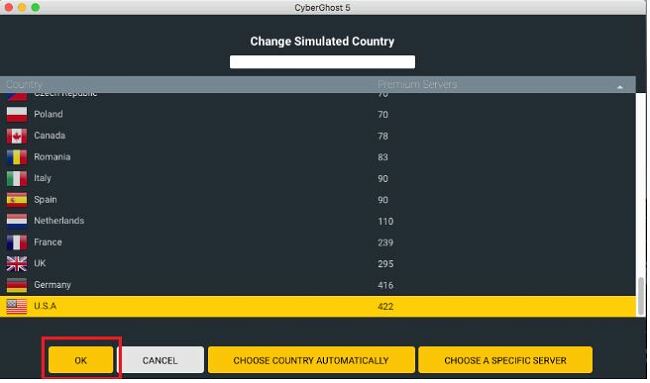 Open CyberGhost.
Click on "Simulated Country."
Scroll down to the U.S.A. You could also type it in the search bar if you prefer. Then, click "OK."
Once you've chosen the United States as your country, you can pick any of the servers designated explicitly for streaming.
Click "CONNECT."
You should be able to access Netflix as usual from your browser.
Does CyberGhost Work with Other Streaming Sites?
Our tests prove that CyberGhost effectively unblocks a long list of geo-blocked sites. Some that we've seen success with include:
Amazon Prime Video
ITV Hub
BBC iPlayer
Of course, that's not a guarantee that every server can bypass restrictions. If you have any trouble, reach out to their customer service team. They are always happy to help.
What Else Does CyberGhost Offer?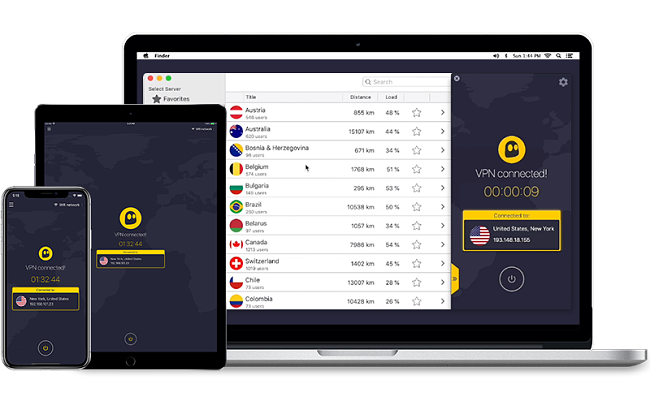 CyberGhost works great for more than just watching Netflix. Not only does the service hide your IP, but it makes it impossible for the government, hackers, or cybercriminals to spy on you. That's because they use the highest level of encryption available.
If you're using a public Wi-Fi network, you'll also receive protection. Feel confident to check your banking, make an online purchase, and visit websites without fear. CyberGhost also maintains a no logs policy. They won't retain any information about your activity, so there's nothing for them to turn over to the authorities if questioned.
You can access CyberGhost from multiple devices at once. There are easy to use apps for iOS, Android, Windows, and Mac. They also utilize more than 3,000 servers in over 60 countries. With a selection like this, it's simple to access content anywhere.
The best part is that CyberGhost offers a 45-day money-back guarantee. That gives you plenty of time to decide if the service is right for you.
Try CyberGhostVPN Now – Risk Free
How Does Netflix Geo-Block?
Geo-blocking is done through the use of filters. It allows or denies traffic based on the incoming IP address. Each computer connected to the Internet receives an IP address to identify it online. Every time you attempt to access Netflix, their servers first take a look at your IP address. This is how they determine if you are eligible for streaming.
Just like with your postal address, your IP address gives away your physical location. Netflix knows exactly where you are located based on the IP address. If they don't want you to access the service based on this information, they simply block you.
This poses a problem for anyone traveling out of the country or living somewhere outside the United States.
Thankfully, a select number of VPN providers have dedicated themselves to working around this problem; CyberGhost VPN is one of them.
Final Thoughts
Prior to finding CyberGhost VPN, you weren't able to access the US or any other country's Netflix library when you were travelling or based in a different location.
Now, you have a brilliant tool that will help you stream your favorite content from anywhere. Don't miss out on your favorite shows the next time you're on the road.