How to Sign Up for the IPVanish Free Trial (iOS)
Last Updated by John Bennet on June 20, 2022
IPVanish offers iOS users a seven-day free trial, while all other customers have access to a seven-day risk-free money-back guarantee.
Many premium VPN providers provide a trial or money-back guarantee so users can try the service, but here we'll take a closer look at what IPVanish has to offer.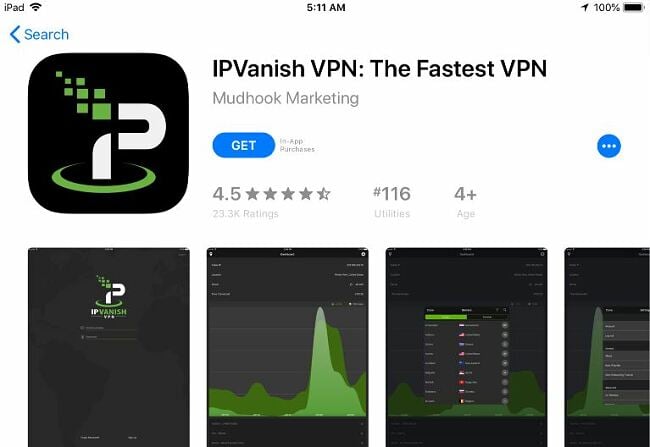 Steps to Sign Up for an IPVanish Free Trial
Head to the App Store and locate IPVanish and "Get."


Once downloaded, you will be prompted to install IPVanish on your device.


At the login screen, sign up for a new account.


Choose your plan, keeping in mind that you will be charged for the recurring subscription once your trial period ends. You need to cancel all subscriptions within seven days to take advantage of the trial if you don't wish to continue with the service.
To cancel your subscription, log in to your iTunes account, "Settings" and "Manage Subscriptions." Here you can manage and cancel your subscriptions.


Once you've signed up for the free trial, you'll no longer qualify for the seven-day money-back guarantee.
Alternative to the IPVanish Free Trial
We also recommend trying ExpressVPN if you're looking to experiment with using a VPN. Although ExpressVPN doesn't have a free trial, they do offer a no-questions-asked 30-day money-back guarantee.
The server network has one of the fastest connection speeds in the VPN industry, global coverage, and 24/7 customer assistance.
You can qualify for the money-back guarantee no matter what device you use, and you don't need to sign up with an iOS device.
Why You Should Consider a VPN Trial
A free trial with a premium VPN provider is an excellent way to try out the service and capabilities. There's no reason to pay for a service that isn't adequate for what you need.
As more sites block users based on location, it becomes more difficult to find providers that can bypass the restrictive protocols. For example, not every VPN provider has the technology to bypass Netflix geo-blocks.
Free Trial vs. Money-Back Guarantee
When you sign up with the assurance of a money-back guarantee, you need to provide your credit card information. You will be charged initially, and then, you have a specified time to request your money back.
With a free trial, you might still need to provide billing information, but won't be charged until the trial is over. During that time, users have the option to discontinue service.
VPNs offering a free trial isn't typical, so IPVanish is different in this aspect.
Things to Know about Choosing a Free Trial
Occasionally, a free trial only provides access to a scaled-down version of the available service. By signing up for the service and taking advantage of the money-back guarantee instead, you gain access to the full package.
IPVanish, however, don't seem to limit service during the free trial, but it can still be useful to run some tests during the period.
Test for IP and DNS leaks before using the program with a utility like ipleak.net to ensure that IPVanish is protecting your DNS and IP address.
Test out the speed while connected. Of course, it's natural to expect a small drop in rates any time you use a VPN because the encryption uses resources that inevitably slow down the connection.
Experiment with all the features to see how they work. Try different servers for torrenting and gaming, and attempt to get around geo-blocks on sites like Netflix and BBC iPlayer to determine the effectiveness.
Contact customer support during your trial, as it's helpful to know what kind of assistance you can expect when you need it. IPVanish only offers e-mail support, so submit a ticket and see how long it takes to get a response.
Taking the time to fully utilize every aspect of the service during your free trial helps you determine whether or not you want to commit to paying.
Final Thoughts
If you've been considering using IPVanish VPN, the free trial might be an excellent option for trying the service before you make a full subscription.
Sign up with your iOS device to take advantage of the offer, or subscribe and use the seven-day money-back guarantee with any other operating system.