13 Helpful Meditation Apps for 2023 + FREE Tutorials & Resources
There are many meditation apps that don't live up to their sales claims, but I was determined to find a few that could help me improve my daily practice. After all, evidence suggests that meditation can help you lower anxiety and stress, boost mood and reduce joint pain, and improve other aspects of your quality of life. That's why I was disappointed to find so many apps don't offer free content or interrupt you with distracting ads.
To save you time testing them yourself, I put over 35 options to the test to create this review of the top 13 meditation apps. I also included 100% free online resources from psychologists, monks, and other experts to help you develop your mindfulness practice, whether you're a total beginner or have years of experience.
Free Mindfulness and Meditation Apps to Keep You Focused and Calm in Your Day-to-Day Life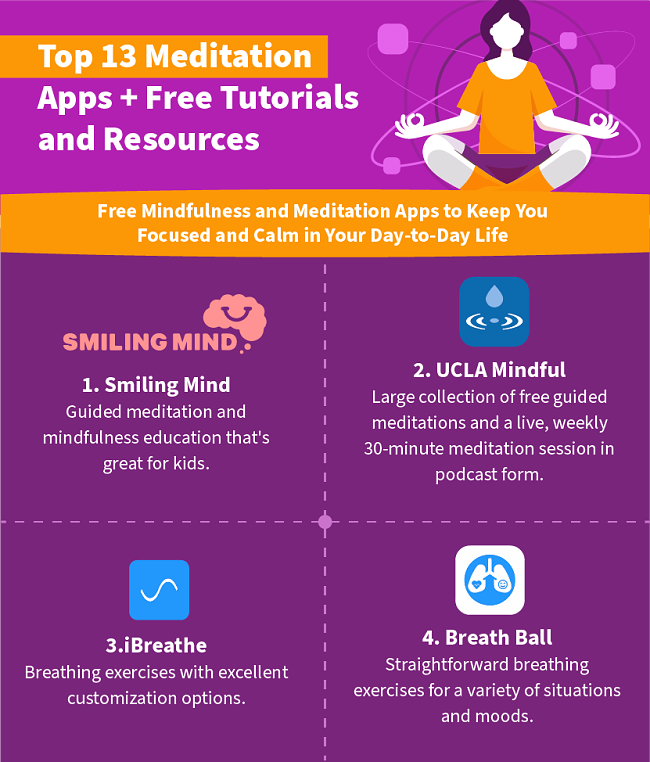 1. Smiling Mind: Daily Mindfulness Exercises for You and Your Child
Smiling Mind is an excellent teacher for people of all ages who are trying mindfulness for the first time. It includes programs for sleep, school, and work that are divided into 3 age groups so you'll always find something suitable for your circumstances. One thing I really loved about Smiling Mind was the Australian accents and the inclusion of meditations in indigenous Australian languages. It's also one of the few completely free apps out there. The app has been rated as great for kids and earned a full 5 stars from the American Psychological Association — which is not surprising as many of the staff members who created it are licensed, medical professionals. If you're looking for an app to help you or your child practice mindfulness and meditative skills, I recommend Smiling Mind. You can download Smiling Mind at no cost on the Google Play Store and Apple App Store.
2. UCLA Mindful: Free, Easy Guided Meditations for Any Situation
Designed by the University of California, Los Angeles, this app provides a wonderful collection of guided meditations for both beginners and experts. This app includes a variety of content like basic meditations in English or Spanish, wellness meditations, and even informative videos about the science of mindfulness. It also includes access to a weekly guided meditation podcast from the university's Hammer Museum. Best of all, the app is completely free. I highly recommend it for anyone looking for guided meditation content. If you're interested, you can find UCLA Mindful on the Google Play Store and Apple App Store and download it without paying. The collection of meditations on the app is also available for free on UCLA Health's website.
3. iBreathe: Customizable Breathing Exercises to Help You Relax and Sleep Better
Developer Jade Lizard Software has delivered a simple, free, quality app for experienced meditators. It offers easy-to-use customization settings on its breathing exercises to let you experiment with new breathing intervals, session lengths, cycles of breathing, and more. iBreathe's biggest drawback is that it's only available on the Apple App Store, so Android users are left out. Unfortunately, it also includes ads that can interrupt a meditation. Despite those drawbacks, I really like iBreathe's sleek interface and I think it's an excellent resource to add variety to your meditation practice.
4. Breath Ball: Daily Breathing Exercises to Relieve Your Stress
Breath Ball doesn't market itself as a full mindfulness app, but its small collection of breathing exercises can still support your goals to improve sleep quality and relieve stress. I find it really annoying when meditation apps are cluttered, so I really appreciated that Breath Ball is ad-free and well-organized. The exercises it offers can also be customized by changing the length or pace of the exercise. If you want an app that provides a straightforward path to stress relief techniques, this is the one for you. You can download Breath Ball for free on the Google Play Store and Apple App Store. While the app offers a Pro version with expanded features, the free content alone can keep you meditating for weeks.
Great Meditation and Mindfulness Apps With Paid Subscriptions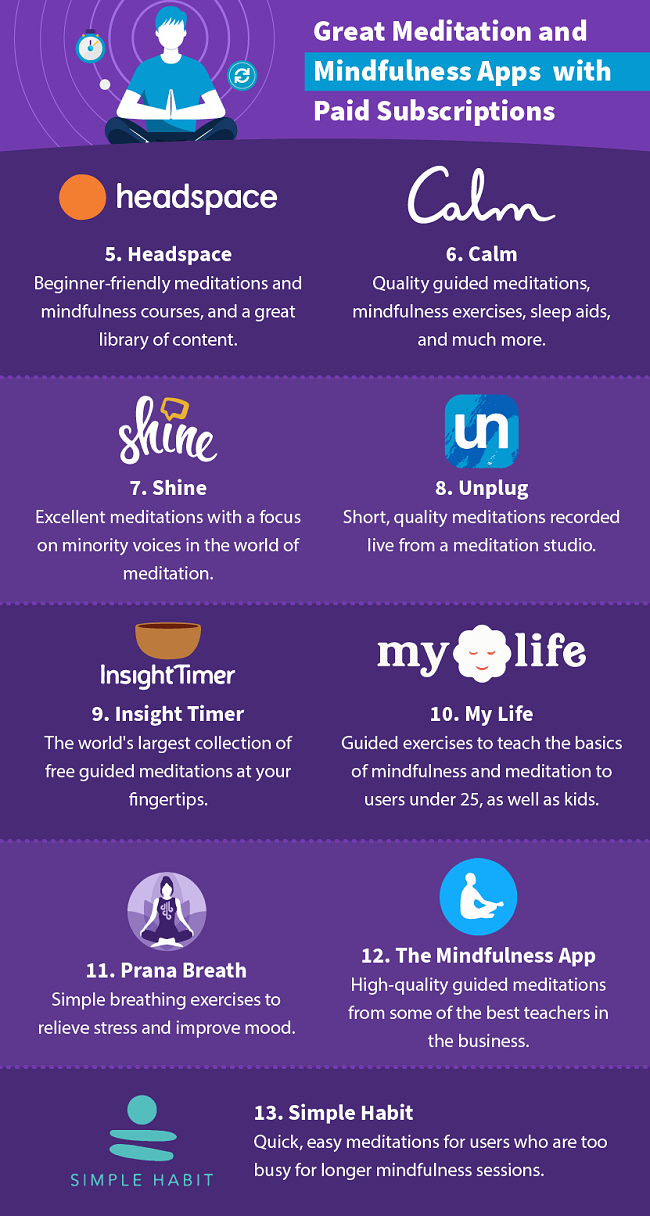 5. Headspace: Mindfulness and Meditation Courses for Beginners
Headspace is one of the most popular mindfulness apps on the market. It has a beautiful, streamlined interface and offers a ton of content that's easy to use — especially if you're just starting your mindfulness journey. You're sure to find something that will help you build your mindfulness and meditative skills in its beginner courses, sleep aids, and meditations you can try during a workout. You can try the Headspace app for free on the Google Play Store and Apple App Store to see if it's a good fit for you. If you find the free version helpful, a premium membership is available in yearly and monthly subscriptions. If you choose the yearly plan, you'll get the first 14 days free. The monthly subscription will get you the first 7 days at no cost. A drawback of this app is that canceling your free account can be complicated, so make sure to follow all the steps for cancellation on their website if you change your mind.
6. Calm: Mindfulness Exercises and Meditations to Help You Improve Your Daily Life
Calm is one of the most downloaded meditation apps out there and with the huge amount of content in its library, it's easy to see why. Few other apps offer the variety of quality content that Calm does like its sleep stories, white noise, mindfulness exercises, and more. Even if you use it multiple times a day, you won't run out of quality guided meditations. While you can get Calm for free on the Google Play Store and Apple App Store, you need a premium membership to get the most out of it. Its premium subscription offers 3 payment plans: monthly, yearly, and a one-time payment for lifetime access. When you download the app, you have an option for a 7-day free trial. Be aware that if you don't cancel at least 24 hours before your trial ends, you'll automatically get billed for a yearly subscription.
7. Shine: Daily and Sleep Meditations Inclusive of All Experiences
There's a lot to like about Shine. It offers well-crafted guided meditations and I loved the strong emphasis on self-care as the true goal of mindfulness and meditation. Shine was founded by a black woman and a half-Japanese woman and its content has been widely praised for representing diverse voices. Shine's greatest strength is its focus on mental health and wellness as it relates to the unique experiences of minorities. You can get it on the Google Play Store and Apple App Store without paying anything. It offers premium subscriptions with monthly or yearly payment plans and has a 7-day free trial so you can try it out before making a decision.
8. Unplug: Guided Studio-Style Meditations to Relieve Your Stress
Unplug began as an in-person meditation studio, and it brings that mindset to its app. It was designed with a similar mentality to let you meditate however and whenever is convenient for you. All of its guided meditations are also filmed from a drop-in secular meditation studio. It's easy to use and Unplug frequently creates special events such as a 30-day challenge to motivate you to continue meditating. You can get Unplug free of charge on the Google Play Store and Apple App Store. Its premium subscription comes with a 7-day free trial and is available in a monthly or yearly payment plan.
9. Insight Timer: The World's Largest Collection of Free Guided Meditations
Insight Timer believes the more options the better when it comes to mindfulness. It contains thousands of guided meditations and additional guides for sleep and yoga. The app's easy-to-use interface and its vast library of content make it hard to put down. If guided meditation isn't what you're looking for, Insight Timer also includes a timer you can use to create personalized meditations. Insight Timer's huge amount of content guarantees you'll find a meditative experience that's right for you. You can download Insight Timer at no cost on the Google Play Store and Apple App Store. The service has a yearly premium membership, but Insight Timer also offers a 14-day free trial.
10. My Life: Guided Exercises to Explain the Basics of Mindfulness
Almost any meditation app you find offers basic guided courses to teach you the fundamentals of mindfulness. However, few approach these topics from a purely educational standpoint the way My Life does. The exercises available are great for building your mindfulness and meditative skills. Targeted for users under 25 as well as kids, the app is one of the best introductions to the world of mindfulness and meditation that I've found. If you're interested, you can find My Life on the Google Play Store and Apple App Store for free. Its subscription service comes in 3 payment plans: monthly, yearly, and a one-time payment for lifetime access.
11. Prana Breath: Breathing Gymnastics Exercises to Ease Anxiety and Stress
Prana Breath is more straightforward than its name might suggest. Users expecting guided meditations will be surprised to find none in sight. This simple app helps you train and time your breathing with tons of surprisingly engaging exercises. Prana Breath is a great tool for beginners trying to find the method that works best for them. You can also buy a premium subscription, called Guru Mode. This gets you access to additional methods and chants, progress charts and logs, and more sophisticated breathing patterns. I found that the free version was sufficient for my needs as a beginner, but Guru Mode is worth considering if you want to move up to the next level. It's available exclusively for Android users, and you can download Prana Breath for free on the Google Play Store. It offers 3-month, 1-year, and lifetime subscription options.
12. The Mindfulness App: Customizable Mindfulness Meditations for Beginners and Experts
The Mindfulness App is a service that prioritizes quality over quantity. Its selection of guided meditations is not as expansive as some of its competitors, but its content is too good to miss out on. It also offers unique customization settings, the option to select different background noises, and meditations in over 10 languages. Boasting a collection of top-quality teachers and guided meditation content, The Mindfulness App is one of the best on the market. You can try it at no cost on the Google Play Store and Apple App Store. Its premium subscription is available in monthly or yearly payment plans. The app offers a 7-day free trial for premium as well.
13. Simple Habit: Guided Mindfulness and Sleep Sessions to Help You Stay Resilient
Simple Habit is well-known on the meditation app market, especially after its 2016 appearance on the popular ABC show Shark Tank. Since that episode, it has been described as one of the best meditation apps by publications such as Forbes. Between the content and the user-friendly interface, it's easy to see why. It offers a variety of teachers for is top-quality guided mindfulness exercises, sleep sessions, and meditations for any situation. The app's focus on simple, quick, and easy-to-learn meditations is perfect for users whose lives might be too busy for longer mindfulness sessions. You can pick up Simple Habit free of charge on the Google Play Store and Apple App Store. Their subscription model comes in 3 payment plan options: monthly, yearly, and a one-time payment for lifetime access. The 7-day free trial is only for the yearly subscription, and after the 7 days are up, the app states you will be charged for a yearly subscription if you do not cancel in time.
Free Online Resources to Help You Build Your Meditation Skills

While a few of the apps I included in this article offer free versions, I also wanted to include the best no-cost meditation resources I found online. The following is a collection of guided meditations, educational materials, and other valuable tools to help you practice meditation, sleep better, manage stress, and learn about hypnotherapy and sleep hypnosis. Many of these websites, podcasts, and YouTube channels also offer unique content and resources that I haven't seen in many apps. Remember to bookmark this page so you can come back to check out new resources as I update this page!
Improve Your Life With These Mindfulness Apps!
Nowadays, many of us are taking on incredible levels of stress just to live our daily lives and it's vital that we develop skills to cope. Meditation can be one of the most effective ways to do so, and it's also one of the most accessible because it's so simple. It only requires a bit of your time and a quiet place. Apart from the applications and materials discussed in this piece, numerous online platforms and YouTube channels [URLs in brackets] are available to assist you in understanding the fundamentals of mindfulness or enhancing your mindfulness techniques. With all these options at your fingertips, there's more reason than ever to give meditation a try!