The 5 Best Family Locator Apps for Android & iOS in 2022 (UPDATED!)
Last Updated by Shauli Zacks on May 01, 2022
Over the past year, I've tested over 30 different parental control apps, and one of the biggest benefits I've discovered is the family locator feature.
It lets me know where my kids are at all times, without them feeling like I'm constantly checking in on them. All I have to do is open the parent dashboard and see their live location on a map.
Of course, not all parental control apps have a family locator feature, and even those that do, not all of them are very good. Some of them were not accurate and even put my kids at risk due to weak security features and privacy leaks.
I learned the hard way that I can not trust completely-free apps and I can only rely on reliable and secure family locator apps that put all their efforts on protecting the kids. Qustodio was the best app that I've found. In addition to its location tracking, it lets me set up a geofence, and it has a 30 day, no-questions-asked money-back guarantee, so I tried it at no-risk, and you can do the same by trying it yourself and see how it works for you.
Get the Best Family Locator with Qustodio
Quick Guide to Block Your Kids from Downloading Inappropriate Content
Get a Parental Control App: I recommend Qustodio since it has 24/7 live tracking, geofence, and an SOS alert that instantly send out your child's location.
Install the app and allow GPS access: You need to give the parental control app permission to access the phone's GPS, so you will know exactly where your child is.
Check the parent dashboard for real-time location updates: All of the recommended family locator apps superimpose the child's avatar or picture on the map. The map will show all the family members that have the app installed on their phone.
Is Google's Family Link Good Enough?
Whenever I tell someone that I review parental control apps, they almost always ask about the free Google Family Link, because why pay for something when you can get it for free.
So, I'll tell you. It's true. Family Link does have a family locator feature. It works well and puts the child picture on a Google Map. However, I can't recommend it. The reason is simple. Family Link is too easy for kids to bypass.
First of all, the child can just create a new Google account, log in to their phone, and you'll never be able to track them. Secondly, once a child reaches the age of 13, they receive an email from Google saying they can remove Google supervision from their account.
Therefore, unless your child is under the age of 12 and doesn't really understand technology, they will easily be able to stop you from tracking their location.
The 5 Best Family Locator Apps for Android and iOS in 2022
Track up to 15 devices with a single license
SOS alert sends an updated location to trusted contacts
Set geofence radius from 100 – 200 meters
Track locations from the parental dashboard
Qustodio has several features that help me track exactly where my family is at all times. It starts with the basic real-time tracking that is always running in the background. All I need to do is open the parental dashboard app, either on my phone or the computer, and I can immediately see everyone's live location. The location is always the first item listed in the activity timeline, giving me insight into where they are, if they are on their phone, and what they're doing.
Not only that, but Qustodio also stores the location history for up to 30 days. This allows me to look back and see where the kids have been, and make sure they aren't getting into trouble.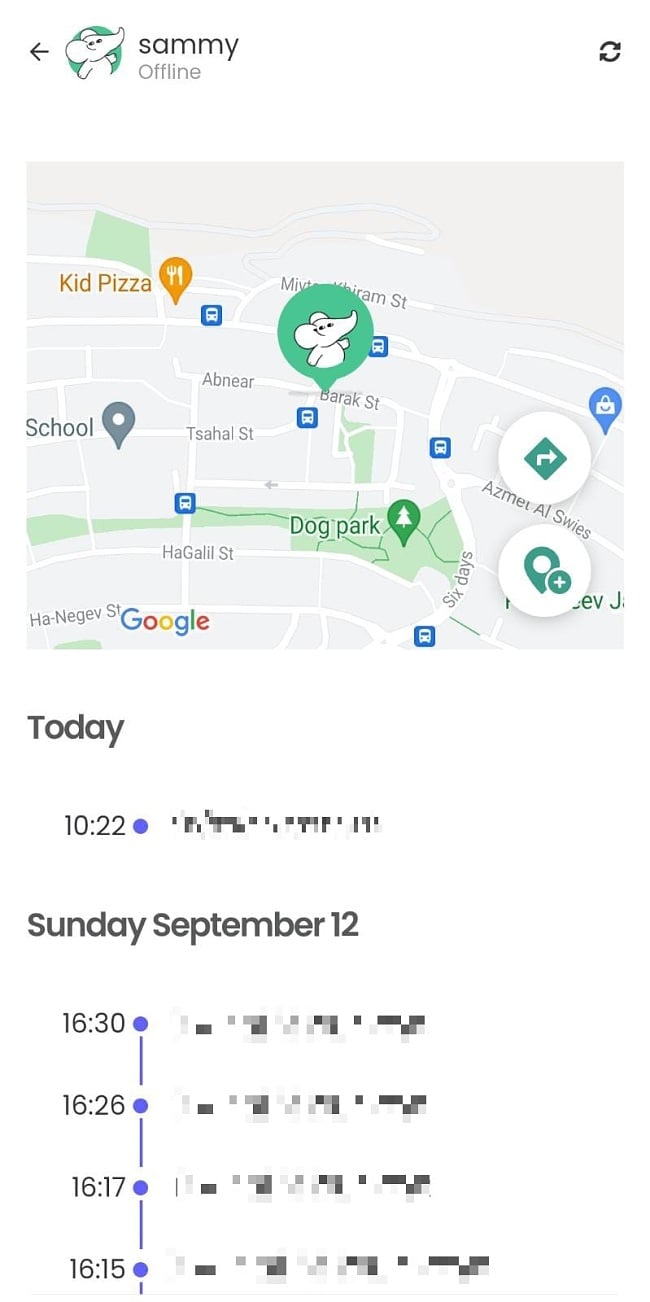 Qustodio also has a geofence option. I can set multiple locations, either where I expect my kids to be, such as school or home, or places where I don't want them to go, and I receive updates when they come and leave that area. I like this feature because it lets me know the kids are going to school on time or going to a friend's house and not sneaking around town. With the geofence, I don't have to check the app to see their updated location constantly.
The final location tracking feature, and one that is unique to Qustodio, is the SOS alert. This is a button on the child's device, and if they ever feel nervous or find themselves in a bad situation, they just press the button, and all their "trusted contacts" will receive an alert with their live location.
Qustodio is a lot more than just a family locator app. It also has powerful parental control features, such as comprehensive web filters, several screen time limitation tools, social media & YouTube monitoring, and Call and SMS tracking.
You can choose from 3 different subscription packages. The features are the same; the only difference is the number of devices you can track. Whichever package you choose, you'll have a 30 day, no-questions-asked money-back guarantee. I tested the policy, and 25 days after I installed the app, I requested a refund, and the money was back in my account within four business days.
Track Your Family's Location with Qustodio
See live location and location history
Geofence option with 3,200 meter radius
Check in feature allows children to send location alert to parents
Compatible with Android and iOS devices
I have peace of mind with the Norton Family app, knowing it tracks my family's location day and night. Once I installed the app on my kid's phones, all I needed to do was open my dashboard, and I could see exactly where everyone was on the map.
While testing Norton Family, I found this feature to be accurate even when I tried meeting up with the family at a big park. The GPS location was really helpful, and I quickly found the family without having to call multiple times and try and figure out where they were.
Norton Family tracks the location for the entire family. When you're on the map page, click on the Activities tab, and it will display a map with location pins dropped everywhere the family has been. You can see an exact address by clicking on the pin.
If looking at a map full of location pins is too overwhelming or unhelpful, you can view the location history through a timeline style. You also have the option to filter the location by date as well.
Norton Family also recently introduced an updated geofence feature. I was able to set up a boundary with a radius of up to 3,200 meters, which is significantly larger than any other app I've tested. I received an alert when my child entered or left the geofence boundaries.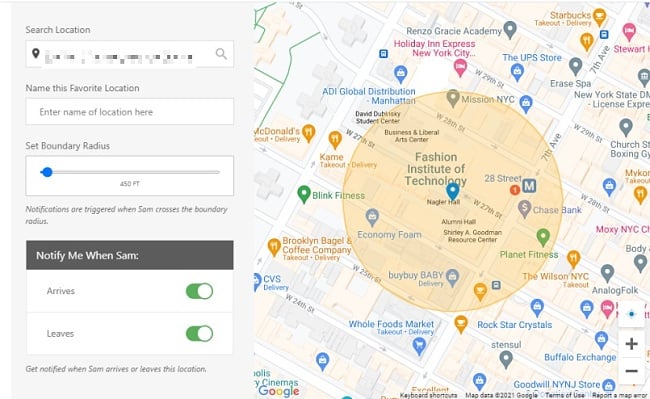 The final family tracker that Norton offers is the Check In feature. This was designed for kids to send a location alert to their parents. The one downside of location tracking is it isn't available everywhere. The list of compatible countries is frequently updated, so checking in with customer support is your best option if you live outside the US, Canada, the UK, Australia, and New Zealand.
In addition to live location tracking, Norton Family can also help you manage how your child spends time on their phone. There is a remote learning feature, screen time limits, web filter, and more.
Norton Family has one all-inclusive package, which includes unlimited connected devices so you can track your entire family for one low price. Additionally, there is a free 30-day trial, which gives you access to all the premium features without having to enter any payment information.
Track Your Family's Location with Norton
Monitors the live location for your entire family
Compatible with both Android and iOS devices
Instant updates on the Family Overview Map
Easy installation – no technical experience required
Net Nanny has all the tools needed to track your entire family. When you install the Net Nanny app on your child's phone, it will immediately access the phone's GPS and track its location. One feature I really liked when I reviewed this app is that my kids couldn't turn off the GPS without having my password.
There are two ways to view the latest location updates. The first way is through the Family Feed. This is a timeline-style list showing what everyone is doing on their phones, and it also includes everyone's location.
The second way is to open the Net Nanny Family Overview Map, which superimposes your family members' avatars on a map, so you can get a visual of where everyone is hanging out.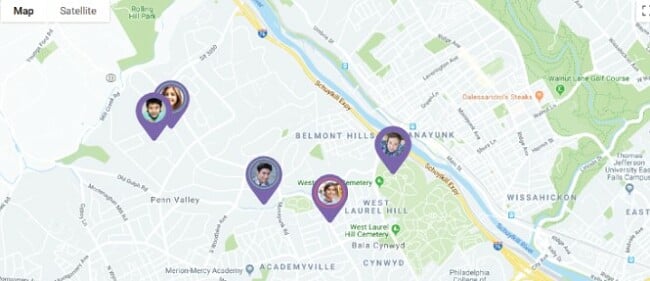 While there is no geofence option, Net Nanny does save the location history for 60 days with timestamps. This way, you can always look back and make sure there is no troubling pattern of going out late at night, skipping school, or being in places where they shouldn't be.
One nice side benefit of the Net Nanny tracking is it will always show you the device's last known location. This helped me tremendously as my son lost his phone, and I was able to look on the map and find the phone at the basketball court.
Net Nanny has a 14-day money-back guarantee. I emailed the company after 10 days and simply said I wanted to cancel my account and get my money back. They acted quickly, and within a few days, I had the full refund back on my credit card.
Track Your Family's Location with Net Nanny
Check in request provides accurate location
Builds trust between parents and children
Uses Google Maps to provide direction to child's location
Bark takes a slightly different approach to location tracking. The app tries to build trust between parents and children, and 24/7 location tracking isn't typically a trust-building feature.
However, the app does have access to the phone's GPS, and there is a Check In feature. The way it works is simple; send a check-in request, and when your child clicks on the button you will receive their updated location. The child can also click the Check In button on their own, which is the arrangement I had with my family. Every morning right before school and in the afternoon, they had to check in. This way, I could stay at work and have peace of mind knowing they went to school in the morning and where they were in the afternoon.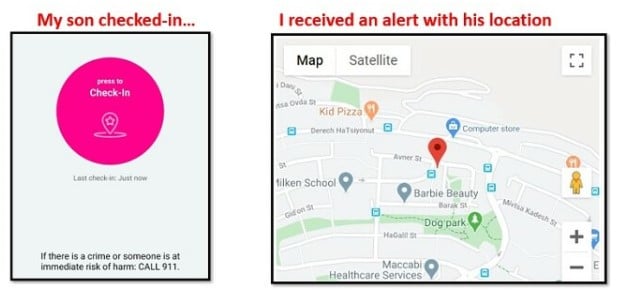 Once you receive the check in update, Bark will also give you the option to press the Directions button if you need to run out and get your kids.
Bark has two subscription options, and the Check In location tracking is included with both of them. Each plan comes with a free 7-day trial. While I did have to enter my credit card information, I canceled my account after 6 days, and my card wasn't charged. Bark is compatible with Android, iPad, and iPhone.
Track Your Family's Location with Bark
Accurate location tracking
Create forbidden and safe zones
Saves location history
If you only need to track the location of a single user, mSpy is a great option. It silently works in the background and gives round-the-clock location updates.
The geofence feature has two location category types: Safe Zones and Forbidden Zones. In the settings option, I selected whether to receive alerts for both zones, and whether they're sent via SMS, email, and the dashboard, or whether they should be sent to all three.

mSpy also saves the location history, so I can sit back when I have time and see where my child has been going every day and ensure that he's not going to forbidden zones.
mSpy has a 14-day money-back guarantee, but you will have to speak with customer support and prove that you're experiencing technical difficulties that can't be fixed.
Monitor your Child's Location with mSpy
How Can I Track My Child's Location?
The easiest way to track your child's location is to install an app with GPS access on their phones. Of course, this only works if your kids take their phones when they go – which is my experience they always do.
There are many different types of apps that claim to track phones, but from my experience, the ones that gave me the best value for my money were parental control apps. In addition to 24/7 live tracking, they can also enforce web filters, screen time limits, and protect kids from other online dangers.
When selecting a subscription, make sure it includes enough licenses for the entire family. For example, Qustodio has plans for 5, 10, or 15 devices, and mSpy can only be connected to one phone at a time.
Once you've purchased a subscription, you can install the app on all the relevant phones, and make sure to permit it to access the phone's GPS. This is extremely important; otherwise, the location will be based on cell phone towers, which is not nearly as accurate or reliable.
After the installation is complete, the location tracking runs in the background, providing real-time updates.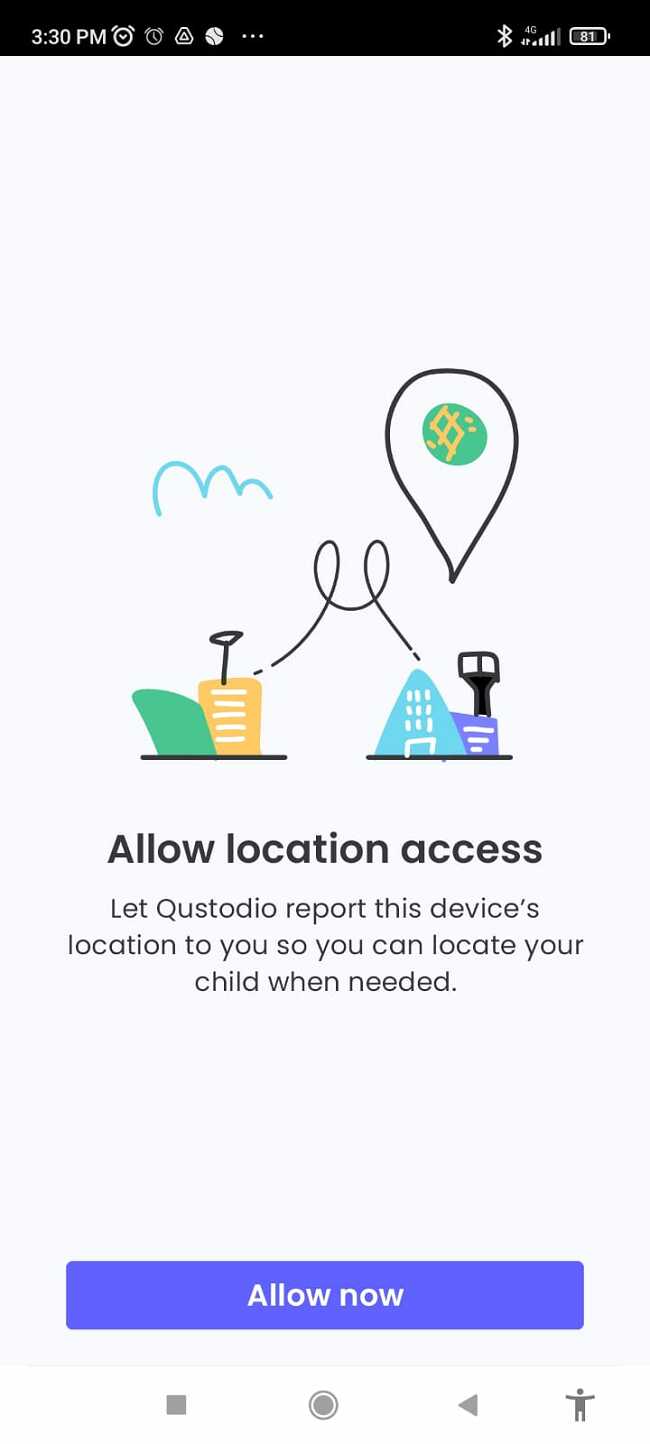 As the parent, all you need to do is open your parent dashboard on the computer or mobile device, find the location tracking section, and you'll see the map. Every app will have a slightly different display, but the good ones will show you exactly where every family member is, accurate to about 10 meters.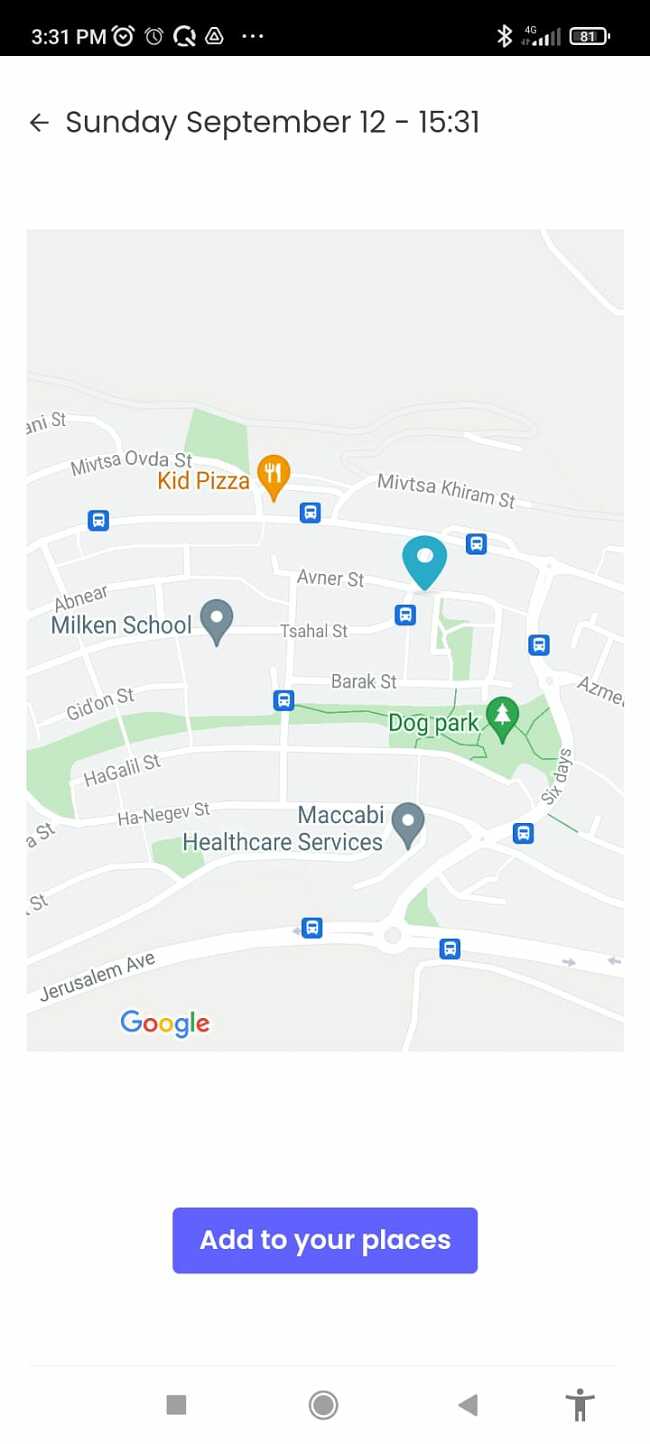 Can I get alerts when my family goes to certain locations?
Knowing where my family is used to feel like a full-time job in itself. The kids are in different schools, they have after school programs, hang out with friends, meet up at the mall, and so on.
These days, instead of trying to keep it all straight, I set up a geofence on each of their phones. A geofence is a tracking tool that allows me to create a list of locations based on an address, and when my child enters and leaves that area, I get a notification.
For example, I get a notification when each child arrives at school in the morning, so I'm not worried about ditching school or getting in an accident and not arriving at the school. Each child has their own user profile, and so I can create custom geofences for each one. If my oldest son tells me he's going to the library, and I don't get a notification that he arrived, I can check the real-time location and see if he's running late or if he tried to trick me and go to the movies instead.
Will a Free Family Locator App Work?
The first question you should ask yourself is would you trust your child's safety to a free app? There are plenty of reasons why I would avoid a free tracking app, here are some of them:
They collect data and sell it to marketers: Maintaining and updating these apps is expensive, and if the company isn't making money through subscriptions, they'll make it by selling your data to marketing companies. You're giving the app access to your child's location, which means they can take that information and use it to market to your child. Pop-up ads about the store next to them or related to the kind of places they are visiting. To me, that's a breach of trust, and it's unacceptable.
The apps are typically not secure: Encryption technology and firewalls are expensive to maintain, and without a consistent revenue stream, security is usually the first thing to go. This is because it's easy to cancel, and most people don't know what's going on behind the scenes. However, if a hacker or predator can access the data, which includes where your child is hanging out, it can put your family in danger.
The good features are hidden behind the paywall: Some companies will offer a limited version of the app for free, but they'll market it as a free app. Only when you download it, you'll see that the live tracking, geofence, or some other crucial element is for registered members. Personally, I don't like that kind of promotion. I'd rather have a free trial or money back guarantee that gives me full access to all the features, like Qustodio offers. This way, I know what I'm getting into when I install the app on my phone.
At the end of the day, we're talking about the safety of our kids and the peace of mind knowing where they are at all times. Plus, you also get all the benefits of a premium parental control app. I found it worth a few dollars per month.
Bottom Line
With so many different apps out there, all claiming to be the best, it can be hard to pick the right family locator app for you. I've tested dozens of these apps from reputable companies, and I quickly saw that not all locator apps are created equal.
My top choice is Qustodio, a parental control app with real-time location tracking, SOS alerts, and a geofence, all included in a well-designed app. There's no technical knowledge required, and it took me less than 2 minutes to install and set up the tracking features. You can try Qustodio risk-free with a no-questions-asked 30-day money-back guarantee, and never wonder where your family is again.