Best Cheap VPNs for BBC iPlayer That REALLY Work (Tested March 2021)

Last Updated by Valentine Milner on March 01, 2021
BBC iPlayer is a popular web streaming service that allows viewers to watch legal and free content online.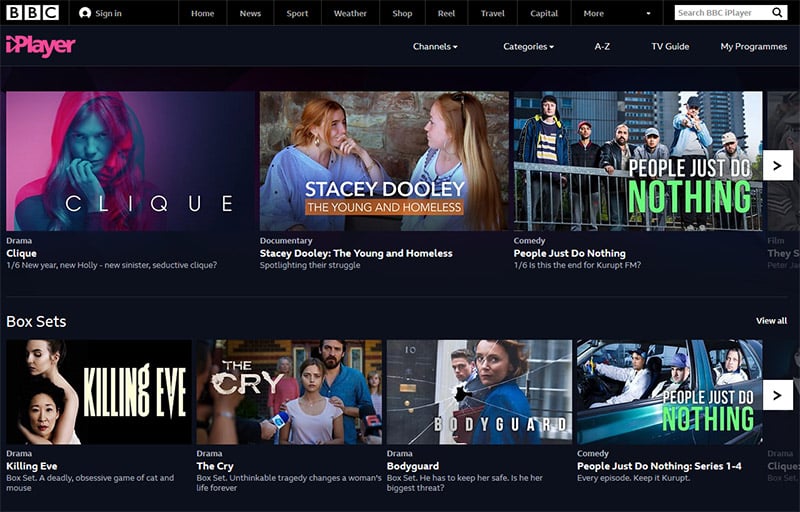 You can stream almost anything, from movies, TV shows, and sport, broadcast by the BBC.
However, you can only stream iPlayer content if you're in the UK or have a UK IP address. So, if you're traveling abroad or live elsewhere, you'll only see the message, "BBC iPlayer is restricted in your region."
With a VPN, you can unblock BBC iPlayer with ease and catch your favorite shows no matter where you are. Many of these services come with exaggerated and discouraging payment plans, others are cheap but with little to no features. Below we've listed some of the more affordable and reliable VPNs available.
The Most Affordable VPNs for BBC iPlayer
There are many available VPN options, but each is different from the other. For instance, IPVanish is a well-known service but doesn't work with BBC iPlayer, so it's essential you do enough research before choosing.
We've come up with our list based on vital factors, including:
Speed
Number of IP addresses or servers
Unlocking Geo-restrictions
The Server location
Privacy Policy
1

NordVPN – Save 68% with a 2-year plan
More than 600 servers in the UK guaranteeing full access to shows on BBC iPlayer
Can connect with up to 6 devices simultaneously
Dedicated customer help and support team
30-day cash-back guarantee on all plans
NordVPN is known for its fantastic track record when it comes to BBC iPlayer, and its rich number of servers in the UK makes it quite resourceful. Recently, there have been network improvements, boosting speeds and it has a wide array of features to keep you safe online. Most importantly, the software doesn't store any customer logs or personal information.
You can subscribe for one month or one-year payment plans, although the 2-year plan comes with a discount of 68%.
Stream the BBC iPlayer with NordVPN
2

CyberGhost VPN – 45-day money back guarantee
More than 300 servers in the United Kingdom
Dedicated profiles capable of unblocking content on BBC iPlayer within seconds
Strict no logs policy
45-day cash-back guarantee capped with a 7-day free trial period
CyberGhost VPN had problems unblocking content in the past but has improved dramatically, and it's now one of the most reliable VPNs for using with BBC iPlayer. What sets it apart from other services is its simple user interface and responsive customer support staff.
CyberGhost has more than one payment plan; you can choose one month, six months, or one-year plans. However, to get the best value for your money, we feel that the 3-year plan would suit you just right, saving close to 83%.
Stream the BBC iPlayer with CyberGhost
3

Surfshark – Just $2.49 per month
Super-fast streaming speeds
Unlimited devices
Unlimited bandwidth
Instant Access to BBC iPlayer
Surfshark is a remarkable and highly affordable VPN. However, one of the most impressive things about it is its speed, which means high-quality streaming for you.
Each payment plan includes a 30-day money back guarantee in case you feel that the VPN hasn't met your set standards, and the extended 2-year plan saves you 81%.
Stream the BBC iPlayer with Surfshark
4 Reasons to Avoid Free VPNs While Watching BBC iPlayer
Any VPN that describes itself as free, allows malicious third-party groups to track your online activity and collect your data. Below are some of the reasons why you should avoid free VPNs:
1

Your Bandwidth is at risk!

Some free VPN providers utilize their customers' bandwidth to handle user traffic to avoid having to expand their server network.
2

They Have an Exhausting Amount of Ads

Free VPNs have to make money somehow, and if they aren't charging users a subscription fee, odds are they are either selling your data to third-party advertisers or displaying ads to genrate revenue.
3

Brace Yourself For Slow Speeds!

A weak or ineffective VPN service will always have speed issues, and they are generally sluggish with regular buffering because they prioritize the needs of their paid subscribers.
4

They Compromise Your Web Security

Using a VPN can protect from malicious activity and content, but some, like Betternet, SuperVPN, and cross-VPN work in conjunction with malware and show distinct signs of computer virus infection.
Final Thoughts
Watching your favorite TV shows on BBC iPlayer despite the geo-restrictions is not simple, but is possible, and a VPN is the most dependable and secure method of bypassing the robust geo-blocks of BBC iPlayer.
Consider the services we've highlight and avoid being tempted to try free VPNs, as although they sound great, they want to make money and, usually, it is at the expense of their users.