How To Remove the Roblox Virus (Tested and Updated in 2022)
Last Updated by Sayb Saad on November 25, 2022
Roblox is a popular online game (not a virus) that can serve as a medium for viruses to get onto your computer. Hackers entice users by offering them a fake Robux currency generator to "cheat" in the game but also planting data-stealing trojans on their computers.
Your PC may also get infected if you download a pirated version of Roblox with bundled malware or click a malicious link from another Roblox player that steals your identity. However, it can be hard to tell if you're infected or not playing Roblox unless you use a reliable antivirus to protect yourself.
I tested dozens of antiviruses and picked out the best 3 that can protect you from such viruses. Norton 360 for Gamers is my #1 pick because of its perfect detection scores and it comes with a 60-day money-back guarantee so you can try it out without risk.
Remove malware with Norton 360
Quick Guide: 3 Easy Steps to Remove the Roblox Virus
Download and install an antivirus — Choose a reliable antivirus like Norton 360 and run a full system scan to check your entire hard drive for malware.
Delete infected files — Remove all detected malware from the full scan results.
Keep yourself protected with a top-tier antivirus. Always keep real-time protection and the firewall enabled.
Get rid of malware with Norton 360
How to Remove the Roblox Virus From Your Device
Step 1: Run a Full Scan
Use a reliable antivirus with excellent detection capabilities and run a full system scan. A full system scan can take some time to complete but it checks every nook and cranny of your hard drive, not just the critical drive locations like the "Downloads" folder or the "C:/ drive."
This is important because the Roblox virus may be hiding in unassuming areas of your drive and won't be detected with a "Quick Scan," which only looks in the most common folders to save time.
Step 2: Delete Infected Files
Once the full scan has finished, you'll see a list of all the infected files on your computer. You can either delete them all at once or scroll through the list first to check for any false positives. The antiviruses on my list don't flag legitimate or safe files. Even so, it's better to check for that just to be safe.
The next step is to restart your PC — this would give it a hard reset and terminate all malicious background processes that may still be lingering around after deleting the viruses. After that, run a full scan the second time to ensure that your PC is free of all malware.
Step 3: Keep Yourself Protected
Playing Roblox or any other online game can expose you to hackers and dangerous viruses, putting your data at serious risk. Avoid clicking on any link another Roblox player sends your way, and steer clear of Robux, the fake currency that lets you cheat in the game but plants malware on your computer.
You must also keep your operating system, drivers, and apps up-to-date. Hackers often exploit known vulnerabilities that can be avoided by regularly updating your system. I suggest securing your wireless network by using a strong password and paying particular attention to your webcam and mic which have no intrinsic security and can be easily hacked.
It's crucial to protect yourself with a good antivirus, especially if you're playing an online game like Roblox or simply surfing the web. A premium antivirus like Norton 360 provides gaming-specific features on top of its 100% real-time protection, giving you the best performance while keeping phishing sites and malicious files at bay 24/7.
The Best Antivirus Software to Get Rid of the Roblox Virus — Full Test Results in November 2022
Key Features:
100% accurate real-time threat protection while playing online games like Roblox
Advanced firewall that prevents hackers from accessing your PC
Web browser extension that blocks you from opening malicious Roblox links
Cloud storage for data backup
60-day money-back guarantee
Norton is my go-to everyday antivirus because it gives a 100% secure online gaming experience when playing Roblox. Throughout my rigorous tests, it gave me perfect detection scores in real-time. I visited over 40 different known malicious websites and Norton's Safe Web browser extension blocked each one of them.
I tested Norton's detection capabilities by planting 470 malware files on my PC and running a full scan. Norton detected all infections and even kept me safe from metamorphic viruses which are extremely difficult to detect because they can change their internal structure to evade detection. More impressively, its full scan took only took 10 minutes, which is faster than any other antivirus I've used so far.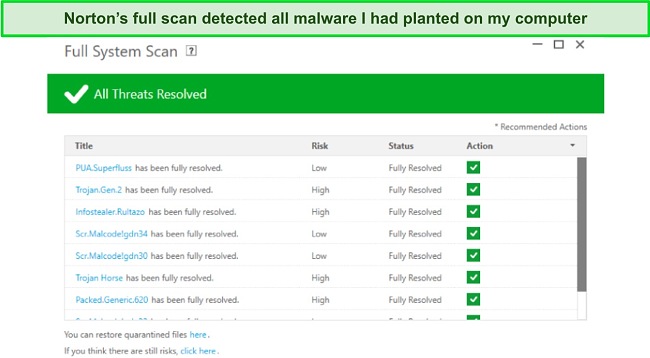 Another reason for Norton's impeccable real-time protection is its highly configurable firewall, which packs a range of advanced features. When I played Roblox on public WiFi, Norton's firewall automatically configured itself and became more cautious of incoming traffic. It also monitored all apps on my PC to check for any suspicious changes.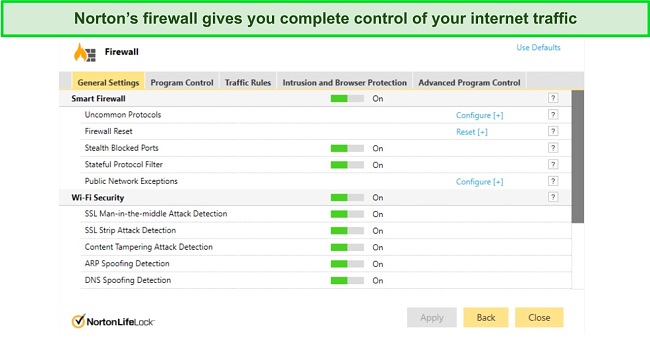 I'm a big fan of Norton's cloud storage, a feature I found missing on many other antiviruses. It lets you store all your sensitive data in the cloud, keeping it safe from prying eyes. Cloud storage starts from 2GB on the basic plan and goes up to 100GB on the premium plan.
Of Norton's 4 plans, I suggest going for the Norton 360 for Gamers plan. The Norton GO power booster manages your system resources while gaming to give you the best gaming experience with no frame drops. It also provides 50GB of cloud storage, parental controls, a VPN to prevent DDoS attacks, and a firewall to keep you safe from online threats. Alternatively, the Standard plan could suffice because it has the same features, except for its 2GB of cloud storage. These 2 plans include the following features.
Cloud backup for keeping sensitive data safe on the cloud.
Smart firewall to monitor your internet traffic 24/7.
Password manager to protect all your online accounts and credentials.
VPN (3 and 5 devices, respectively) for browsing the web anonymously.
PC SafeCam to protect your webcam.
Dark web monitoring that alerts you to any leaked data
Overall, Norton 360 is the best antivirus you can use while playing Roblox. It provides perfect protection against all online and offline threats in real time. You can protect up to 5 devices at a time with Norton risk-free since it offers a 60-day money-back guarantee.
Remove malware with Norton 360
Key Features:
Excellent detection abilities for perfect protection while playing Roblox
Highly configurable firewall with advanced features
Web protection browser extension for safe online gaming
Vulnerability scanner fixes known exploits to keep hackers at bay
30-day money-back guarantee
McAfee is one of the best antiviruses you can use when playing Roblox because it provides impeccable security for safe online gaming. It gave me perfect detection scores during my real-time tests, blocking 100% of the 470 viruses I had planted on my computer. Many of these viruses were complex zero-day malware hidden inside zip files that are difficult to detect by ordinary antiviruses.
I was thoroughly impressed by McAfee's WebAdvisor browser extension as it gave me peace of mind while playing Roblox. I had another Roblox player send me a malicious link in the game, and WebAdvisor immediately blocked me from opening the link as soon as I clicked on it.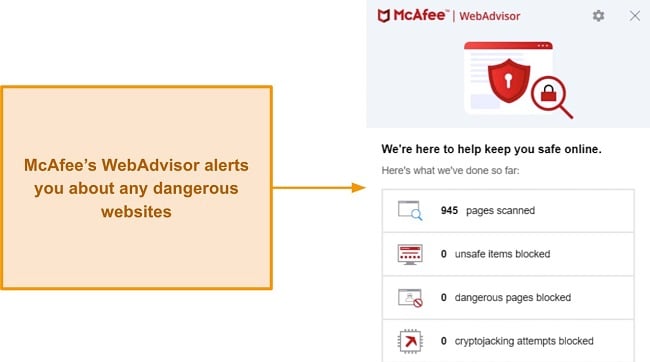 McAfee hosts one of the most powerful firewalls I've ever seen in an antivirus. It's packed with advanced features, such as traffic control that lets you decide when your apps can connect to the internet. I especially liked its "Monitored Access" feature because it lets me keep an eye on the apps trying to connect to the internet without my consent.
McAfee Total Protection also offers 4 plans — Basic, Plus, Premium, and Advanced, but it provides better features at a lower price. For instance, McAfee's "Plus" plan and Norton's "Deluxe" plan both support 5 devices but the latter is more expensive. If you decide to go for McAfee, I recommend its mid-tier "Plus" plan as it includes all the essential security features, including
Identity monitoring to keep your data secure
Web protection browser extension for secure online gaming
A highly configurable firewall to keep hackers at bay
Password manager to protect all your passwords
A VPN for encrypting your internet traffic and keeping you anonymous
Overall, McAfee's superior protection makes it one of my top picks. The only reason it comes second to Norton is that its full scan is slower and can slow down on your PC. Even so, it's a great buy, and you can test McAfee out risk-free with its 30-day money-back guarantee.
Key Features:
Detects nearly all viruses in real-time
Smart scan identifies PUPs, junk files, and viruses you may get while playing Roblox
Web protection browser extension provides peace of mind with online gaming
Data breach test that keeps your sensitive data secure
30-day money-back guarantee
TotalAV is an excellent choice if you're looking for an antivirus with a range of optimization tools. It not only provides you with a seamless online gaming experience thanks to its built-in silent mode, but also impeccable protection when you're playing Roblox.
The first thing that stood out about TotalAV was its "Smart Scan," which detects optimization issues on your PC. This is a handy feature because online gamers often get PUPs, junk files, and malware that slows their computer down. TotalAV's smart scan takes a couple of minutes to clean your system of all unnecessary files and make it faster.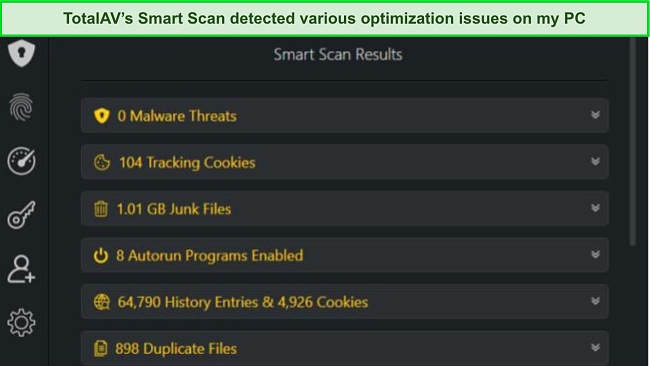 I was happy with TotalAV's web protection browser extension (Safe Site), which blocked me from all the phishing sites and ransomware attacks. It's an excellent protective feature when you're playing Roblox and another player sends you an unknown link. Safe Site will block the link if it's infectious.
Of the 3 products TotalAV offers, I recommend "Total Security," an all-in-one antivirus with all the necessary security features to keep your Roblox experience as safe as possible. It includes the following features:
Ad blocker that blocks annoying pop-ups, many of which can be malicious
Password manager for seamless tracking and monitoring of all your passwords
Optimization tools like disk cleaner and browser manager for seamless gaming
VPN for hiding yourself from your ISP
Data breach monitoring to receive alerts if your email address gets compromised
TotalAV ranks third on my list because it doesn't provide a perfect detection rate like Norton or McAfee. Still, it managed to detect 99.5% of the viruses in real-time, which is much higher than the industry average of 97%. You can try TotalAV risk-free as it's backed by a 30-day money-back guarantee.
Quick Comparison Table: 2022's Best AVs for Removing the Roblox Virus
| | | | | | | |
| --- | --- | --- | --- | --- | --- | --- |
| | Real-time protection | Web browser extension | Firewall | Dark web monitoring | Cloud storage | Money-Back Guarantee |
| Norton 360 | ✔ | ✔ | ✔ | ✔ | ✔ | 60 days |
| McAfee | ✔ | ✔ | ✔ | ✔ | ✘ | 30 days |
| TotalAV | ✔ | ✔ | ✔ | ✔ | ✘ | 30 days |
Remove malware with Norton 360
How I Tested and Ranked the Best AVs for Removing the Roblox Virus in 2022
I considered the following aspects when picking out the best antiviruses for removing the Roblox virus.
Detection capabilities — I tested each contender's detection abilities and picked out those that provided perfect or near-perfect scores.
Real-time security — The antiviruses on my list have a range of security features like an advanced firewall and browser protection for a safer online gaming experience.
Firewall — Since Windows Defender isn't enough to protect you, I picked out antiviruses with the most powerful firewalls.
Dark web monitoring — I chose antiviruses that constantly monitor your privacy and alert you whenever your email gets compromised on the internet.
Money-back guarantee — All antiviruses on my list have a refund policy. I tested each one's money-back guarantee and got my money back in a week.
FAQs on How to Remove the Roblox Virus
Is Roblox a virus?
No, Roblox is a popular online game but can serve as the medium for a virus to transfer onto your computer. If you think you've been infected, follow this 3-step guide to remove malware from your PC.
Sometimes an antivirus may flag Roblox as a malicious program, but you can whitelist it so that it doesn't show as a false positive. In that case, there's no need for concern — however, you should use a top-tier antivirus to check if any malicious files are impersonating Roblox.
Is Roblox safe?
Yes, Roblox is a safe-to-play online game but it can serve as a medium to infect your PC with malware. However, you can keep yourself safe by using a reliable antivirus while playing Roblox.
There are several ways you can have malware on your computer by playing Roblox. First, you may have downloaded a pirated version of the game bundled with viruses. Second, you click on a malicious link sent to you in-game by another Roblox player. Lastly, you might have used a malicious program to "cheat" in the game. In any case, you need a reliable antivirus to keep viruses at bay when you're playing Roblox.
Should I always have an antivirus running when playing Roblox?
Yes, having an antivirus running in the background while playing Roblox keeps you safe from malware. I suggest using Norton 360 because it provides perfect real-time detection and thorough web protection. It also has an advanced firewall that lets you have complete control over your internet traffic.
Protect Your Computer from the Roblox Virus With a Reliable Antivirus
It may be difficult to detect if your computer has been infected while playing Roblox. The purpose of spyware or other forms of data-stealing malware is to be unnoticeable so that a hacker has enough time to steal your credentials before you can realize the damage has been done.
Therefore, it's imperative to use a reliable antivirus while playing Roblox. An antivirus monitors your PC in real time and detects any malware trying to gain access to your computer.
I highly recommend Norton 360 for Gamers because it provides 100% accurate detection of even the most complex of viruses while maintaining your in-game performance. You can try Norton risk-free with its 60-day money-back guarantee to see if it's right for you.
---
Summary — Best Antivirus Software to Protect Your PC From Hackers in 2022
Top Choice