How to Remove PC Accelerate Pro (3-Step Guide) In September 2022
Last Updated by Sayb Saad on September 01, 2022
PC Accelerate Pro is a fake optimization PUP (potentially unwanted program) that sneaks into your computer when you download a malware-infected file. In simple words, if you see it on your system files, it means your computer is infected.
You might have noticed that PC Accelerate Pro keeps showing you advertisements, but did you know it also collects your user information and sells it to third-party advertisers? It will notify you, falsely, that it has found ways to optimize your system if you buy its subscription.
For my tests, I bought the subscription and found that the optimizations it promised never worked. I also found that PC Accelerate Pro was accompanied by another PUP (potentially unwanted program) called Instant Support. It will show pop-up ads, prompting you to call a phone number, but never do that as you'll be connected to a scammer who will try to hack into your computer remotely.
If you're looking for a powerful system optimization tool with a suite of tune-up features, I highly recommend using Norton 360. Norton has by far been my go-to antivirus for years. It packs a ton of internet security features, including a powerful system optimizer that gets rid of junk files and unwanted programs on your computer, even those that are very hard to find.
Quick Guide: 3 Easy Steps to Uninstall PC Accelerate Pro
Uninstall PC Accelerate Pro — You can remove PC Accelerate Pro in a few clicks. Check out my step-by-step guide below on how to uninstall it on Windows and Mac.
Run a scan with your antivirus — Run a full scan using your antivirus, so you can detect and remove all PUPs. I recommend Norton 360 because it detects 100% of malware.
Remove any malware detected — After the scan, the antivirus will automatically remove all detected malware and PUPs. Manually remove them as shown below if required.
Try Norton 360 risk-free for 60 days
How to Remove PC Accelerate Pro
Step 1: Uninstall PC Accelerate Pro
Uninstalling PC Accelerate Pro is easy, but the process can differ depending on which Windows version you're using. Below I've outlined how to uninstall this unwanted program on Windows 10, 8, and 7.
If you're on Windows 10, click on the start menu and then the gear icon. After the Settings window pops up, click on Apps and you'll be redirected to the Uninstall Programs window.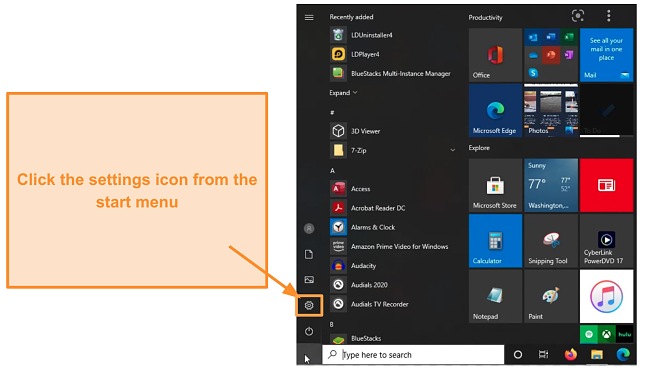 On the Uninstall Programs window, you'll see a list of software installed on your computer, including PC Accelerate Pro. Keep in mind, however, that it's very likely it won't have the same name on the list, so searching for it using the search bar would be futile.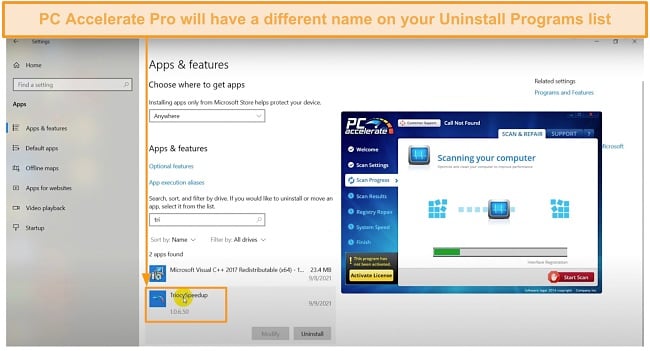 In my case, PC Accelerate Pro was hidden behind the name TriocySpeedup. If you want to trace it, run PC Accelerate Pro, open the task manager, and see which name it's using. Search that name in the search list and click "Uninstall."
If you're using Windows 7 or 8, go to the Control Panel and click on "Uninstall a program" under the Programs header. If you don't see the button, click the "View by" option on the top right and set it to "Category."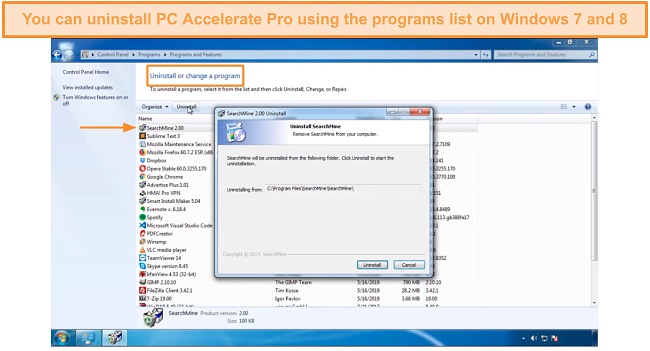 Note that this time, PC Accelerate Pro was hidden behind SearchMine 2.00. I had to dig that out by seeing which name the program appears as in the task manager. That's because malware usually comes bundled with other programs and software, which is why the name will differ from case to case. Just make sure you find out which name PC Accelerate Pro is using in your task manager.
Step 2: Run a scan with your antivirus
After you have uninstalled PC Accelerate Pro from your computer, use a premium antivirus and run a full scan of your system. Many forms of malware can get installed accidentally, so there's no telling if PC Accelerate Pro has left some malware traces on your computer even after you've uninstalled it.
I strongly recommend using Norton 360 as your antivirus because it provides perfect detection scores and removes 100% of viruses, even the stealthy ones that hide in unassuming areas and directories on your computer.
Always remember to remove any portable devices such as USBs and portable hard drives so that any malware on your computer can't copy itself onto the portable devices. Keep in mind that a full scan may take some time and be resource-intensive, so you'll not be able to use your PC at full performance. It's a good idea to initiate the full scan when you're not using your computer for a couple of hours.
Step 3: Remove any malware detected
After your antivirus has performed the full scan, it'll show you a list of all the malware it found on your computer. You can delete these viruses all at once or check them one by one to make sure there aren't any false positives.
Most antiviruses I have tried out do flag legitimate files. So far, I've found that Norton hasn't falsely flagged any websites or software as malware, which is why I've been using it as my main internet security tool.
After removing the malware, you'll be prompted to restart your PC. This is done so that all remaining malicious processes on your computer can be wiped away.
If you use a powerful antivirus like Norton or McAfee, one full scan should be enough to be certain there is no lingering malware on your PC. However, I always prefer running a full scan for the second time to be absolutely sure. No matter how good your antivirus is, I would strongly recommend you run another full scan.
The Best AVs for Removing PC Accelerate Pro (Tested September 2022)
Key Features:
100% malware detection and perfect real-time protection
The AI-powered SONAR analysis tool
Smart firewall
Parental controls, browser extension, password manager, and a VPN.
60-day money-back guarantee
After repeatedly putting up Norton 360 against different kinds of malware, I was impressed by how easily it managed to detect and remove the most stealthy and dangerous of viruses like PC Accelerate Pro. Norton's exceptional performance can be attributed to its powerful anti-malware engine that uses SONAR analysis to identify unknown threats by monitoring their behavior.
I ran the full and quick scans and found them both highly effective against the various malware I had planted on my testing machine. The full scan gave me a 100% detection rate and only took about 12 minutes, which is significantly faster compared to other antiviruses on this list. More impressively, the quick scan only took 2 minutes to complete!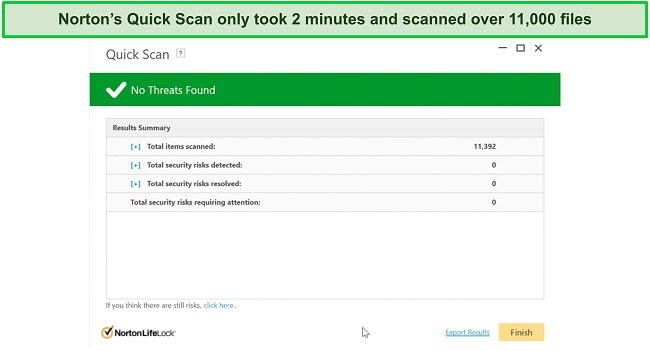 Norton features an array of security features, including a well-integrated password manager, smart firewall, browser extension, and a VPN. I used all of them and found them incredibly useful in protecting me from all real-time threats. It also offers cloud storage in even its most basic plan so you can protect your files from infections.
The best thing about Norton is that it includes performance optimization tools, so you don't have to install any third-party tools. I used these optimization tools to remove junk files and clear up my storage space and noticed my PC got much faster and more responsive.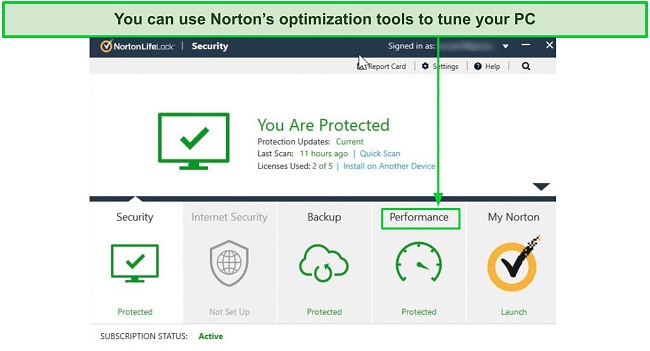 I used the Optimize Disk feature to defragment my hard drive to free up some space. The process took about 2 minutes and I noticed an instant performance boost. I also liked how this feature automatically springs into action if your disk fragmentation is above 10%.
Norton offers 4 yearly plans — Plus, Standard, Deluxe, and Select. Each plan provides incremental cloud storage options, so if you need a basic plan with no parental controls, VPN, and extra privacy monitoring features, you should get Plus or Standard. If you need to protect 5 devices and want more cloud storage, pick the upper-tier plans. I would recommend the Deluxe Plan as it is a vest value for money. It covers 5 devices, and has 50GB of cloud storage, a firewall, password manager, VPN, PC SafeCam, and parental controls.
You can try any of the above plans out yourself risk-free by using Norton's 60-day money-back guarantee deal. I tested its refund policy and got my money back within 5 days of filing the refund request.
Key Features:
100% malware detection and near-perfect real-time protection
Global Threat Intelligence (GTI)
Powerful and customizable firewall
Password manager, VPN, browser extension, parental controls, and file shredder
30-day money-back guarantee
After extensively testing McAfee across multiple tests, I found that it can easily stand up to the likes of Norton. McAfee's full scan repeatedly provided me with a 100% detection score, removing every malware I had planted on my PC. It also blocked every real-time threat I threw at it with laser-sharp precision such as PC Accelerate Pro.
The only reason why it falls behind Norton is that McAfee is resource-intensive and can have a significant toll on your computer. Its Quick Scan only took about 6 minutes, whereas its Full Scan took more than 45 minutes. I also noticed my computer slow down a bit, but not by much. If you have a slower PC then you may see some minor slowdowns during more intensive scans.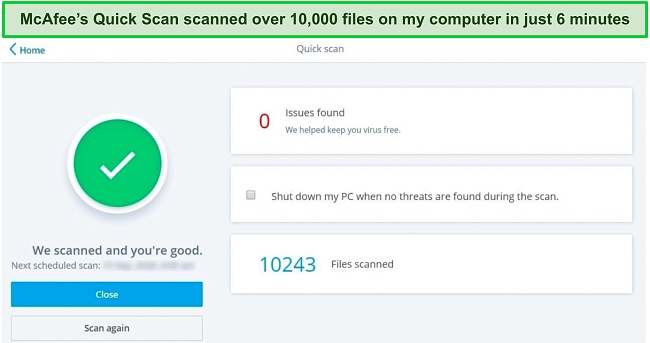 McAfee hosts many security features, including a password manager, firewall, browser extension, and parental controls, which I consider must-haves for any premium antivirus. I was also happy to see that it offers powerful identity protection. What stood out the most for me, however, was its powerful and highly configurable firewall.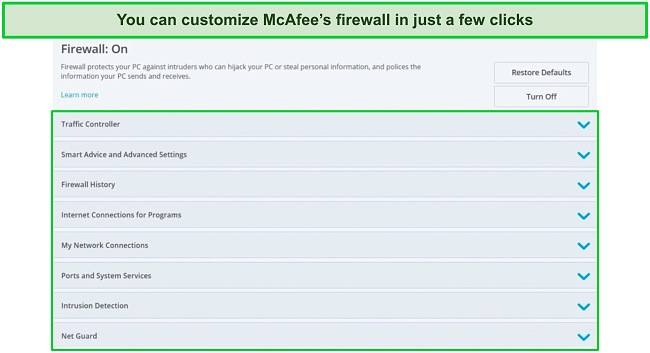 It was a delight to use McAfee's firewall – not only does it offer a lot of customizability, but also technical features for advanced users. I was especially impressed by its Intrusion Detection feature, which alerts you against potential hackers. The Net Guard feature was also impressive. It will automatically flag any suspicious networks that you connect to or pose risks nearby.
McAfee Total Protection offers 3 yearly plans — Plus, Premium, and Advanced. I was pleased to see it offers protection for a minimum of 5 devices on its plus plan. If you're looking for unlimited devices, the Premium or Advanced plans would be good. It additionally offers a "Basic" plan that only covers 1 device and lacks many features of the Plus plan at a slightly lower price.
McAfee has a 30-day free trial. I signed up for it and was glad that it didn't ask me for my credit card information. Apart from that, it provides a 30-day money-back guarantee, which is extendable to 60 days if you enable auto-renew. So, you can use McAfee risk-free for 90 days!
Try McAfee Total Protection risk-free for 30 days
Key Features:
Detects 100% of malware and blocks 99% of cyberattacks
Safe Site browser extension provides exceptional online security
Hosts a powerful suite of optimization and tune-up tools
Windscribe-powered VPN, password manager, and data leak protection
30-day money-back guarantee on its yearly plan
Being a relatively new player in the antivirus industry, you might think TotalAV doesn't stand a chance against the top antiviruses, namely Norton and McAfee. However, I was pleasantly surprised to find out how good it was, both as a virus-detecting software and a security suite.
I ran my tests and found that TotalAV successfully detected and removed 99% of the malware I planted on my testing machine including PC Accelerate Pro. That's a pretty good score, considering the industry average is only 97%. Unfortunately, though, TotalAV couldn't detect some of the zero-day malware on my system.
The only reason TotalAV comes in third place is that it's quite resource-intensive. While my PC didn't significantly slow down because it has top-of-the-line specs, if you're using a mid-range computer, expect a good amount of hiccups and delays, especially when installing heavy apps like Adobe.

TotalAV was using 81% of my CPU resources without even running a scan. When I ran its full scan, my CPU utilization spiked to 100% and I noticed some lag using my PC. In comparison, you can see that Norton wasn't nearly as resource-intensive as TotalAV.
Plus, you'd expect an antivirus like TotalAV that uses 100% of CPU resources to finish up scans at a blazing-fast speed. Despite being resource-heavy, TotalAV's scans ran at about one-fourth the speed of Norton's (see the Full Scan Disk Utilization MB/s column). A full scan on TotalAV took over 20 minutes to complete.
What really impressed me about TotalAV was its optimization tools. TotalAV hosts an entire tuning facility with a ton of customizable features, such as a Disk Cleaner, App Uninstaller, and Startup Manager. Most importantly, when you run its Smart Scan, it automatically detects junk files, autorun programs, unnecessary cookies, and duplicate files.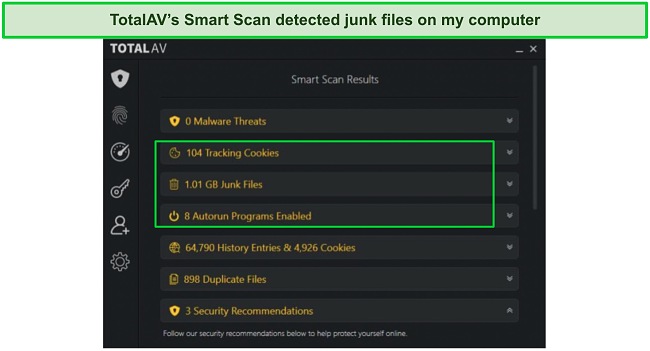 I was particularly impressed by its Startup Manager, which showed me the apps like Skype that open by default and slow down my PC when I turn it on. I removed a couple of these from the list and noticed that my computer was a bit faster after booting up.
TotalAV has 3 plans — Antivirus Pro, Internet Security, and Total Security. The base plan protects 3 devices but doesn't include a VPN, adblocker, and password vault. The mid-tier plan protects 5 devices and provides a VPN, but not the adblocker and password vault. I strongly suggest getting the Total Security plan because it covers 6 devices and includes all the features at only a slightly higher price.
TotalAV provides a 7-day free trial, but it only comes with a basic virus scanner (not the premium features). It also offers a 30-day money-back guarantee, which isn't as hassle-free as I had hoped because you have to call them to file a refund. I tried the money-back guarantee first-hand and got a refund in 5 days.
Try TotalAV risk-free for 30 days
Comparison Table: 2022's Best AVs for Removing PC Accelerate Pro
| | | | | | |
| --- | --- | --- | --- | --- | --- |
| | Antispyware & Antimalware | VPN & Password Manager | Identity Protection | Cloud Backup | Dark Web Monitoring |
| Norton 360 | ✔ | ✔ | ✔ | ✔ | ✔ |
| McAfee | ✔ | ✔ | ✔ | ✘ | ✘ |
| TotalAV | ✔ | ✔ | ✘ | ✘ | ✘ |
Try Norton 360 risk-free for 60 days
How I Tested and Ranked the Best AVs for Removing PC Accelerate Pro
I kept the following features in mind when coming up with the above list of the best antiviruses for removing PC Accelerate Pro.
Malware detection. I ran extensive tests and handpicked only those antiviruses that gave me a 99% or more malware-detection rate.
Resource-intensiveness. A good antivirus is not only good at removing viruses but also is light on your computer. The best antiviruses on my list aren't very resource-heavy.
Security features. I made sure that the above antiviruses aren't standalone antiviruses. Rather, each one offers entire security suites. Having features like a password manager, VPN, browser extension, and parental controls significantly reduces the chances of infection.
Optimization tools. I chose antiviruses that provide optimization tools, such as a disk cleaner, junk remover, and startup manager to increase your PC's performance and, thus, can easily remove PC Accelerate Pro in a few clicks.
Value for money. I factored in software features, compatibility, user-friendliness, and money-back guarantee to arrive at my top picks.
FAQs About PC Accelerate Pro
Is PC Accelerate Pro a virus?
No, it's a potentially unwanted program (PUP) that gets installed on your PC without your knowledge and can be used to steal your confidential data or spread other malware. It may be accompanied by another PUP called Instant Support, which shows a number for you to call. Do not call it — there's a scammer at the other end of the phone, looking for ways to remotely access your PC. Check out this step-by-step guide on how to remove PC Accelerate Pro from your PC.
Is PC Accelerate Pro safe?
No, PC Accelerate Pro is a potentially unwanted program (PUP) that claims to have optimization tools and can make your PC faster, but it doesn't. It may steal your data by giving hackers remote access to your computer. You need a good antivirus that keeps you safe from viruses and such PUPs 24/7. I strongly recommend using Norton 360 as it provides 100% accurate malware detection and packs a ton of security features that will keep PUPs like PC Accelerate Pro at bay.
Protect Your PC From PC Accelerate Pro
If you see PC Accelerate Pro on your computer, don't use it at all and uninstall it by following these guidelines. However, doing that doesn't steer you clear from danger because PC Accelerate Pro might have spread malware on your computer, including trojans, rootkits, worms, and spyware.
Having a premium antivirus (preferably one that's an entire security suite) is a must-have if you want to complete remove PC Accelerate Pro and all its infectious contents. My top choice is Norton 360 because it provides perfect malware detection and real-time protection, which no other antivirus offers so far. It's also not resource-intensive, so you can work on your PC or surf the internet without experiencing a noticeable slow down.
If you're more focused on optimization tools, I would recommend TotalAV because it has one of the most diverse and customizable tune-up suites I've seen. Not only can you use it to remove viruses and PUPs, but you can also manage autorun programs and delete junk and duplicate files that are slowing your PC down.
---
Summary — Best VPNs for Removing PC Accelerate Pro in 2022
Top Choice