How to Cancel NordVPN in 2019 and Get a Refund – You'll be surprised
Last Updated by Denise Sullivan on July 29, 2019
NordVPN has a 30-day money-back guarantee that we put to the test. We were able to get a full refund even though we signed up through their special deals page for the cheapest plan.
As a leader in virtual private networks, NordVPN knows what makes their customers want their services. Their no logs policy and built-in kill switch feature make them feel safe when they are online. However, they are not always the best fit for every customer, and you may find yourself out of the subscription fee if you don't know how to request a refund. We've gone ahead and created an account just so we can review its features and then test the refund policy.
If you're looking for a new VPN, we strongly recommend ExpressVPN which also has a 30-day money-back guarantee is one the best VPNs on the market.
Quick Guide: 2 Steps to Getting a Refund From NordVPN
Contact customer service
Let them know why you want to cancel
NordVPN Refund Policies
Before purchasing any virtual private network subscription, we like to know that there is a guarantee in place in the event we aren't satisfied with the service. It's even better if we can try out the provider without limitation before paying, but those options are few.
Despite plainly stating the guarantee on their front page, the policy is not explicitly lined out without having to search for it. You must go to the FAQ page to find more information on the refund policy.

Your account must be in good standing before asking for a refund, as stated on their FAQ page under the billing section.
How to Get a Refund
To obtain a refund from NordVPN, you must first go through customer service. You can contact them through email or chat feature. You may be asked to verify your account before proceeding by offering your order number and email address.
Like many companies, NordVPN does their best to retain paying customers before refunding your payment. Customer service will want to know what is wrong with the service you experienced to try to make it right before canceling your service. After all, it is in their best interest to keep their customers happy and paying for a subscription.
We were pleasantly surprised by the fact that they genuinely want to do your service right first. NordVPNs concern with the customer experience not just in keeping accounts is real. If you are having an issue connecting, they will walk you through steps to help you get and stay connected when activating the software. If you find that the service is too expensive, they offer you a reduced rate for several months.
The Twist
It is frustrating to have to go through the process of contacting someone to cancel your service and get a refund of fees. If you don't know where to look, you could spend thirty minutes looking for the information you need to get a refund successfully.
If you choose to email customer service instead of using the chat feature, it could take up to 24 hours before someone gets back with you concerning the refund.
Despite all the frustration, you may encounter in trying to cancel your account attempting to get a refund. We were surprised that despite all the hassle of talking to customer service and going through their steps to 'fix' our problems, they refunded the fees without any additional questions. Once they were satisfied that there was nothing they could do to make things right, they processed our request that day. In fairness, we did wait until the 29th day of our 30-day subscription.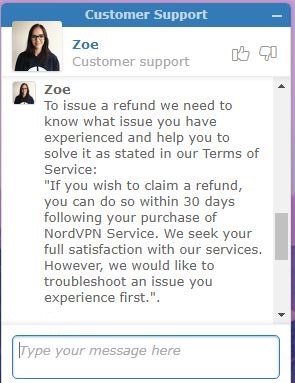 NordVPN does process your request on the same day. However, you may not see the money in your account for three to seven business days. The time frame when you see your funds again depends on the payment method used to pay for the subscription's processing time.
There are some limitations to their refund offer. In addition to making the request in writing and allowing them to try to make the service right for you, some accounts are non-refundable. Users who purchase their subscription via iTunes or the Apple Apps Store are not guaranteed refunds. NordVPN will not process these requests, and all claims must go to iTunes or the App store. Additionally, service purchased with a prepaid card or gift card is non-refundable.
NordVPN does offer a refund policy. For more information on how their refund policy works, you can see their Terms of Service page or contact their customer service department.
However
, if you want to
try NordVPN for free, they do offer a limited three-day free trial by downloading their application and following the sign-up instructions
. If you cancel before the end of the free trial, NordVPN
does not charge
your payment method. However, you still have 30 days from the date of purchase to request a refund.