How to Cancel NordVPN and Get a Full Refund (Tested 2022)
Last Updated by Mary Emasah on August 01, 2022
I recently canceled my NordVPN subscription because of its poor performance during heavy-use hours and its slow app. No matter the reason for wanting to cancel, I outlined an easy-to-follow guide on how to get your NordVPN refund back without a huge hassle.
When I tried to get my refund, I realized that NordVPN's user interface had changed tremendously, and so had the refund process. Shockingly, most of the information out there about getting a refund is sorely outdated. For instance, you don't need to cancel automatic payments first or wait for customer support to join you in a chat room.
It is too risky to stay unprotected after you cancel your NordVPN subscription, which is why I recommend ExpressVPN due to its lightning-fast speeds. You can try ExpressVPN out risk-free as it also has the advantage of a 30-day money-back guarantee and a no-questions-asked refund policy.
Quick Guide: 3 Steps to Get a Refund From NordVPN
Sign in to your NordVPN account. Once you log into your account, click the live chat bubble at the bottom right corner of your dashboard to connect to a customer service agent.
Request a refund. Ask the live chat bot to connect you to an agent, then explain to the agent why you want to cancel your subscription and request a full refund.
Receive your refund. You should receive your refund in your bank account within 7 days. With it, you can try out ExpressVPN risk-free to better secure your online presence and stream at blazing-fast speeds.
Step-By-Step Instructions to Cancel Your NordVPN Account
1, Open up NordVPN.com and log into your account. You can not request a refund through the VPN's application and will need to log in to get support from the live chat feature.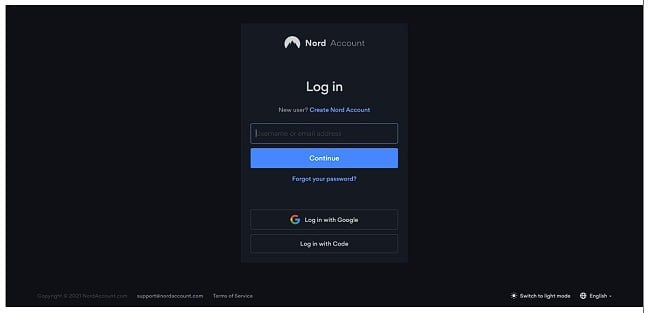 2. Click on the chat icon on the bottom right of the NordVPN website. You may be asked to chat with a bot, but instead, type "live chat" in the chatbox to talk with a customer service agent. Then, select "Billing" when asked to choose a department that matches your inquiry.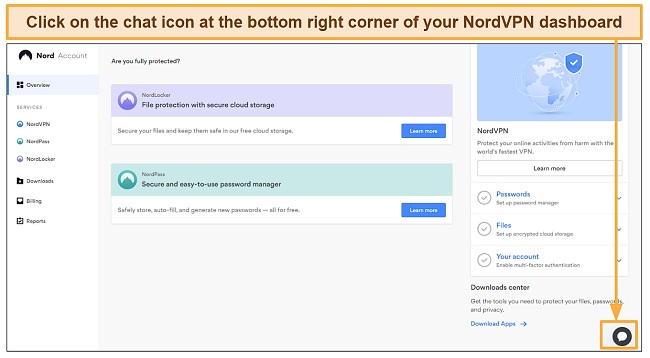 Next, the bot will ask you for your email address. Once you provide it, you'll be connected with a customer support representative. You can also get a refund via email, but I've found that the process is faster through live chat.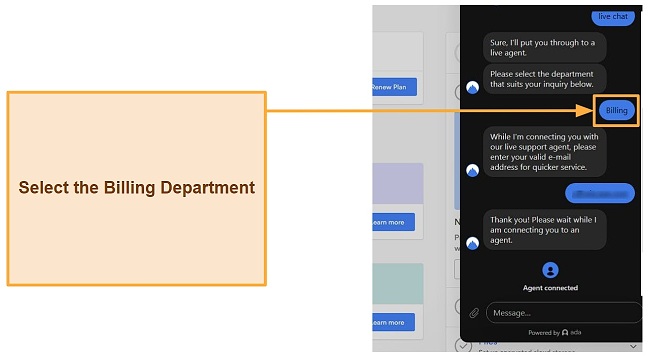 Keep in mind that you don't need to cancel automatic payments before requesting a refund like other sites would have you believe. This is because NordVPN cancels your account and payment information once it processes your refund.
3. The NordVPN customer support representative will try to troubleshoot your issues first as they want to try and retain you as a customer. So you'll need to explain your reasons for wanting to cancel. Once they understand that you no longer want to use the product (and there's nothing they can do to help), they will give you your money back.
I requested my refund through live chat and simply explained that I wasn't using the service. The customer support agent was very friendly and genuinely wanted to know if there was any particular issue he could help me with. After he understood that I didn't need any help, he processed my refund immediately without further questioning. There was no hard sell at all.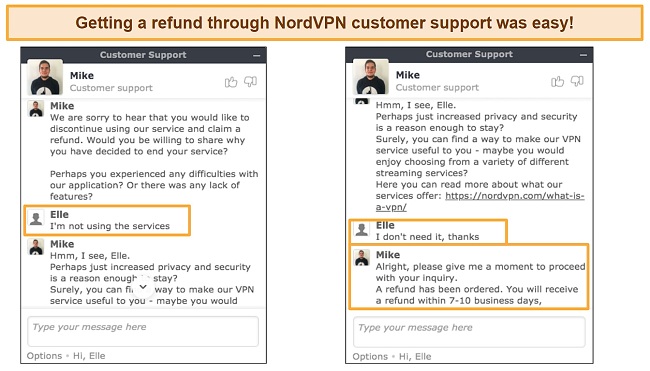 4. Now that your refund request has been processed, all you have to do is wait. The amount of time it takes to receive your refund depends on the payment method you used. Generally, this should take no longer than 10 business days.
How to Get a NordVPN Refund by Email
Sign in to your NordVPN account and navigate to the Contact Us page. You'll be presented with three options; Help Center, Live Chat, and Email Us. Choose Email Us and continue to the next page, where you can leave a message for the NordVPN customer support team about your refund.
You should get a confirmation email for your service cancellation within the hour. However, the agents will still want to know why you're canceling and if there's anything they can do to rectify it. After you've reaffirmed your cancellation, the support agent will process your refund. It should arrive in your bank account within 10 days maximum.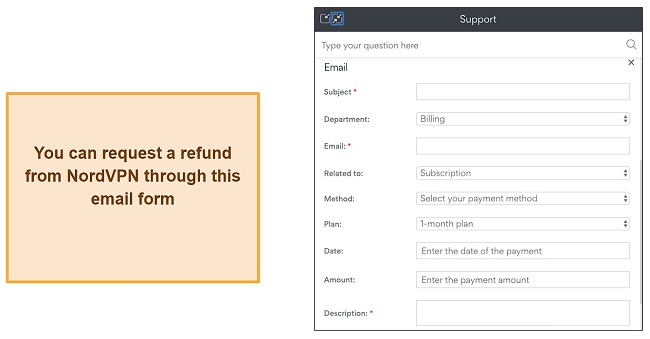 Warning: You May Not Be Eligible for a Refund
NordVPN has an easy refund process, but not everyone is eligible. To be eligible for a refund, you have to make a claim within 30 days after purchase. NordVPN clearly states this in its Terms of Service, so if you're going to request a refund, do so before your 30-day grace period expires.
According to its customer support, NordVPN can't process refunds for subscriptions or other purchases made through iTunes or the Apple app store. Apple handles those refunds, so you have to contact them directly. Note that you'll be subject to Apple's refund policy in this case. The same goes for other resellers and third-party vendors, you should confirm their refund policy before buying through them.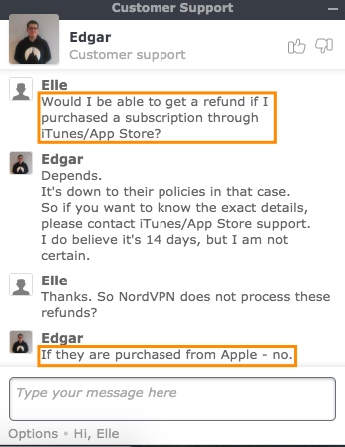 Also, users who purchased a NordVPN subscription with a gift card or a prepaid card are also not eligible for a refund. Keep in mind that if NordVPN terminates your account for violating its terms of service, you won't be able to secure a refund.
Try out ExpressVPN's top features
Try a New VPN Risk-Free: Best Alternatives to NordVPN
Key Features:
3000 servers in 94 countries provides more than 30 extra country locations than NordVPN
Top-notch security with military-grade encryption and a no-logs policy
5 simultaneous device connections for a wider range of protection
24/7 live chat and email support to help you troubleshoot any issues and process refunds if need be
30-day money-back guarantee so you can try it out risk-free
ExpressVPN beats other VPNs when it comes to speed — not even NordVPN comes close. VPNs generally slow down your browsing speeds, and it gets worse when you connect to a faraway server. In all my tests, ExpressVPN proved to be the best at maintaining your original network speeds throughout your session, unlike NordVPN that buffers for some moments during streams. Even when I chose a server across the globe, I enjoyed lag-free gaming, streaming, and torrenting.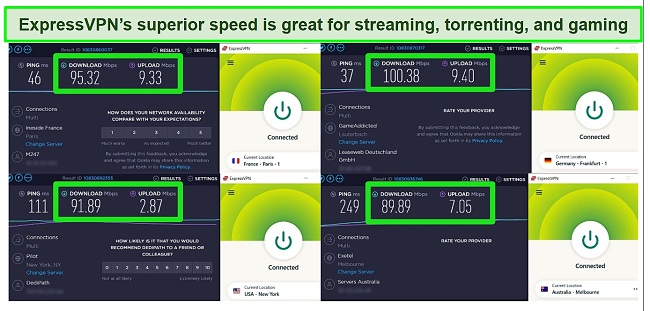 ExpressVPN's unique Trusted Server Technology protects your data from hackers. Instead of hard drives, ExpressVPN stores data on RAMs. This means that all your data is wiped once the servers are rebooted. Even if ExpressVPN suffers a breach, which it never has, there would be no data to steal. Moreover, ExpressVPN abides by its strict no-logs policy, so it doesn't store any data about you. Its military-grade security protocols also rival NordVPN's. It protects your data from being exposed if your internet connection is interrupted.
ExpressVPN is known to unblock dozens of streaming sites, far more than most VPNs. It reliably grants you access to content blocked due to licensing restrictions and broadcasting rights. During my tests, I watched Netflix's The Irishman in ultra HD on a New York server despite being abroad. Apart from Netflix, you can also unblock other streaming platforms like Disney+, Hulu, HBO Max, FuboTV, ESPN, NHL.tv, etc.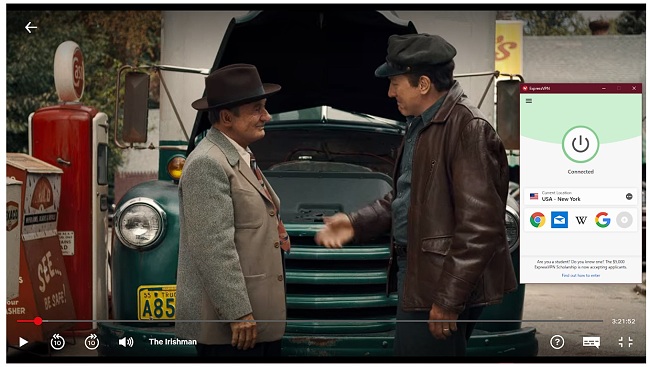 I must mention that ExpressVPN is relatively more expensive than other alternatives like CyberGhost and PIA. But I was happy to find it offers incredible discounts, up to 49% off the normal price. This way, you get the best VPN service at only a fraction of the cost.
ExpressVPN has a no-questions-asked refund policy — its support won't waste your time with questions, unlike NordVPN. There's also a 30-day money-back guarantee, so you can try ExpressVPN completely risk-free. After using ExpressVPN for 29 days, I messaged its customer support and requested a refund. The agent approved my request immediately without asking why I wanted to cancel and I got my money back in my account in just 2 days.
ExpressVPN unblocks: Netflix, Amazon Prime, Hulu, BBC iPlayer, and more
ExpressVPN works on: Mac, Windows, Linux, Chromebook, Android, iOS, Chrome, Firefox, Safari, Playstation, Xbox, and Nintendo Switch
Key Features
8200 servers in 91 countries, which is over 1000 more servers than NordVPN has, ensuring your speeds stay consistent at all times
Uncrackable 256-bit AES encryption and in-built leak protection prevents data leaks
Connect up to 7 devices at the same time for all-round protection
Get help via 24/7 live chat and email support
45-day money-back guarantee and fast refunds
Cyberghost has more servers than NordVPN in many more countries, ensuring that your connection never lags. That was a problem I experienced with NordVPN, especially during peak usage periods. CyberGhost's larger server network means you get a stable, speedy connection since you won't face overcrowding.
CyberGhost also has dedicated servers for maximum speed when you're streaming, gaming, or torrenting. These servers have practically zero buffering time and minimal lags. In my tests, I got as low as 31ms, which is rare for a VPN but perfect for competitive gaming. CyberGhost is a great choice for unblocking and watching content on Netflix, HBO, Hulu, Disney+, and any sports streaming platform in Ultra HD.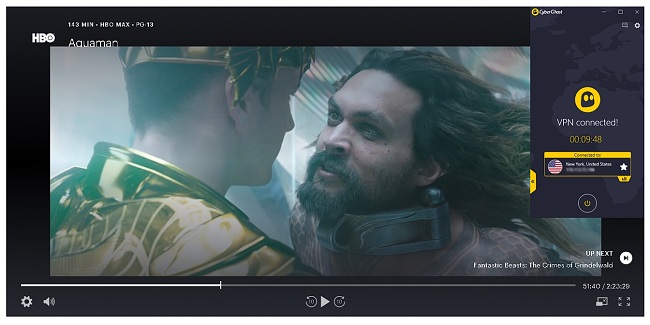 I tested CyberGhost on 7 devices at the same time to see how well it performed. I logged in to ESPN, Hulu, Netflix, and NHL.tv and streamed on 3 mobile phones, 2 Windows PCs, 1 MacBook, and 1 smart TV. During the setup, I noticed that its native apps were fast and easy to use on all devices compared to NordVPN's slow apps. I also didn't run into any bandwidth issues at all despite streaming on 7 devices at once.
However, even though CyberGhost's connection speed is super fast, my streams buffered for 2 to 3 seconds right after I connected. I'd say this isn't a major issue considering the network speed shot up to the maximum speed immediately, and the optimized servers didn't buffer at all.
If you're looking to replace NordVPN, then you should try out CyberGhost for its optimized streaming servers. It is backed by the longest money-back guarantee period on this list, so you can get your refund within 45 days if you decide it's not for you. I tested these claims myself by signing up for its 6-month plan and requesting a refund over live chat after using it for 40 days. Unlike NordVPN, it didn't ask me to provide my reason for canceling, and I got my refund within a week.
CyberGhost unblocks: Netflix, Amazon Prime, Hulu, BBC iPlayer, and more
CyberGhost VPN works on: Mac, Windows, Linux, Android, iOS, Chrome, Firefox, and Safari
Key Features
35000 servers in 80 countries, each equipped with unblocking technology for unrestricted access to the geo-blocked streaming and sport broadcasting platforms
Military-grade security, a kill switch, and a proven no-logs policy keep your data safe.
Supports up to 10 device connections at once with dedicated apps for most devices
Live chat and email support 24/7 to provide fast responses
45-day money-back guarantee
Most VPNs drastically reduce my browsing and download speed when I connect to distant servers. However, even when I connected to faraway PIA servers, I was still able to get good speeds for browsing, streaming, and even torrenting. And when I chose servers closer to home, I got even better speed results. For instance, I was able to watch an episode of Killing Eve on BBC iPlayer in HD quality with no buffering.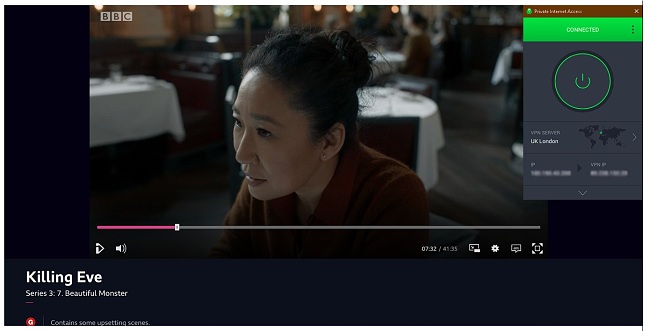 PIA outperforms NordVPN with advanced privacy and security features to protect your data and browsing history at all times. Like NordVPN, I found that PIA blocks ads, bots, and intrusive malware before any can load. But PIA further combines that with military-grade encryption to protect data transfers, a kill switch to protect you if your internet is interrupted, an option for a dedicated IP address, built-in leak protection, anonymous Bitcoin payments, and many more features.
PIA packs similar security, streaming, and unblocking features at only a fraction of NordVPN's subscription. Its insanely low prices are even further subsidized by a 81% discount. If you're looking for a cheaper replacement for NordVPN that has an impressive service and great value for money, then PIA is perfect for you.
If you plan to use PIA to bypass government restrictions in China, you might have to switch your protocols first. Luckily, PIA has a responsive customer support team that directed me to a knowledge base article with the instructions I needed.
PIA comes with a 30-day money-back guarantee so you can test it out for yourself completely risk-free. Within that grace period, I was able to get a refund after I messaged support over a live chat. Understandably, they tried to troubleshoot my problem, but once I clarified that I wanted to cancel the service, they processed my refunds immediately, and I got my money back within 5 days.
PIA also unblocks: Global Netflix, Disney+, Amazon Prime, HBO Max, Sky Go, YouTube TV, ESPN, Kodi, and more.
PIA works on: Windows, Android, macOS, iOS, Linux, Chrome, PlayStation, Xbox, smart TVs, Apple TV, Amazon Fire Stick, Amazon Fire TV, routers, and more.
FAQs on Getting a NordVPN Refund
Does NordVPN give refunds?
Yes, NordVPN offers refunds on all its plans. To be eligible for a full refund, you have to cancel your subscription within its 30-day money-back guarantee period. You can reach NordVPN customer support via live chat or email for a refund. If you meet their criteria, your refund should arrive within 10 days.
Since you can't afford to stay unprotected after canceling NordVPN, try ExpressVPN risk-free. It beats NordVPNs with advanced security and better speeds, and it's no-questions-asked refund policy makes it the best alternative to NordVPN.
Can I switch from or cancel NordVPN's 3-year plan?
Yes, NordVPN allows you to cancel any plan at any time. Getting a refund is easy as well. Once you contact support and give them the details of your plan, your refund will be processed within ten days. To change your subscription plan, log in to your NordVPN dashboard, select Change Plan, and choose the plan you want from the options.
If you like longer plans, CyberGhost currently offers up to 83% discount to save you the most money. You won't be spending as much with CyberGhost but you will be getting the better VPN of the two. You can try its plans out risk-free and if you need a refund, its support will process it immediately.
How do I contact NordVPN's customer support?
If you have an account with NordVPN, log in to your dashboard and click the message bubble at the bottom right. You will be directed to a bot, but you can request a customer agent here or message them directly through email. You can also reach NordVPN customer support via email by selecting Email Us on the Contact Us page. If you don't have a NordVPN account, you can still access live chat by clicking the message bubble anywhere on the website. Each of these options are available 24/7 of all days of the year.
However, ExpressVPN provides the best experience when it comes to customer support. The live chat connected me to an agent instantly, and I got faster email responses from ExpressVPN. On top of that, there is a huge library of up-to-date online tutorials that answers any questions I had – something NordVPN is missing.
Can I get a NordVPN refund if I purchased through cryptocurrency?
Yes, NordVPN offers refunds for purchases made via cryptocurrencies like Bitcoin. However, you need to make sure you're eligible for a refund as you only have a 30-day grace period for refunds. An equivalent amount in US dollars based on the rate of exchange will be refunded in the same cryptocurrency used to purchase the subscription. NordVPN cryptocurrency refunds may take up to 3 business days to process.
If your privacy is a concern, then you should make the switch to ExpressVPN. It also accepts cryptocurrency payments but it offers a superior service to NordVPN.
What's the best NordVPN alternative?
ExpressVPN is the best alternative to NordVPN. ExpressVPN delivers faster speeds for downloads, streaming, and gaming. It also unblocks geo-restricted content on platforms like Netflix, Disney+, Hulu, and a long list of sporting broadcasts. Although if ExpressVPN isn't for you, here is a comparison chart for the top VPNs on the market and NordVPN:
Free Trial
Money-Back

Guarantee

Period

Number of Payment Methods
Servers
Highest Discount
NordVPN
None
30 days
7
5,000+
70%
ExpressVPN
7-days on mobile
30 days
20
3000+
49%
CyberGhost
24 Hours
45 days
4
8200+
83%
PIA
None
30 days
10
35000+
81%
Get Your Refund Today and Find the Best VPN for You
I used NordVPN consistently for the better part of three weeks and I just couldn't get over its poor performance, especially during peak periods. I got my refund, but I didn't want to put myself at risk on the internet, so I went on to test other providers. I soon discovered that NordVPN falls short compared to other VPNs I tested for more reasons than its poor performance.
Overall, I recommend ExpressVPN as a great alternative. It has a friendlier user interface and better service than NordVPN, plus it offers a "no-questions-asked" 30-day money-back guarantee. You can try ExpressVPN risk-free for 30 days, and if you don't like it, customer support will process your refund straight away.
---
Summary: These Are the Best NordVPN Alternatives in 2022