How to Cancel CyberGhost & Get a Refund in Under 5 Minutes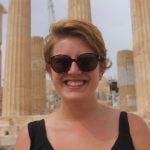 Last Updated by Sarah Barnes on May 04, 2020
CyberGhost has a 45-day money back guarantee and the process to cancel and get our refund was very straightforward, even though we used their special deals page to get the cheapest plan.
While there is a lot to like about CyberGhost (great security, can access US Netflix, works from China, and more) we understand that it's not for everyone. If, for whatever reason, you decided that it's just not for you can cancel with confidence thanks to their 45-day money back guarantee.
But, how do you get your refund? Is it as simple as just canceling your account?
If you're looking for a great VPN to use instead of CyberGhost, we strongly recommend ExpressVPN or one of the other recommended VPNs below.
Read on to find out more about how to cancel your CyberGhost account and get a full refund.
Quick Guide to Canceling Your Account and Getting a Refund
Just follow these steps to cancel your CyberGhost account and, if it's with 45 days of signing up, requesting a refund.
Contact support via Email or Live Chat and request the refund.
Go to "My Account" and click the "Delete Account" button.
Deleting Your CyberGhost Account
Deleting a CyberGhost account is straightforward. All you have to do is visit the website and click on "My Account" at the top right-hand side of the page.
The website will redirect you to your account page then, at the bottom, you'll find the "Delete Account" button. From there, re-enter your password to confirm your choice to delete your account.

Before deleting your account, be sure to
read the small print
. Once you delete it, there's no going back.
You won't be able to reactivate activation keys or any past subscriptions.
And,
the support team can't recover deleted data.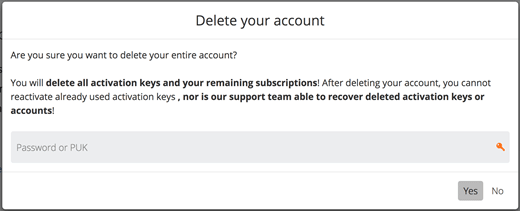 Additionally, while deleting your account will cancel your subscription, it doesn't automatically qualify you for a refund.
Conditions for Getting a Refund from CyberGhost
Getting a refund is slightly more complex than canceling your account.
There are two conditions for getting a refund from CyberGhost:
You have to apply for your refund within 45 days of buying a subscription.
You must still have an active account.
While the first condition may seem obvious, the second one is confusing. Simply put, if you delete your account before getting your refund, you won't be eligible for it anymore. This is because the customer support team won't be able to find your data. This includes the date you opened your account and what plan you purchased.
A Step-by-Step Guide to Getting a Refund
As long as you apply for your refund within 45 days and you still have an active account, you're ready to contact customer support. There are two quick ways you can reach a member of the team:
1
Via email
You can visit the website and create a ticket by clicking on the blue "Submit a request" button at the top-right of the window. From there, you'll have to give them your:
Email address
Operating system
Username
Reference number
Name
Subject
Description
According to the customer support team, the refund is given with no questions asked as long as you adhere to the two conditions above. The team also says that you can expect a reply within two days. That said, there are many reports of people receiving a reply with a refund within 24 hours of their request.
2
Via Live Chat
We chose to apply for our refund via the Live Chat service and we were impressed! It took less than 5 minutes for someone to reply and they were concise, polite, and quick to respond to all our queries.
All we had to do was give them the email address assigned to the account. From there, they confirmed the PayPal email address on the account and submitted a refund immediately.
The process was surprisingly painless with no questions asked. That said, the company doesn't update the settings on the "My Account" section of the website. Even months after they submit the refund, you may still receive a note saying "refund requested" on your account.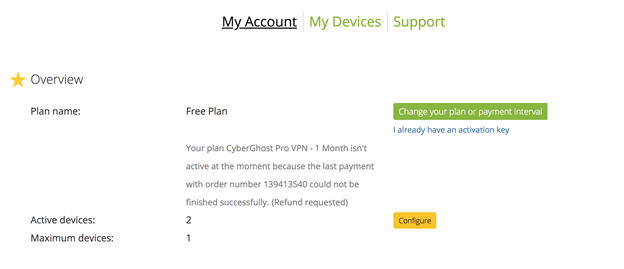 3 Alternatives to CyberGhost
ExpressVPN – The best overall VPN, this is ideal for security, streaming (works with Netflix and Hulu), and bypassing geo-blocks.
NordVPN – With over 5,000 servers in 60+ countries, it's an excellent choice for getting accessing content all over the world.
Surfshark – This is probably the least expensive premium VPN and it has added a lot of great security features to their app recently.
Bottom Line
CyberGhost sticks to its promise and offers a 45-day money-back guarantee. The refund process is straightforward and painless. Better yet, the customer support team is polite and quick to respond.
We highly recommend CyberGhost's Live Chat service. We got an immediate result and by the time the support team told us to check our PayPal account for the refund, the money was already there.