3 Best VPN Services for Bet365 (Tested June 2021)
Last Updated by Eric Raue on June 21, 2021
As a frequent traveler, I'm always annoyed when I can't access my Bet365 account to place or update my bets while overseas. Even more frustrating, some countries will load the homepage – but when you go to enter your login details, you'll get this message:
Login Failed
Our software detects that you may be attempting to access the website from a restricted territory. If you believe that this detection has occurred in error then please contact us for assistance.
To get access to Bet365 from abroad you need a VPN, but I was surprised at how many VPNs couldn't unblock the website. When I finally found some VPNs that could give me access, they often lagged when streaming live sports matches. This meant I couldn't update my bets in time, and I ended up losing money!
To help you avoid the same issues, I put dozens of VPNs through rigorous tests and shortlisted the ones that actually worked. If you want the most secure VPN for betting, my top choice is ExpressVPN – it has zero lag, and can unblock Bet365 from anywhere. Plus, you can try out ExpressVPN risk-free with its 30-day money-back guarantee (which is ideal if you only need it for a short time.).
Access Bet365 overseas with ExpressVPN
3 Easy Steps: How to Access Bet365 With a VPN
Download a VPN. ExpressVPN has fast and secure servers to help you access your Bet365 account. Try ExpressVPN today!
Connect to a server in a country where Bet365 is legal. To connect to my UK-based account while on holiday, I accessed a server in England.
Start placing bets! All you have to do is log in to Bet365 – it's that easy.
Unblock Bet365 risk-free with ExpressVPN
How a VPN Works With Bet365
A VPN encrypts your internet traffic and reroutes it through its own global server network. This means you can connect to a server in your home country in order to make or update bets, even when you're traveling abroad.
A VPN also protects sensitive data like your credit card numbers. High-end encryption means the information you send over the internet is unreadable, even if intercepted by hackers. This is perfect when using unsecured WiFi on vacation, like at the airport or in your hotel.
To avoid getting stuck without access while you're overseas, set up your Bet365 account with a VPN to make sure it works before you travel. ExpressVPN is backed by a 30-day money-back guarantee, making it risk-free to test out and get a refund after if it doesn't meet your expectations.
Note: If you're traveling to a country where Bet365 is blocked, you could face legal issues if you access it with a VPN. To avoid trouble, research the local laws before you enter a new country.
Securely access Bet365 with ExpressVPN
Quick Guide: 3 Best VPNs to Access Bet365 No Matter Where You Are
ExpressVPN — Hundreds of high-speed servers in countries where Bet365 is legal for super fast and reliable connections.
CyberGhost — Instantly unblocks Bet365 in many countries with dozens of servers, but can't get access in heavily censored nations like Turkey or China.
Private Internet Access (PIA) — Excellent privacy features (like leak protection and an automatic kill switch) for betting, but high ping could slow your connection when watching live matches.
3 Best VPNs to Access Bet365 From Abroad
Key Features:
3000+ fast servers in 94+ countries, with hundreds of Bet365-friendly options
Best-in-class security features to keep your bets private
Track and place your bets on up to 5 devices at once
Full access for 30 days with a proven money-back guarantee
24/7 live chat to quickly solve issues and bet while traveling
ExpressVPN's consistently fast speeds ensure you won't miss out on any betting or sporting action. During my tests, I reached speeds of 63Mbps on average (across 4 different countries).
On the UK Docklands server, I could bet, stream live sports, and play poker without lag. This is crucial, as any lag on a live stream or poker match could cause you to lose a bet. Fortunately, slow speeds won't be an issue with ExpressVPN.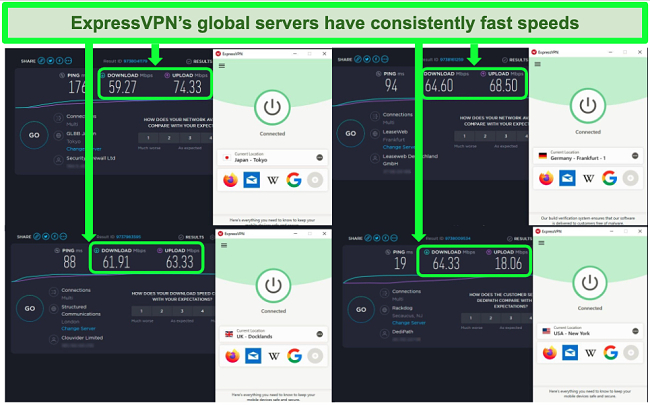 ExpressVPN has an impressive 3000+ servers in almost 94 countries. My team and I tested dozens of servers in the UK and Italy with Bet365 without any issues.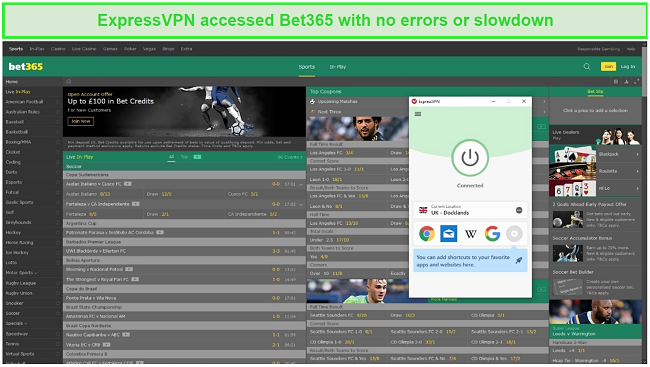 Since I use Bet365 while traveling and often connect via insecure hotel WiFi networks, security is one of my biggest worries (especially since Bet365 stores credit card details online). It's a massive relief that ExpressVPN has military-grade encryption, which scrambles your data to make it unreadable. This makes it impossible for hackers to steal information like your credit card number. ExpressVPN even allowed PriceWaterhouseCoopers (a global cybersecurity audit firm) to independently test its security, so you can rest assured that your credit card data and betting activities will stay private.
I also appreciate that ExpressVPN allows for 5 simultaneous device connections. Not only that, but you can connect on every major device (including less popular devices like Chromebook and Linux-based devices).
ExpressVPN is backed by a [VDS: MBG]-day money-back guarantee. If you don't like it, you can easily get your money back through their 24/7 live chat. When I tested this, I had my refund in my bank account within 5 days.
ExpressVPN also unblocks: ESPN, DAZN, SkyGO, beIN SPORTS LIVE, Hotstar, fuboTV, and SkyTV.
ExpressVPN works on: Windows, Mac OS, Android, iOS, Chromebook, Linux, Chrome, Firefox, Linux, and Blackberry.
Try ExpressVPN risk-free for 30 days
June 2021 Update! ExpressVPN has dropped prices for a limited time to a crazy $6.67 per month for the 1-year plan (you can save up to 49%) + 3 months free! This is a limited offer so be sure to grab it now before it's gone. See more information on this offer here.
Key Features:
6900+ secure servers in 90+ countries with options to easily access Bet365
Military-grade encryption and an automatic kill switch for secure betting
Connect up to 7 devices at once for multiple bets
45-day money-back guarantee
Customer support available 24/7
With 6900+ servers, CyberGhost can easily beat most of Bet365's location blocks. I was impressed to learn that CyberGhost has server options in almost every Bet365-friendly country. That means you can be confident that you'll always have access to a working server (and never miss a bet!). When I connected through a London server, I was able to access my Bet365 account within 5 seconds. However, if your travels take you to China, you'll need a VPN that can successfully bypass the Great Firewall of China.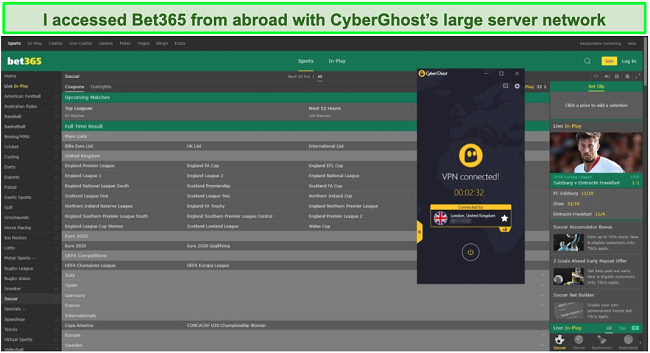 CyberGhost's 256-bit encryption prevents your activities from being exposed — even if you lose your connection (thanks to its automatic kill switch). It also uses NoSpy servers, which guarantee that third-parties can't trace your activity. I was impressed that CyberGhost uses built-in features against ads and malware to give you an extra layer of protection. These security measures reassured me that the credit card details saved on my Bet365 account would be protected.
On top of these security features, CyberGhost also gives you fast speeds to make bets quickly. My tests showed it consistently reaches speeds of over 50Mbps. It is worth noting that CyberGhost performed slightly slower in my tests than ExpressVPN – but I could still stream live sports on Bet365 without buffering or lag.
While most VPNs on this list offer a standard 30-day money-back guarantee, you can try CyberGhost for a full 45 days at no risk to you. This is one of the most generous refund policies available on the market. If you're traveling overseas, you can take advantage of this guarantee to ensure access to your Bet365 account for free!
CyberGhost also unblocks: Fox Sports, SkyGO, Globo SporTV, ESPN+, and Eurosport.
CyberGhost works on: Windows, Mac OS, Android, iOS, Chromebook, Chrome, and Linux.
Try CyberGhost for free for 45 days
June 2021 Update: CyberGhost has dropped prices for a limited time to a crazy $2.25 per month for the 3-year plan (you can save up to 83%)! This is a limited offer so be sure to grab it now before it's gone. See more information on this offer here.

Key Features:
34400+ servers in 78+ countries to place bets all over the world
Leak protection and integrated kill switch prevent your bets from being exposed
Use 10 devices at once to place bets on multiple platforms simultaneously
30-day money-back guarantee so you can try it risk-free
24/7 ticket support and live chat for help logging in whenever you need it
I found Private Internet Access (PIA) offers powerful privacy features on par with bigger VPNs on this list, despite being a smaller provider. Your data is never recorded with its no-logs policy, and your betting activities are hidden from the government or hackers. It also has an integrated kill switch that keeps your sensitive information private if your connection drops. With privacy perks like this, you can be sure that prying eyes won't be able to see your betting activities on platforms like Bet365.
During my tests, I was impressed overall by PIA's speeds: its German and UK-based servers were only slightly slower than when I wasn't connected to a VPN at all. That said, ping was high on both servers and high ping means a slower response time. When I watched a live match, I did notice some stuttering during live feeds. While this didn't affect my wager, ExpressVPN is a better choice if you plan to bet on live sports on Bet365.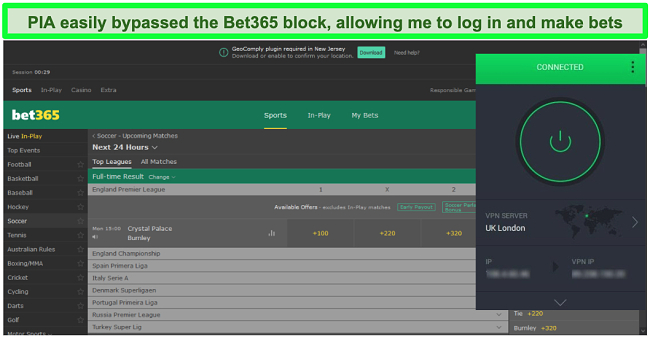 Unlike other VPNs, PIA offers a 7-day free trial. This means you can either try out its features for a week or take advantage of its 30-day money-back guarantee. The only difference is that if you use the money-back guarantee, you'll have to request a refund through customer service.
Private Internet Access also unblocks: ESPN, Bookmaker, SkyGO, HBO Go, Fox Sports.
Private Internet Access works on: Windows, Mac OS, Android, iOS, Chromebook, and Linux.
Why Free VPNs Won't Work to Access Bet365 From Abroad
There are a few free VPNs that can unblock Bet365 – but they often have weak security, slow servers, and privacy policies that expose your data while betting. To protect your bets and financial information, I would caution you against using them.
Since you don't pay for these subscriptions, most companies can't invest in keeping up with the latest technology to keep servers fast and secure. This means that they have slow speeds, unstable connections, and limited security features. Personally, I wouldn't want to use a VPN like that while on Bet365 – even if you save on the subscription, slow speeds and lag could cost you a lot of money at the virtual poker table.
Aside from poor service, many free VPNs have serious security problems. Some companies offer limited security to free users. Others sell your sensitive data to advertisers and other third-parties. Even worse, free services may use ads that contain viruses and data trackers that compromise your security by watching everything you do.
Bet365 stores your credit card information, so top-grade security features are crucial. Although it's a premium service, ExpressVPN is backed by a 30-day money-back guarantee. This allows you to try its features risk-free. If you're not satisfied with the service, you can get a full refund with no questions asked within the first 30 days.
FAQs: Using Bet365 With a VPN
Is it legal to use a VPN to unblock Bet365?
You are generally allowed to use Bet365 with a VPN. However, if you travel to a country where online gambling is banned and use a VPN to access platforms like Bet365, you may end up breaking the law. In other cases, Bet365 might not be accessible due to licensing restrictions.
Always check if you can legally use Bet365 in the country you're in. Since the rules on online gambling vary between countries, I recommend asking Bet365 support any specific questions before you leave for your trip.
Can't access Bet365? Here's how to fix it
Luckily, there are easy ways to fix it. First, make sure you are using a VPN that can unblock Bet365. If you still can't log in, try the following steps:
Clear your cache. Go into your web browser's settings and clear all cached data. Then reconnect to the VPN server and refresh the page. Bet365 should now detect the VPN server and allow you to log in.
Try using a different server. If the webpage won't load, it's possible the server you're using has been blocked. Switch to a different server in a Bet365-friendly country to fix the error.
Contact the VPN's customer support. All the VPNs on this list have email and phone support and online live chat support 24/7. They can recommend working servers based on your specific needs and tell you which ones will allow you to log into Bet365.
Unblock Bet365 with ExpressVPN
Where is Bet365 available?
Currently, Bet365 is available in 159 countries. This includes countries like Australia, Austria, Bulgaria, Canada, China, Germany, Great Britain, Hungary, Ireland, Italy, Russia, Spain, Sweden, and Switzerland.
This list changes frequently, but for now, you can use a VPN server in any of these countries to log in to your Bet365 account while abroad. ExpressVPN has the most reliable servers for fast speeds and strong security. Better yet, you can test ExpressVPN for yourself completely risk-free as it's backed by a 30-day money-back guarantee.
What else can a VPN do?
A VPN can do a lot more than connect you to Bet365 abroad. For example, a premium VPN will let you:
Stream shows and movies from overseas — If you're traveling abroad and you want to access content you rightfully paid for, a VPN helps you stream your local Netflix, Amazon Prime Video, and Disney+ libraries.
Secure your connection on public WiFi networks — Prevent your data from being intercepted by hackers and other prying third-parties.
Access your online banking safely — Encrypt your data so that your sensitive financial information like account and credit card numbers stay safe.
Secure your connection with ExpressVPN
Secure Your Next Bet on Bet365 With a VPN
If you want to keep betting on your favorite sports with Bet365 no matter where you are, be sure to use a VPN proven to work. Many VPNs can't unblock Bet365 from abroad – but all the VPNs on this list will let you bet quickly, securely, and easily. Better yet, premium VPNs also allow you to bypass censorship, unblock streaming services, and torrent anonymously, so you can safely make the most of everything the web offers.
If you want to keep betting on your favorite sports with Bet365 no matter where you are, be sure to use a VPN proven to work. ExpressVPN is the #1 choice for accessing Bet365 because of its huge selection of secure servers and advanced security features. Better still, it has a 30-day money-back guarantee. If you find ExpressVPN doesn't meet your needs (which I find unlikely), you're fully entitled to get a refund within 30 days.
Unblock Bet365 risk-free with ExpressVPN
Summary — Best VPNs for Bet365 in 2021
Top Choice