How to Access Bet365 Abroad With a VPN
Last Updated by Chase Williams on May 14, 2020
Warning! If you have an existing Bet365 account and want to log in while abroad, geo-restrictions may block you. Gambling and licensing regulations may prevent you from using the platform in certain countries — unless you use a high-quality VPN.
As a frequent traveler, I was annoyed that I couldn't access my Bet365 account to update my bets while overseas!
I knew that a VPN could help me get around the geo-blocks, but it wasn't easy finding one that worked. Even if they could access Bet365, I found that many of them were slow, which created lag (it was terrible for live-streaming and even lost me some bets). If you want a quick solution to access Bet365 from abroad — I highly recommend you try NordVPN, which is one of the few VPNs I've tested that works consistently with fast speeds.
Be sure to set up your Bet365 account before you travel. This will help you avoid some logistical and legal problems once overseas.
If you're in a hurry, you can jump to my 3 easy step guide on how to access Bet365 abroad with a VPN in under 5 minutes. To save you time, I also tested dozens of services and compiled a list of the 5 best VPNs to access Bet365 while abroad.
Access Bet365 overseas with NordVPN
Quick Guide: 5 Best VPNs to Access Bet365
Note: I do not recommend using a VPN to break local gambling or other laws. Firstly, make sure you can legally use Bet365 in the country in which you reside. Then, set up your account and review local laws as well as Bet365's terms and conditions.
3 Easy Steps to Access Bet365 With a VPN
Download a VPN with servers in countries where Bet365 is legal. I recommend you try my top choice NordVPN — it has hundreds of server options in countries where Bet365 is popular like Italy, Sweden, Mexico, and the UK.
Connect to a server in a country where Bet365 is available. To connect to my UK-based account, I accessed a server in England.
Open Bet365 in your browser and log in. Good luck placing your bets!
5 Best VPNs to Access Bet365 From Abroad
Key Features:
5,800+ servers in 59+ countries, with hundreds of server options available in countries with access to Bet365
Military-grade encryption, obfuscated servers, and DNS leak protection to secure your bets
Connect up to 6 devices at once
30-day money-back guarantee so you can try it completely risk-free
24/7 customer support available to help you troubleshoot problems via chat or email
NordVPN is my top choice for Bet365 users because it offers a huge number of secure servers and some of the fastest speeds on the market.
You don't want to risk using a VPN that could cause lag on Bet365 — when it comes to gambling and playing live poker online, slow speeds can cost you money. Luckily, NordVPN didn't disappoint me. When I tested servers in Germany, NordVPN maintained fast speeds.
To me, if a VPN doesn't have the proven ability to get around Bet365's geo-blocks, it's a waste of money. NordVPN has the largest number of servers around the world with hundreds of options available in countries that can access Bet365. That means you can be sure that you will find a server that will get you access to Bet365, and you won't have to deal with crowded servers and slow speeds.
While testing NordVPN, I wanted to see how well it could get around geo-blocks with UK and German servers. The first 3 servers I connected to (#980, #850, and #1435) unblocked Bet365 with no issues. I was happy that all site pages loaded quickly. In addition, NordVPN let me access other gambling platforms like BookMaker and Bovada.
Security is another key factor when choosing a VPN to access your Bet365 account. Of course, I don't want prying eyes to be able to see my online activity. I was also worried about security because this platform saves your financial information like credit card numbers to process payments. I was relieved to find that NordVPN protects you with some of the best security features on the market. It uses obfuscated servers and the same level of encryption as the US military to protect your data from third parties. Plus, it also has a strict no-logging policy and a built-in automatic kill switch to keep your information private, even if you get disconnected. With security like this, you can be sure that your bets will be safe with NordVPN.
To test NordVPN's security guarantees for myself, I performed DNS leak tests when I connected with different NordVPN servers around the world — I was impressed with the results. I tested servers in countries where Bet365 is legal like Italy, Spain, Mexico, New Zealand, and the UK. After dozens of tests, NordVPN never revealed my true location. This assured me that my data would be kept private.
The best way to see if a VPN is right to you is to test it yourself. I recommend you try NordVPN for 30 days using its money-back guarantee for free. If you decide you don't like it within this period, you can get your money returned through NordVPN's easy refund process. If you have any questions about this process or the guarantee, contact an agent through the live chat to get answers almost instantly.
NordVPN also unblocks: BookMaker, Bovada, Sky, DAZN, ESPN, beIN SPORTS FR, and Fubo.tv.
NordVPN works on: Windows, Mac OS, Android, iOS, Windows Phone, Chromebook, Linux, Chrome, Firefox, and Blackberry.
Key Features:
3,000+ servers in 94 countries, with hundreds of options in Bet365-friendly countries
Top-of-the-line encryption and obfuscated servers keep your betting activities private
Play on up to 5 devices at once
30-day money-back guarantee to try it free
Live chat available 24/7 for troubleshooting
ExpressVPN's consistently fast speeds ensures you won't miss out on any betting or sporting action. During my testing, I tried servers from Bet365-friendly countries at peak times and I never experienced slow speeds. The UK Docklands server offered fast speeds of 119 Mbps and Germany Nuremberg of 126 Mbps — which meant that I was able to bet, stream live sports, and play poker without lag on Bet365!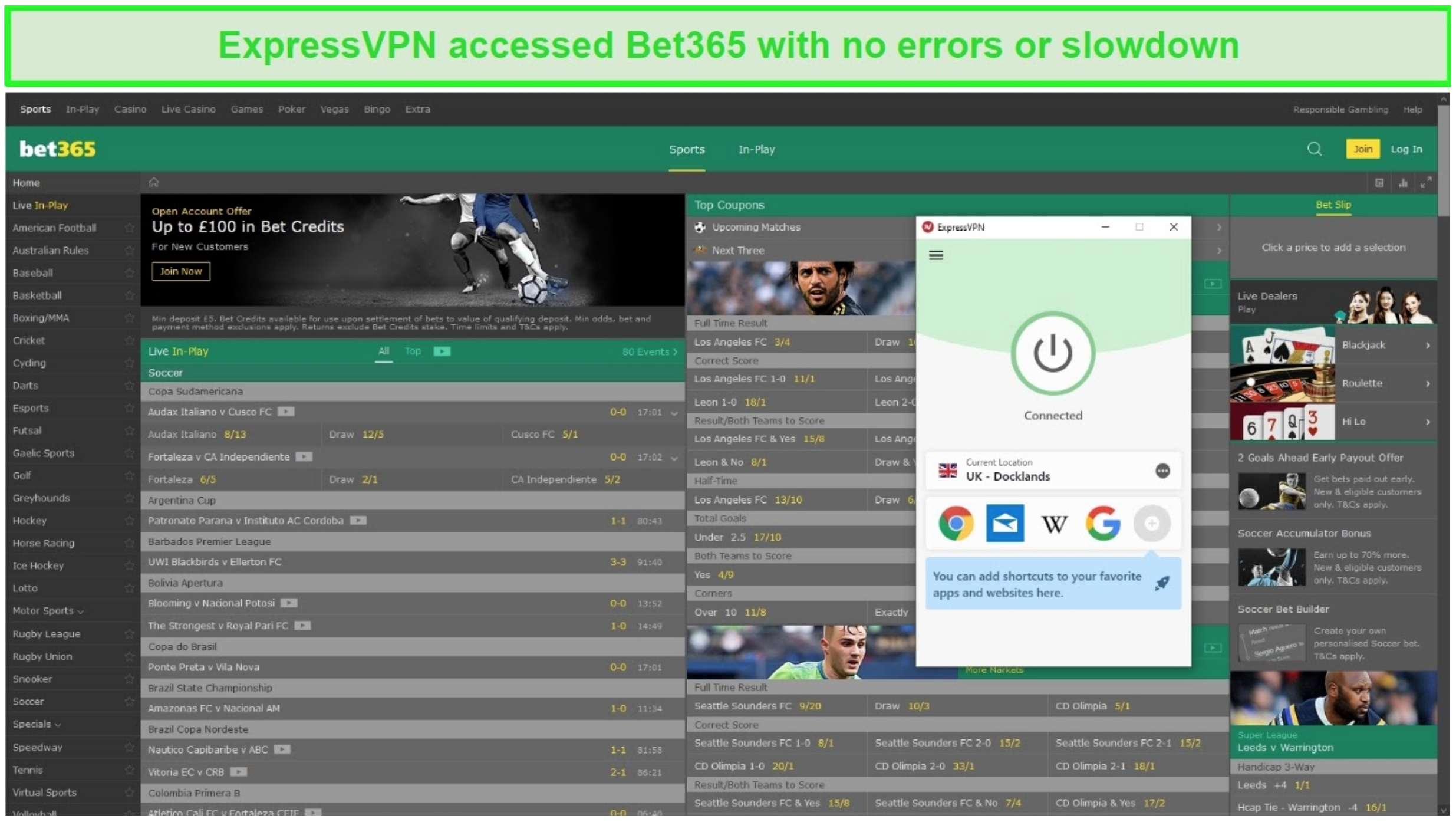 While it doesn't have quite as many server options as NordVPN, ExpressVPN still has an impressive 3,000+ servers in almost 100 countries. To check its ability to bypass geo-restrictions and connect to Bet365, I tested dozens of servers in the UK and Italy. All the servers I connected to bypassed Bet365's blocks without any issues.
In terms of security, I was impressed that ExpressVPN keeps you invisible online with measures like military-grade encryption, an automatic kill switch, and obfuscated servers. In addition, ExpressVPN is the only service that uses TrustedServer Technology. This feature permanently deletes your data every time the server reboots so your data is never stored. To show that these features work as well as they claim, ExpressVPN has subjected its security to testing by independent cybersecurity experts. You can rest assured that your financial information on Bet365 will remain private with ExpressVPN.
Don't take my word for it — test ExpressVPN for free using its 30-day money-back guarantee. If you decide that you don't want to commit to a long subscription, you can take advantage of the refund policy and get your money back easily. When I tested it, I got my money refunded within 5 days. If you have any questions during the process, simply contact support via live chat or email.
ExpressVPN also unblocks: ESPN, DAZN, SkyGO, beIN SPORTS LIVE, Hotstar, and Fubo.tv.
ExpressVPN works on: Windows, Mac OS, Android, iOS, Chromebook, Linux, Chrome, Firefox, and Linux.
Key Features:
Secure servers in 90+ countries with options to easily access Bet365
Military-grade encryption and an automatic kill switch for secure betting
Connect up to 7 devices at once
45-day money-back guarantee to try it risk-free
Customer support available 24/7
With 5,500+ servers, CyberGhost is able to easily beat most of Bet365's geo-restrictions. I was impressed to learn that CyberGhost has server options in all of the Bet365-friendly countries I listed below. That means you can be certain that you'll always have access to a server in a gambling-friendly country. When I connected through London, I was able to access my Bet365 account within 5 seconds.
CyberGhost's 256-bit encryption and automatic kill switch protects you from hackers, and its NoSpy servers guarantee that third parties can't trace your activity. I was also impressed that CyberGhost uses built-in features against ads and malware to give you an extra layer of protection. All of these security measures reassured me that the credit card details saved on my Bet365 account would be protected.
On top of these security features, CyberGhost also gives you great speeds. Nothing is worse than a VPN that ruins your poker game with slow connections — luckily, I didn't have that problem with CyberGhost. In my testing, CyberGhost was slightly slower than the top 2 VPNs on this list. But this wasn't an issue at all because I could stream live sports on Bet365 without buffering or lag.
While most VPNs on this list offer a standard 30-day money-back guarantee, you can try CyberGhost for a full 45 days at no risk to you. This is one of the most generous refund policies available on the market. If you're traveling overseas, you can take advantage of this guarantee to access your Bet365 account for free for over a month.
CyberGhost also unblocks: Fox Sports, SkyGO, HBO Go, Globo Sportv, ESPN+, and Eurosport.
CyberGhost works on: Windows, Mac OS, Android, iOS, Chromebook, Chrome, and Linux.
Key Features:
1,000+ servers in 60+ countries to help you access Bet365
Integrated ad and malware blocker
Connect an unlimited number of devices at once
30-day money-back guarantee
24/7 live chat and email
Surfshark is the only VPN on this list that offers unlimited connections. If you want to place a few different bets across various Bet365 accounts, you can connect as many devices as you need. I tested this myself by connecting 4 PCs, 4 phones, and 2 tablets at the same time — I was impressed that all the devices were able to connect without any issues.
Although it doesn't have as large of a network as the top VPNs on this list, Surfshark is able to unblock Bet365 from hundreds of servers. During my testing, I was able to access my Bet365 account easily using its Glasgow, London, Berlin, Munich, and Nuremberg servers.
Surfshark keeps you safe with top-notch security features like an automatic kill switch and a no-logging policy. CleanWeb technology also protects you from malware and pop-up ads. These features prevent hackers, advertisers, and other third parties from spying on your personal information. With this level of security, I feel safe using a public network to access my Bet365 account.
One small con I experienced was that Surfshark had fewer servers than other VPNs. Despite this, I still had good speeds. Even though I was thousands of kilometers away during testing, all the servers I tested loaded Bet365 within seconds.
You can try Surfshark for free for 30 days at no risk to you. If you decide that you don't want to commit to a subscription, you can contact customer support to get a refund. Tip: the refund process is faster for PayPal purchases (1-2 business days) than it is for credit cards (7-10 business days).
Surfshark also unblocks: ESPN, SkyGO, HBO Go, DAZN Canada, and DAZN Germany.
Surfshark works on: Windows, Mac OS, Android, iOS, Linux, Chrome, Blackberry, and Firefox.
Key Features:
150+ servers in 60 countries
Leak protection and integrated kill switch
Use 6 devices at once
30-day money-back guarantee
24/7 ticket support and live chat
Since PrivateVPN has a smaller network, I assumed that its security wouldn't be as good as the other VPNs on this list. I was surprised to find that PrivateVPN offers many of the same security features and it also has an integrated kill switch so that none of your sensitive data leaks. With security like this, you can be sure that prying eyes won't be able to hack your accounts on platforms like Bet365.
I was also really impressed that it could bypass the Great Firewall of China (not many VPNs can). It can keep your gambling secure on Bet365 while in China, but keep in mind that its streaming abilities are inconsistent. So, if you want to stream live sports on Bet365, ExpressVPN is a better choice.
With less servers, I expected to get slow speeds while using Bet365. During testing, I had fast speeds with PrivateVPN's German servers, but very slow speeds with its UK servers. The difference in speed was disappointing. Personally, I would consider accessing Bet365 with the German servers, but I wouldn't risk it with the UK servers — afterall, slow speeds on gambling platforms can cost you money.
Before committing to a long subscription, I recommend you try out PrivateVPN using its 7-day free trial and 30-day money-back guarantee. If you don't like the service, you can get a full refund. One drawback with PrivateVPN is that their live chat representatives aren't always available. You might have to wait for customer service to respond via email, which could take a few days.
PrivateVPN also unblocks: ESPN, DAZN, Hotstar, SkyGO, and HBO Go.
PrivateVPN works on: Windows, Mac OS, Android, iOS, Chromebook, Blackberry, and Linux.
FAQs: Bet365 and VPNs
🔓Why do you need a VPN to access Bet365?
A VPN is the best way to securely connect to the internet and to access Bet365 while abroad.
Bet365 is not available in some countries because of geo-blocks, which are enforced based on your physical location. These restrictions make sure that online platforms follow local licensing, gambling, and other laws.
Platforms like Bet365 determine where you are physically located by using your IP address. Devices that can connect to the internet have IP (Internet Protocol) addresses. When you connect to a platform like Bet365, this address tells the service where your device is geographically located. If you travel to a country where online gambling is illegal, geoblocks will detect your IP address and prevent you from using sites like Bet365 while there.
A VPN gives you a different IP address to trick Bet365 into thinking you are located in another country. By masking your true physical location, a VPN is able to allow you to access Bet365 while abroad.
Securely access Bet365 with NordVPN
📍Where is Bet365 available?
The countries where Bet365 is available changes frequently. Currently, Bet365 is available in 159 countries. This includes:
Australia
Austria
Brazil
Bulgaria
Canada
Croatia
Denmark
Germany
Ireland
Japan
Luxembourg
New Zealand
Sweden
Switzerland
United Kingdom
If you travel outside of a country where Bet365 is available, you can connect to a VPN server in any of these countries to restore your access while abroad.
If you're having trouble visiting Bet365 with your existing VPN, your provider might not be able to access the platform. To avoid wasting your time, you can test my top choice (NordVPN) completely risk-free.
⚠️Will a free VPN work?
Yes, there are a few free VPNs that can unblock Bet365 — but I would caution you against using them.
Since you don't pay for these subscriptions, most companies don't have the resources necessary to make sure free VPNs provide good service. This means that they have slow speeds, unstable connections, and limited servers. Personally, I wouldn't want to use a VPN like that while on Bet365 — even if you save on the subscription, slow speeds and lag could cost you a lot of money at the virtual poker table.
Aside from poor service, many free VPNs have serious security problems. This means that these companies put your security at risk to make money off of you. Some companies offer limited security to free users. Others sell sensitive data about you to advertisers and other third parties. Many free services are involved in malicious activities like fraud, identity theft, and malware installation schemes.
Top-notch security and performance are especially important to Bet365 users. If a VPN doesn't guarantee your safety, it's a waste — even if it is free. To avoid security issues and slow speeds, you can try a premium VPN like NordVPN.
Use Bet365 securely with NordVPN
❓Is it illegal to use a VPN to access Bet365 to overcome country restrictions?
Not always — it depends on a few factors.
First things first: you should review local laws to understand the legality of accessing Bet365. Keep in mind that gambling regulations change frequently and may differ from region to region even within the same country. Online gambling laws may also be different than in-person restrictions. In other cases, some countries don't have clear regulations on online gambling. This is why it's important to stay up-to-date.
If you travel to a country where online gambling is banned, using a VPN to access platforms like Bet365 might be illegal. However, in other cases, Bet365 might be prohibited in a particular place for other reasons — for example, Bet365 might not have applied for a license to operate in some areas simply because of lack of demand. Since the restrictions on online gambling might be difficult to understand, we recommend you consult a legal expert to clarify any doubts.
Safely use Bet365 with NordVPN
🔎What else can a VPN do?
A VPN can do a lot more besides connecting you to Bet365 abroad. For example, a premium VPN can let you:
Protect your privacy from surveillance — The Snowden investigations revealed how extensive secret government internet surveillance is in the US, China, New Zealand, the UK, and elsewhere. To prevent governments from keeping records on you domestically and abroad, use a premium VPN.
Bypass censorship — Many countries like China and the United Arab Emirates are well-known for strict censorship of any material that might threaten the government's values or political control. The right VPN can restore your freedom on the internet.
Stream your favorite shows and movies from abroad — Access content on US Netflix, Amazon Prime Video, BBC iPlayer, and many other platforms, regardless of where you travel.
Secure your connection on public WiFi networks — Prevent your data from being intercepted by hackers and other prying third parties.
Access your online banking safely — Encrypt your data so that your sensitive financial information stays safe.
Hide your torrenting activity — Download P2P files anonymously with no bandwidth restrictions.
Secure Your Next Bet on Bet365 With a VPN
Bet365 offers a huge selection of online games, live streaming, and gambling opportunities. But, if you don't have the right IP address to get around geo-blocks, you won't be able to access it.
Use a high-quality VPN to access Bet365 while abroad to continue to access your favorite betting markets while traveling. A VPN can also keep you safe from prying eyes like hackers, government spies, and advertisers who want your data. Plus, premium VPNs can expand your internet freedom by letting you bypass censorship, unblock streaming services, and help you to torrent anonymously.
Not sure which VPN is the right one for you? NordVPN is my #1 choice for unblocking Bet365 because of its huge selection of secure servers and advanced security features. I recommend you try NordVPN for free with its 30-day money-back guarantee so you can start gambling securely today.