6 Best VPNs for Russia That Still Work in 2022
Last Updated by Ari Denial on July 01, 2022
It's not easy to find a good VPN that still works inside Russia. You'll find that most online information hasn't been updated since the government cracked down on VPNs and tightened its internet surveillance laws. Platforms and services outside of Russia (including Netflix) are also blocking Russian IP addresses or limiting access to their content.
To save you time and frustration, I shortlisted the best VPNs that can bypass Russia's firewalls (and won't share your personal information). You'll be able to connect to servers around the world to avoid Russia's censorship, and stream your favorite shows on platforms like Netflix and HBO Max, all while keeping your browsing history hidden.
If you want to skip the full list, I recommend ExpressVPN as the best VPN for Russia in 2022. It's a no-logs VPN with over 3000 fast and secure servers around the world. You can even try it for yourself with the 30-day money-back guarantee, which makes it completely risk-free.
Quick Guide: Best VPNs for Russia in July 2022
Protect your privacy with ExpressVPN
3 Easy Steps to Get a Russian IP Address
Beat Russian censorship with ExpressVPN
The Best VPNs to Use In Russia — Safe, Fast and Reliable
Key Features:
ExpressVPN is regarded as one of the best VPNs in the world. Its strong privacy features allow you to access the internet safely when you're traveling in Russia.
Furthermore, ExpressVPN not only secures your data with an AES 256-bit encryption, but it also helps you maintain complete online privacy by having a no-logging policy. ExpressVPN doesn't store any information or activity logs that pass through their servers, this includes usernames, passwords, search history, etc.
ExpressVPN also employs a unique technology called TrustedServer, which wipes all data from its servers with every reboot. These safeguards make it impossible for third parties to spy on your online activity, including your Internet Service Provider (ISP), hackers, or the government agencies. Its no-logs policy was put to the test when the Turkish authorities seized one of its servers as part of an investigation – but couldn't find any incriminating information, as none was stored.
While ExpressVPN provides complete security, it also retains exceptionally fast speeds throughout. During my tests, performance has been consistent and reliable over both long and short distances. Plus, even if you've got an unstable internet connection at your home or hotel, ExpressVPN keeps your device protected at all times with its automatic kill switch. This blocks all internet traffic until your VPN connection is safely restored so you don't risk exposing yourself.
As ExpressVPN is compatible with most platforms including Windows, MacOS, iOS, and Android, you can use it no matter what device you have – and it supports up to 5 simultaneous devise connections. You can install it on your router, too, to use with more devices – as your router only counts as one device.
There are some great deals available on an ExpressVPN subscription right now – plus there's a 30-day money-back guarantee so you can try it completely risk-free, and if it's not right for you, it's really easy to request your money back. I tested the money-back guarantee myself and the money was back in my account within a few (working) days.
Key Features:
CyberGhost is the best VPN for Russia with more than 7900 servers in 91+ countries. Speeds are excellent, and there are even optimized servers for streaming and torrenting. All servers are secured by AES 256-bit encryption, leak protection, and a kill switch that blocks all traffic if your connection is unexpectedly interrupted.
I easily connected to over within 5 seconds when I ran tests on my Windows, Mac, Android, and iPhone. I found the app is easy to use across all devices and operating systems. Simply click on the "All Servers" tab, and double-click to connect to the best available server. I was even more impressed when I didn't have issues using the optimized servers to access my Netflix, Disney+, or Amazon Prime Video accounts either.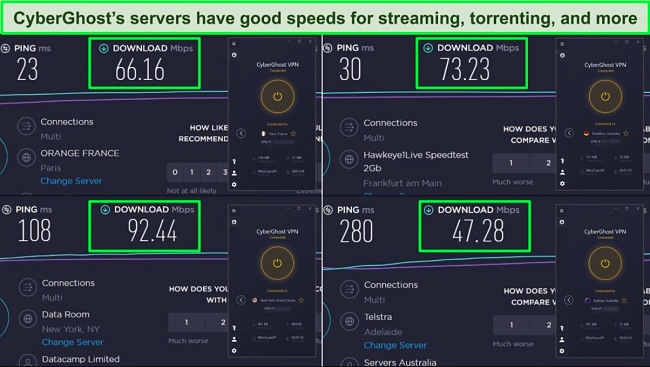 CyberGhost's servers offer excellent speeds
CyberGhost has a zero-logs policy, so you can browse the internet locally or globally and know that your online activities will never be monitored, collected, or shared with anyone. You can even connect to the NoSpy servers located in Romania if you're extra privacy-conscious. These servers are independently owned and operated by CyberGhost staff at headquarters, reducing the chance of third-party interference.
You can connect 7 devices at the same time, so you can even share your account with family and friends. I found it was one of the best VPNs for Windows, Mac, Android, and iPhone — the app is easy to use across all devices and operating systems. However, if you ever have any technical issues, there are extensive troubleshooting guides on the website in 12 languages (including Russian!) or a 24/7 live chat service in English, French, and German.
Every plan comes with a generous 45-day money-back guarantee. This gives you plenty of time to securely browse the internet in Russia with CyberGhost and test every feature out for yourself before committing to a subscription. I even used the money-back guarantee myself as part of my tests — it took a couple of minutes to approve over 24/7 live chat and the money returned to my account in only 5 days.
Get CyberGhost risk-free today!
Key Features:
ZenMate has fantastic security features. Not only does it have malware and tracking protection, but also a kill switch that activates if your internet connection drops and makes sure no identifying information is leaked. This ensures your real IP address will never accidentally be exposed to snooping spies or cybercriminals.
Fast speeds for streaming is one of ZenMate's strong points. I tried its servers during peak and off-peak hours and found there was minimal difference in my speeds. I was able to stream BBC iPlayer in HD with minimal buffering.
ZenMate can bypass geo-restrictions on both local and global websites. Its US servers let you unblock Netflix US to watch Stranger Things, HBO Go, Amazon Prime Video, Hulu, and more.
ZenMate offers a 30-day money-back guarantee, so you can fully experience all the security features the VPN has to offer. Bear in mind that there is no live chat support, so you'll need to ask for your refund through email, and wait an average of 2 business days for ZenMate to receive your request. There are no refunds if you pay with PaysafeCard, Bitcoin, or UKash.
Get ZenMate VPN risk-free today!
Key Features:
You can be assured of your security with PrivateVPN's strong encryption, which is the same as what's used by the military. This means that if cybercriminals tried to hack your connection, all they would be able to see are a string of random letters and numbers instead of your personal data. Additional security features like built-in leak protection and an automatic kill switch defend your devices against hackers, spies, and anyone who might be watching.
PrivateVPN is headquartered in Sweden, which has a legal system that protects freedom of speech, prohibits most censorship, and bans arbitrary interference with privacy. Authorities must have court permission before requesting access to your data. This, combined with PrivateVPN's zero-logs policy, keeps your internet activity anonymous and untraceable.
I had no issues when connecting to PrivateVPN's servers for streaming and accessing content that's normally censored in Russia.
You can try PrivateVPN for 30 days risk-free with its money-back guarantee. Like other VPNs on this list, it has a 24/7 live chat service. However, customer service can be slow — when I used this function to obtain a refund, a representative took over half an hour to respond to me.
Get PrivateVPN risk-free today!
Key Features:
HMA VPN's IP Shuffle feature scrambles user data to prevent you from being recognized when you're connected. It randomly and regularly changes your IP address when you have it turned on, which makes it even easier to access global sites like US Netflix.
Security is vital when you're connected to the internet in Russia and HMA VPN's high-end encryption and zero-logs policy keeps all your data private. In addition, HMA VPN uses no third-party servers — all servers, coding, and maintenance is 100% owned and operated by the company. This means HMA has no external companies interfering with its operations, who could potentially have access to your personal data.
I could connect to all its servers quickly and easily. Unfortunately, my browsing speeds were slower than the other VPNs on this list.
I recommend you take advantage of HMA VPN's 30-day money-back guarantee. You can test its entire service at no risk to you.
Key Features
Hotspot Shield's Catapult Hydra technology keeps your data secure and connection speeds high by reducing the file size of the data transported. If you want to stream US Netflix using Hotspot Shield's US servers, Hydra will minimize buffering and lag while keeping your activity private.
You can browse and bank knowing Hotspot Shield's military-grade encryption is keeping your personal and financial data secure. If you're traveling abroad, using hotel or public WiFi to check your bank account can leave you vulnerable to cybercriminals. With an encrypted VPN connection, it's a lot more difficult for hackers to hijack your connection and obtain this private information.
One minor con is that Hotspot Shield doesn't have a spotless record of keeping users' information private. In 2017, it was accused of selling the data of users of its free version to advertisers. However, since the VPN came under new management in 2019, it's been improving its privacy policy and now says it does not log any users' IP addresses.
This controversy is just one reason why I wouldn't recommend using Hotspot Shield's free version. The other is that the free version only lets you connect to a US server, which means it won't be very useful if you want to access European content like BBC iPlayer. Instead, I'd recommend taking advantage of Hotspot Shield's 45-day money-back guarantee. If you're not satisfied you can get a refund hassle-free. When I tested out its refund policy, I found that its customer service was nice, but did pressure me to stay before issuing a refund.
Get Hotspot Shield risk-free today!
How to Choose the Best VPN for Russia
I tested all the best VPNs in 2022 and chose the VPNs for Russia according to the following criteria:
How a VPN Gets You an IP Address Outside Russia
A VPN creates a secure tunnel between your device and the internet. Any data you send over the internet stays inside the tunnel. Websites, spies, and hackers are stuck outside it, which means they can't see what you're doing or where you're located. This prevents third parties from tracking your online activity and keeps your internet activity anonymous, which is especially important in a restrictive country like Russia.
Your IP address shows the physical location of your device. When you connect to a VPN server, it masks your true IP address with a different one — so when you connect to a US server, you're given a US IP address. This allows you to bypass geo-restrictions to access blocked content.
FAQs: Legality and Free VPNs for Russia
Is it legal to use a VPN in Russia?
Yes, it's legal to use a VPN in Russia. However, there are laws preventing VPNs from operating in the country. Vladimir Putin signed a bill on 1 November 2017 which bans websites and software related to circumventing internet filtering from operating in Russia. VPNs that do not blacklist websites as directed by the government are not allowed to operate in the country.
While you should exercise caution if you decide to use a VPN within Russia's borders, you likely won't be prosecuted for doing so. The common practice is that Russia fights VPNs by technologically blocking the services, and not by chasing after those who use them.
Can I use a free VPN to get a different IP address?
Technically, yes — but I wouldn't recommend it in a country with as invasive internet surveillance as Russia. While there are some good free VPNs available, many of them compromise on security measures by retaining user logs which can be handed over to the Russian government on request. Others generate revenue by selling user information to third parties or collect information about your location to run ads that target you.
With limited resources, most free VPNs either don't let you choose server location or only give you a tiny number of countries to choose from. Don't take the risk of downloading a free VPN and then realizing it doesn't have servers in the country you want when you're in Russia and can't download another one
You also won't be able to stream your favorite shows on many free VPNs. A small selection of servers can cause slow connection speeds which make it challenging to connect at peak times.
I recommend you use a premium VPN like CyberGhost that can provide fast speeds without interruptions, protect your data, and block ads when you're browsing websites. You can even use CyberGhost for free for 45 days with its money-back guarantee. The money-back guarantee means you can ask for a refund anytime within 45 days if you're not satisfied with the performance. I tested it myself and I easily got my money back in just 5 days.
Try CyberGhost for free for 45 days
How to Save on VPNs for Russia
Check out these deals for more savings on some of the VPNs on this list:
---
Summary: These Are The Top VPNs That Work in Russia in 2022