Top 6 Free VPNs for Google Chrome
Last Updated by Kate Hawkins on April 05, 2021
A quick search on the Chrome Web Store gives you hundreds of results. Some of them want to scam you and steal your data. It's hard to know which VPN browser extensions are safe, secure, and easy to use.
To help you choose, I tested dozens of free VPNs to find the 6 best services to use with Chrome. I looked at security, reliability, and performance to ensure each of my recommended services provides premium security and reliable connections.
Try ExpressVPN with Chrome risk-free
Quick Guide: 6 Best Free VPNs for Google Chrome
How to Choose the Best VPN for Google Chrome
During testing, I focused on these key features to choose the best VPNs to use with Google Chrome:
Compatibility: Does the VPN have a Chrome browser extension? Is it easy to use?
Security: Does the VPN have military-grade encryption to keep your data safe? Does it have other security features? Does it keep logs of your data?
Reliability: Can you connect easily even if there are fewer servers to choose from? Do data caps prevent you from browsing, streaming, and downloading as much as you want?
Customer Support: Does the VPN have customer support available for free users?
If you want to connect to a specific country, make sure the VPN you choose has servers there. For example, only ExpressVPN can help you connect to China.
Top 6 Free VPNs for Google Chrome
Key Features:
3000+ servers in 94+ countries
Fast browsing and streaming with no data caps
Military-grade encryption
24/7 live chat and customer support available
30-day money-back guarantee
Even though it's not completely free, ExpressVPN is the best VPN for Google Chrome and it has a 30-day money-back guarantee. This means you can test out ExpressVPN without any risk or commitment. If you're not satisfied, you have a full 30 days to claim a refund.
ExpressVPN has thousands of servers around the world that make securing your connections easy. During my tests, I could instantly connect to servers in any ExpressVPN location from the Chrome browser extension.
Adding the ExpressVPN extension to Chrome only takes a couple of seconds. You can find the extension on the Chrome Web Store or through the ExpressVPN website. Once downloaded, the interface is simple and easy to use. You can click the large power button to connect to the fastest server or search for an individual country. I used both connection methods to secure my Chrome browser and had no issues. ExpressVPN uses military-grade encryption to ensure your data is safeguarded.
You don't have to take my word for it. It's completely risk-free to try ExpressVPN with the money-back guarantee for 30 days. Unlike other VPNs, ExpressVPN even has a "no questions asked" refund policy. This makes it quick and easy to use the money-back guarantee if you don't feel it's right for you. When I tested it myself, my refund was approved in less than 1 minute over live chat — and the money returned to my account in just 4 days.
May 2021 Update! ExpressVPN has dropped prices for a limited time to a crazy $6.67 per month for the 1-year plan (you can save up to 49%) + 3 months free! This is a limited offer so be sure to grab it now before it's gone. See more information on this offer here.
Key Features:
3 server locations for free users — USA, France, and Japan
Consistent speeds across all 3 server locations
Unlimited free data allowance
Military-grade encryption
Zero-logs policy and no ads
ProtonVPN is one of the only free services that gives you unlimited free monthly data. This means you can use Chrome anonymously and securely without having to worry about your data usage. With no caps, you can stream and browse as much as you want.
If streaming is a priority, you should know that I struggled to connect to Netflix using ProtonVPN's free service. Streaming services like Hulu are only available for premium users, but free options like YouTube or Crackle work well. While testing the service, I was able to watch a movie on Crackle and only experienced buffering during ad breaks.
ProtonVPN's map interface makes it easy to choose the right server location. As a free user, you're limited to 3 server options, but you can see the range of server locations available to paying members.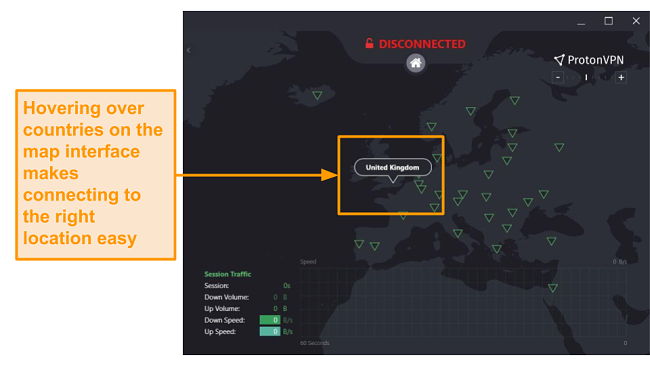 ProtonVPN's free service limits speeds, P2P file sharing, and the number of devices you can connect. To try the service without limitations, free users get a 7-day premium trial at no cost. You can then upgrade or change your subscription at any time through your account dashboard.
Key Features:
Extension offers 3 servers in Canada, the Netherlands, and Germany
Won't cap bandwidth to ensure speeds are as fast as possible
2GB free monthly data
Military-grade encryption
Customer support available to free users
Hide.me is a robust free service with no ads or bandwidth throttling. Its security features guarantee your browsing activity is anonymous and protected while you're using Google Chrome.
While connected to the extension, you can choose from 3 different servers or automatically connect to the fastest. It doesn't provide encryption like the free desktop VPN, but it will mask your IP address so you can browse and stream sites and services in other countries.
To encrypt your connection using the Hide.me browser extension, you must enable SOCKS (Socket Secure). If you don't enable SOCKS, your data will not be encrypted but your IP address will be hidden.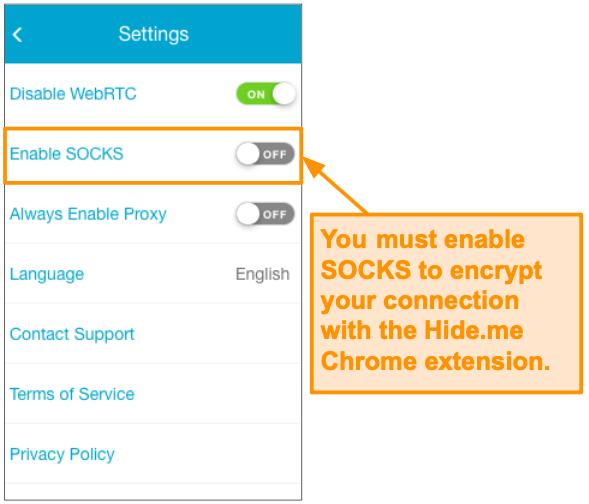 While testing, I enabled SOCKS — I was able to browse the web and access sensitive information like my bank account securely. However, the best way to ensure your data security is to test Hide.me's premium service. You can try it for 30 days risk-free with its money-back guarantee!
Key Features:
4 servers available in Canada, Germany, the Netherlands, and Russia
Speeds capped at 2Mbps but fast enough for online browsing
Daily limit of 500MB data
AES-256-bit encryption
Tech support available for free users
Hotspot Shield has an impressive browser extension that requires zero sign-up. Just download the extension from the Chrome Web Store and you can connect instantly, choosing from one of 4 available locations — Canada, Germany, the Netherlands, or Russia. Changing locations is easy too, just open the extension and click on a different location to automatically connect.
I was impressed by the extension's optional security features. These can be turned off and on individually so you can customize your security preferences.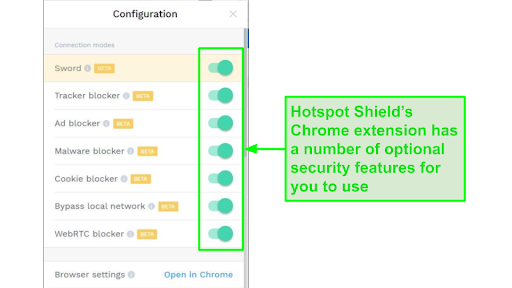 These features all work together to keep your Chrome browsing confidential, free from pop-up ads, and protected from malicious websites.
While testing this service, I could watch YouTube videos with no advertisements in SD for an hour before hitting the 500MB data cap. To watch without data or quality restrictions, you can try Hotspot Shield's premium service with its money-back guarantee. You can test the VPN for 45 days and get a full refund.
Get Hotspot Shield for free today
Key Features:
Servers in 23 countries — including the USA, UK, and Canada
No bandwidth throttling for fast speeds
500MB monthly data limit
Military-grade encryption and zero-logs policy
Customer support through email tickets
TunnelBear's Chrome extension is very easy to use. Just download it from the Chrome Web Store, sign in or create an account, and choose one of 23 servers to connect to.
Although it doesn't have the additional security of some other extensions, it keeps your location anonymous and protects your data. I ran several DNS leak tests to make sure my IP address was secure and TunnelBear passed every time.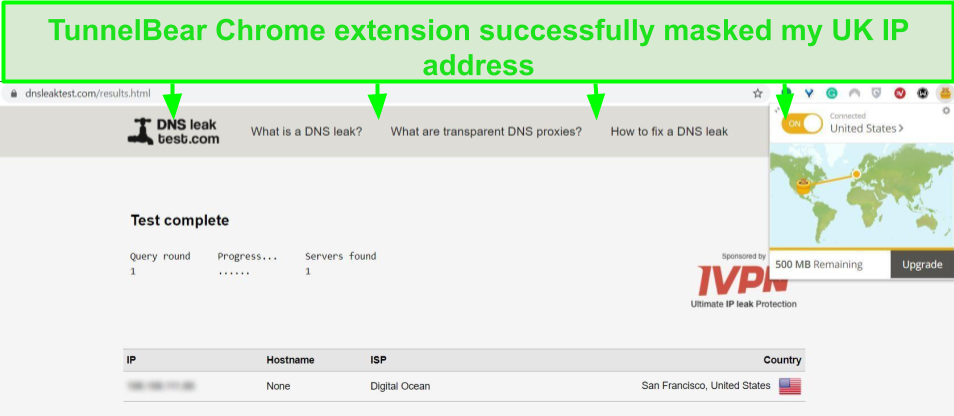 Though my IP address was hidden, I wasn't able to watch Netflix US with TunnelBear. With only 500MB of data per month, it's difficult to stream even a single episode of a show to the end. This means TunnelBear's free version isn't great for streaming or downloading.
You can upgrade to the premium service for unrestricted data. If you're not satisfied, you can contact TunnelBear's customer support to request a refund.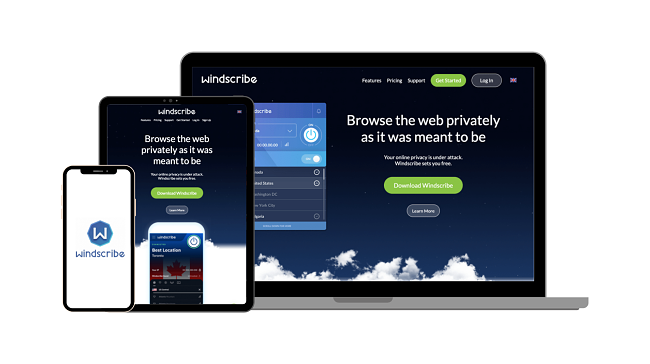 Key Features:
10 server locations available in countries around the world
No bandwidth throttling for fast speeds
10GB monthly data allowance
Military-grade encryption
Torrenting supported
Windscribe's privacy policy ensures that your data stays secure while you're browsing with Chrome. With the extension, you can choose to block ads, avoid malware, and delete cookies.
If you want to watch movies on streaming sites, you should know that Windscribe blocks some services for free users. Services like Netflix and Hulu are only available for premium users. When testing Windscribe's free Chrome extension, I wasn't able to bypass the Netflix proxy error. But, I could watch BBC iPlayer when connected and stream for about 10 hours before I reached the cap.
If you want to stream or torrent frequently, you may find the 10GB monthly data limit isn't enough. To get access to all streaming services and unlimited data, you'll need to subscribe to a paid version. Windscribe allows you to try its premium service for 3 days, but you have to contact the service within the 3 days to get a full refund.
How to Add a VPN Extension to Chrome
4 Steps to Add a VPN Extension to Chrome:
Get a VPN with a Chrome browser extension. I recommend ExpressVPN as it has an easy 2-step Chrome installation process.
Visit the VPN's website and find the "Apps" section.
Click "Add to Chrome." You'll be redirected to the Google Chrome Web Store.
Select "Add to Chrome" and "Add Extension."
How to Add a VPN Extension to Incognito Mode
Chrome blocks extensions when you're using incognito mode. This is because the browser can't ensure the extension isn't tracking your online activity. If you use a secure free VPN, you can still use the extension in incognito mode. Here's how:
5 Steps to Add a VPN Extension to Incognito Mode:
Download a trusted free VPN's browser extension from the VPN website or in the Google Chrome Web Store.
In Chrome, click the 3 dots at the top right of the browser to open the menu.
Hover over "More tools" and click "Extensions" on the menu.
Click "Details" on the VPN extension.
Scroll down to find the "Allow in incognito" option, then click to enable it.
Get ExpressVPN for Google Chrome today
The Downside to Free VPNs
There are thousands of free VPNs available, but the majority aren't secure enough to keep your data safe. At best, this could mean that your general location is shared with advertisers as a way to generate revenue. At worst, limited security features could mean your data isn't properly encrypted, leaving it vulnerable hackers and spies. If a free VPN logs your data, it could be sold to the highest bidder or handed over to government authorities.
Free VPNs that you can trust, like the services I've recommended, are a secure way to browse the internet. However, they all have limitations. The restrictions imposed by free VPNs provided by a premium service are designed to encourage you to sign up for a paid subscription. They limit the number of servers you can connect to as well as your data allowance, and download speeds. This means you'll experience buffering and lag during streaming, crowded servers, and slow online activity.
If you want to try a premium VPN for free, you can use a money-back guarantee. CyberGhost gives new subscribers 45 days to test its service and getting your money back is easy. Customer service processed my refund in less than 3 business days.
FAQs About Google Chrome Browser Extensions
🔍 Is Google Chrome's incognito mode really anonymous?
No, incognito mode won't encrypt your online activity or make you anonymous. When you go incognito, Chrome clearly states that your activity can still be seen by websites you visit, your ISP, and the network administrators (like your school or employer).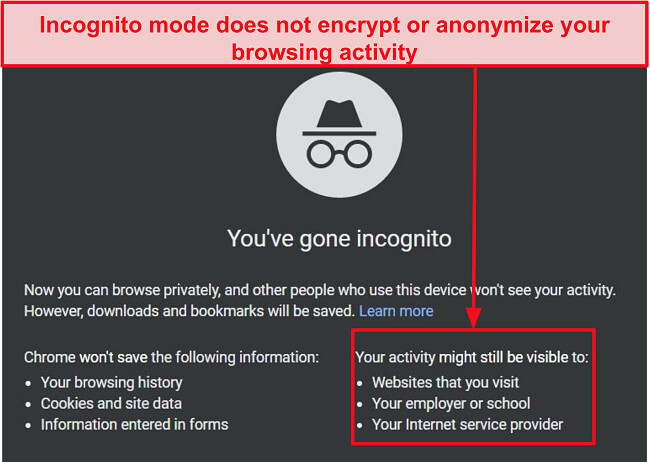 Incognito mode is useful if you don't want your browsing history or log in details saved. If other people use Chrome on your device, they won't be able to see which sites you've visited or log in to accounts you accessed while using incognito mode.
💰 Which free VPNs for Chrome should I avoid?
With so many free VPNs available to download, it's important to make sure you only use a VPN you can trust. Here are a couple of free VPNs you should never use with Chrome:
Hola VPN
While this service downloads and installs to your Chrome browser effortlessly, it should be avoided at all costs. Hola VPN has zero encryption, so any information sent or received from sites is easily read and identified. It also logs a huge amount of your information during use, including the websites you visit and your personal identifying data. To make money, this service then shares your information with unknown third-parties.
Cross VPN
Cross VPN was flagged for containing potential trojan viruses by VirusTotal, a site that analyzes files and URLs to detect malware. Cross VPN has an AV-rank of 11, meaning it tested positive for malware on 11 different antivirus programs. Downloading this free VPN to use with Chrome puts your device at risk of being infected with malicious software.
❓Will a VPN slow down my browsing speed?
Whether you're using a free VPN or a premium VPN, you are likely to experience at least a small drop in speed. This is because your traffic goes through the encryption process before connecting to the internet, which impacts your speed.
If you use a free VPN with server and bandwidth limitations, you're likely to experience a more noticeable drop, particularly if you connect at high-traffic times. In the UK, that's typically between 7pm and 11pm GMT.
I ran a speed test for every free VPN on my list during peak connection times in the UK. I connected to the fastest available server for each VPN and compared it to my regular ISP speed. Here are the results:
| | | | |
| --- | --- | --- | --- |
| VPN Name and Server Location | Standard ISP Speed (Mbps) | Fastest Server at Peak Connection Time (Mbps) | Speed Drop in Mbps |
| ProtonVPN – France | 52.15 | 43.48 | -8.67 |
| Hide.me – Netherlands | 52.15 | 29.84 | -22.13 |
| Hotspot Shield – USA | 52.15 | 30.35 | -21.8 |
| TunnelBear – UK | 52.15 | 41.64 | -10.51 |
| Windscribe – UK | 52.15 | 43.45 | -8.7 |
As expected, the VPNs with servers furthest away from me had the biggest drop in speed. However, every server had speeds fast enough to stream in UltraHD or 4K quality, even at the busiest connection times.
Stay Secure With a Reliable VPN for Google Chrome
Google Chrome just isn't secure enough to keep your data safe without help. By using one of my recommended free VPNs, you can protect your data while browsing with Chrome.
But remember, most free VPNs have limitations. If you want to stream Netflix from anywhere or torrent anonymously, you'll need full access to a premium VPN.
If you want a VPN without limitations but aren't ready to commit to a paid plan, you can use a premium service with a money-back guarantee. ExpressVPN gives you 30 days to test every feature and get a full refund if you're not completely satisfied.
---
Other Top VPNs for Google Chrome in 2021 to Try With Money-Back Guarantees
Top Choice