How to Watch TF1 France from Abroad
Last Updated by Thalia Oosthuizen on August 24, 2021
TF1 is one of the most popular on demand video sites in France, boasting a wide variety of excellent content. Popular French shows include Julie Lescaut, No limit, Falco, and Joséphine, ange gardien.
TF1 – most popular on demand video site in France
There are also American shows such Grey's Anatomy, House, The Mentalist, CSI, Revenge, and Brothers & Sisters. And don't forget the kid's shows such Dora the Explorer, Pokémon, Sesame Street, Phineas and Ferb, and Dragon Ball Z.
But, users who do not reside in France are unable to access these shows. That is, unless you have a way of bypassing the geo-blocks used by the streaming service.
Luckily, by simply using a VPN or smart DNS proxy, you can easily gain access to TF1's excellent content from anywhere in the world.
How to Watch TF1 France from Abroad – VPN
The main purpose of a VPN is to create a secure connection between your device and the public internet. But there are a few other things you can do with a VPN – one of which is to hide your IP address and get a new one in a new location, such as in France.
By using a VPN, you can easily gain access to TF1 France. This is how:
Sign up for a VPN of your choice (see recommendations below)


If you have an ad blocker on your device, switch it off
Visit the TF1 France website


If your using Chrome then you can use Google Translator to translate the page




Sign up for an account or

sign in




Select the show you want to watch




Enjoy your favorite TF1 content from

anywhere



How Do VPNs Work to Watch TF1 France?
By using a VPN, you can select a server in a different country. This means that your online location can be changed to anywhere in the world that your chosen VPN has servers. By changing your location to France, you will no longer be blocked from using any French sites with geo-blocks.
Plus, using a VPN gives you more anonymity, security, and privacy on the internet.
But, with over 800 VPN providers available online, it can be difficult to choose one that will be able to bypass the geo-blocks enforced by TF1 France. Luckily, we have researched and found the 4 best options.
Best VPNs

to Watch TF1 France from Abroad
These VPNs are the best choices to watch TF1 from abroad. All of them tick the boxes for bypassing geo-blocks while also giving you top-notch security and privacy features.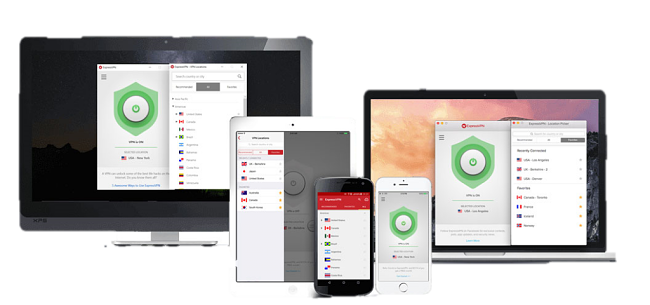 High connection speeds
More than 1,700 servers
Excellent customer service
Top-notch, robust security
24/7 live customer chat
Anonymous and highly secure
Unlimited bandwidth
30 day money back guarantee
ExpressVPN is considered by many to be the best VPN that money can buy. It offers 1,700+ servers in more than 90 countries, including France, of course. It has been tested and proven to have the fastest speeds of any VPN in the world.
You can install it to just about any device with ExpressVPN offering apps for all major platforms. It comes along with a 30 day money back guarantee and fast, efficient, friendly customer care that will sort out any issue you may encounter.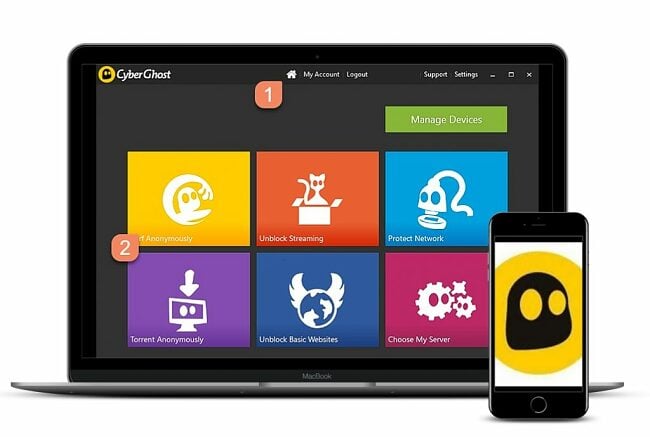 Unlimited bandwidth
More than 2,700 servers
Fast connection speeds
Can be used on up to 7 devices
DNS leak protection and kill switch
256-bit encryption
Strict zero logs policy
30 day money back guarantee
CyberGhost has a large network of 2,700+ servers spanning over 60 countries that are excellent for bypassing geo-blocks on streaming sites. While CyberGhost is not the fastest when compared to Express, it can hold its own and you will not have any buffering. When it comes to unblocking geo-restricted content, CyberGhost's dedicated unblocking profile allows you to easily gain access to what you want.
Plus, if you would like to protect all the devices in your home, this VPN allows you to add up to 7 connections at the same time to one account! Add to that the amazing customer support and the 30 day money back guarantee and you can see why CyberGhost is so popular.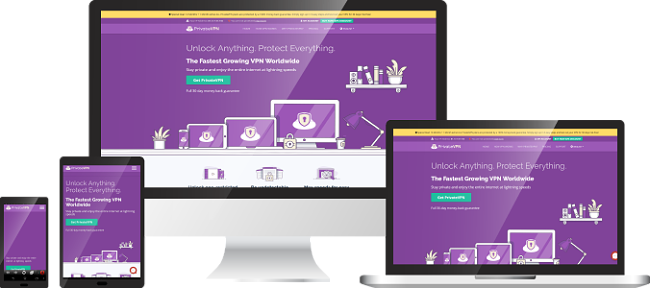 Top-grade 2048-bit encryption
High speed servers
Unlimited bandwidth and speeds
Strict zero logs policy
Various protocols
Servers in 56 countries
24/7 live customer care
Remote configuration assistance
30 day money back guarantee
This cost-effective VPN is also efficient at bypassing geo-blocks that stump many other services. Although it has a smaller network with just over 100 servers located in 55+ countries, they are all very fast, giving you everything you need to access TF1 France from anywhere.
Plus, it has military-grade encryption that keeps you safe and secure. You can install the Private VPN app to 6 simultaneous devices per account. The 30 day money back guarantee is a big plus, as is the attentive and friendly customer care.
How to Watch TF1 France from Abroad – Smart DNS Proxy
While a VPN is the best and simplest way to watch TF1 France from abroad, it is always good to have a second option to bypass geo-blocks. Other than using a VPN, a smart DNS server will offer you the same results just using different methods.
A smart DNS server does not have the strong, robust encryption standards that are offered by the best VPNs, which means that it is not as private and secure as a VPN. But the lack of extra security steps means that it is much faster, making it a great choice for unblocking content that you want to stream, like TF1.
If you would like to watch TF1 France from abroad using a smart DNS server, this is how to do it:
Set up the Unlocator smart DNS server
Go to the TF1 website
Select the show you would like to watch and enjoy
Unlocator gives you access to more than 196 channels, so you can easily stream your favorite content from anywhere in the world, including TF1 France. Plus, you can try out Unlocator using the free 7 day trial.
Important: There are licensing rights the make certain shows unavailable for live streaming, no matter what VPN or smart DNS server you use. This is a decision made by France Télévisions. It does not mean the VPN or smart DNS server is not working.
Final Thoughts
No matter whether you are an ex pat living in a new country, a resident on vacation, or a visitor who enjoyed TF1 when visiting France and want to keep watching the content, accessing the shows can be tricky without the right tools.
Besides, what is the point of online streaming services such as TF1 if you can't enjoy the shows from abroad? Plus, there are more than 28 countries with French-speaking citizens around the world that would really love to enhance their TV show experience through TF1.
Luckily, by using a VPN or smart DNS server, you can easily gain access to the wide variety of excellent content that TF1 has to offer. And, by using one of the recommended VPNs on our list, you get additional security, privacy, and anonymity when accessing the internet.