10 Best Free Movie Streaming Websites in August 2022
Last Updated by Sayb Saad on August 16, 2022
Even though you can find free streaming websites on Google, many of those sites violate copyrights and are, therefore, illegal. Some can even infect your device with malware.
I tested dozens of streaming websites and many of them promised free streaming but then asked me to buy a subscription. Some were either unreliable or illegal. After much research, I picked the 10 best free and legal movie streaming sites.
However, remember that many of these streaming sites are geo-restricted, which means that if you're traveling abroad, you may need a VPN to access your home content and most streaming sites. ExpressVPN gave me the best results, including blazing-fast speeds on nearby and distant servers and top-notch security.
Short on Time? The 10 Best Free Movie Streaming Sites
The Best Free Movie Streaming Websites
It can be challenging to find a suitable movie streaming website, but to save you time, I tested dozens of streaming sites and handpicked the best 10 ones. All of them contain a variety of legal and free content. However, don't set your expectations too high, as most of these won't have many of the latest releases.
1. YouTube
YouTube is the most widely-watched video platform, but did you know it hosts hundreds of free movies and TV shows across various genres? The great thing about YouTube is that it's reliable, and all its content is legal and copyright-free, so you needn't be afraid of any possible legal ramifications.
I could access many movies and shows, including FBI Files, The Hunt, and Patient Seven. However, most of the content available isn't recent at all, and that's what you should keep in mind when using YouTube — you'll rarely find any recent releases in its library. Also, YouTube shows a lot of ads (an ad every 10 to 15 minutes) unless you subscribe to its paid premium plan.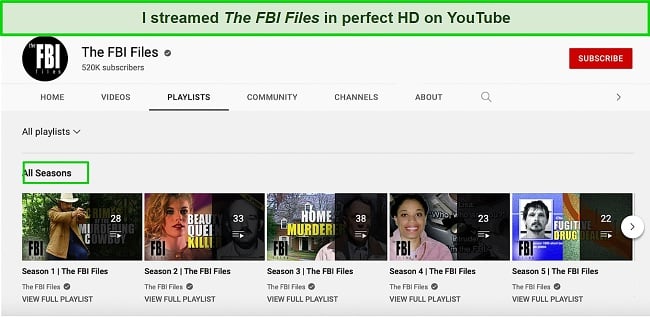 If you're traveling abroad and can't access your home library, you can use a reliable VPN to unblock your home content. YouTube is optimized for fast and buffer-free streaming, but the VPN you choose may affect your streaming experience. That's why you'll want to make sure you're using a premium one, such as ExpressVPN or CyberGhost.
2. Freevee
Freevee (formerly known as IMDb TV) is an ad-supported video-on-demand platform owned by Amazon. It's a free service with many movies and TV shows. However, since its launch, the library has decreased in size — shows like Schitt's Creek and Ugly Betty have migrated to other streaming services. Still, you can browse through and stream plenty of content, including Mad Men, The X-Files, and My Name Is Earl. I must say, however, that sites like Peacock support a more extensive library than Freevee.
I liked Freevee's movie library as it's more diverse and plentiful than its TV shows library. It includes Fifty Shades of Grey, The Founder, The Invisible Man, and many more. Unfortunately, Freevee doesn't offer live TV or live sports, but it does have live channels that play popular TV staples.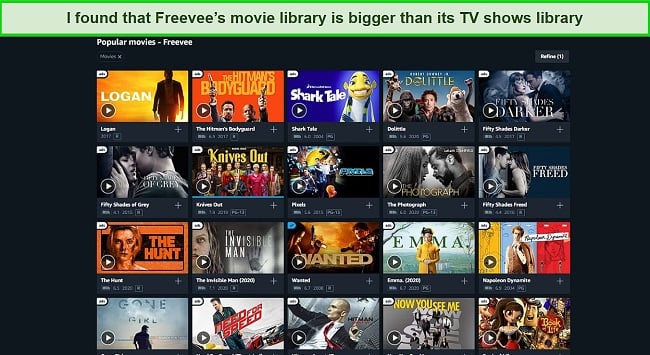 While Freevee is a 100% free-to-use streaming website, it has some ads that'll pop up during your streaming session. That's how the platform earns money — via ad revenue, which is typical of any free streaming service. Overall, it's a good choice for avid streamers if you're okay with having a few limitations.
3. Sony Crackle
Crackle hosts one of the largest content libraries for a free streaming website, containing hundreds of movies and TV shows — some even recent releases. However, most of the content isn't so recent. I could stream Spiderman 3, Cold Pursuit, and The Whistleblower, among other movies, without any buffering. A couple of ads popped up while streaming at different instances, but they didn't feel like much of a nuisance.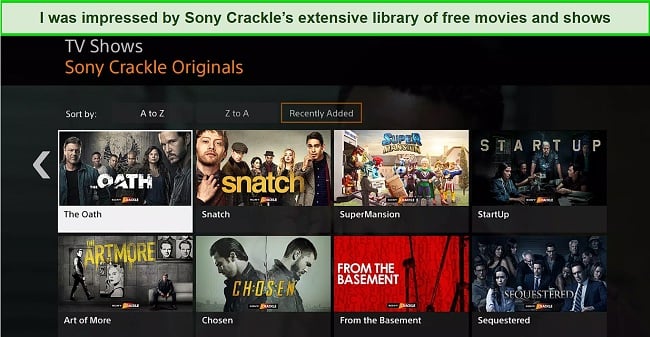 The only catch is you need a US IP address to use Crackle, which means it has geo-restricted content, which you can only access if you're in the US. If you're currently traveling outside the US, you'll have to connect to a US server using a VPN to access Crackle's content.
I liked the overall streaming experience Crackle provides. You can continue watching an episode where you left off, as it saves your streaming progress. Besides a closed captioning toggle embedded in the video player, Crackle includes a parental controls function, which lets you control which shows or movies your child can watch on their device and for how long.
4. PopcornFlix
PopcornFlix includes over 1500 movies across a range of genres in its library. I was impressed by its easy-to-navigate user interface and the fact that I didn't have to sign up or create an account. I could simply visit the website and start streaming.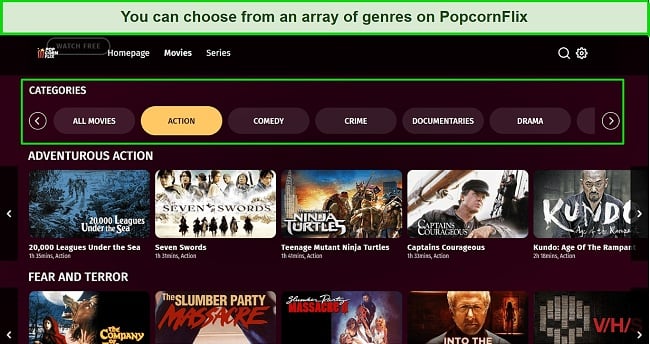 The "Leaving Soon" category lets you watch movies that are about to be taken down from the streaming site soon so that you can watch them at the earliest. It supports the automatic resume playback function, and I could quickly resume watching where I left off.
PopcornFlix doesn't show you as many ads while streaming content as most competitors. When watching Sci-Fi Sanctuary, only 4 to 5 ads popped up during my streaming. The catch is these ads can appear at any time during the movie or episode, and it's annoying when that happens during climactic scenes.
5. Vudu Movies on Us
Vudu is another streaming platform that offers free and paid plans. The paid subscription includes the entire library, whereas the free plan (also called "Movies on Us") contains limited movies and TV shows. Like Crackle, Vudu is only available to US users, so if you're currently traveling, you'll have to use a reliable VPN like ExpressVPN to stream it.
A good proportion of movies and shows on Vudu are available in 1080p. I'm happy to report that it was pretty easy to use. I could easily change the genre and browse through the library. However, I would've liked it better if users didn't have to sign up for an account to stream content.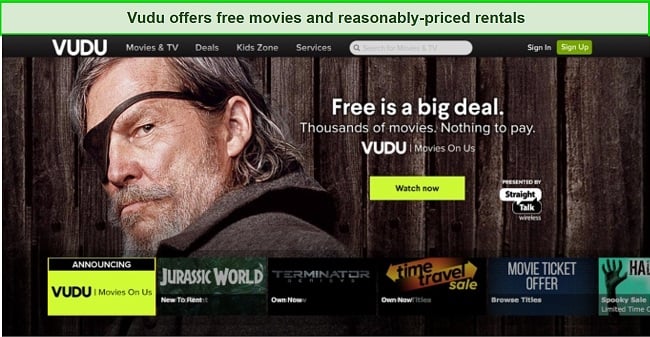 Vudu also allows you to buy or rent a movie for a cheap price, a feature I found missing in most other streaming sites. I was pleased to see that I wasn't bombarded with ads constantly and had a relatively smooth streaming experience.
6. Pluto TV
Pluto TV is another ad-supported streaming website with loads of Nickelodeon and Comedy Central content. You don't need to sign up and create an account to stream. It works as both an on-demand movie streaming service and a live TV service. That means you can choose a movie from its library or watch one when it becomes available.
I liked that, unlike most other streaming sites, Pluto TV has a range of non-conventional genres you can choose from. These include Science Docs, World Cinema, LGBTQ Cinema, PGA Tour, '90s Throwback, and more. Some of its on-demand movies include Django Unchained, Cloud Atlas, and Resident Evil: Extinction.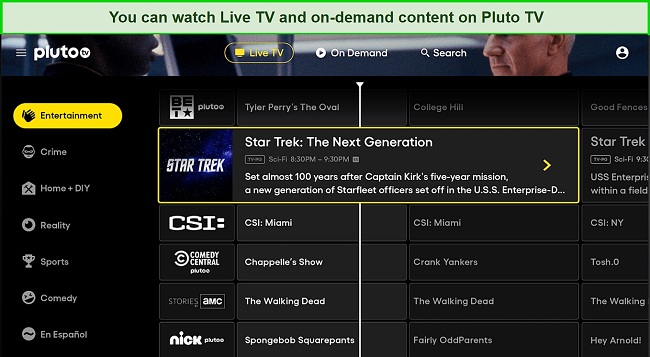 I didn't like the overall streaming experience, as I got frequent ads while I was streaming, but at least they weren't pop-up or banner ads, which, when you try closing, redirect you to another page. Pluto TV is only available to users in the US, the UK, and some countries in Europe, so if you aren't located in these countries, you'll need a VPN to access the platform.
7. Plex
Plex includes over 20,000 movies, shows, podcasts, and live TV shows, most of which support subtitles in different languages. I liked that besides choosing a traditional genre like "thriller" or "action," I could browse by channel, including BBC, Crackle, Lionsgate, Popsy, and more. Plex has many unique categories, including "cheap thrills" and "crime time."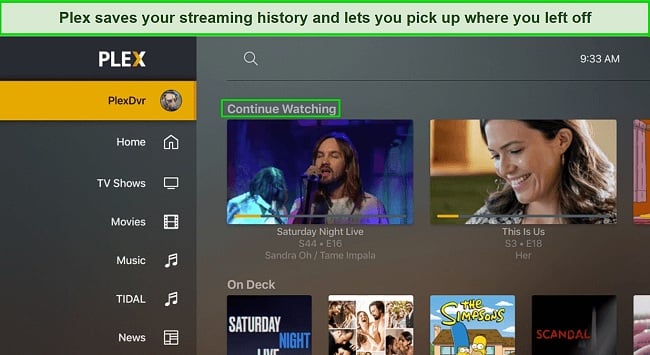 While you don't need to pay anything to stream on Plex, its paid plan "Plex Pass" lets you download content on your device and provides live TV DVR support and mobile syncing, among other things. I also liked that it enables you to create your own server to host your selected media on all your devices.
Overall, Plex hosts some of the most advanced features I've seen on a streaming website. It provided me with excellent streaming throughout without much buffering.
8. The Roku Channel
If you're a fan of Roku originals, this streaming website is for you. It has tons of movies and TV shows you can watch for free. You don't need to sign up and create an account to access content on The Roku Channel. Bear in mind, however, that it's only available in the US, Canada, and the UK. If you aren't located in these countries, you'll need a VPN to unblock The Roku Channel.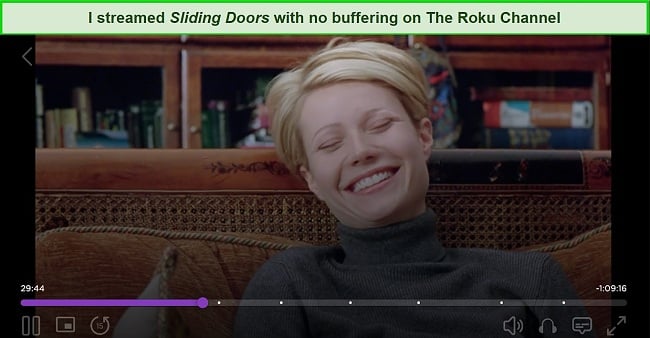 I didn't experience any buffering while streaming on The Roku Channel, even while using a VPN. The only problem was its limited library. If you're a picky watcher, you may not find a great range of watchable content on The Roku Channel. Also, my streaming experience was frequently punctuated by ads — I got an ad every 10 minutes of streaming.
9. Peacock TV
Peacock TV is NBC's streaming platform only available to users in the United States. It has an extensive library of movies, TV shows, live sports and news, SNL streams, and exclusive originals. I could easily navigate my way and browse through its genres and the content list for each genre.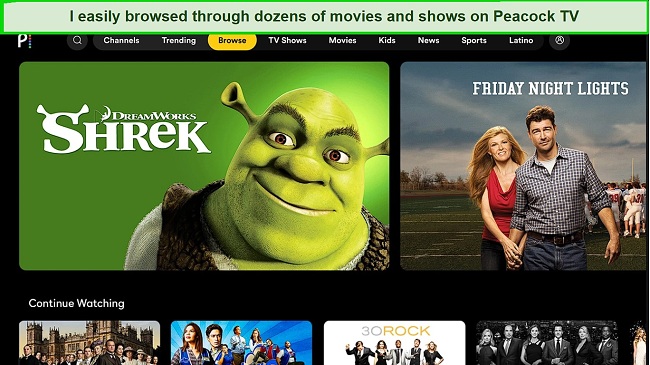 It's an ad-supported platform, but I was impressed that I didn't get as many ads during my streaming sessions as I had using other streaming sites. Also, Peacock is compatible with a range of operating systems and devices, including Android, iOS, Apple TV, Amazon Fire TV, PlayStation 4 and 5, Xbox One or above, web browsers (Chrome, Firefox, Edge, Safari), and Roku devices.
10. Tubi TV
Tubi TV is one of the most highly visited ad-supported streaming websites, with over 1.5 million monthly visitors. I first noticed its clean and easy-to-use interface, and I easily browsed through its extensive collection of 7000+ movies, TV shows, documentaries, and independent flicks.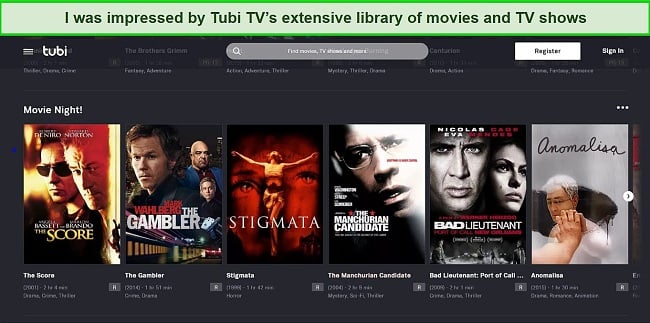 I could stream shows on Tubi TV in perfect HD. However, the streaming service is only available to users in the US, Canada, Mexico, Australia, and New Zealand. That's a good number of countries, but I was surprised the UK and European countries weren't on this list.
The ads were only a minute or two long and didn't interrupt my streaming experience. Tubi TV is compatible with a range of smart TVs, including Android TV and Apple TV, as well as gaming consoles. It also supports major browsers and has iOS and Android apps.
Why Use a VPN for Streaming Movies?
Many free streaming sites have geo-restrictions, meaning you need to be located in a particular part of the world to use them. For instance, Freevee is only available in the US and the UK, so if you're currently traveling outside these countries, you'll need a VPN to access the platform.
A VPN has servers across many different countries. When you connect to one of the servers, say a server in the US, your real IP address will be replaced by one in the US. For all practical purposes, your internet traffic will be routed through that US server, letting you access content only available in the US. I highly recommend using ExpressVPN because it provides blazing-fast speeds and perfect anonymity on all its servers.
My team and I don't condone participation in any illegal activities, so check the rules and regulations in the country you're in to ensure you're not breaking any laws.
3 Best VPNs for Streaming Movies
Key Features:
3000+ server locations in 94 countries
Blazing-fast speeds on all servers
5 simultaneous device connections
30-day money-back guarantee
Also works with Netflix, Disney+, HBO, Amazon Prime Video, and BBC iPlayer
Compatible with Windows, macOS, Linux, Android, iOS, and more
ExpressVPN has over 3000+ servers across the world, including North America, Europe, and Oceania, where most of the streaming sites mentioned above are available. Throughout my tests, I got blazing-fast speeds and could easily stream content in HD on all the streaming sites on my list without buffering.
To double-check, I connected to the servers at different times of the day to see if I got any speed drops. ExpressVPN's performance never fell, which is why it sits at the top of my list. I got no speed drops when I connected to nearby servers in the US and Canada. I only got a tiny 3% speed drop when I connected to distant servers.
ExpressVPN also offers split tunneling, which lets you choose which traffic you want to route through the VPN. It's particularly useful if you need to access content in another country and order some food from a local restaurant at the same time.
It also provides browser extensions on Chrome, Firefox, Edge, and Safari, making all your browser activity anonymous. That means you can access various geo-restricted streaming websites without any hiccups. You can test ExpressVPN out completely risk-free as it's backed by a 30-day money-back guarantee — if you don't like it, you can easily get a full refund.
August 2022 Update! ExpressVPN has dropped prices for a limited time to a crazy $6.67 per month for the 1-year plan (you can save up to 49%) + 3 months free! This is a limited offer so be sure to grab it now before it's gone. See more information on this offer here.
Key Features:
8200+ servers in 91 countries
Great connection speeds on most servers
7 simultaneous device connections
45-day money-back guarantee
Also works with Netflix, Hotstar, Hulu, BBC iPlayer, and Comedy Central
Compatible with Windows, macOS, Linux, Android, iOS, and more
Having over 8200 servers across the world in its arsenal, CyberGhost is an excellent choice for avid streamers who wish to unlock their home content while traveling abroad. When I was outside the US, I connected to CyberGhost's US servers to access my Netflix and Prime Video accounts. Other than that, I could easily access US-specific streaming sites, including Peacock TV and The Roku Channel.
CyberGhost provided me with excellent speeds on nearby servers, and I could stream on most streaming sites without any buffering. On long-distance servers, however, I got a few speed drops of up to 15%, which isn't too bad, and I could still stream content without buffering using its streaming-optimized servers.
I compared the performance of CyberGhost's regular and streaming-optimized servers and found that the latter significantly impacted my streaming. On long-distance streaming-optimized servers, my speed dropped from 15% to just 7%. On top of that, you can use CyberGhost's browser extension to anonymize your browser traffic. CyberGhost comes with a 45-day money-back guarantee, so you can test it risk-free for your streaming needs.
Stream content with CyberGhost!
August 2022 Update! You can subscribe to CyberGhost for as low as $2.29 per month + get extra 3 months free with the 3-year plan (save up to 82%)! This is a limited offer so grab it now before it's gone. See more information on this offer here.
Key Features:
35000+ servers in 80 countries
Decent connection speeds and low latency
10 simultaneous device connections
30-day money-back guarantee
Also works with Disney+, HBO Max, Hulu, BBC iPlayer, and Amazon Prime Video
Compatible with Windows, macOS, Linux, Android, iOS, and more
Private Internet Access (PIA) boasts over 35000 servers across 78 countries, many of which are in North America and Europe. When I connected to a US server, I had no problems accessing most of the listed streaming sites, like The Roku Channel and Freevee. However, I couldn't access Crackle and Pluto TV with a VPN. While streaming, though, the movies took some time to load, and there were a few instances where they buffered.
PIA provided me with exceptionally fast speeds on nearby servers, with speed drops of just up to 10%. However, when I connected to a distant server in Australia, I noticed my download speeds dropped by up to 30%. That shouldn't be a problem if you have a fast internet connection, but if it's below 30Mbps, expect a fair amount of buffering while streaming.
What caught my eye was PIA's "MACE" adblocker, and I wanted to see if it could block ads on the streaming websites on my list. Unfortunately, it didn't work on most of them. MACE is particularly useful for blocking random pop-ups or banner ads on your screen. However, many streaming websites have ads embedded inside the online video player (not pop-up ads), so MACE can't block them.
Overall, PIA is a decent VPN that gave me a good streaming experience with minimal buffering. I highly recommend you try it out risk-free with its 30-day money-back guarantee.
Watch free movies with Private Internet Access!
FAQs on Streaming Free Movies and VPNs
Are free movie streaming sites legal?
Watching movies for free on a website is perfectly legal as long as it doesn't infringe upon copyrights. It's illegal to stream copyrighted content on a website if that site hasn't taken appropriate permissions or rights to stream that content. Therefore, you must be careful in picking out your streaming site; otherwise, you can be accused of piracy issues.
I picked out the 10 best legal streaming websites where you can watch your favorite content for free. All of them are ad-supported, which means they get paid by advertisers and not by users. However, it also means your streaming experience won't be free from ads.
Is it safe to use a free movie streaming site?
Many free movie streaming sites are not safe to use. They're either potentially dangerous websites containing malware or simply unreliable for streaming purposes. YouTube is the most-watched and most well-renowned platform containing many free movies, but there are many other options for you to choose from.
What site has the most free movies?
After extensive testing, I found Freevee has one of the most extensive libraries, including movies and TV shows. It has about 3000 titles you can watch without paying anything. Unfortunately, however, it doesn't have a live TV option.
What is the best free movie streaming app?
While most of the free streaming websites have apps for mobile devices, not all of them are very user-friendly. My personal favorite is PopcornFlix because it's the app with the easiest-to-use interface, lots of unique categories to help you find something to watch, and the movies have the fewest ads.
Where can I watch free movies without signing up?
YouTube, Crackle, Pluto TV, Plex, and Tubi are some of the free streaming sites where you don't have to sign up or create an account before streaming. I recommend using Sony Crackle because it has an extensive library filled with relatively recent content.
Can I use a free VPN to stream free movies?
Yes, however, most free VPNs have serious limitations. Some offer only a handful of servers, while others don't provide consistently fast speeds or have data limitations. However, there are a couple of great free VPNs suitable for your streaming needs.
Stream content with ExpressVPN!
Choose the Best VPN for All Your Movie Streaming Needs
Almost every free streaming site (including those on my list) is ad-supported, which means you'll see ads while streaming content on them. That's not an issue for most users, but the main problem is most free streaming sites are geo-restricted to certain countries, mostly the US. That means you can't access them without having an IP address in the US via a VPN.
Having a reliable VPN not only guarantees a perfect streaming experience but also keeps your internet traffic anonymous. After extensively testing the best VPNs on the market, I found ExpressVPN to be the best of the lot. It gave me excellent speeds on nearby and distant servers, preventing buffering while streaming. What's best, it offers a 30-day money-back guarantee, so you can buy in confidence.
---
Summary: 3 Best VPNs for Streaming Movies in 2022
Top Choice