5 Best Free PowerPoint Alternatives With Similar Features! [TESTED in 2023]
PowerPoint is usually the first program that comes to mind when looking for a presentation tool. It was one of the first freely available programs for creating slide shows that could be used anywhere from a personal to a professional setting.
However, to use PowerPoint you need a subscription to Microsoft 365, and for some people, it's just not worth the subscription cost. While testing dozens of presentation programs, I found some free options that have similar features and others that allow for even more creativity than PowerPoint.
If you're looking for a presenter that is similar to PowerPoint, Check out WPS. It's a free program with an interface similar to PowerPoint, with plenty of templates, font styles, colors, and animations. It also comes with other office tools for word processing, spreadsheets, and more.
Quick Guide: The 3 Best Free PowerPoint Alternatives in 2023
WPS: Large selection of templates and typography options to create professional and personal slideshows. Compatible with PPT and can convert to a PDF.
Canva: Hundreds of templates you can customize for a unique presentation. Drag and drop millions of video, graphic, and audio elements to your presentation.
Prezi: Unique presentation style creates an engaging motion-based presentation. The slides can overlay on a video, perfect for product tutorials.
What I Look for in a Free PowerPoint Alternative
One of the best things about PowerPoint is how easy it is to use. You don't need to be a professional marketer or graphic design expert to create an attention-grabbing presentation that looks professional and can be easily shared with others.
When I test, review, and grade PowerPoint alternatives, I'm looking for something with similar accessibility. It needs to allow me to create a presentation quickly, include various elements, and maintain consistency from one slide to the next.
The top criteria are:
Large Selection of Templates: I don't want to have accounts with multiple programs. It's important that there are different template styles, so I can use them for all types of situations, from the boardroom to a child's first birthday party and everything in between.
Ease of Use: A big benefit is being able to open the software and create a presentation. I'm not looking for a complex program that will take me hours to complete.
Sharing and collaboration: Whether you need a presentation tool for personal or professional use, odds are you will need to work with or present the slideshow to people who aren't in the same location. The software has to have the option to allow other people to access and work on the presentation as well as view it from anywhere.
Compatibility: The presentation has to look perfect whether it's being viewed on a projector, computer screen, tablet, or smartphone. It also gets extra points if it's compatible with the PPTX format, so someone who has PowerPoint can access and edit the file.
Free or a Free Version That Works: Ideally, I prefer using free software that fits all my requirements. I also included programs that have a free version or a free trial, provided I didn't have to enter any payment information to create my presentation.
Fully customizable slides
Compresses the file for easy sharing
Convert files from PPT to PDF and PDF to PPT
Large selection of fonts and styles
Over 50 slide transition options
The WPS Presentation tool is the best pure PowerPoint alternative that I've used. The user interface is similar to the classic Microsoft 365 ribbon style. You can click on the different sections of the menu bar to open up the design options, transitions, animations, review your presentation, and access various tools.

The templates are divided into categories, like Business Reports, Education, Project, Album, Work Summary, and more. You can also choose to work with a blank page and create your own template. Once you choose your template, you can add text, pictures, graphs, audio clips, and videos to build your presentation.
WPS has an extensive collection of transitions between slides and animation presets for the content on each slide.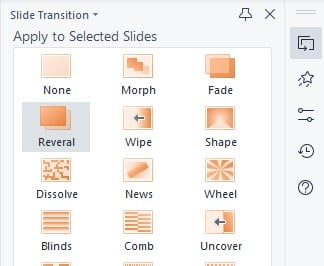 Customize your animations by setting a duration timer, or a delayed animation, so you can talk for a predetermined amount of time before the animation happens.

You can prepare for the presentation by adding speaker notes, rehearsing with the preset animation and transition timings, and compressing the file, so it's easier to save and share.
WPS Presentation is compatible with ppt and pptx formats, so you can share your presentation with someone who has PowerPoint, and they can open it, and it will maintain all its formatting.
In addition to a Presentation tool, WPS has word processing, spreadsheet, and PDF tools. Get free access to all the basic features for these tools with a free download. There is a premium level, which unlocks some of the templates, PDF editing features, and 20 GB of cloud storage. If these are not a must for you, the free version would be more than enough.
Good selection of templates
Drag and drop editor gives you complete creative control
Thousands of royalty free images, audio, and video clips
Download presentation in multiple formats, including PowerPoint
The free Canva presentation maker gives you access to hundreds of modern templates. These range from layouts designed for a professional setting to communal events and even fun family get-togethers. The templates are not only filtered by category, but by presentation type. Search for templates for mobile presentations, specific sizes, or styles.

The user interface is very intuitive and easy to customize. Use the drag and drop editor to position the text and the images perfectly, and use a color picker to set the color scheme how you like it. One of the nice features is that when you're choosing a color for text, Canva will display the colors from the templates, so you can match your text without wasting time searching for the perfect shade of blue.
One of the biggest advantages that Canva has over other PowerPoint alternatives is that it has a large library, with millions of visual and audio elements that you can incorporate in your presentation. You can also connect Canva to your Facebook, Instagram, Dropbox, and Google Drive accounts to seamlessly upload your pictures to your element library. Instead of using dull charts, Canva has a nice collection of colorful pie, doughnut, line, and bar graphs that make it easier to create visually pleasing graphics to display dry data.
When the presentation is finished, you can activate the Presentation Mode and give the presentation directly from Canva. Other publishing options include sharing the slides to your social media accounts, embedding them on your website, or sending them to others via email. Canva presentations can be converted to Google Slides or PowerPoint formats and saved as PNG, JPEG, PDF, or PDF files.
Canva is a web-based program, so you won't need to download any software, and you can access your account from anywhere. While there is a premium option, I found that the free Canva option has everything I need to create and publish my presentations.
Non linear presentation style
Cloud based collaboration tools
Create up to 5 presentations for free
Prezi takes a vastly different approach to presentation design. Instead of the standard sequential slides, it takes the audience on an animated journey by zooming into each topic and subtopic, revealing the next slide.
When creating the presentation, you can set the animation order and zoom percentage, or you can adapt the presentation in the middle and zoom in to a different section. Each zoom reveals the next set of slides. When done correctly, Prezi presentations are extremely engaging and will capture your audience's attention.
It does take some time to get comfortable with Prezi, but once you understand the mechanics of how to set the zooms, it's very easy to use.
Prezi comes with over 100 templates, and you can also use video and audio elements in your design. It's compatible with PowerPoint. You can upload slides and then convert them into a moving Prezi presentation.
Prezi has a limited free option that allows you to create up to five presentations. If you want to do more than that or access some stock images and icons, you will need to create a premium account, which comes with a 30-day free trial.
4. Google Slides: Hundreds of Templates and Color Themes
Slides are automatically saved as you work
Real-time collaboration
Free with a Google account
While Google Slides might not be as popular as other tools in the Google Suite, it's an excellent alternative to PowerPoint if you want to create a basic presentation.
Choose a theme or start with a blank page and add the elements that you need to create each slide. Use the transitions and element animations to add some excitement and movement to your presentation.
One of the biggest advantages of Google Slides is that it's free with a Google account. There is nothing to download, and you can give access to anyone to view the presentation or have editor-level permissions.
5. Zoho Show: Intuitive User Interface Keeps Presentation Design Simple
Collaboration tools for teams
Hundreds of pre-designed templates
Include audio and video elements
Zoho Show takes a minimalist approach to designing presentations. The workspace gets rid of the unnecessary clutter, so you can focus on designing visually engaging slides.
Start by choosing from a selection of over 20 themes, each containing multiple templates. If you prefer to create your own template, Zoho has over 100 fonts, stock images, shapes, and multimedia elements that you can incorporate.
Without losing any of the formattings, you can import PowerPoint presentations and continue working on them with Zoho. It's a web based platform with real time collaboration tools. Choose the access level for each member, and allow them to add comments, edit the content, or give them view-only access.
When PowerPoint Isn't For You…
There are a few reasons, other than the cost that you might not want to use PowerPoint. Some people feel PowerPoint is "old-fashioned" and prefer something newer and more exciting. Another issue is that since PowerPoint is so popular, your presentation design won't stand out.
If your biggest problem with PowerPoint is subscribing to Microsoft 365, WPS is the best option for you. It has similar tools and features as PowerPoint, so you can easily design, create, and share your presentations.
If you're looking for a more modern slideshow, check out Canva for unlimited creative potential.
If you're looking for a presentation tool with a zoom reveal, Go with Prezi. You can create engaging presentations, and even overlay the presentation over a video.
FAQ
Which presentation software is better than PowerPoint?
One of the biggest issues with PowerPoint is that you need a subscription to Microsoft 365 to use it. If you're just looking to make a few presentations, you're much better off using a free tool that can produce the same or similar results. While WPS doesn't have as many features as PowerPoint,
the free download is a significant advantage
.
If you're looking for a completely different style of presentation, then Canva is a better option than PowerPoint. It won't keep you locked into the same template style. It has an easy to use drag and drop editor, and multiple presentation options. The downside is that you need to have some graphic design or marketing knowledge, or you risk creating a presentation that lacks flow.
Which is better, PowerPoint or WPS?
When it comes to PowerPoint alternatives with similar features,
WPS stands out from the crowd
. But in a head-to-head comparison, it's clear that WPS is copying PowerPoint but isn't quite on its level. One of the annoying things about WPS is that it is freemium software, which limits some of the features and doesn't include cloud-based collaborations. PowerPoint also has a larger selection of animations, fonts, and collaborative options.