60 Best Podcasts in 2022: Crime, History, News, Health + More
Last Updated by Zephin Livingston on July 01, 2022
With well over 1.7 million podcasts in circulation in 2022, selecting one to listen to can feel overwhelming even if you know which topics you're interested in. To help you find the best picks quickly, I put together a list of the top 60 podcasts to listen to diverse perspectives about news, health, money, history, and much more. Make sure to bookmark this page so you can come back to find my latest updated suggestions in the future!
Categories of Podcasts You Won't Want to Miss in 2022
Crime: Thrilling Stories About Fiction and Real Criminals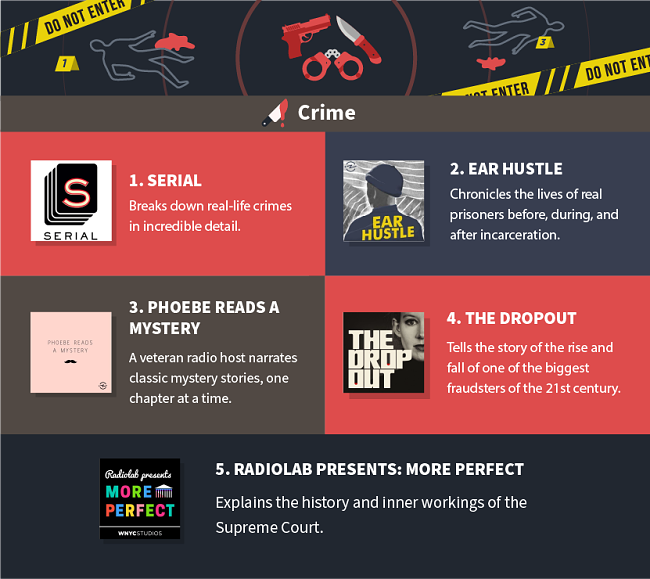 1. Serial: Investigates Real Crimes and Legal Cases in Great Detail
Hosted by veteran radio host Sarah Koenig, Serial is one of the most celebrated podcasts in the medium. In 2015, it was the first podcast to ever win a Peabody Award for outstanding storytelling. Each season, Serial takes a look at true stories of crime and breaks it down with top-quality investigative journalism. This podcast is my personal favorite in the true-crime genre because the producers interview with all the most important sources: judges, lawyers, inmates, friends, colleagues, family, and even suspects. Their detective work will make you feel as if you're investigating the crimes yourself!
2. Ear Hustle: Shares the Real Stories of People in Prison
The voices of incarcerated folks are often ignored, but this podcast seeks to change that. Co-founders Nigel Poor, Earlonne Woods, and Antwan Williams along with co-host Rahsaan "New York" Thomas produce Ear Hustle in San Quentin Prison's media lab. The podcast tells the stories of the lives of incarcerated people before, during, and after being in prison. I loved how Ear Hustle presents inmates' stories in their own words and helps you empathize with their perspectives. The subject matter can be unsettling but hearing these unique stories is definitely worth your time.
This podcast's premise is simple but effective. Every day, veteran radio and podcast host Phoebe Judge reads a chapter from a mystery novel until it's finished. Judge's calm narration style will keep you on the edge of your seat no matter what book she's reading. I'm especially a fan of her narration of the Sherlock Holmes classic The Hound of the Baskervilles.
4. The Dropout: Tells the Story of the Youngest Self-Made Female Billionaire
Elizabeth Holmes was once one of the most celebrated new faces in the business world. She and her company Theranos claimed to revolutionize blood testing. After the company fell apart, Holmes was left with 9 counts of wire fraud and 2 counts of conspiracy to commit wire fraud. In this 3-year-long investigation, ABC and host Rebecca Jarvis break down the history of how Holmes and Theranos scammed so many people and how she was eventually caught. The podcast is one of my favorite pieces of investigative journalism on the internet. Interviews with former investors, patients, and employees add a level of detail to the story that makes it hard to pause this podcast.
5. More Perfect: Explains How the US Supreme Court Works
Though I follow US politics closely, this podcast showed me how little I knew about how the Supreme Court works! More Perfect is a spinoff of NPR's Radiolab and it teaches you about everything that goes on in the most powerful unelected institution in the US. I was relieved how simply More Perfect explains complex topics so even complete beginners understand. If you're interested in learning about the Supreme Court of the United States and its history, More Perfect is one of the best resources on the topic.
History/Politics: Incredible Insights Into Our Past and Present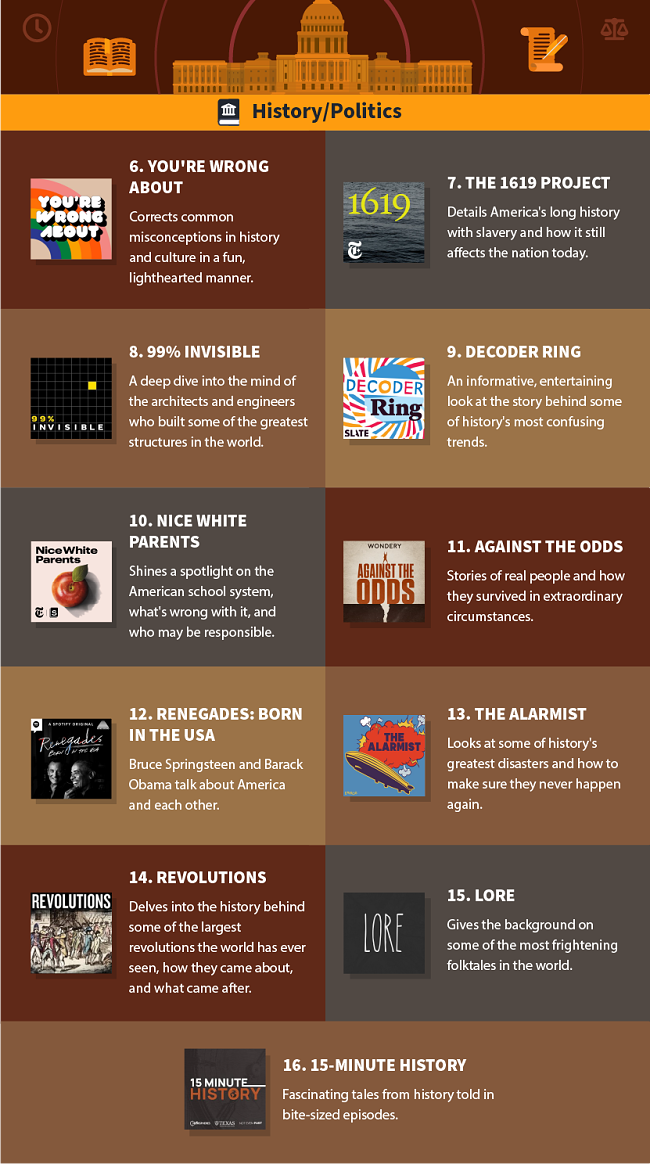 6. You're Wrong About: Corrects Common Mistakes About Historical Events
A pair of journalists research moments of world history that are frequently misrepresented in the present. This fascinating analysis of the past reviews a range of events, from the dark times of the 1936 Summer Olympics hosted in Nazi Germany to the curious story of Koko the gorilla. Though it sometimes deals with tough topics, this series is fun and the chemistry between hosts Michael Hobbes and Sarah Marshalle makes this an engaging podcast for all audiences. As a huge history nerd, I appreciated how well-researched each episode is and the effort the team goes through to produce original content on iconic events and people!
7. 1619: Examines the United States's Long History With Slavery
This podcast by The New York Times details how slavery has shaped the past, present, and future of all citizens of the United States and discusses the lives of African Americans in the US. Host Nikole Hannah-Jones's account of the history of the US and slavery is straightforward and honest. 1619 investigates the history of slavery from the founding of the colonies to the ways it continues to shape Americans' lives today. The host examines topics like Thomas Jefferson's relationship to slavery, African Americans' relationship with the American healthcare system, and cultural appropriation. Podcasts as well-produced and important as this one are hard to find.
8. 99% Invisible: Discusses Design and Architecture With Experts
The podcast 99% Invisible has been around for more than a decade examining design from the point of view of architects and engineers. With well over 400 episodes in the series, the podcast examines iconic and everyday structures that we take for granted. My favorite episode looked at the history of 20th century Doomsday Bunkers around the world with guest Bradley Garrett. If you appreciate visual aids like me, you can also find accompanying articles and video links to help you better understand the topic. I haven't found other podcasts that discuss such a fascinating subject in such an engaging and easy-to-understand way!
9. Decoder Ring: Investigates the History of Cultural Mysteries
Some cultural oddities can be difficult to understand if you don't know the history behind them. That's why I love Decoder Ring by Slate. Host Willa Paskin creates a humorous and casual atmosphere as she explains how different cultural icons, practices, styles, and even toys came to be. This podcast dives into the origins of Cabbage Patch Kids, mullets, ice cream trucks, rubber duckies, and much more. My favorite episode examines the history of the world's decades-long love affair with Jane Fonda. I recommend this podcast if you're looking for a fun way to spend an afternoon.
10. Nice White Parents: Analyzes How Parents Can Support Public Schools
Public education in the United States is a heated issue. In Nice White Parents, host Chana Joffe-Walt examines how white parents impact the success of minority students in public schools in the US. The podcast is a case study of a school in Brooklyn. The story starts with desegregation in New York City and continues into present-day discussions of equity and equality. I was intrigued by Joffe-Walt's hard questions, history of public education, and ideas about what white parents can do to help. I was thrilled to find that the series even ends with a bonus 5th episode that leaves listeners with hope for the future.
11. Against the Odds: Narrates Incredible Stories of Survival
In Against the Odds, hosts Mike Corey and Cassie De Pecol tell the tales of daring rescues and incredible survival stories. The beautiful narration and high-quality production create a tense atmosphere until the triumph of the real people involved. Personally, this inspiring podcast always motivates me and encourages me to look on the bright side. If you're looking for a positive program, Against the Odds is a great option. It's available on Wondery and Apple Podcasts.
12. Renegades: Born in the USA: Invites Barack Obama and Bruce Springsteen to Talk About the US
I was totally shocked when I discovered Renegades: Born in the USA. In this podcast, the 44th President of the US and Bruce Springsteen talk about culture, politics, music, finance, fatherhood, and tons of other topics. Both men are compelling storytellers and share easygoing chemistry despite their different backgrounds. Their ability to speak frankly with each other is what drew me most to this program. Renegades: Born in the USA is available for free exclusively on Spotify.
13. The Alarmist: Shares Stories of Disasters to Stop History From Repeating Itself
Rebecca Delgado Smith, Amanda Lund, and Chris Smith explore catastrophes throughout history to figure out what caused them and how to prevent similar tragedies. Delgado Smith dives into each subject with enthusiasm and humor that makes the content easy to follow and appreciate. Her vibrant energy is paired with top-notch production to cover topics as diverse as the death of disco and the water crisis in the city of Flint, Michigan in the US. There are few podcasts on this list that I find as addictive as this one.
14. Revolutions: Shares the History of Revolutions From Around the World
Few events are as impactful as a revolution. That said, historians are still debating many details about revolutions around the world since the chaos they create often destroys evidence about them. Thankfully, that's where Revolutions comes in. This podcast presents all the latest research about the context and events of revolutions throughout history. I really appreciated that it investigates better-known conflicts like the Bolshevik Revolution as well as lesser-known wars like The Bishops' Wars in Scotland. Plus, host Mike Duncan's easygoing tone and in-depth research make these complex events easy to understand.
15. Lore: Investigates the True Stories Behind Popular Scary Folktales
In Lore, Aaron Mahnke searches for the real stories behind the folktales told in different cultures around the world. With suspenseful music and unsettling subjects, Lore investigates the origins of these stories to uncover terrifying truths. Witch hunts, epidemics, crimes, and much more are often at the root of these tales. Oftentimes, these real stories are scarier than the fiction told about them! To me, listening to Lore is better than watching a horror movie!
16. 15-Minute History: Teaches World History in Short Episodes
With tons of different subjects and guests, 15-Minute History is the perfect way to get in a fun and accessible history lesson. This podcast is a joint project of different departments and researchers at the University of Texas at Austin. Its mission is to provide listeners with quick discussions of topics that are fun for all audiences. Better yet, this engaging podcast deals with topics from across the world, so you'll never get bored.
News: Explains the Latest Events From Around the World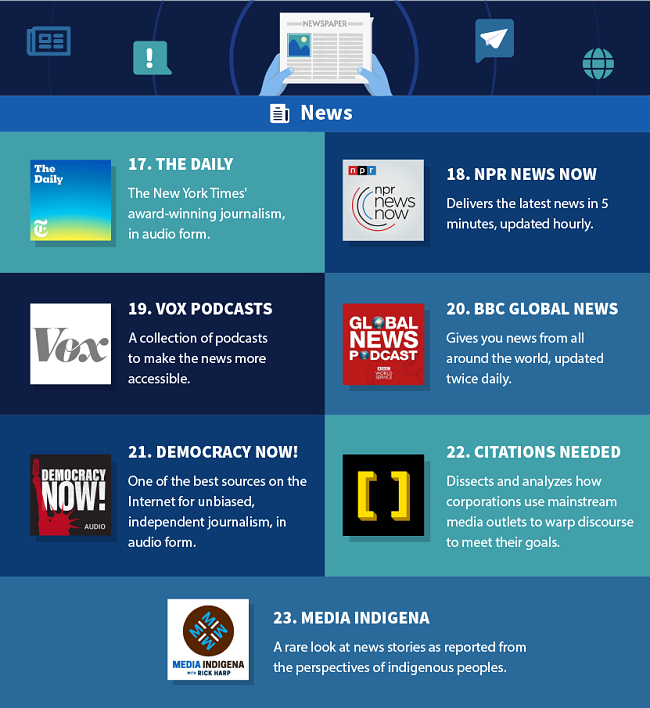 17. The Daily: Shares News From a Trusted Source Everyday
The New York Times is a giant in the news industry, so I was delighted that its podcast is just as well-researched and fascinating as its print publications. Michael Barbaro hosts The Daily he narrates top-quality news reports that can keep you updated on the day's most important events. If you're someone who likes having visual aids with their podcasts, The Daily also offers pictures, transcripts, videos, and links to additional reading. I also found that The Times's other podcast The Sunday Read offers fun culture-focused stories too. These are great options to stay up-to-date on the world's biggest stories when you don't have time to sit down with a newspaper.
18. NPR News Now: Summarizes World News Events in 5 Minutes
When I'm too busy to watch the news, this quick program helps me stay informed without having to spend time scrolling through news stories. NPR News Now is updated hourly to bring you the most engaging news stories in fast 5-minute segments. With NPR's trademark top-quality research and production, this is one of my favorite ways to stay updated about the world.
19. Vox Podcasts: Offers a Selection of News-Focused Podcast Series
Vox's group of news podcasts do a great job of explaining the news so you can understand how today's biggest stories affect you. My favorite part of Vox is that it discusses a ton of different topics. For example, the Recode Daily looks into Big Tech while Today, Explained gives a quick overview of the day's top stories. Similarly, The Weeds can give you a deeper analysis of politics whereas Future Perfect can help you see what tomorrow might look like. No matter what aspect of the news you want to explore, Vox probably has a podcast about it.
20. BBC Global News: Discusses Global News Twice Each Day
The British Broadcasting Corporation's twice-daily Global News is among my favorite podcasts to get a quick summary of the day's events around the world. This international perspective sets it apart from other programs that exclusively focus on a particular country or region. I really like that it's updated twice a day to help me make sure that I haven't missed out on anything important.
21. Democracy Now!: Shares Independent News Stories With a Global Perspective
With so many sketchy news websites influenced by corporations, it can be difficult to find a reliable news source. The good news is that Democracy Now! has a strong commitment to non-commercial news. Don't be fooled by the name — Democracy Now! isn't affiliated with any political party. Democracy Now! offers daily podcasts from award-winning journalists Amy Goodman and Juan González. I like that the pair covers topics ranging from COVID-19 to the stories of cultural icons like Octavia Butler. Plus, each episode is quick enough to get an overview of the day's big stories without investing too much time.
22. Citations Needed: Analyzes Media Tactics to Explain the Latest News
Since news companies are often owned by big corporations, the stories we hear aren't always unbiased. Hosts Nima Shirazi and Adam Johnson use this podcast to analyze the media and PR tactics that are common in the news today. Every episode gives insight into how big businesses influence the ways we think about current events. For example, in my favorite episode, the hosts research how the term "Essential Worker" has changed over time and during the COVID-19 pandemic. If you want a podcast to help you think deeply about the role of powerful companies in the news, this is a great resource.
23. Media Indigena: Captures News From Indigenous Communities Around the World
Media Indigena focuses on the stories of Native, aboriginal, First Nation, and indigenous folks from around the world. The website also includes articles to supplement the podcast. The topics covered by host and producer Rick Harp discuss water and climate issues, marijuana legalization, police in indigenous communities, and tons of other topics. Out of all the news-focused podcasts on this list, this is my favorite since it includes such unique perspectives that are hard to find elsewhere.
Health: Fun Facts and Advice About How to Take Care of Yourself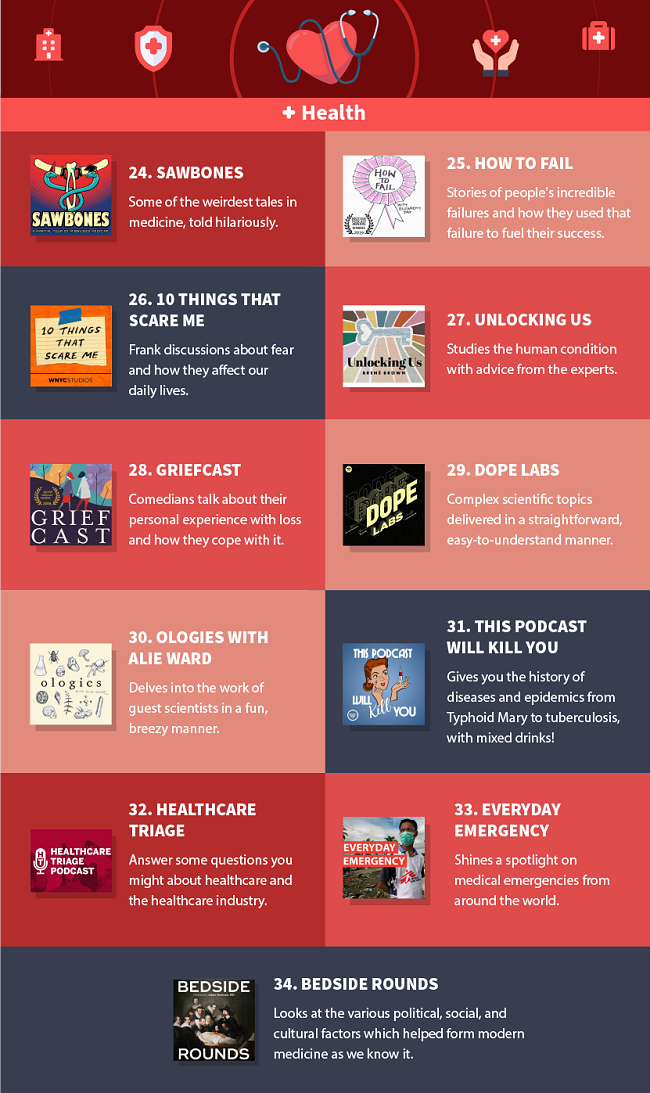 24. Sawbones: Narrates Love, Marriage, and Gross Medical Facts
Dr. Sydnee McElroy and her co-host husband Justin McElroy team up in Sawbones to share hilarious insights about the history of medicine. Sydnee shares her expert opinions about lesser-known medical practices of the past in a fun way. Meanwhile, McElroy is a gifted narrator who is famous for his other popular advice show My Brother, My Brother, and Me (which was ranked among the .01% of the most popular podcasts worldwide!). Together, this dynamic pair makes this one of the most fun educational podcasts I've ever heard.
25. How to Fail: Shares Inspiring Stories of How People Learned From Failing
In How to Fail, host Elizabeth Day interviews guests who explain how their failures have helped them grow and succeed. I thought this program might be discouraging, but Day is a positive storyteller and always finds a way to help guests share their stories in an uplifting way. To me, this is among the most inspiring podcasts on this list. I think the program's greatest strength is showing how frustrations and faults can lead to better things later on.
26. 10 Things That Scare Me: Discusses Fear and How It Affects Our Daily Lives
Everyone is afraid of something. It could be heights, spiders, loneliness, the dark, or something else, but most people have something that makes them feel uneasy. This podcast discusses people's fears and how they influence the way they live. I initially thought this podcast wouldn't be very enjoyable — after all, most of us try to avoid things that scare us! But the hosts' curious, positive approach helps tell the stories of others' fears in a way that is positive and uplifting.
27. Unlocking Us: Discusses Emotions, Relationships, and More
Host Brené Brown has been studying emotions like love, vulnerability, and empathy for decades. In this podcast, Dr. Brown discusses emotions and relationships with psychologists, social workers, and cultural icons like Dolly Parton. I was really impressed that Dr. Brown discusses these complex topics in a casual, easy-to-understand way. My favorite episodes discuss how to make romantic relationships last and how to tell stories through song. Whatever the subject, Brown's wit makes every episode enjoyable to listen to.
28. Griefcast: Analyzes How We Can Process Death With Humor
In this unique podcast, comedian Cariad Lloyd discusses how she and her guests deal with and process grief. The podcast does an excellent job of talking about how her fellow comedians use humor to process their own loss and pain. It also goes into detail about the different types of grief people experience when a loved one passes away. I love how Griefcast makes difficult subjects fun and engaging.
29. Dope Labs: Makes Complex Science Topics Fun For Everyone
The hosts of this science-focused podcast are Titi (a materials scientist and engineer) and Zakiya (a molecular biologist). Though they have advanced degrees in their fields, they explain complex science topics in a simple and engaging way for any listener. My favorite part of this podcast is how many different topics they discuss. A few of my favorite episodes talk about climate change, ocean ecosystems, COVID-19 vaccines, and futurism. If you're looking for a science podcast that's just as fun as it is informative, I'd recommend Dope Labs.
In this comedy-science podcast, award-winning science correspondent Alie Ward hosts a unique group of scientists from tons of odd specialties. In each episode, Ward invites a guest to talk about their careers and fields of study. Though there are many great science podcasts available, Ologies stands out for its humorous angle. It exclusively focuses on fun and odd topics like zymology (the study of beer), urban rodentology (the study of sewer rats), and gluteology (the study of butts). With so many curious topics covered in each episode, Ward's podcast is a fun way to spend an afternoon as you learn about lesser-known fields of science.
Disease ecologists and co-hosts Erin and Erin take you on a fun-filled trip into the world of illnesses and epidemics. The dynamic duo focuses on the history of these diseases while avoiding complicated terminology. The website also provides transcripts for episodes if you're someone who likes reading along with a podcast like me. The pair talks about topics such as vaccines, Typhoid Mary, and organ transplants with hilarious enthusiasm. I also liked their recommendations for their cocktail drink recipes which are named after science terms.
32. Healthcare Triage: Shares Experts' Perspectives About Healthcare
In Healthcare Triage, Dr. Aaron Carroll guides you through complex subjects like healthcare policy, medical research, your health, and how the healthcare industry works. With the expertise of Carroll and the help of his research associates, the podcast is well-researched and informative. I really liked how it makes medical information accessible to listeners like me who don't have a background in science.
33. Everyday Emergency: Tells Frontline Stories About Global Health Crises
Everyday Emergency discusses health-related topics that professionals in the organization Doctors Without Borders deal with around the world. It discusses many diverse topics from countries that aren't always covered in mainstream news. I was fascinated by how every episode gives a comprehensive overview of a particular topic. I loved that I was able to find health-focused stories with interviews from immigrants in every corner of the world and from top disease experts working on health crises in disaster situations. I also liked how the organization uses the podcast as an opportunity for self-reflection to look at how it could have acted better during previous conflicts. If you are interested in global health, this is a really fascinating program.
34. Bedside Rounds: Discusses Human Connections in Medicine
Bedside Rounds tells strange stories of medicine from the past and shows how they have shaped modern medicine. Host Dr. Adam Rodman is an enthusiastic storyteller and uses his expertise to help readers understand complicated stories. My favorite part of this podcast is Dr. Rodman's passion. The way he tells these stories shows how much he and many other doctors care about their patients.
Money: Tips to Talk About Difficult Subjects and Personal Finance Advice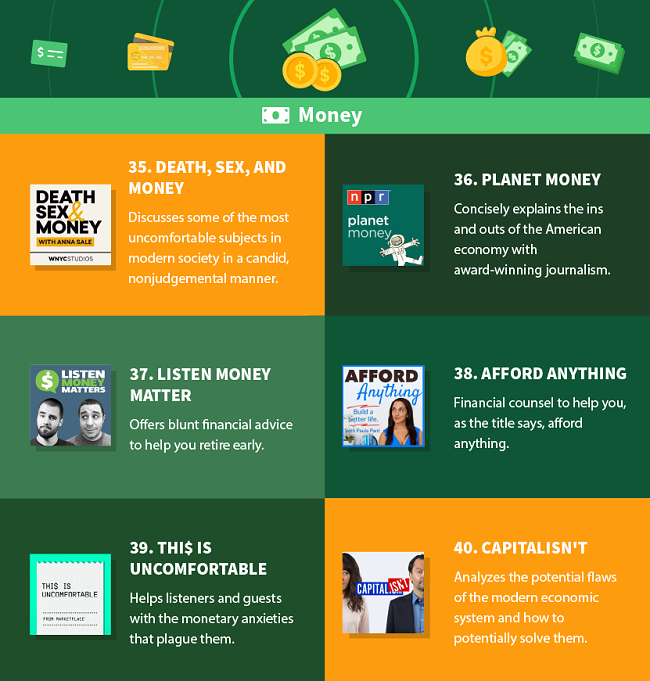 35. Death, Sex, and Money: Answers the Questions You're Afraid to Ask
Death, Sex, and Money is less finance-focused than some other podcasts on this list, but it shares frank discussions of money that are often ignored. Host Anna Sale talks about uncomfortable topics like lending money to family, job loss, retirement savings, finances and immigration, and other subjects. My favorite aspect of this podcast is that it also tells stories about relationships, family, and death that are often ignored. If you're looking for a podcast that talks about personal finance as well as other uncomfortable aspects of life, this is a great program.
36. Planet Money: Explains Complicated Economic and Finance Topics in Simple Terms
Though NPR offers dozens of high-quality podcasts, this is among my favorites. Planet Money concisely explains how the economy works in ways that are accessible for anyone. This twice-weekly program invites new guests every episode to help you understand whatever topic is being discussed. The best thing about this program is how it uses "the economy of things" to talk about complex economics-based topics. The hosts use everyday objects like violins, computer printers, and shipping pallets to explain why the economy is the way it is today. They have even done experiments to illustrate how some things work! If you want a podcast that explains economic principles in a fun and easy-to-understand way, this is among the best options on this list.
37. Listen Money Matters: Shares Understandable Finance and Retirement Tips
Hosts Andrew Fiebert and Matt Giovanisci use their expertise to teach listeners about financial wellbeing in an accessible way. One of the things that impressed me the most about this podcast was the expertise of the hosts. Fiebert is a former data engineer for Barclays Capital (one of the largest investment firms in the world) and Giovanisci is a website designer, audio engineer, and entrepreneur. The pair give you finance tips in a straightforward, conversational style that makes tough topics simple to understand. But don't be fooled by the casual tone — these financial experts have really valuable advice that makes this podcast worth listening to.
38. Afford Anything: Helps You Learn About Financial Independence
In this program, host Paula Pant shares advice to help listeners gain financial stability and security. She believes you can afford anything, but not everything. Throughout the episodes, Pant talks about early retirement strategies, investment ideas, stocks, real estate, and much more. She even talks about how she was able to retire at a young age by using certain strategies. In addition to her innovative ideas, I love that Pant talks about money management in a jargon-free way that makes financial planning easy-to-understand even for beginners.
39. Thi$ Is Uncomfortable: Talks About the Emotions Involved in Money Management
In this weekly podcast, host Reema Khrais discusses stories about how anxiety about money causes big problems in people's lives. One of my favorite stories was about an auditor whose fear of his own finances led to him never auditing himself. I thought this program might be unsettling, but that isn't the case at all. Khrais's humorous and positive perspective helps you realize that any discomfort you may feel about money is normal and can be managed with some simple strategies. If you're new to personal finance, this can be a fun podcast to help you reflect on your feelings related to money.
40. Capitalisn't: Analyzes Economic Problems and Possible Solutions
In Capitalisn't, Vanity Fair editor Bethany McLean, economics professor Luigi Zingales, and guests discuss potential solutions to problems that occur in capitalist systems. The pair tackles varied subjects like the relationship between media and capitalism, college admissions scandals, and much more. This podcast is unique in that it analyzes economic problems and solutions in the context of the whole system of capitalism. I really enjoyed learning about how simple changes in one field affect others and about possible ways to fix those problems. If you want to learn more about the big picture of modern economics, this is an awesome resource.
Culture: Discussions of Pop Culture, Storytelling, Music, TV, and More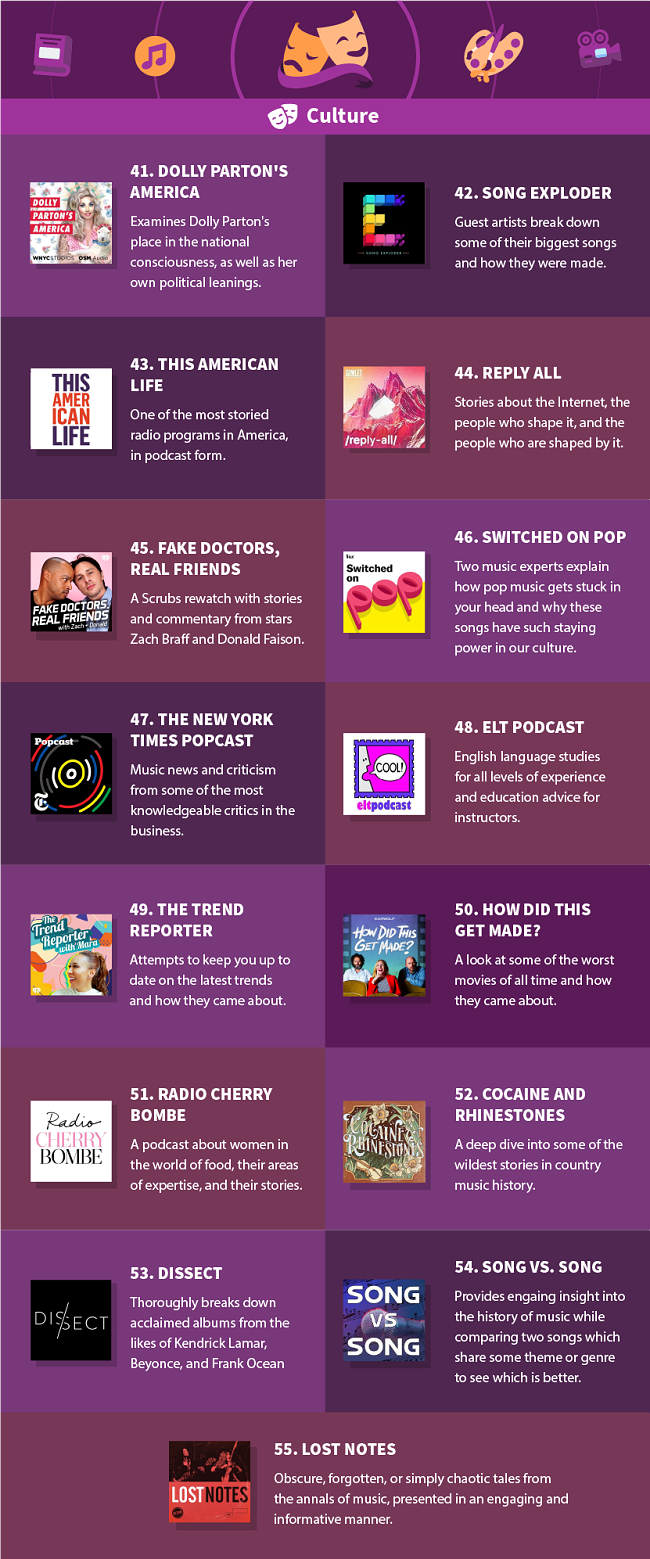 41. Dolly Parton's America: Analyzes Dolly Parton's Role in Culture, Politics, and More
This 9-episode podcast series is an entertaining analysis of a huge pop icon: Dolly Parton. More Perfect and Radiolab host Jad Abrumrad tries to make sense of Parton and her surprising international influence in music, culture, and even politics. Personally, I was most fascinated to learn about Dolly Parton's fans. If you're interested in country music and politics, this is a fun podcast to learn more.
42. Song Exploder: Reveals the Process of How Your Favorite Songs Are Made
Listeners rarely get the opportunity to understand how and why the songs they love were created. But if you're curious why certain songs were made the way they were, host Hrishikesh Hirway has you covered. With a new guest each episode, Song Exploder discusses how popular songs were developed with their creators. Guests include musicians like Cat Stevens, Run the Jewels, Yo-Yo Ma, R.E.M., and Gorillaz. Each episode is a treat and a fascinating look at how art is made.
43. This American Life: Captures Unique Stories of US History and Culture
This American Life is a weekly radio show that's been around for decades. It's one of the most celebrated podcasts around and it discusses lots of different content including journalism, essays, short fiction, footage, and much more. Host Ira Glass selects captivating topics to give you glimpses into life in the US in the past and present. Personally, this is among my favorite history and culture podcasts available.
44. Reply All: Discusses the Internet and How to Find Your Way on It
In Reply All, hosts Alex Goldman and Emmanuel Dsotzi tell stories about how the internet has changed the world and the lives of the people who helped create it. I've been listening to this podcast for several years and I still find its diverse subject matter intriguing. It discusses issues like fake reviews on Amazon.com, internet scammers, social media, and much more. Plus, I think the series's episodes that analyze internet memes and other multimedia content are hilariously entertaining.
In Fake Doctors, Real Friends, stars of the TV series Scrubs Zach Braff and Donald Faison watch an episode of the show and share their favorite behind-the-scenes stories. The pair also interviews the show's creator Bill Lawrence and fellow cast members like Sarah Chalke. To me, the best part of this podcast is the hosts' comedic storytelling. At times, their energy makes you feel like you're watching the show all over again! If you're a fan of Scrubs or just looking for a program to make you laugh, I'd highly recommend this podcast.
46. Switched On Pop: Explains Why Pop Music is So Addictive
If you've ever wondered why you can't stop listening to some songs on repeat, the podcast Switched On Pop might be an entertaining program for you. Musicologist Nate Sloan and songwriter Charlie Harding explain how lyrics, rhythms, and production are used to create popular songs. Although I'm a music lover, I'm not an expert musician so I like that the co-hosts take the time to explain any complex terms or concepts they discuss. This fascinating program also invites artists onto the show so you can hear their perspectives on their work. If you're interested in learning about how songs are created, what music does to our brains, and how musicians work, I recommend this program.
47. The New York Times Popcast: Brings Together Top Critics in the Music Industry
Popcast covers a range of topics for music fans including the latest releases, artist news, reviews of songs, and analyses of the industry as a whole. This well-produced educational program even analyzes songwriting rights, music sales, merchandise, and many other subjects that are often ignored. I highly recommend this podcast if you want to hear the perspectives of expert music critics and business analysts from around the world.
48. ELT Podcast: Provides English Lessons for Students at Any Level
English is a really difficult language to learn. I was fascinated that ELT Podcast provides content for English learners at every level. Whether you're a native speaker who wants to improve their grammar or a novice English learner, ELT has content for you. The program even offers an exclusive Teachers' Lounge to discuss language education, classroom management, student evaluations, and much more. This is my favorite program to recommend to friends and families for English language learning!
49. The Trend Reporter: Keeps You Updated on Popular Trends
In The Trend Reporter, host Mara Schiavocampo helps you get the latest product reviews, quick guides to new trends, and interviews with experts. I don't normally like pop culture podcasts, but Schiavocampo's fun narration makes this program really enjoyable to listen to. Better yet, she discusses a ton of different topics including beauty products, hairstyles, fitness, and much more. You're sure to find an episode that focuses on something you're interested in.
There are plenty of podcasts about great movies and how they were made. That's why I was intrigued by How Did This Get Made?, which is a comedic review of how poorly-made movies were created. Hosts Paul Scheer, June Diane Raphael, and Jason Mantzoukas discuss the filmmaking process of famously bad movies. Aside from their hilarious commentary, this 300+ episode series also gives you intelligent insight into filmmakers' failures and about how the industry has grown over the years. If you like this program as much as I do, I also recommend you listen to a similar video game-focused podcast How Did This Get Played?.
51. Radio Cherry Bombe: Interviews Female Chefs and Leaders in the World of Food
Each week, host Kerry Diamond interviews women in the world of culinary business including chefs, bakers, cookbook authors, and other leaders about their careers. Diamond and her guests discuss diverse subjects including cake decorating, the ethics of ordering takeout, food activism, and more. This podcast is one of my favorites on the list as it focuses on aspects of cooking that we don't always think about. My favorite episodes discuss the artistic approach of cooking, international recipes, and the stories of women's careers in the world of food.
52. Cocaine and Rhinestones: Shares the Hidden History of Country Music
As a music lover, my favorite part of discovering new genres is learning about their history and the stories of the people who created them. In Cocaine and Rhinestones, host Tyler Mahan Coe documents the wild tales and people involved in country music. Though country music isn't a genre I listen to very often, I was fascinated by the stories Coe tells in this one-of-a-kind program. Listening to real stories of shootouts, shady country music business deals, and artists who disappeared. If you like music and true-crime podcasts, this program is a fun mixture of both!
53. Dissect: Analyzes Popular Music and Artists' Personal Stories
In Dissect, host Cole Cuchna analyzes contemporary albums from artists like Kendrick Lamar, Beyoncé, and Frank Ocean. Each season focuses on one album and every episode reviews a single song. I was impressed how Cuchna is able to make you think about songs in ways you never have before. He describes themes in the lyrics, rhyme patterns, production, and the history of the artists making the music. I haven't found other podcasts that research music as thoroughly as this one! If you're as big of a music fan as me, I highly recommend this program.
54. Song vs. Song: Compares and Critiques Old and New Songs
In this unique program, Youtuber Todd Nathanson and science fiction writer Dany Roth compare songs from the same era or genre and explain why they think one is better. At first, I didn't think this podcast would be very insightful since people's tastes in music are so personal. But I was surprised that the co-hosts were able to analyze songs that I had heard hundreds of times before in a way that gave me a new appreciation for them. If you're a music lover, this podcast might give you a new way to think about the music you've been listening to for years.
55. Lost Notes: Uncovers the Secret Histories of Musicians and the Industry
A rotating cast of hosts takes you through strange and little-known stories in the world of popular music. Each season discusses a different topic, genre, or year. To me, one of the most fascinating episodes is about the award-winning jazz pianist Billy Tipton. He was one of the first well-known transgender musicians, although he never talked about his personal life. Even though the host changes from season to season, this program has an engaging way of narrating little-known stories of musicians who have shaped the industry.
Other Great Podcasts You Can Listen To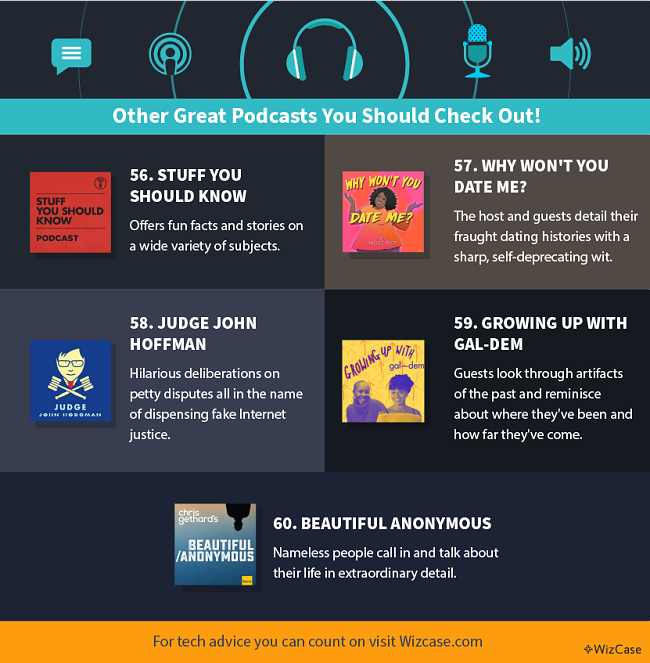 Most podcasts have a specific theme they focus on, but Stuff You Should Know takes the opposite approach. This fun program tries to cover as many fun facts from as many fields as possible. I was intrigued by the diversity of the subjects it discusses including the life of martial artists like Bruce Lee, the science of hair loss, and the history of chili pepper farming. No matter what the topic, hosts Josh Clark and Chuck Bryan's casual and fun-loving narration make every episode enjoyable to listen to.
57. Why Won't You Date Me?: Discusses Dating Difficulties With Comedians
The host of this podcast Nicole Byer invites comedians, ex-boyfriends, and other guests onto her program to discuss relatable issues in her dating life. Since the program mostly focuses on Byer, I thought it would be boring — but I was wrong. Her hilarious analysis of her own experiences and the familiar problems her guests discuss make every episode enjoyable to listen to. There aren't many podcasts around that are so funny and honest about dating. If you're interested in content about dating or a program that is sure to make you laugh, I would highly recommend Why Won't You Date Me?.
58. Judge John Hodgman: Tells Comical Stories of Fictional Court Cases
Writer and comedian John Hodgman invites listeners to write to him about problems in their lives and dedicates each episode to giving them a "ruling" in a fictional court. He gives listeners comical "fake internet justice" about diverse issues in their lives. He's discussed the pronunciation of certain words, what type of pet a family should get, and much more. Hodgman is a gifted comedian and storyteller. Out of all the podcasts on the list, this is among the funniest programs I found.
In this heartfelt podcast, people reflect on their lives growing up and discuss their old diary entries, text messages, letters, and more. Hosts Liv Little, Charlie Brinkhurst Cuff, and Natty Kasambala invite women, nonbinary folks, and people of color to talk about their past and how they have matured over the years. I really like this podcast because it invites unique speakers to talk about their life experiences and struggles from their own points of view. The narrators help you learn about the things that other people have gone through while also encouraging you to reflect on your own life.
60. Beautiful Anonymous: Shares the Intimate Stories of Strangers
In this podcast, host Chris Gethard has a phone call with an anonymous person for 1 hour to listen to a real story from their life. I was shocked that guests were willing to share tons of personal experiences and intimate information about their lives on each episode. The anonymity lets them speak honestly about fascinating situations in their families, work, relationships, and more. I found that I still think about these interesting real stories days after each episode! With such varied content, I would recommend this program to anyone who likes to reflect on a good story.
Enjoy Listening to These Diverse Podcasts
With millions of podcasts available in 2022, it can feel impossible to find one that's worth listening to. To save you time in finding a program on your favorite topics, I put together a list of the top 60 options about crime, history, news, personal finance, music, health, and much more. Don't forget to bookmark this page so you can keep coming back for new suggestions!