12 Best Netflix Series to Learn Spanish in 2022
Last Updated by Lucca RF on August 01, 2022
Are you wondering if you can combine learning Spanish with a leisure activity — perhaps Netflix? The answer is yes! Netflix is a fantastic resource to learn Spanish with hours of foreign language shows and helpful subtitles within a few clicks. You'll have a good reason for saying, "Ok, one more episode."
I've created a list of my top 12 Spanish-language shows on Netflix. I've also provided suggestions for how to effectively learn Spanish from watching TV shows.
The Spanish comprehension levels range from beginner to intermediate. I've even added children's shows, so they'll be easy to understand and fun to watch! The shows include different Spanish regional dialects and accents, which reflect the diversity of Spanish-speaking regions around the world.
12 Best Netflix Series to Improve Your Spanish Skills
Money Heist (La Casa de Papel)
Key Features:
European Spanish accents
Intermediate/Advanced
8.5/10 IMDB rating
For fans of action with elaborate plans and high stakes!
Similar to Oceans 11 and Prison Break
Money Heist is one of the best foreign-language series I've seen. It's about a group of criminals who have an ambitious plan — to print billions of euros from the Royal Mint of Spain.
El Profesor is the mastermind behind the 8 robbers with disguises and code names. You'll be amazed by the multitalented crew's skills to hack and defraud in executing the operation.
You might notice that the title has a strange translation from Spanish. La Casa de Papel translates to "The Paper House". However, the series is so good that the title won't even matter.
The level of Spanish is what you'd hear today in a regular conversation with friends — filled with colloquial Spanish expressions and jokes. Most of the characters speak clearly, so you'll have no problem understanding them.
Related Spanish Vocabulary
Policía federal — Federal police
Ladrones — Robbers
Comisaría — Police station
La Fábrica Nacional de Moneda y Timbre — The Royal Mint of Spain
The Ministry of Time (El Ministerio del Tiempo)
Key Features:
European Spanish accents
Intermediate/Advanced
8.2/10 IMDB rating
For fans of sci-fi and fantasy shows with a focus on time travel
Similar to Doctor Who and Quantum Leap
The Ministry of Time is a top secret department of the Spanish government in charge of time travel. The officers move through time to prevent criminals from interfering with significant historical events.
The show includes important historical Spanish figures and landmarks, such as King Phillip II and the prehistoric wall art in the Cave of Altamira. This sci-fi and fantasy series is an exciting way to learn about Spanish history while developing your language skills!
Related Spanish Vocabulary
Viaje en el tiempo — Time travel
Cambia la historia — Change history
El efecto mariposa — The butterfly effect
Ultra secreto — Top secret
Narcos
Key Features:
Colombian, Brazilian, Mexican, Puerto Rican Spanish accents
Intermediate/Advanced
8.8/10 IMDB rating
For fans of shows about corruption and the criminal underworld
Similar to El Chapo and Drug Lords
Narcos is a true story about the Colombian drug lord Pablo Escobar and his Medellín Cartel. The show is a thrilling ride as Escobar builds his drug empire while federal agents try to capture him.
Though Narcos is the highest-rated series on this list, it isn't the best choice if you want to only watch TV in Spanish. While the majority of the show is in Spanish, the scenes of the US government agent hunting Escobar are in English. Narcos is a good choice for gradual Spanish immersion since roughly 30-40% is in English.
Although the show is based in Colombia, Narcos has received criticism for its foreign actors with thick non-Colombian accents. For example, the actor for Pablo Escobar is Brazilian and other prominent actors are from other Latin American countries. However, you can improve your listening comprehension skills by listening for the differences in Spanish accents.
Related Spanish Vocabulary
Plata o plomo? — Silver or lead?
Narcotráfico — Drug trafficking
Lavado de dinero — Money laundering
Corrupción — Corruption
El Chapo
Key Features:
Mexican Spanish accents
Intermediate/Advanced
7.9/10 IMDB rating
For fans of true crime stories with infamous characters
Similar to Narcos and Powder
El Chapo is a thrilling reenactment about the rise and fall of Mexican drug lord Joaquin "El Chapo" Guzman. After working his way up through the Mexican cartels, El Chapo became one of the most powerful drug lords in the world. This series also reveals the corruption in Mexican politics.
This is a good option for learning Mexican Spanish with minimal English dialogue. The show provides useful descriptions in Spanish introducing the key characters involved with the drug trade.
Related Spanish Vocabulary
Me tracionas y te mato — You betray me, and I'll kill you
Medidas — Measures
Un envío — A shipment
Soy el jefe — I'm the boss
The House of Flowers (La Casa de las Flores)
Key Features:
Mexican Spanish accents
Intermediate/Advanced
7.8/10 IMDB rating
For fans of dark comedies about social issues
Similar to Modern Family and Arrested Development
The House of Flowers is a comedic telenovela about a wealthy and dysfunctional Mexican family. The matriarch Virginia tries to maintain the family's perfect image as the drama unfolds. Each family member's secret is exposed, including infidelity, secret families, and hidden businesses.
The show discusses social inequality issues in contemporary Mexico, including homophobia, sexuality, class divisions, and morality. This is a great series to learn modern and useful Spanish vocabulary!
Related Spanish Vocabulary
División de clases — Class division
Floristería — Flower shop
Transgénero — Transgender
Moralidad — Morality
Club de Cuervos
Key Features:
Mexican Spanish accents
Intermediate/Advanced
8.2/10 IMDB rating
For fans of intense and emotional comedies
Similar to El Príncipe
Club de Cuervos is about a brother and sister who battle for their father's inheritance — most importantly, his soccer club. While it sounds dark, it's actually a hilarious comedy. This show is a satire about the gender politics and class divisions in Mexico. You won't need to know anything about soccer to enjoy this show.
This is Netflix's first exclusive Spanish-language series. The writer, who doesn't speak Spanish, wrote the original script in English. It'll be easy for an intermediate level learner to understand the Spanish dialogue and learn slang local to Mexico.
Related Spanish Vocabulary
Patriarca — Patriarch
Herencia — Inheritance
Lucha por el poder — Power struggle
Equipo de fútbol — Soccer team
Grand Hotel (Gran Hotel)
Key Features:
European Spanish accents
Intermediate/Advanced
8.4/10 IMDB rating
For fans of period dramas with scandal, love, and suspense
Similar to Downton Abbey and Isabel
Grand Hotel is filled with drama, scandal, love, and mystery during the early 1900s in Spain. This is the perfect series for fans of Downton Abbey who want to learn Spanish.
The story is about Julio Olmedo's search for his missing sister at the Grand Hotel. He learns that she ran away from the hotel, but he knows this is a cover up. As he investigates her disappearance, he also falls in love with people who he shouldn't fall in love with.
Since this is a period drama, the formal Spanish is not commonly used today. However, it's a great series to learn useful vocabulary with minimal slang and clear pronunciation.
Related Spanish Vocabulary
Investigación — Investigation
Persona desaparecida — Missing person
Aristocracia — Aristocracy
Servicio — Servants
Ingobernable
Key Features:
Mexican Spanish accents
Intermediate/Advanced
7.2/10 IMDB rating
For fans of shows with high-stakes and many cliffhangers
Similar to House of Cards, Scandal, and Designated Survivor
Ingobernable is a fictional political drama about the First Lady of Mexico, who's falsely accused of murdering her husband. As she tries to uncover the truth, she faces threats and obstacles from the dangerous opposition.
This is an intense action series for a higher level of Spanish. You'll encounter slang specific to Mexico City.
Related Spanish Vocabulary
Primera mujer — First Lady
Presidente — President
Conspiración — Conspiracy
Suspenso político — Political thriller
Locked Up (Vis a Vis)
Key Features:
European Spanish accents
Intermediate/Advanced
8.3/10 IMDB rating
For fans of the prison escapes
Similar to Orange Is the New Black and Money Heist
Locked Up is a thrilling combination of Orange Is the New Black, Money Heist, and Breaking Bad. Macarena Ferreiro is framed for financial fraud and becomes an inmate in a Spanish high-security prison.
The show is filled with romance, violence, and drama inside and outside of the prison walls. Locked Up challenges sensitive contemporary topics, such as homophobia and racism.
You'll hear a lot of slang and informal language, which can be difficult to understand. But if you keep watching, your listening comprehension will quickly improve!
Related Spanish Vocabulary
Prisión de alta seguridad — High-security prison
Fraude financiero — Financial fraud
La fuga — Jailbreak
Antecedentes penales — Criminal record
Cable Girls (Las Chicas del Cable)
Key Features:
European Spanish accents
Intermediate/Advanced
7.8/10 IMDB rating
For fans of female-led historical fiction shows that focus fighting for gender equality
Similar to The Marvelous Mrs. Maisel and The Boarding School
Cable Girls focuses on four women who work for Spain's first national telephone company in Madrid in the 1920s. This show provides insight into a historical moment for women's rights. It explores the challenges that women faced in their professional and romantic lives during a conservative time.
The characters occasionally use words and phrases that were spoken a century ago. However, you shouldn't have any issues understanding with subtitles.
Related Spanish Vocabulary
Trabajar — To work
Teléfono — Telephone
Sigue tus sueños — Follow your dreams
Mujeres fuertes e independientes — Strong and independent women
Trollhunters: Tales of Arcadia
Key Features:
European Spanish accents
Beginner/Intermediate
8.5/10 IMDB rating
For fans of fantasy shows with beautiful animation
Similar to Avatar: The Last Airbender and The Legend of Korra
Trollhunters is the easiest show to understand on this list. This is a Dreamworks film developed by famous Mexican director Guillermo del Toro, who also directed Pan's Labyrinth and The Shape of Water.
James, a teenager, discovers a magical amulet and a secret world of trolls and magical beings. When he's not studying for school, James has to save the world from evil. The plot is simple and easy for all Spanish levels to follow. It'll introduce you to many basic and modern phrases in Spanish.
Related Spanish Vocabulary
Aventura — Adventure
Magia — Magic
Adolescente — Teenager
Monstruos — Monstruos
Ask the Storybots
Key Features:
European Spanish accents
Beginner/Intermediate
8.1/10 IMDB rating
For fans of lighthearted and educational TV shows
Similar to Sesame Street and One Big Ocean
Ask the Storybots is an animated educational kids TV show. After the children ask questions, the Storybots search everywhere for the answers. Songs accompany the scenes throughout the series, which help you to remember words and phrases!
This show is perfect for beginning Spanish learners. You'll be introduced to many basic Spanish vocabulary words while having fun!
Related Spanish Vocabulary
Creatividad — Creativity
Canción — Song
Educación — Education
Entretenimiento — Entertainment
Discover More Netflix Shows in Spanish
Search for "Spanish language" on Netflix to find shows in Spanish. You can also refine your search with "Audio in Spanish" or "Subtitles in Spanish". These searches will display shows that aren't originally in Spanish, but have subtitles or dubbing in Spanish.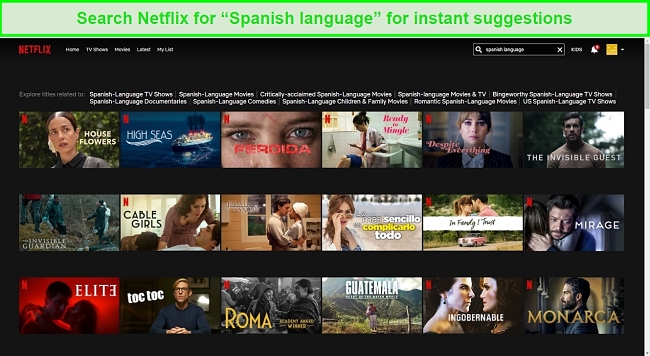 Search uNoGS. UNoGS is the "unofficial Netflix online Global Search". You can search for shows with Spanish audio and subtitles. It lists the regions where the Netflix shows are available.
Google it! Searching for "Spanish Netflix series" is an easy way to find several Spanish-language TV shows on the streaming site.
6 Simple Ideas for Learning Spanish with Netflix
Start Gradually and Build Up
Whether you've never learned Spanish before or you've taken a few lessons, you can learn most effectively by following the below steps:
For beginner levels: Begin by listening to Spanish audio with English subtitles. This will help with listening comprehension while reading along in a language you're familiar with.
For intermediate levels: Use Spanish audio and Spanish subtitles. It's helpful to see the spelling to improve your listening comprehension and vocabulary.
For advanced levels: Listen to Spanish audio without subtitles for a challenge! Understanding new words and phrases based on context is tough, but full immersion is the best way to learn.
Familiarize Yourself With the Subject Matter
Before starting a new series, it's a good idea to read the summary. You can read the synopsis of the show in English to familiarize yourself with what the show will be about (beware of spoilers). For example, you may want to learn vocabulary connected with time travel, history, and secret agents before watching The Ministry of Time. While learning all of the phrases isn't necessary, it'll give you a basic understanding of the plot.
Use the "Language Learning with Netflix" Chrome Extension
The Language Learning with Netflix Chrome extension was created to make the process of watching and understanding easier with more subtitle options.
The extension displays subtitles in Spanish and another language for the show. You can click on the subtitles displayed on the right to jump to a different time in the episode. If the dialogue is too fast, you can turn on "auto-pause" to stop the stream after every line is spoken and replay the scene if necessary.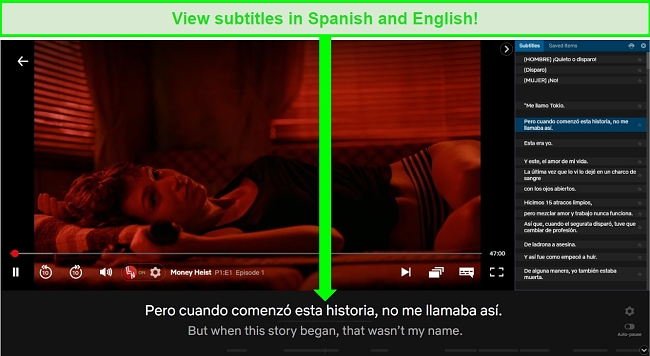 Use Spanish Subtitles With English Audio
While understanding an entire Spanish series is a fantastic goal to aim for, you might prefer watching an English-language series and using Spanish subtitles. You'll understand the audio and can add to your Spanish vocabulary. If you've had a long day, this might be easier to learn than an intensive Spanish lesson!
Grab a Notepad and Use the Pause Button
If you want to remember new Spanish vocabulary, you can hit pause and repeat the words out loud. If you write what you read or hear, you might remember the words better. You can build up a library of words and phrases that you can practice when you're not watching Netflix.
Use a VPN to Access Content From a Different Netflix Region
Due to regional restrictions, some of the Spanish-language shows I've listed may not be available to you. To gain access, you can easily sign up for a VPN, connect to a region where the series is available, and start streaming!
Watch Great TV and Learn Spanish at the Same Time!
Netflix is the perfect Spanish teacher — now you can get cozy on your couch and be a good student. An interesting Spanish series will elevate or reinforce your Spanish vocabulary, get you more comfortable following native-level conversations, and also provide a window into local Spanish-speaking cultures.
Netflix is perfect for Spanish immersion. Binging a show in Spanish exposes you to hours of native-level Spanish. Combined with subtitles, this is a great resource to learn new vocabulary and improve your listening comprehension!
Besides the benefits of improving your Spanish abilities, Netflix has a major advantage over your textbook — it's fun! With impactful scenes and memorable moments, it'll be easier to remember new words with the stories behind them.
Now choose an interesting show in Spanish and get learning. Empezar!