5 Best Free Firewalls for Windows, Android + Apple (2023)
A firewall is an essential security tool for every computer or network, so much so that most operating systems have built-in options. However, most of these aren't good enough as they offer only a few basic features.
Some free firewall programs offer some protection, but you need one that goes the extra mile, offering advanced features and robust shielding. After much research, I compiled the best free firewalls for any device.
The firewalls with the most features that I found are Comodo and ZoneAlarm. However, investing in a comprehensive antivirus like Norton, which includes an advanced firewall, is the best way to safeguard your online activities.
Try Norton for 60 days risk-free
Quick Guide: 5 Best Free Firewall Software
Top Tip: It's important to keep in mind that none of these free apps will guarantee your protection the way that paid internet security suites will. Moreover, nowadays, good antiviruses come with a firewall and other security features. If you're looking for a premium security suite, you can check out our Best Antivirus With Internet Security Roundup.
The Best Free Firewalls for Any Platform and OS (Tested in 2023)
Key Features:
Monitors inbound and outbound traffic on your computer.
Application sandboxing lets you test untrusted applications in a secure virtual environment.
Create firewall rules that determine how each application connects with the internet.
Prevent hackers from exploiting open ports on your system with port scan protection.
Host Intrusion Prevention System uses artificial intelligence to detect suspicious applications and block all malicious activities.
Comodo offers a popular free firewall that comes with a good number of features. The firewall works for Windows devices and supports Windows XP, Vista, 7, 8, 10, and 11. Comodo Free Firewall scans all inbound and outbound traffic and blocks all malicious activities on your computer, keeping you safe from network attacks.
Once I installed the firewall, I noticed that Comodo's firewall is automatically turned on. You can view this from the Settings tab, where you can adjust the firewall settings and add application rules, global rules, and port sets. You can also enable protection based on the network type.
Comodo features a Host Intrusion Prevention System (HIPS) that observes applications on your computer and detects any suspicious behavior, allowing you to allow or block the application. Apart from the firewall functions, Comodo offers other helpful security features:
Virtual Kiosk — a virtualized sandbox for testing unknown applications in a secure environment.
Secure browser — Dragon and IceDragon browsers are built on the Chrome and Firefox engines.
Kill Switch — monitors advanced processes and system activities, allowing you to block any system process.
Rescue Disk — create a bootable CD or flash drive to clean up infected PCs.
Secure Shopping — Launch websites and use payment details from a secure virtual container.
Rating Scan — Scans commonly infected system areas for malware threats, certificates, and unrecognized files.
I like that Comodo's firewall warned me immediately when it detected suspicious activity on my PC. The firewall protects your computer ports from hackers and keeps your private information safe.
It offers a user-friendly interface and checks all network traffic to ensure they're safe, but you have to install most security features separately, which consumes a lot of time. In comparison, Norton is much simpler to use. The firewall is automatically activated once you install the app. It even learns the behavior of applications on your computer and creates rules to protect it. Unlike Comodo, you can use Norton's internet security features without installing them separately.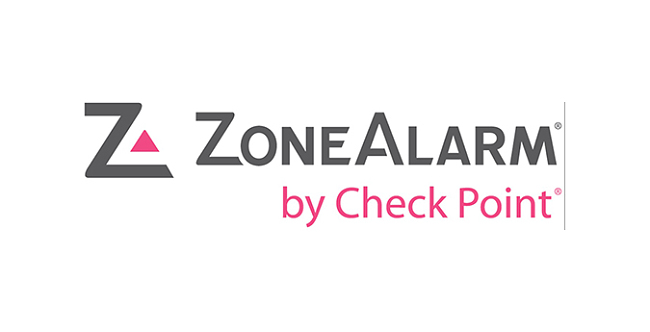 Key Features:
Basic firewall monitors and blocks programs with suspicious behaviors from connecting to the internet.
Real-time protection removes potentially malicious features from file downloads.
Protects your system from rootkits and other threats to your operating system.
Anti-phishing protection prevents you from accessing dangerous websites.
Compatible with Windows 7, 8, 10, and 11 devices.
ZoneAlarm is one of the most popular free standalone firewalls, boasting over 90 million downloads worldwide. There's a free version and a premium version, with the free one, obviously having fewer features. It's still very capable, though, offering the following features:
WiFi Protection — Protects against suspicious behavior of apps on unsecured networks.
Traffic Monitoring — Monitors inbound and outbound traffic on your computer network.
Early Boot Protection — Scans for rootkits and insecure operating system operations.
Identity Protection — Protects personal data from theft (US only).
Safe Search — Notifies you of suspicious on dangerous sites.
Anti-phishing — Scans URLs and protects your private information from phishing attacks.
Once you install ZoneAlarm, you'll be able to customize the firewall functions. The firewall settings consist of basic and advanced configurations. You'll get a lot of requests to allow or deny connection requests. You can disable these alerts from the Game Mode settings in the Tools tab.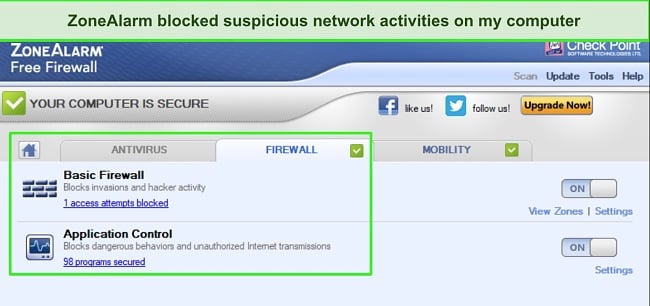 You can also adjust your protection level between low, medium, and high. While the free version of ZoneAlarm Firewall gives you some level of control, it lacks features like Expert Mode, component control, and other advanced settings that come with firewalls offered by premium security suites such as Norton 360.
ZoneAlarm Free Firewall prevents malicious changes to your device, keeping you safe from hackers, spyware, and other malware threats in the files you download. ZoneAlarm is compatible with the latest versions of Windows, including Windows 7, 8, 10, and 11.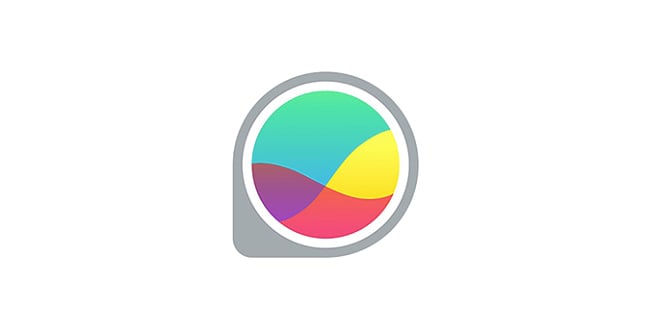 Key Features:
Visual network monitoring allows you to view past and present network activities on an intuitive graphical interface.
Keep tabs on daily, weekly, and monthly bandwidth usage for every app on your computer.
Create firewall rules for all applications on your device in 1 single firewall profile.
Get notified when a suspicious WiFi network tries impersonating your WiFi network name.
Works with Windows XP, Vista, 7, 8, 10, and 11.
GlassWire offers a user-friendly free firewall program. It actively protects your inbound and outbound traffic from network attacks. GlassWire's interface is intuitive, allowing you to monitor every network activity on your computer. Once you install and launch the app, you'll notice 5 tabs showing your overall communications as follows:
Graph — lets you see in real-time apps on your computer, the network they're using, and the type of traffic connected to.
Usage — shows how much data each app has used, host, and traffic type, such as HTTP, NTP, etc.
Security — displays active apps, the inbound and outbound traffic consumption, and a GlassWire safety score.
Alerts — shows logs of all network activities on your device.
Things — allows you to view all WiFi networks you're connected to.
The graph feature allowed me to view all the communications on my computer. Even more, I get warnings when there are unusual changes to any of my apps. I also like how GlassWire alerted me when unknown devices tried connecting to my network. You can snooze all alerts for 24 hours or use the incognito mode feature to stop all logs so that you don't get overwhelmed with notifications.
You'll find the Firewall option in the Security tab, but you will have to toggle on the firewall option when you launch the app for the first time. Once on, you can choose from the dropdown firewall modes like "Ask to Connect," which allow you to approve or block new app connections, or "Block All," which automatically terminates all app connections except for the ones that Windows permits.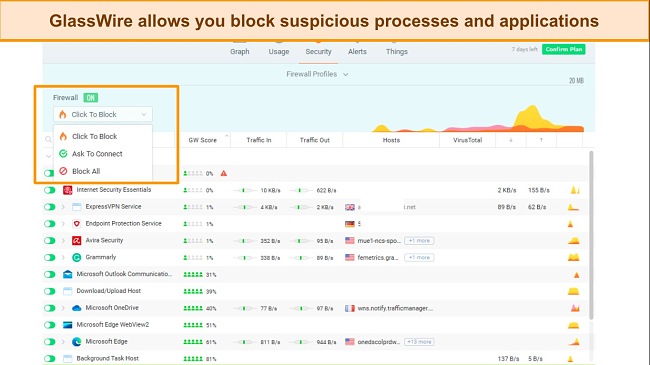 In addition, you can create firewall profiles using existing rules (as implemented in the firewall mode) or restore to the default firewall rules. In the Settings tab, you can also choose the things GlassWire should monitor, such as ARP spoofing detection, RDP detection, DNS server settings, suspicious host monitor, and more.
Overall, GlassWire offers a visually-appealing networking monitoring program. You can use it on Windows versions like Windows 11, 10, 8, 7, Vista, and XP. I like that you can use GlassWire for personal or business use, giving you room to protect all your devices. Once you sign up, you get a 7-day free trial of the full GlassWire firewall, after which only the free features will be available.
Key Features:
Blocks suspicious programs from connecting with your network.
Prevent hackers from exploiting open ports on your system with port scan protection.
No annoying pop-ups and easy configuration.
Allow trusted applications to connect with the network always.
Remembers which applications have used the network and create rules for them.
TinyWall is a lightweight firewall program designed to protect you and minimize notifications. Built to provide additional protection than the Windows firewall, TinyWall blocks malicious applications that can alter the Windows firewall settings. It also stops viruses, worms, trojans, and other malware that can cause harm to your system.
TinyWall provides different firewall protection modes:
Normal protection — protects against suspicious behavior of apps on all connections.
Block all — stops both incoming and outgoing connections for all applications.
Allow outgoing — blocks incoming connections and allows only outgoing connections for all programs.
Autolearn — allows all traffic and remembers which applications have used the network.
I like TinyWall's no-pop-up approach. Unlike many firewall programs that constantly bombard you with alerts and notifications, TinyWall prevents interaction for connection requests. Whenever it notices suspicious behavior, TinyWall automatically blocks the application without notifying you in real time. You can whitelist applications you trust so it doesn't block them without your knowledge.
You'll find all active processes, port connections, and remote addresses in the Connections tab. You can right-click and terminate any suspicious process you notice or send it to VirusTotal through the Search button to find out if it is malicious.
Additionally, TinyWall provides other firewall protections as follows:
Port scan prevention — protects you from hackers trying to exploit open ports on your computer.
Host's file protection — prevents cybercriminals from redirecting your search requests by editing your host's files on your PC.
Firewall tampering protection — stops malicious programs from altering your firewall protection settings.
Overall, TinyWall is a user-friendly free firewall program that provides decent protection and prevents pop-up notifications. While it doesn't offer as many features as other free options like Comodo and ZoneAlarm, it's still very good software. You can use TinyWall for Windows 7, 8, 10, and 11.
Key Features:
Monitors incoming and outgoing traffic on your network.
Protects you from viruses, trojans, spyware, worms, and other malware files.
Blocks malicious and inappropriate websites to keep your family safe.
Application control lets you choose which applications can connect to the internet.
Prioritize applications that use your internet connection using traffic shaping.
Sophos firewall provides comprehensive protection for home computers, email security, networks, and web applications. It would be my number 1 choice for features and security, but it came 5th because it requires a little more technical knowledge and requires you to install the Sophos OS onto a spare computer. This device then becomes your physical firewall.
If you have such a computer though, you'll find the Sophos Firewall helpful, as it beats most of the competition. Sophos Firewall Home Edition offers the following features:
Anti-malware — Protects your computer from viruses, trojans, spyware, and other malware.
Web Security — stops malicious websites from infecting your computer.
URL Filtering — Filters inappropriate sites to ensure your children don't access prohibited websites.
Application control — choose how specific programs connect to the internet.
Intrusion Prevention System (IPS) — monitors internet traffic and prevents unwanted communication.
Traffic shaping — increases your internet bandwidth by prioritizing the applications that use your internet connection.
Monitoring and reporting — get full reports on the web activities in your home and allocate usage quotas for specific family members.
Although you get all the above features for free, you'll first have to install the Sophos Firewall OS, which involves creating a bootable USB drive, and wiping your existing data.
Essentially, this turns your spare computer into a physical hardware firewall. The process is a bit technical, and beginners might find it challenging. However, when setting up the firewall on a test machine, I found helpful articles on Sophos's community forum, which helped me to install the firewall. With so much technical knowledge required to set up, I only recommend Sophos Firewall for advanced users despite its rock-solid set of features.
Overall, Sophos's firewall provides comprehensive firewall protection. I like that it detects malware downloaded to my computer, which not many firewall programs provide. I also like the web filtering feature that protects my family from visiting phishing or inappropriate sites.
Bonus: Premium Antiviruses That Come With Firewalls to Fully Protect Your Devices in 2023
Key Features:
Protects your computer from authorized network access via exploit attacks.
Prevents hackers from exploiting open ports on your computer.
Stop hackers from intercepting your internet traffic with ARP and DNS spoofing protection.
Protect your WiFi networks from SSL man-in-the-middle attacks.
Add trusted applications that can access your network always.
Norton offers robust firewall features on all its plans. It's very easy to use Norton's firewall as it requires no configuration to work. The Smart Firewall automatically creates rules for each program you open and monitors both inbound and outbound communications, protecting you from hackers and other cybercriminals.
Apart from the automatic configuration capability, Norton provides firewall protection with features such as:
ARP and DNS spoofing protection — Prevents attackers from redirecting your traffic to a fake IP address or intercepting your traffic.
Content Tampering Attack detection — blocks every attempt to compromise the integrity of your device.
SSL strip attack detection — Stops a hacker from downgrading your connection from the more HTTPS to the less secure HTTP.
SSL man-in-the-middle attack detection — Prevents an attacker from intercepting your WiFi connection or eavesdropping on your communication.
Port access detection — Protects your computer's ports from unauthorized access.
Norton's firewall monitors suspicious traffic on your network and blocks every intrusion. You can create rules for specific programs on your computer that define how they connect to the internet. Norton has its own "whitelist" (a known and trusted list) of popular known programs, such as Microsoft Word and Skype, so none of these apps will be blocked by the firewall.
Norton offers multiple plans with firewall protection features:
Norton Antivirus Plus — It covers only 1 device and offers additional features like online threat protection, 2GB cloud backup, a firewall, and a password manager.
Norton 360 Standard — Includes all the features of the Plus Plan, supports up to 3 devices, PC Safecam, and dark web monitoring.
Norton 360 Deluxe — Supports all the features in the Standard plan. It covers 5 devices and offers 50GB of cloud storage, parental controls, school time, VPN, and a privacy monitor.
Norton 360 Select — Has all the Deluxe plan features, offers 250GB cloud storage, covers 10 devices, stolen wallet protection, identity restoration, credit monitoring, and ID verification monitoring.
I like that Norton offers excellent security and tons of features. It's easy to use and compatible with popular devices, including Windows, Mac, Android, and iOS. You can even use Norton for free for 7 days when you link your payment information. I recommend signing up for the Deluxe, which provides comprehensive internet protection tools. Norton's plans start at $14.99, which lets you stay protected without breaking the bank.
Key Features:
Block all inbound and outbound unauthorized connection attempts on your network.
Create firewall rules that dictate how each application on your computer connects to the internet.
Port blocking security prevents cybercriminals from exploiting open ports on your device.
Anonymously connect with a public WiFi network to protect your privacy.
Real-time protection detects zero-day malware threats.
Bitdefender offers high-end firewall protection, among other features, as part of its security suite. The firewall feature is included in its Internet Security and Total Security plans, which offer antivirus protection, web protection, and other security tools that make Bitdefender one of the top antivirus programs on the market.
I like Bitdefender's customizable firewall functions. Once you install Bitdefender's app, the firewall is automatically activated. It works with your network type (home and public) and analyzes the applications installed on your device and their connections to the internet. Bitdefender's firewall stops all unauthorized connections for inbound and outbound traffic.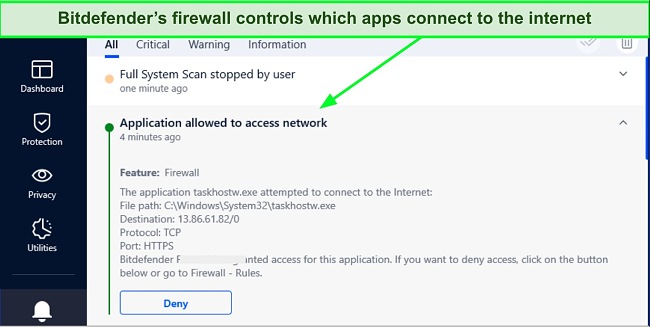 You can also use the Bitdefender firewall's advanced settings to set rules that control how specific applications connect to the internet. You can also configure other advanced settings like:
Port scan protection — blocks attempts by hackers to find out which ports are open.
Alert Mode — notifies you when an app tries to go online, allowing you to block or allow the connection.
Stealth Mode — Prevents you from being detected when you are connected to a public network.
Default application behavior — automatically defines rules for applications without prior rules.
From my tests, I found Bitdefender's firewall is very easy to configure. It also functioned well, blocking all network attacks, so I'm confident it can stop cybercriminals from accessing my computer. Bitdefender has multiple plans that include firewall protection. However, only mid-tier and top-tier plans like Internet Security, Total Security, and Premium Security offer firewall protection.
I like that the Total Security plan offers comprehensive protection against all forms of cyber threats. You can try the Bitdefender Total Security plan and use its robust firewall protection for up to 10 devices.
Bitdefender's subscription starts at $29.99, but to get the firewall, you have to upgrade to the Internet Security, Total Security, or Premium Security plans. You also get extra features such as antivirus, parental controls, webcam protection, and PC optimizer.
Key Features:
Monitors inbound and outbound connections and blocks unauthorized access to your network.
Create rules that determine how each application connects with the internet.
Detects existing and zero-day malware threats in real time.
Allows you to connect to a public WiFi network safely.
Port blocking prevents hackers from exploiting open ports on your computer.
Panda offers robust firewall protection in its antivirus program. While the Windows Defender firewall does a pretty decent job, I was impressed to see Panda offer more customizable firewall functions.
Once you download the Panda antivirus, you can easily use the firewall feature. It monitors your traffic and offers different levels of protection depending on your network type. The less secure the network, the more checks Panda runs on incoming traffic.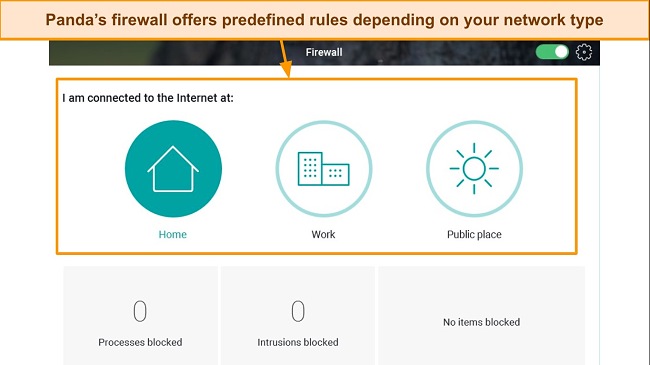 Apart from the basic firewall functions, Panda's firewall allows you to configure your firewall settings and set rules for specific programs on your computer. You can do this under the Programs Controls settings tab, where you can add new rules or edit existing rules.
Panda offers different paid plans which offer firewall protection and other features:
Essential — Offers firewall, real-time protection, and WiFi protection.
Advanced — Includes all the Essential features, including parental controls, ID protection, and Ransomware protection.
Complete — Has all the Advanced features and password manager, data shield, and device cleanup tool.
Premium — Offers all the Complete plan features, including unlimited VPN, software update manager, and 24/7 premium support.
All Panda plans are decently priced and start at only $19.20. However, I noticed that the Premium plan offers the best value. You can get firewall protection for your PC on all of Panda's plans using the 30-day free trial. In addition, you get protection against malware threats, VPN, and a password manager within the antivirus program.
4 Easy Steps: How to Protect Your Device With a Firewall
Sign up for an account — Go to the official site of the antivirus you choose and sign up for one of its plans. I recommend Norton 360's Deluxe plan as it offers robust features at a reasonable price.


Download and Install the app — Run the installer file once it downloads and follow the setup wizard to install the client on your device.
Launch the app — Once the app is installed and launched, click on the "Settings" tab from the dashboard to view the existing firewall configurations.


Configure the Firewall — From the firewall's settings tab, toggle on additional protection settings and create firewall rules where applicable.
Protect your device with Norton's Firewall
Quick Comparison Table: 2023's Best Free Firewalls
How I Tested & Ranked the Top Free Firewall Software
Basic Firewall protection — I selected the software that offered automatic firewall protection for home and public networks.
Advanced Firewall rules — I chose the firewall tools that can configure firewall rules for specific apps and other programs.
Port blocking features — I focused on selecting the firewalls that offer port protection features that prevent hackers from exploiting open ports.
Malware protection — I ensured that the firewall programs also provide malware protection tools that block malicious files and programs.
Ease of Use — I prioritized the firewall programs that are easy to configure, consume fewer system resources, and have apps for all the popular operating systems like macOS, Android, iOS, and Windows.
Free — I only selected free firewall programs or those included in antivirus programs with a generous free trial period.
FAQs on the Best Free Firewalls
Protect Your Computer From Network Attacks With the Best Free Firewalls
If you connect to public WiFi networks often, you're likely to be vulnerable to cyber-attacks. Cybercriminals can exploit your network traffic to steal your data or infect your system with malware. The good news is a firewall can protect your device from these attacks.
However, most firewalls offer basic protection, which could still leave you vulnerable to hackers. After thorough research, I found the best free firewalls to protect your computer. ZoneAlarm and Comodo are great free firewall options, but if you have a little dollar to spare, you'll find that Norton offers a more robust firewall.
A firewall is just one layer of security. Antiviruses and VPNs also provide an additional layer of protection. While a VPN encrypts your internet connection, keeping your internet activities away from hackers, antivirus protects you from malware threats, among other security needs. Luckily, a few antivirus software offer a built-in VPN and other security features.
Protect your devices with Norton
---
Overall Best Antiviruses for 2023 (That Also Offer Firewall Protection)