5 Best Free Adobe Acrobat Pro DC Alternatives With Similar Features! [TESTED in 2023]
Last Updated by Shauli Zacks on February 01, 2023
While Adobe used to be the only serious option for a PDF editor, that is no longer the case. I downloaded and tested dozens of PDF readers and editors in my search for a reliable and free alternative to Adobe Acrobat Pro DC. I quickly saw that most of the completely free programs didn't have similar features. The "good ones" were no more than a PDF reader, while the bad ones slowed down my computer or my antivirus blocked the download due to potentially malicious software.
Therefore, I extended my search to include freemium software and programs that came with a free trial, provided I didn't have to make an initial payment and request a refund at the end of the "free trial."
My top choice is WPS Office. I like the free version, which allows me to leave comments, annotations, and highlight text in the PDF. One thing that stands out in the free version is I can make edits to the document without saving the changes. I can then convert the file to a WPS Document, make my changes and save the updated file as a PDF. You can also take advantage of the 7-day free trial so you can try the premium features of the PDF Editor tool.
Quick Guide: The Best Free Adobe Acrobat Pro DC Alternatives in 2023
WPS: Complete editing control over a PDF, add comments, highlight texts, and insert images. Convert PDF files to multiple formats.
SodaPDF: Create a PDF file, auto fill fields, and OCR capabilities for editing images, but it has annoying pop-up ads.
PDF Suite: Edit a PDF by changing text, resizing or removing images, and adding new sections, but it doesn't have a redaction function.
What I Look for in a Free Adobe Acrobat Pro DC Alternative
Adobe has been a leader in the PDF field since it invented the file format in 1993. However, Acrobat Pro DC is a complex program, and some of the advanced features can be a little confusing or difficult to use. Since I don't edit PDFs frequently, I decided it was time to find an easy-to-use, free alternative.
I wanted a program that has similar features such as:
Create and Edit a PDF
I need a program that gives me complete control over the PDF. The word processing platform also makes it easy to edit the text, move around different sections, change the font, add or resize images, and more.
Digitize Documents and OCR Capabilities
I'm a big fan of getting rid of clutter by scanning and digitizing my documents. It's gotten much easier thanks to PDF software that comes with a mobile app, so I can use the phone on my camera and save it directly as a PDF or connects to a scanner.
Collaboration Tools
This is an essential feature for me since I work with a remote team and clients that want to make or suggest changes. Even if I don't want to give them complete editing access, I want to see their comments, and let them markup the document.
Security
Some of the security features I look for are encrypting the document, adding password protection to prevent unauthorized users from viewing the file, adding a watermark, and digitally signing a document.
Ease of Use
The editor should be intuitive and easy to use. One of the reasons I really like WPS Office is because all the features are clearly labeled. I don't have to go searching through the menu and file options for basic tasks, and there's no need to watch video tutorials.
5 Best Free Alternatives to Adobe Acrobat Pro DC With Similar Features
Add or edit text and images on a PDF
Highlight, redact and leave comments on the document
Change the background, add a watermark, and hyperlinks
Convert PDF to Doc, Excel, PowerPoint, and Text file
Merge and split PDF files
The WPS Editor has everything I need to create, edit, and secure PDF files. When you open the Editor, you'll see a clean interface where everything is clearly labeled.
It has a complete word processing tool, making it easy to create a PDF from a blank page. Choose from a large selection of fonts, typography styles, and layouts to design your document. The editor is fully customizable. You can drag text boxes or images and move them anywhere on the page or make the element larger or smaller.
If you're using the free version of WPS Office, you will be able to make edits on the page, see how they look and ensure the formatting is correct. While you can't save the file with the updated changes, you can convert the original PDF to a document and add your edits. Then, save the updated file as a PDF, and you can encrypt the file, add a password, or your watermark to prevent anyone from stealing your work. I like that not only can I add interactive features like links and forms, but I can also upload attachments to the file.
One of the reasons I prefer WPS Office is because it has a tabbed interface that includes a word processor, spreadsheet, and presentation tools. This way, I can make the changes I want on one platform without having to go back and forth to create the file I want.
A free WPS Office account comes with access to WPS DOCS. It's a web-based version of WPS Office that comes with 1 GB of free storage. It makes it easy to share files with anyone, collaborate in real-time, and keep your file organized. You can save documents from the desktop application to your cloud storage and download files from DOCS and store them on your hard drive.
I found the WPS OCR tool to be highly accurate in recognizing the picture and converting it to editable text. It was a big help when I digitized some paper documents. It also has tools for converting pictures and documents to PDF and PDFs to popular formats.
You can get unlimited access to all the premium features with a free 7-day trial, which you can get without entering your credit card information. This should give you enough time to edit if you need to work on a specific file or a short-term project.
Create a PDF from a blank page
Auto fill forms and digitally sign PDFs
Encrypt and password protect your files
Convert PDF to other file formats
Soda PDF has just about everything I need to create and edit PDF files. There are several different ways to create a PDF:
Upload a document
Enter a URL and convert a website to a PDF
Use the word processing interface to create a PDF from a blank page
When you use the word processor, you'll have the benefit of choosing your font family, size, designing the layout, inserting hyperlinks, images, colors, and more.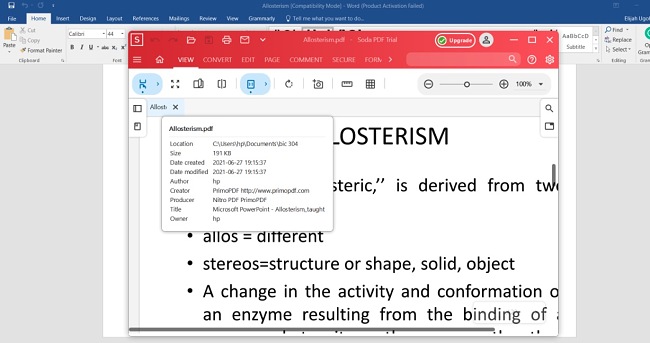 You can use the same word processor interface for editing a document. The software recognizes text and gives you the freedom to make changes, leave comments, highlights, and more. You can also add, remove, and resize images to get the final layout and style you desire.
I was able to take files from multiple formats and create a single file. For example, I used Word, PowerPoint, and JPEG files and merged them into one PDF document. Then, I used the Soda PDF compression tool to make the file smaller without sacrificing any of the image quality. It also has a PDF split tool, so I can separate large files and only keep the pages or sections that I need.
There are several security features to prevent unauthorized users or hackers from accessing your files. When you save a file, you'll have the option to encrypt it and set a password. If you're sharing the file with multiple users, you can assign different permission levels for each user. I found this helpful when sharing a file with different team members. I gave some full editing access, while others could only leave comments or highlight text.
I was impressed with the OCR feature. It found small text within a logo and converted it to editable text. I was able to change the font, size, and colors until I was happy with the final results.
When I was done, I went to save the file, and Soda PDF gave me the option to save it as a PDF or convert it to a different format. It can also convert other files, like Word, Excel, and PowerPoint, into a PDF.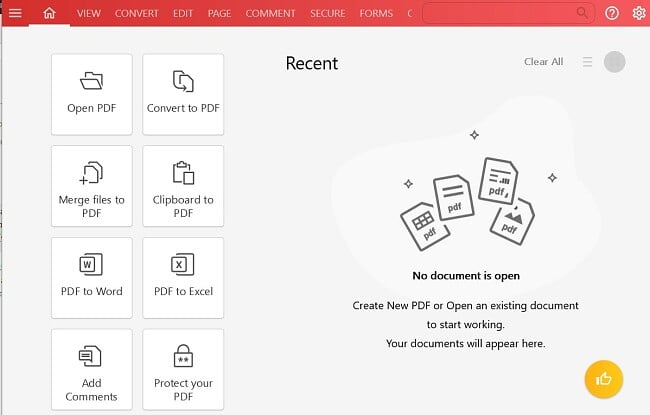 The one downside of Soda PDF is the really free version is extremely limited. However, you can access all these premium features and more with a 7-day free trial. The trial starts when you download and activate the account, with no credit card required.
Quickly convert any document into a PDF
Military-grade encryption secures document
Intuitive form creator
PDF Suite is a user-friendly program for creating, editing and converting PDF files. The editor has a similar interface to Word and gives you control over editing or creating new PDF documents. I like the integrated editor because it means I don't need to purchase a separate program for designing the PDF and then import that file to my PDF Editor. Instead, it's all bundled in one suite.

The editor can convert the document into an editable document. I had the flexibility to add or change text, pictures, and combine multiple documents.
If you're collaborating with others, you'll like the collection of markup tools that you can use. When I opened a client's document in PDF Suite, I was able to add sticky notes in specific places, to point out a change I wanted. There are also arrows, colorful highlights, and underlines that can be added to the document.
PDF Suite recently upgraded its Form Creator tool, to make it easier to design and add forms to your document. I had the option to set the parameters for each field, allowing either only numbers, only letters, or a combination of both, plus a limit on the number of characters in the field. There is also the option for free form answers, multiple choice, and radio buttons.
The free version of PDF Suite is not much more than a PDF Reader, but the company offers a free 30-day trial, which I activated without using a credit card. I found that this was more than enough to try out the tools and edit a few documents.
Create PDF documents from a blank page
Edit text and images in a PDF file
Nitro PDF has a modern interface that simplifies the entire PDF creation process. It simplifies the formatting and layout processing with a drag and drop interface, so I was able to get my PDF file to look exactly how I wanted. All the common tools are located on the editor interface for quick access, so I could change fonts, insert links, add images, and add watermarks.

Nitro PDF files are compatible with more than 300 formats. This keeps the document formatting consistent no matter what device or operating system it's being opened and viewed.
With the Nitro PDF editor, you can make changes to the text, images, and pages without importing or uploading the document to a separate program. The program is easy to use, and I was able to remove images, change the size of the text boxes, rearrange the items on the page, and edit the text.
The collaboration tools aren't the best. Instead of real-time changes, I sent the document to my team, and they were able to add comments, annotations, redactions, and highlight text.
Download Nitro PDF and you'll get a 14-day free trial. It will give you access to all the premium features.
Create, edit, and organize PDF documents
Create forms that can be filled in
ABBYY FineReader specializes in using OCR to digitize and edit documents. I was able to connect the software to my scanner and upload documents and convert them to a PDF. The AI tool recognized the majority of the text on the page and gave me complete editing control. The AI still isn't perfect, and there was some text that it couldn't convert to an editable field, but overall, I was pretty happy.
The user interface is very intuitive and easy to use. When you upload the document, it will open in side-by-side windows. One displays the original file, and the other has the version I could edit.
It also has some basic editing features for non-OCR PDFs. I found it very easy to create forms, add my digital signature, and add markups on the document, such as highlights, arrows, and redacting text.
There is also an image editor that I found helpful when I scanned low-quality pictures. The tools include straightening the image, adjusting color balance, removing unwanted objects or sections of the picture, realigning the text, and sharpening the lines.
You can try ABBYY FineReader free for 7 days, which I found to be enough time to digitize documents I had in my office and get rid of the some of the clutter on my desk.
Try ABBYY FineReader PDF for Free!
When Adobe Acrobat Pro DC isn't for You…
Adobe is one of the best PDF programs, which shouldn't come as a surprise since they literally invented the file format. However, I found that several other programs have caught up to Adobe Acrobat Pro in terms of features, usability, and device compatibility.
If you want to create a PDF from a blank page, WPS Office is your best option. In addition to a drag and drop editor, it comes bundled with a word processor, spreadsheet, and presentation tools. This makes it very easy to add different elements when creating your PDF. Try WPS Office and create and share your PDFs for free.
If you want to ensure that your PDF documents are secure, I recommend Soda PDF. It makes it easy to add secure encryption and password to protect your document. You can also add your digital signature and watermark on a document to prevent others from copying your work or passing it off as their own.
If you're looking for a PDF tool to create forms, PDF Suite is a good option. Its updated form creator gives you complete control over how the forms look, what kind of characters can be added, and the style. The people who receive your PDF can fill in the form without downloading any special software and then send it back.
FAQ
Is WPS Office PDF Editor really free?
Yes! The free version of WPS Office includes a PDF Editor that lets you annotate, highlight, and leave comments on a PDF file. You can also open the PDF Editor to make changes to any area of the document to see how your edits would look. You can then open the file in one of the other WPS tools and implement your changes. If you want to make the edits directly on the PDF, you can activate the 7-day free trial, which unlocks all the premium features.
Is WPS Office secure?
I didn't find any malicious files, malware, Trojans, or viruses when I tested the WPS Office file. It also comes with several security tools to protect your PDF files from hackers or unauthorized users accessing your file. You can add 256-bit encryption, a secure password, and different access levels for each user.
Which is better, WPS Office or Adobe Acrobat Pro DC?
Both of these programs have advantages and disadvantages. When comparing the PDF feature, Acrobat Pro DC is slightly better. It beats WPS Office when it comes to OCR and real time collaboration. However, WPS Office is an easier program to use. With a really nice editing interface, you can have quick access to the tools you need. Another benefit of WPS Office is that it comes bundled with other office productivity tools, so you can seamlessly add different elements to your document.