5 Best Antivirus Software With Free Trials in 2022
Last Updated by Enemali Okwoli on July 01, 2022
With so many premium antivirus software on the market, it's great to have a way to test them before deciding which one to commit to. Many antivirus suites offer money-back guarantees that you can use to test their features, but only a few offer completely free trials.
However, not every antivirus with a free trial version comes with its complete feature list. I looked at over 20 antiviruses and put together a list of completely free trials that also offer the full premium experience.
I found the best 5 antiviruses that have every premium feature on their free trial. Out of all of them, Norton 360 offers the best set of premium features for my all-around security.
Quick Guide: 5 Best Antivirus Software With Free Trials
The Best Antivirus Software With Free Trials — Full Test Results in July 2022
Key Features:
7-day free trial and 60-day money-back guarantee.
Standard and advanced antivirus features.
Multiple PC optimization tools.
Extra features like VPN, password manager, and Identity protection.
Norton is the most feature-rich and best-performing antivirus software. The free trial offers full access to all Norton's features, including antivirus, ransomware protection, VPN, password manager, ID theft protection, and more across unlimited devices. After signing up for the free trial, I tested all of Norton's features and was very pleased with the overall performance.
Norton's antivirus engine was simply unmatchable. It has different scanning options, including the quick scan option that scanned over 11,000 files on my PC in just 2 minutes. Similarly, Norton's full scan option checked over 770,000 files in less than 12 minutes. It detected and blocked 100% of threats, keeping my PC protected.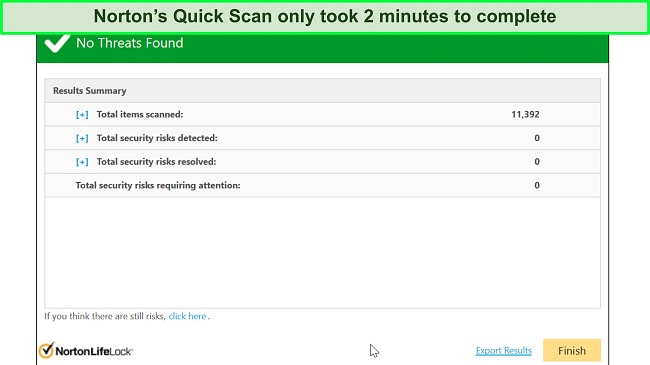 I was pretty surprised that Norton's free trial covers extra features in its offering. I found it easy to test its password manager, which allowed me to create and store secure passwords in an encrypted vault. Its VPN also allowed me to securely surf the web, ensure my online privacy, and stream my favorite movies when I traveled.
Luckily, Norton offers a 7-day free trial for premium plans such as the Antivirus plus plan, Norton 360 Deluxe, Select, and Ultimate Plus plans. I suggest using Norton's free trial on the Ultimate Plus plan. It is the most value-packed plan, covering unlimited devices and offering total security features, including antivirus and internet security bundles.
Key Features:
30-day free trial and 30-day money-back guarantee.
Robust antivirus engine.
Top-grade PC optimization tools.
File Shredder.
McAfee is a top antivirus brand that also comes with a free trial. Its free trial provides comprehensive protection against malware, phishing scam protection, web protection, identity monitoring, password manager, a file shredder feature, and more. Like Norton, McAfee didn't disappoint. It offered a premium antivirus service with no limitations on the trial version.
I like how McAfee helped me protect my devices by scanning thousands of files and removing malware from my computer. McAfee has a 100% detection rate, including protection against zero-day malware attacks. It took less than 5 minutes to check over 10,200 items during a quick scan and 53 minutes for a full scan of 590 files. Although McAfee's scan isn't as fast as Norton's, it still provides strong protection against malware.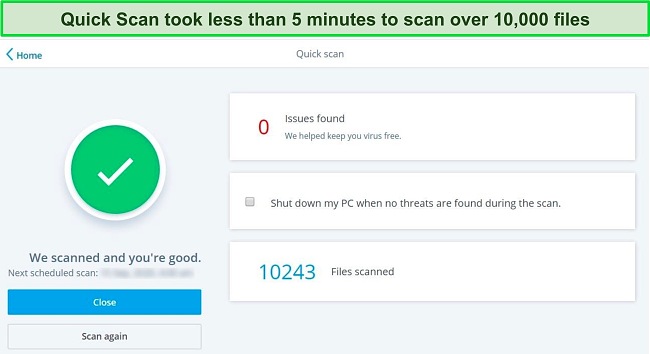 McAfee has other valuable features apart from its antivirus features. It provides reliable PC optimization features. My favorite of them is the file shredder. It provides a simple way to permanently delete sensitive files so that they cannot be recovered. It does this by allowing you to overwrite files 2, 5, or 10 times to ensure that they are permanently removed.
McAfee offers basic, premium, and advanced plans. However, the free trial is only available for the McAfee Advanced (Total Protection) plan. This plan covers 5 devices and provides identity theft coverage, VPN, and personal data cleanup. You will need to add your card information when signing up for the free trial, but you won't be charged if you cancel before the trial is finished. You can try McAfee's total protection on your Windows, Mac, iOS, and Android devices.
Key Features:
30-day free trial and 30-day money-back guarantee.
Malware Killer.
Privacy protection.
Advanced PC optimization tools.
IOLO has multiple products, including its antivirus and PC optimization tools. I was delighted to see different useful IOLO products for PC protection, including the Malware Killer, System Mechanic, Privacy Guardian, System Shield, and the IOLO VPN product.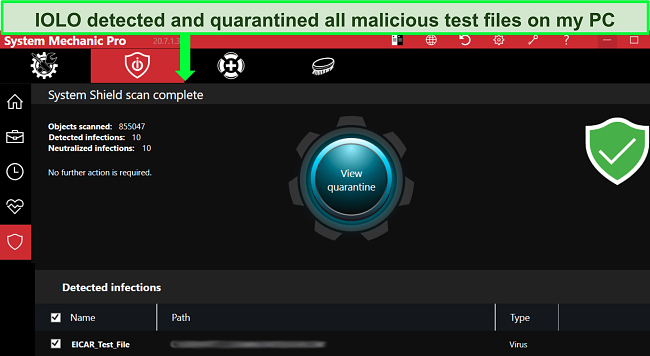 All the premium products offer a free trial, but you only get 1 free trial per PC irrespective of the product you download. For instance, if you test the Malware Killer product with the IOLO free trial, it applies to other subsequent products (e.g System Mechanic Pro) you download on that PC. So, if you've exhausted the trial period on that PC then it applies to the other IOLO products as well.
I found IOLO's different products very useful, especially System Mechanic Ultimate Defense. I like how IOLO's real-time protection was automatically enabled when I downloaded the software. I also like that the System Shield feature lets me quickly see if I need to adjust any settings to get complete protection.
In addition to the protection against malware, IOLO has a good number of PC speed-up tools, which improved my PC's performance, helping it run faster and efficiently.
Each IOLO product has only 1 subscription plan and is billed annually. Since there are so many products to choose from, you will need to decide on the specific product that meets all your needs.
After testing all the different products, I found the System Mechanic Ultimate Defense product to be the most comprehensive product, having the most valuable features. Signing up for IOLO's free trial doesn't require adding your card details, and you can try the IOLO System Mechanic Ultimate Defense plan risk-free for 30-days.
Key Features:
30-day free trial and 30-day money-back guarantee.
Strong antivirus engine.
OneClick PC optimizer.
File Shredder.
Bitdefender offers multiple antivirus plans with different features, but they all come with a free trial. This includes the Antivirus Plus, Internet Security, and Total Security plans. Bitdefender's free trial provides full access to the features of each plan, such as real-time data protection, anti-phishing protection, ransomware protection, VPN to protect your internet traffic, privacy tools, and other PC performance-enhancing tools.
The Bitdefender antivirus engine worked quite well. Even though it isn't as robust as top brands like Norton, it still provides a reliable malware protection system. Bitdefender detected 99.7% of real-time threats, a near-perfect detection rate. Its System Scan (full disk scan) took 48 minutes to analyze 980GB (2,191,971 files), while the Quick Scan took 7 minutes (10,938 files). Bitdefender detected 100% of malware — it even caught threats discovered only 4 weeks prior to my tests.
Apart from its antivirus engine, Bitdefender has other impressive tools. I found the anti-tracking browser extension most useful. It blocked advertisers from monitoring my online activities and serving me intrusive ads.
I also like the file shredder feature that helped me permanently delete sensitive documents from my PC so that they won't fall into the wrong hands. Bitdefender offers other tools like a password manager, a parental control app, and a webcam protection feature which are all included in the free trial.
Bitdefender was straightforward to use. It has different plans and features for your protection. The Antivirus Plus plan is the cheapest, but I prefer the Total Security plan as it is more comprehensive with not a huge price difference. When I signed up for the Bitdefender free trial, I didn't need to link my payment method therefore you can easily test out Bitdefender for 30 days.
Key Features:
30-day free trial and 30-day money-back guarantee.
Antivirus and real-time protection.
Password manager.
PC cleanup tools and personal data protection.
Panda offers 4 premium antivirus protection plans with free trials. It has the Panda Dome Basic, Advanced, Complete, and Premium subscription plans. Panda's free trial covers all its premium plans, and you get multiple features across the plans. After signing up for the antivirus free trial, I downloaded Panda and found it to be a pretty lightweight security solution.
I tested the Panda antivirus engine and found it to be effective. The Panda antivirus Critical Areas scan checked over 60,000 items in less than 3 minutes, which I thought was fast. It discovered a PUP (Potentially Unwanted Program) and sent it to Quarantine for me to look at. I also ran a Full Scan, which took just under an hour to scan over 850,000 items.
I was also pleased with the results I observed from Panda's real-time protection feature. During tests, Panda successfully detected and blocked 100% of real-time, zero-day threats.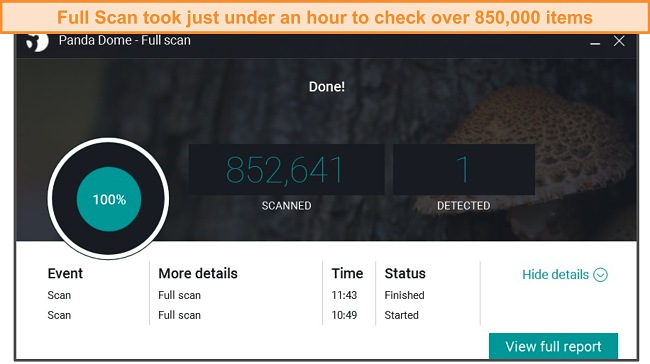 The Panda Dome Basic plan offers multiple features, including antivirus, real-time protection, VPN, and WiFi protection. Panda Dome Advanced provides all the basic features, including parental control, identity protection, and advanced threat protection. The best plan is the Panda Dome Complete plan which offers all the advanced features as well as a password manager, PC cleanup tools, and personal data protection.
Overall, Panda has a lightweight app, impressive features, and detected 100% of real-time threats (even new malware.) You can try any Panda premium plan for 30 days free. However, you need to create a Panda account and enter your credit card details (PayPal is also accepted).
Other Antivirus Competitors That Didn't Make the Cut
TotalAV
TotalAV is one of the best antivirus software out there. Although it doesn't have a free trial, it has a free basic version that lasts for just 7 days and a 30-day money-back guarantee to test out its paid plan. Its free version failed to make my list because it doesn't allow you to try out all of its premium features.
TotalAV offers a powerful antivirus engine that detects 100% of threats, removes malware, and offers real-time protection against zero-day threats. It also has multiple PC speed-up tools and privacy protection features that work excellently, keeping me safe and my PC optimized.
MacKeeper
MacKeeper is another excellent antivirus solution that didn't make it to my list because it offers a money-back guarantee but not a free trial. It has near-perfect malware detection rates and extra features like a VPN, ad blocker, and identity theft checker.
MacKeeper offers a short 14-day money-back guarantee, which is not as generous as the industry-standard 30-days period. However, after testing this antivirus for 1 week, I found it to be a reliable antivirus software to protect my Mac. You can also try some of the great antivirus solutions for Mac that are completely free.
Quick Comparison Table: 2022's Best Antivirus Software With Free Trials
| | | | | | | |
| --- | --- | --- | --- | --- | --- | --- |
| | Maximum users | Antivirus | Realtime protection | Starting Price | Free Trial | Money-back guarantee |
| Norton | Unlimited | ✔ | ✔ | $19.99 | 7 days | 60 days |
| McAfee | Unlimited | ✔ | ✔ | $34.99 | 30 days | 30 days |
| IOLO | 50 users | ✔ | ✔ | $19.97 | 30 days | 30 days |
| Bitdefender | 10 users | ✔ | ✔ | $29.99 | 30 days | 30 days |
| Panda | 10 users | ✔ | ✔ | $23.99 | 30 days | 30 days |
How I Tested and Ranked the Best Antiviruses With Free Trials in 2022
Strong Antivirus Protection — Getting an antivirus software with a free trial is useless if it can't protect you from all kinds of malware. It is crucial to get total protection against malware and keep your PC safe. This is why I selected only the antivirus software that offers a robust antivirus engine, near-perfect malware detection rates, and real-time protection against all types of threats, including zero-day threats.
Free trial — Although all the antiviruses that made it to my list had to offer a free trial, I didn't choose any antivirus that offered limited features on its free trial. All the antiviruses I selected provide full access to all the features in the antivirus suite. I also ensured that the free trial duration gives enough time to test all the antivirus features.
Extra features — Modern antiviruses offer more than just standard antivirus protection. With the ever-increasing number of cyber threats, it is vital to get comprehensive protection across all areas of digital life. I focused on selecting the antiviruses that offer a wide range of extra features like VPN, password manager, parental control, PC speed-up tools, and more.
Value for money — After testing the free trial of an antivirus, you may want to commit long term and need affordable options. I selected the best antivirus software that offers top-grade grade features at an affordable price. I also ensured that, in addition to the free trials, all the antivirus software that made it to my list is backed by money-back guarantees so that you're buying in confidence.
FAQ: Best Antivirus Software With Free Trials
Are premium antiviruses worth it?
Premium antiviruses are way better than their free counterparts in terms of superior features and trustworthiness. You can test all the premium antiviruses on my list using the free trials. Hackers are becoming more sophisticated, developing malicious threats such as ransomware, trojans, viruses, and spyware which can put your data at risk. A regular antivirus can't do much to protect you from these advanced threats.
However, premium antiviruses like Norton and McAfee provide 100% malware detection rates and real-time protection, allowing you to stay safe from the ever-evolving nature of cyber threats. In addition to protection from malware, these antiviruses also come with extra tools such as a VPN to protect your internet traffic, a password manager to help you create and store secure passwords, and PC optimization tools to keep your system at peak performance, and much more.
What is the best premium antivirus trial?
After testing 20+ antivirus suites, Norton is my top pick. While its trial isn't as long as others, you still get plenty of time to check out the premium features that set it apart from the competition. Norton is the most feature-rich antivirus software I've tested, and its free trial offers full access to all Norton's features. It even provides bonus tools, including a password manager, parental controls, VPN, and cloud backup.
Not just that, Norton has a superior antivirus engine that has a 100% malware detection rate and offers real-time protection against emerging threats and other antivirus features. I'm even more impressed by Norton's accuracy in detecting malware. A pitfall that antiviruses sometimes run into is being overaggressive and flagging normal websites or programs as malicious. However, Norton didn't falsely flag any websites or software as malware when a full system scan was performed.
Test Out the Best Antivirus Software for Free
Antiviruses are necessary tools to protect you from all kinds of threats, but not every antivirus software is up to the task. Hackers are getting more clever and modern malware is becoming sophisticated, requiring a more robust solution that addresses the emerging threats.
The best antivirus software offers premium features that protect against malware. These antiviruses have a powerful antivirus engine with excellent malware detection and real-time protection against evolving cyber threats. You should also experience minimal impact on your PC's performance. They also come with tons of extra features like a password manager, PC optimization tools, VPN, firewall, privacy tools, and much more.
Luckily, some of the premium antivirus software offer free trials that allow you to test the full service for yourself. I tested over 20 such antiviruses and shortlisted the best antivirus software with free trials among them. After all my tests, I found that Norton is the overall best antivirus with a free trial. It has the best antivirus engine and superior performance and comes with many additional cybersecurity features. You can get Norton for free using its 7-day free trial.
---
Summary — Best Antivirus Software with Free Trials in 2022