5 Best Antivirus Software for Mac and Windows Laptops 2022
Last Updated by Enemali Okwoli on July 01, 2022
Finding competent antivirus software to protect your laptop from the ever-increasing list of notorious security vulnerabilities can be quite a challenge. Hackers continue to evolve their techniques, developing sophisticated malware that can put your laptop at risk.
Most antivirus software only offers basic protection, especially those that often come preinstalled with your laptop. A good antivirus will give you real-time protection, offer WiFi security, optimize your laptop performance, and regularly identify and patch new security loopholes.
I tested more than 20 popular antivirus brands to make it easier for you to choose. I prioritized the antivirus software that offered different cybersecurity offerings such as a VPN, password manager, and anti-phishing protection. After all my tests, here's what I can tell you.
Try Norton risk-free for 60 days
Quick Guide: Best Antiviruses for Laptops
Try Norton risk-free for 60 days
How I Tested & Rated the Best Antivirus Software for Laptops
I tested 20+ antivirus suites to find the best ones for Windows and Mac laptops. I used the following criteria to determine which antivirus software was worth using.
Malware Protection — I looked for antiviruses with solid security features, specifically those with high malware detection rates on laptops. I tested the antiviruses against the latest threats, including viruses, ransomware, phishing, spyware, and other malware.
Useful features — I prioritized antiviruses that provided standard and advanced features. Having extra features isn't necessary if it isn't helpful. So, I focused on testing the truly useful features for Windows and Mac users.
Fast speeds — I shortlisted lightweight antiviruses that don't significantly affect my laptop CPU utilization. I ensured that only the brands that took a short time to scan my system and didn't slow down my PC were chosen.
Ease of Use — Antivirus software should be intuitive and user-friendly on PC. I paid attention to the suites that provided friendly setup and in-app navigation options on Windows and Mac devices. I also looked out for how helpful the available support options are.
Value for money — I only chose the antivirus software I tested and found to have valuable features suited explicitly for Windows and Mac laptops. I also checked to find out if the antivirus software had a free trial or money-back guarantee that I could test all the features effortlessly.
5 Best Antiviruses for Mac and Windows Laptops (Tested July 2022)
Key Features:
Provides 100% real-time malware protection for laptops
Ensures optimal PC performance during full-disk scans
Dark web monitor, VPN, SafeCam webcam blocker, and other add-ons
Cover up to 10 PCs and Mac laptops
Norton 360 stood out as the best laptop antivirus in 2022 during my tests. I found its solid security features, exceptional performance, and add-on features beneficial for complete protection. Norton provided real-time protection against all forms of malware both on my Windows PC and MacBook Air.
I was pleased with the performance of its antivirus engine. It detected and blocked 100% of malware threats, providing real-time protection during my tests. I was also glad to see my laptop performed optimally despite running an intensive full malware scan. I was able to carry out other activities like gaming and streaming without any significant impact on the speed of my computer.
Norton also provides other helpful cybersecurity features. I like how it detected and protected me from unsecured WiFi networks while also providing firewall protection for my laptop. This firewall prevents hackers from stealing my data by blocking suspicious traffic.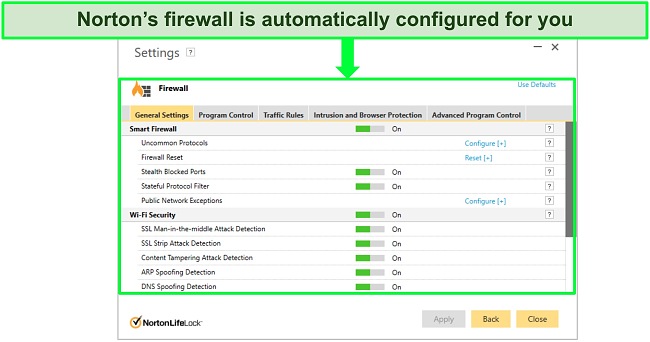 Additionally, I also like that Norton comes with VPN protection that helps me surf the web securely and a webcam blocker. It also offers a dark web monitoring feature that notified me of compromised accounts.
What I like most is that Norton is decently priced while providing great value. It has different prices and plans that allow you to cover up to 10 laptops. For $19.99 a year, you can get access to Norton's Standard plan which offers a superior antivirus engine and other useful extra features. If, however, you want to cover up to 10 devices and get up to 75 GB of cloud storage, then I recommend Norton's Premium plan as it is only a small price jump from the standard.
You can try Norton for free for 60 days with its money-back guarantee or by using its 7-day free trial. I suggest using the free trial to test the features before committing long-term.
Try Norton risk-free for 60 days
Key Features:
Offers 100% malware protection on Windows and Mac
Scans laptop for malware in a few minutes
Provides advanced internet security tools
30-day money-back guarantee on all plans
McAfee is a good laptop antivirus that provides all-around security. It features one of the best malware detection rates, detecting 100% of threats during my tests. I found its engine quite effective both on Windows and Mac. It took less than 3 minutes for a quick scan and 14 minutes for a full disk scan.
Although McAfee wasn't as fast as Norton, I didn't experience any significant slowdown on my PC while running the tests. One cool thing about McAfee is that it provides extra security features for web protection. Its firewall, VPN, anti-phishing, adware protection, and WiFi security protected my laptop from harmful traffic, networks, and files. My favorite feature is the vulnerability scanner that scans the installed apps on my PC for updates, thereby fixing any security risk associated with an older version of an app on my computer.
McAfee also has other useful features for laptops. Its secure file shredder permanently deletes selected files so that even if someone gains access to your work computer, they can't restore the sensitive data you deleted. Also, its Ransom Guard tool monitors your device against malicious altering of files, notifying you of any suspicious changes.
You can get protection on 1, 5, 10 or an unlimited number of devices. The lowest plan costs $34.99 but covers just 1 device. However, I recommend the Premium plan, which supports unlimited devices and gives you access to a VPN, personal data cleanup, identity monitoring, and much more. You can test all the features of McAfee on your computer risk-free for 30 days and get your money back if you're not satisfied.
Try McAfee risk-free for 30 days
Key Features:
Real-time protection against malware on PC
Improves laptop performance by removing unnecessary files
Offers additional security features like VPN and password manager
30-day money-back guarantee on all plans
TotalAV offers protection for laptops from all forms of malware. It detects and blocks viruses, rootkits, ransomware, spyware, trojans, and other threats. TotalAV's antivirus engine has exceptionally fast scanning speeds. It took only 10 minutes to scan 500 thousand files on my laptop. Despite that, it didn't affect my PC performance.
I like how TotalAV improves my laptop performance by decluttering it. It removed almost 4GB of junk, duplicate files, and cookies from my computer within a few minutes. It also helped me identify and uninstall less-used apps to free up space. TotalAV allowed me to improve my laptop boot time by managing the programs that start when I launch my computer.
TotalAV is a good choice for improved laptop performance. It comes with a VPN and password manager for additional protection. TotalAV is priced decently and offers different plans depending on how many laptops you want to use. You can cover up to 3 devices at just $29.00 a year with the Antivirus Pro plan. However, the Total Security plan covers up to 7 devices and has the most features which I find more useful. You can try any TotalAV plan risk-free using its 30-day money-back guarantee to test all its features.
Try TotalAV risk-free for 30 days
Key Features:
100% real-time malware protection for laptops
Restores infected laptops that cannot boot
Offers extra features like VPN and password manager
Cleans hidden malware from your laptop
Panda is a good antivirus for laptops. Like McAfee, it provides an effective antivirus engine that blocks 100% malware threats on Windows and Mac computers. It also features wifi protection, anti-phishing security, and a network firewall, all essential features to keep your PC safe. Panda also offers extra features like a VPN and a password manager that helps you save laptop data from hackers. However, the Rescue Kit feature stands out compared to top providers like Norton.
A "Rescue kit" helps you restore an infected laptop to order if it's unable to boot. It creates a rescue USB that eliminates all malware affecting your PC once plugged. It also runs a deep clean (Cloud Cleaner) that removes hidden malware that basic antiviruses miss. When I tested Panda's Rescue Kit, it restored my test computer in less than 20 mins.
Like TotalAV, Panda antivirus is reasonably priced. It offers different plans for your laptop depending on your operating system. The Mac app has 2 plans, while the Windows app offers 4 plans. All the plans support 1, 3, 5, 10, or unlimited devices.
The basic plan offers core antivirus features that provide real-time protection for your system and cost just $23.99 a year. The best value plan, though, is the advanced plan, which gives you a VPN, password manager, and parental control. You can test all the features of Panda risk-free for 30-days on your laptop.
Try Panda risk-free for 30 days
Key Features:
Lightweight laptop antivirus for fast scanning
Removes unnecessary files from your PC
Offers extra features like VPN and password manager
Offers a 60-days money-back guarantee
Avira offers a lightweight antivirus for laptops. It provides real-time protection against malware, fast scan speeds, and other extra features. When I tested the Smart scan feature, I was impressed that it scanned my laptop in under 2 minutes. It also didn't affect the performance of my laptop. Like TotalAV, Avira has a wide range of optimization tools that removes cookies, junk files, and other unnecessary files from my PC.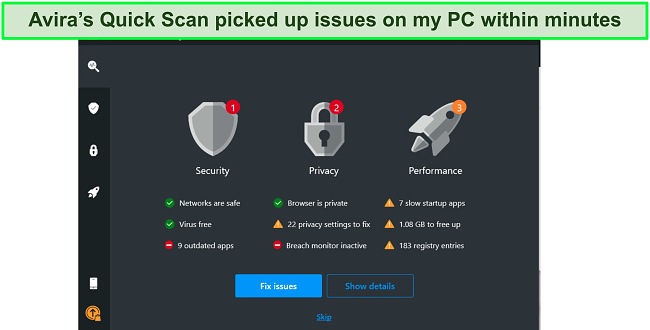 I like that Avira regularly checks my PC and updates outdated apps to keep me secure. Its network firewall and VPN protected my computer from online threats. I also used its password manager to encrypt and store sensitive information on my work laptop while using the file shredder to delete private information securely.
Avira offers different plans depending on your budget. It provides the Free, Antivirus Pro, Avira Prime, and Internet Security plans. The "Avira Prime" plan has the best value as it covers more features than the other plans. It features privacy tools such as a VPN and password manager alongside a PC cleaner. Despite that, you'll still find the other plans of good value. You can also test all the Pro features on your laptop risk-free for 60 days and get your money back if you're not satisfied.
Try Avira risk-free for 60 days
Popular Antivirus Brands That Didn't Make the List
During my tests, I came across a few popular antivirus programs that met some of the requirements that I tested for (but not all).
1. Intego
Intego is my number 1 go-to antivirus for Mac. It provides a powerful real-time malware scanner and performs excellently in detecting and removing all forms of malware. However, since it performs better on macOS than Windows, I couldn't add it to my list.
2. iolo
iolo detected and blocked every test malware on my PC and offers some of the best optimization tools. It is a Windows-only antivirus though and so did not make my list.
3. Vipre
Vipre is a good antivirus that offers reliable malware protection for Windows and Mac users. However, the Mac app has fewer features than the Windows app, and you will need to pay extra to use its more advanced features.
Comparison Table: 2022's Best Antivirus Software for Laptops
| | | | | | |
| --- | --- | --- | --- | --- | --- |
| | 99%+ Malware Detection | Firewall | VPN | Free Plan | Money-Back Guarantee |
| 1. Norton | ✔ | ✔ | ✔ | ✘ | 60 days |
| 2. McAfee | ✔ | ✔ | ✔ | ✘ | 30 days |
| 3. TotalAV | ✔ | ✘ | ✔ | ✘ | 30 days |
| 4. Panda | ✔ | ✔ | ✔ | ✔ | 30 days |
| 5. Avira | ✔ | ✔ | ✔ | ✔ | 60 days |
Try Norton risk-free for 60 days
FAQ: Best Antivirus Software for Laptops
Does my laptop really need antivirus software?
Yes. Viruses are still a modern problem for laptops. That is why most operating systems (like Windows and macOS) come with built-in antivirus that offers basic protection. However, modern antivirus software does more than just detect and remove viruses.
A good antivirus would provide real-time malware protection, anti-phishing protection, a fast antivirus engine, and PC optimization tools for improved laptop performance. It would also come with other equally essential security features such as a VPN, dark web monitoring, identity protection, and password manager. Top brands like Norton 360 and McAfee offer these full suites of features that ensure you get 100% protection on your laptop computer.
Can I get a free antivirus for my laptop?
Yes. However, most free antivirus software will only offer basic protection. They often lack real-time malware and ransomware protection, exposing your PC to the latest threats. Some "free antivirus" software are viruses disguised to trick you into installing them. So if you keep sensitive information on your laptop, you will need more than basic protection.
Premium antivirus packages usually come with 100% protection for your Windows or Mac computer. You'll also get other important security tools to protect your laptop from data theft. Luckily, high-ranking antiviruses like Norton 360 come with a 60-day money-back guarantee for you to try the service risk-free.
Will an antivirus slow down my laptop?
It depends on the antivirus you install on your laptop. All the antiviruses that made up my list were tested for speed and performance. Hence, the antivirus software I recommended in this list would not slow down your laptop. Also, the top antiviruses have optimization tools that remove junk files and apps to make your PC faster.
What laptops have built-in antivirus protection?
Windows and Mac laptops usually come with built-in antivirus protection. However, it only provides basic protection against malware while lacking optimization tools and the complete antivirus software's full security features.
Good antivirus software offers a wide range of security features such as real-time malware protection, anti-phishing protection, WiFi scanner, firewall, PC optimizer, VPN, password manager, and other necessary features that combat the latest cybersecurity threats.
Try Norton risk-free for 60 days
Protect Your Laptop From All Types of Threats
Computer threats have evolved, and sophisticated malware like ransomware can easily put your laptop at risk. This is why it is crucial to secure your Windows or Mac laptop with a powerful antivirus engine so that you can protect your data and be assured that hackers and cybercriminals won't hijack your computer.
It's hard to find the best antivirus software for your laptop. Most antiviruses aren't competent enough at detecting malware, blocking threats, and optimizing your laptop performance. Even when you find a good one, it often lacks important internet security features like a VPN, password manager, and firewall protection.
After testing multiple antiviruses, I discovered that Norton 360 offers the best antivirus software for laptops. During my tests, it had an excellent detection rate and 100% real-time protection against all forms of malware. It also had all the internet security features that I needed to secure my laptop. Norton offers a 60-day money-back guarantee, which allows you to test the antivirus on your computer risk-free.
Try Norton risk-free for 60 days
---
Summary – Best Antivirus Software for Laptops in 2022