Heimdal

Security Review 2022 — Hidden Gem or Just Another Antivirus?
Heimdal Overview August 2022
Heimdal claims to always be a step ahead of cybercriminals and charges a premium price for these benefits. However, Heimdal is also more expensive than established antivirus providers like Norton 360, TotalAV, and McAfee.
I wanted to see whether Heimdal is good enough to justify its high cost or if it's just another antivirus making false promises. So I thoroughly tested Heimdal on Windows, Mac, and Android — and the results were varied. While Heimdal does provide powerful malware scans, some useful features, and excellent customer support, a top-ranked antivirus like Norton 360 can do it all better and cheaper.
That said, Heimdal is still a very capable antivirus that excels at malware removal. If you want to test it for yourself, I recommend you try Heimdal with the 30-day money-back guarantee. This allows you to use Heimdal's best package (Premium Security Home) risk-free and request a refund if you're not satisfied.
Try Heimdal risk-free for 30 days!
In a Rush? Here's a 1-Minute Summary
Security - 7
Heimdal Security efficiently detects and removes existing malware from your machine. However, I wouldn't use Heimdal to safeguard my device from new and unknown threats as it lags behind market leaders. In contrast, top-tier antiviruses like Norton consistently achieve a 100% real-time detection rate.
Virus Scan — Top Malware Detection Rates With a Range of Scanning Options
Heimdal successfully detects malware discovered over the last 4 weeks. I tested this by running scans on a test machine with viruses, trojans, worms, and ransomware, and I'm happy to report that Heimdal discovered and flagged 99% of these threats.
The Heimdal Next-Gen Antivirus offers 3 different scans to select from: Quick Scan, System Scan, and Full Scan.
The Quick Scan looks for malware in the most commonly targeted locations:
C:Windowssystem32
C:WindowsSysWOW64
C:Program FilesCommon Files
C:Program Files (x86)Common Files
C:Windows
During tests, the Quick Scan took 18 minutes to go through 366,581 files. While such results always vary between devices, 18 minutes is a long time. Other premium antiviruses typically take 5-10 minutes to perform their versions of a rudimentary malware scan. Personally, I'd rather wait a bit longer and have the assurance that the scan detects each infected file, as this Quick Scan did.
I also ran the System Scan. This tool examines your system's executable files, which are often vulnerable to exploitation by cyberattacks. When I tested it, the operation went through 414,122 files in the machine's System 32 directory. The System Scan exposed every sample threat and took 24 minutes, which is on par with most antivirus programs.
Finally, I launched the Full Scan — a comprehensive inspection of all local drives. It uncovered every sample threat after scanning 470,133 files in 29 minutes. Like the System Scan, Heimdal's Full Scan took an average amount of time to complete.
You can also choose to scan only external drives, hard drives, or your network drives. You may find these options useful if you want to save time and localize your scanning to a specific location.
Real-Time Protection — Innovative Approach but Underperforms in Tests
Heimdal calls its real-time protection "DarkLayer Guard". DarkLayer Guard sends all your internet traffic through 2 sets of filters (a locally-based and cloud-based database). If the locally-based database doesn't flag a site as suspicious, the traffic flows through the cloud-based database for a final check.
I was disappointed to find that DarkLayer Guard falls short at stopping newfound malware. I exposed Heimdal to a range of newly discovered viruses, worms, spyware, and Trojans — and the DarkLayer Guard missed 17% of these threat samples. Norton 360 identified and blocked every threat in the same tests.
However, Heimdal does excel at blocking malicious sites or download links. I tested this by opening phishing sites during my tests — and the DarkLayer Guard flagged a warning every time. It also blocked each of my attempts to open emails with ransomware-infected attachments.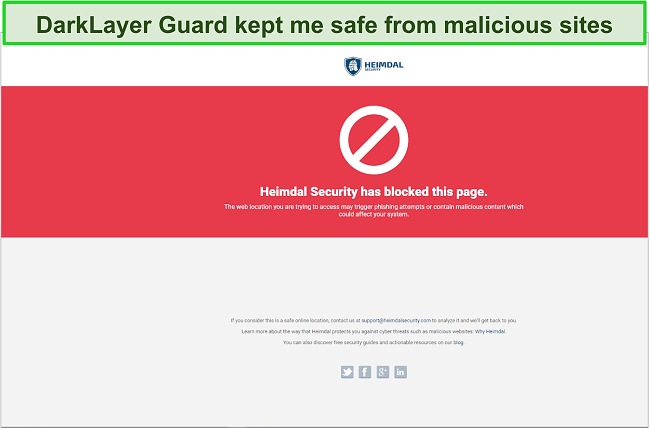 Real-time scanners like DarkLayer Guard typically hinder system performance, so I was glad to discover that the 2 layers of filtering had no effect on network speeds during my tests. In fact, I'm happy to say that running Heimdal Security in the background didn't noticeably slow my CPU speed. I had no issues browsing the internet or downloading, installing, and launching apps. The only negative impact came when I installed Adobe Acrobat Pro, which took several minutes longer than expected. However, I do find that longer installation times are commonplace with other premium antiviruses too.
Vector Detection — Highly-Effective Cyber Attack Prevention
VectorN Detection is a super-useful tool that assesses your risk of suffering from a cyberattack. It finds patterns in HTTP, HTTPS, and DNS traffic to flag processes on your computer that request access to malicious sites. When the patterns suggest that a process on the machine is trying to reach a blocked website, you'll get an alert. This way, you know it's time for a virus scan.
Conveniently, Heimdal identifies these potential threats on your machine. Working together with VectorN Detection and DarkLayer Guard, the Threat-to-Process Correlation (TTPC) function pinpoints malicious processes that Haimdal blocked after they tried to communicate with dangerous sites. This useful feature is fairly unique on the antivirus market.
Features - 2
Considering the price point, Heimdal doesn't have many features. You only get a firewall, automatic software updates, and secure app installation. Other premium antiviruses offer many more features for less money. For instance, TotalAV comes with a VPN, password vault, and colossal range of system optimization tools.
Firewall — Integrates Microsoft Defender's Firewall With Heimdal
I didn't find much added value in the firewall feature. This is just a tool for configuring the Microsoft Defender Firewall from Heimdal's interface (so it doesn't work on Mac). While I did find it convenient, I was surprised that Heimdal doesn't come with its own firewall. In contrast, Norton 360 comes with an in-built Smart Firewall at no extra cost.
Software Updates — Shields Apps From Exploits With Xploit Resilience
Xploit Resilience adds a highly-effective anti-malware defense layer by keeping all your apps up-to-date. The software update tool automatically monitors apps and updates them to the latest version on a preset interval. This way, the apps have their own latest security definitions and features, making them harder to infect and exploit by malicious processes.
When I tested Xploit Resilience, the feature promptly identified all my installed apps and flagged those out-of-date. I turned on monitoring and automatic patching for all my apps, and Xploit Resilience started to download the updates right away.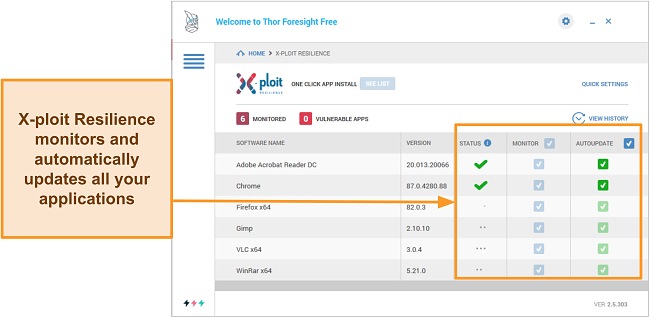 While I was happy with Xploit Resilience overall, the patching process could have been smoother. Four of the apps with pending updates were stuck "waiting" for the patch to download for hours. I reached out to support, and the agent advised me to reboot my device and try again. This time, all the patches were downloaded quickly, and my apps were up-to-date in less than 10 minutes.
Secure App Installation — Download Popular Apps Safely Online
I always get nervous when downloading new apps online, so I was pleased when I saw Heimdal's secure 1-click app installation feature. You can safely download apps from Heimdal's list of over 100 options, including Adobe Acrobat, Apache Open Office, Chrome, CCleaner, Dropbox, Firezilla, Firefox, iTunes, Java, Libre Office, Remote Desktop Manager, Zoom, and others.
To test the feature, I installed TeamViewer 15 from the list. The installer is conveniently located in the Xploit Resilience tab — all I had to do was click "Install" and the app was ready to use in less than 30 seconds.
Ease Of Use - 9
You don't need to be a tech pro to navigate Heimdal Security, but the program does come with some minor glitches. This includes a malfunctioning app updater I encountered. Even so, both the desktop and mobile apps are easy to install and all the features are displayed in a user-friendly interface.
Desktop Apps — Easy to Navigate on Windows and Mac
You'll need Windows (versions 10, 8 or 7) or macOS High Sierra and above to install and operate Heimdal Security on desktop devices. The installation is simple — you'll get a download link in your confirmation email after purchasing the plan of your choice. On my Windows 10 computer, the installation process took less than 10 minutes.
I'm pleased to say that the interface is also built with the average user in mind. Since Heimdal Security is split into 2 separate products (Threat Prevention Home and Next-Gen Antivirus) the interface also has 2 separate tabs. You can quickly switch between them at any time.

The Threat Prevention tab clearly displays your blocked threats, their identity, your risk of suffering a malware infection, and out-of-date applications. Meanwhile, the Next-Gen Antivirus tab gives you a range of scanning options, a way to access quarantined and infected files, and a means of configuring the Windows Firewall.
The settings are straightforward, with explanation tabs for each feature and easy toggles to help you configure your Heimdal app. After installing the program, it took me only minutes to initiate my test scans and start patching outdated apps.
The only major issue I came across was with Xploit Resilience, which became unresponsive while downloading the app patches. With the support team's recommendation, I simply rebooted my device, and the feature quickly completed the downloads.
Bear in mind that Heimdal Security might not work if you have another antivirus installed (except for Microsoft Defender). I tried to open the app with TotalAV installed on the same machine and found that none of Heimdal's features were working. I had to completely uninstall the other antivirus before I could run Heimdal's virus scans or turn on real-time protection. This is a common occurrence — many antivirus providers warn users to remove other security software before installing theirs.
Mobile App — Protect Your Android Smartphone in Seconds
Like the desktop apps, Thor Mobile Security for Android is easy to use. The simple interface lets you quickly run a malware scan or switch between the threat protection and antivirus programs.
It even comes with a VPN, which needs to be turned on if you want the DarkLayer Guard and VectorN to work. You can't configure the VPN or choose servers though — Heimdal routes you through its own system instead. I found this strange, especially since many top-tier antivirus products come with a decent VPN service included.
The good news is that unlike the desktop apps, Heimdal Mobile Security works well with another antivirus present. I had TotalAV up and running on my smartphone, and Heimdal launched without issues.
Support - 10
Though in-person support is limited to email, I was incredibly impressed by the helpful and fast assistance I received. The support agents are knowledgeable, genuinely caring, and will continue following up until your issue is completely resolved. However, Heimdal's support is limited to specific working hours, so you won't always get the quick responses I just praised. During off-hours, I suggest you rely on the online knowledge base instead.
Online Knowledge Base — Find Your Own Solutions With a Quick Search
I'm a huge fan of Heimdal's online knowledge base as I found many simple solutions to questions I had. I also found an exhaustive FAQs library that covers technical and billing questions. The separate "Product Guide" page feels much like a continuation of the FAQ section, as each article addresses a technical issue.
If you don't want to browse through all these posts and libraries, you can quickly type your query into the support page's search field.
Email Support — Receive Fast and Friendly Help During Business Hours
To email Heimdal, you simply visit the website and click on the "Help" icon on the bottom-left corner of the page. Once you fill out the details in the form, your query will be submitted to Heimdal's customer support team.
I submitted a query about Xploit Resilience not updating my apps properly — and I got an emailed answer in less than 5 minutes! The support agent gave me an effective fix for the issue and even followed up twice over email to see if it worked.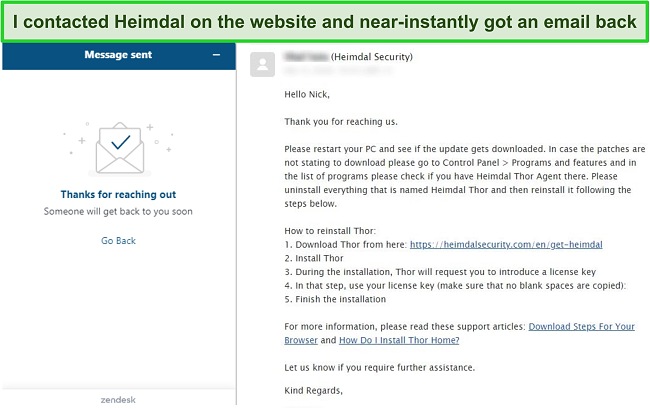 Submit a Ticket — Get Your Answers in Minutes
This is another effective way of reaching the same agents and starting an email conversation. I asked if Heimdal Security could work on my slightly older personal Mac and I got an email response in under 1 minute.
Unfortunately, Heimdal's support agents are not available 24/7. You can only reach them from Monday to Friday, between 9am and 9pm Central European Time (CET). So while the response time is prompt, your queries will only be answered during these working hours.
Price - 3
Heimdal Security is notably more expensive than many of its competitors. That's because unlike the more popular premium antiviruses, Heimdal doesn't offer lower prices for the first year of subscription. That's disappointing since Heimdal underperforms in real-time protection and offers far fewer features than other security providers.
If you're looking for 100% protection against real-time threats, a reliable malware detection tool, and a substantial selection of features, Norton 360 is a far more suitable option that also costs less.
| | | | | |
| --- | --- | --- | --- | --- |
| | Heimdal Free | Threat Prevention | Next-Gen Antivirus | Premium Security Home |
| Threat Protection | ✘ | ✔ | ✘ | ✔ |
| Secure Web Browsing | ✘ | ✔ | ✘ | ✔ |
| Phishing Protection | ✘ | ✔ | ✘ | ✔ |
| Block Data Leakage | ✘ | ✔ | ✘ | ✔ |
| Automatic App Updates | ✔ | ✔ | ✘ | ✔ |
| 1-Click App Installation | ✔ | ✔ | ✘ | ✔ |
| Windows Firewall Integration | ✘ | ✘ | ✔ | ✔ |
| Malware Scanner | ✘ | ✘ | ✔ | ✔ |
| Customer Support | ✔ | ✔ | ✔ | ✔ |
| Money-Back Guarantee | ✘ | ✔ | ✔ | ✔ |
Heimdal Free — Only Helps to Install and Update Apps Safely
There is a free version of Heimdal's antivirus, but it's not worth your time. It only offers the Xploit Resilience feature, which lets you quickly patch outdated apps and protect them against exploits. If you are looking for malware scanning or real-world protection, you'll have to get one of the 3 paid programs.
Heimdal Next-Gen Antivirus Home — Removes Existing Malware but Won't Stop Newfound Threats
The Next-Gen Antivirus Home plan is the cheapest plan. However, it only offers a virus scanning tool and a convenient way to control the Windows Firewall. The antivirus won't block real-time threats from infecting your machine.
Heimdal Threat Prevention Home — No Virus Scan (Only Real-Time Protection)
Threat Prevention Home provides real-time protection, a risk assessment feature, and a simple way to install and update applications. However, Heimdal's real-time protection was only 83% effective during tests (this score is far below Norton's 100% result).
Unfortunately my biggest concern is that Threat Prevention Home doesn't allow you to perform malware scans, remove, or quarantine infected files on your machine — all of which is crucial for an antivirus.
Heimdal Premium Security Home — Comprehensive but Overpriced Antivirus
The Premium plan combines the proactive and reactive features into a single, powerful antivirus product similar to market-leaders like Norton 360 and TotalAV. That being said, Heimdal's Premium Security Home costs quite a bit more (especially since it lacks the heavy first-year subscription discounts offered by Norton). Heimdal's Premium plan also lacks the standard features that most premium providers offer, such as a VPN, a password vault, and device optimization tools.
30-Day Free Trial — Try Heimdal Without Paying Anything
Heimdal Security has a free trial for 30 days — you don't even need to provide any payment information. All you need to activate a free trial is download the client and enter your email to make full use of the product. Once your trial period is over, you can sign up for a paid plan and try it for another 30 days with Heimdal's money-back guarantee.
30-Day Money-Back Guarantee
Like its top-tier antivirus counterparts, you can try Heimdal risk-free with its 30-day money-back guarantee. Even if you opt for the paid version straight away, you can get a full refund if you cancel within 30 days. When I finished testing the program, I submitted a ticket to the customer support team asking for my money back. My refund was confirmed in under 30 minutes — no questions asked.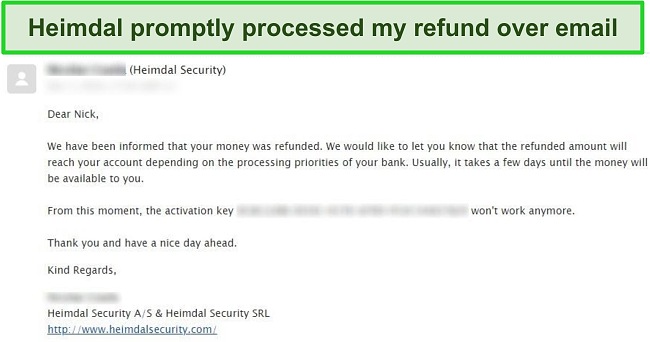 Final Verdict
The antivirus market has plenty of cheaper and more effective solutions than Heimdal Security. While the Heimdal Next-Gen Antivirus Home is a powerful malware detection tool, it won't protect your machine from real-world threats. Conversely, Heimdal Threat Prevention Home offers some degree of protection against new-found threats but can't remove existing malware.
For similar prices, I suggest you consider a more comprehensive antivirus like Norton 360. This program excels at detecting cyber threats (including newly-discovered malware), comes with a decent range of optimization features, and has top-notch customer support.
The only Heimdal software I liked was its top-tier package (Heimdal Premium Security Home), which combines these reactive and proactive defenses into a quality security product. You don't have to take my word for it though — you can sign up for Heimdal with the 30-day money-back guarantee. It's completely risk-free to get your money back — I've even tested it myself and I easily got a full refund approved within 30 minutes.
Try Heimdal risk-free for 30 days!
FAQ: Heimdal Antivirus
Is there a free version of Heimdal Security?
Yes. However, the free version only offers Heimdal's app update and installation functions. You can't use it to scan for viruses or block malware threats.
Instead of wasting time with the limited free version, I recommend you try Heimdal's Premium Security Home free for 30 days using its money-back guarantee. You can test each feature, including the threat protection and next-gen antivirus, without providing your credit card details. All you need is your email address to activate the free trial. Even if you pay for Heimdal Security upfront, you still have 30 days to change your mind and get your money back.
Is Heimdal Security any good?
Heimdal Security offers decent security, but its high price point isn't justified. Its antivirus comes with a superb malware detection tool but performs below average in real-time threat protection.
The feature library also underwhelms. The only features you get with the pricey premium plan are automatic app patching and one-click app installation. The support agents are friendly and helpful, but not available 24/7. In contrast, Norton 360 comes at a similar price point and is packed with more powerful features.
What devices does Heimdal Security work on?
I tested Heimdal Security on Windows, Mac, and Android. Unfortunately, there is no app for iOS, so you can't use it to protect your iPhone or iPad. I also found that Heimdal Security also doesn't work on desktop if you have another antivirus installed (with the exception of Microsoft Defender).
Will Heimdal Security slow down my computer?
Like any other antivirus, Heimdal Security will slightly slow down your machine. During my tests, Heimdal Security ran in the background while I browsed the internet and downloaded a variety of apps. The only noticeable dip in CPU speed performance came during app installation, which is relatively consistent for most premium antiviruses.
Top Choice