How to Watch the Oscars Online for FREE in 2022
Last Updated by Kate Hawkins on May 11, 2022
As a huge cinema fan, I wait a whole year to watch The Oscars, but I always struggle to see who takes home the golden statues when I'm abroad. The event is broadcasted on ABC, Hulu, CTV, and other sites that lock their streams to selected few countries. However, my cybersecurity experience taught me I can unblock The 2022 Oscars from anywhere by connecting to a VPN.
I tested 41 VPNs and shortlisted the best 3 that can unblock The Oscars, so you don't waste time on vendors that don't work. My tests showed that ExpressVPN is among the most reliable VPNs when it comes to bypassing geo-restrictions on official Academy Awards streams. I could also take advantage of ExpressVPN's money-back guarantee to use it without any risk for 30 days!
Watch The Oscars with ExpressVPN
Quick Guide: 3 Steps to Watch the 2022 Oscars
Get a VPN. ExpressVPN has ultra-fast speeds that let you watch The Oscars without interruptions. Use its money-back guarantee to test it for 30 days!
Connect to a server in the US, UK, or Australia. The US and Australian servers will give you access to 2 platforms broadcasting The Oscars for free.
Start watching The 2022 Oscars! Once the event is over, use your VPN to watch other award ceremonies, like the Golden Globes or the Grammys.
Watch The Oscars with ExpressVPN
Why You Need a VPN to Watch The Oscars
You can watch the 2022 Oscars only on certain channels, like ABC in the US, as the event is subject to broadcasting rights and licensing restrictions. If you're outside the broadcasting area, you'll be blocked from streaming the channel — even if your subscription covers access to it. That's because your IP address reveals information about your exact location and triggers viewing errors on all broadcasting sites. With the help of a quality VPN, you can get around those blocks to stream the content you want.
Unlike virtual proxies and the incognito mode, a VPN gives you its server's local IP address to make it seem you're in a country with Academy Awards streaming rights. Once your connection is established, broadcasters see only the server's location and give you unrestricted access to its content.
However, many VPNs don't offer great security and leak your location details. If that happens, you'll be immediately cut off from your stream. To see every moment of The Oscars, you need a VPN service with strong encryption that gives you unbreakable anonymity. ExpressVPN repeatedly proved to be one of the most reliable vendors when it came to unblocking the 2022 Oscars online. All of its servers in the US, the UK, Canada, and Australia have best-in-class security and let me watch the entire event from abroad. You can even take advantage of ExpressVPN's money-back guarantee to watch The Oscars risk-free.
Watch The Oscars with ExpressVPN
Use These Platforms to Easily Watch The Oscars in 2022
If you connect to an ExpressVPN server in the US, you can create a free Locast account to watch The Oscars without paying for a streaming subscription. You won't even need to provide a local zip code, but make sure to allow the platform to check your VPN location to access live channels. Alternatively, you can choose a server in Australia to unblock 7plus and stream The Oscars for free. Just use a random Australian postcode (like 4047) to register without paying.
However, the 2022 Oscars are broadcasted across multiple platforms in the US, the UK, Australia, and Canada. Though most of these websites accept only local payment methods, you can pay for your Hulu subscription with a gift card from MyGiftCardSupply.com. To get unrestricted access to the awards ceremony quick, use one of these official broadcasters:
| | | | |
| --- | --- | --- | --- |
| Streaming Platform | Accepted payment method | Free trial | Languages available |
| Locast | Free to use | Sign up with your email to use the service for free | English and Spanish |
| 7plus | Free to use | Watch for free when you sign up with an Australian postcode (I used 4074) | English |
| Hulu | US credit card or PayPal, but also accepts gift cards from MyGiftCardSupply.com | 7-day free trial | English and Spanish |
| YouTube TV | US credit card or PayPal | 7-day free trial | English |
| NowTV with Sky Cinema Pass | UK credit card or PayPal with a UK postcode as an account confirmation (like SW1W 0NY) | 7-day free trial | English, German, and Italian |
| AT&T TV | US credit card or PayPal | N/A | English, French, Spanish, German, and Chinese |
| CTV | Use the platform only if you have a Canadian TV cable subscription | N/A | English and French |
While you're likely to find unlicensed free streams of the Academy Awards ceremony, avoid using them as they can put you in danger. Cybercriminals set up malicious websites that offer free access to live streams to break through your device's security. They then steal your personal information for scams, identity theft, and other hacking purposes. If that wasn't enough, copyright authorities constantly take down the unofficial streams as soon as they find them. This means you may get cut off before the ceremony even starts, and you could miss out on seeing who gets to take the statue home.
The unlicensed streams aren't worth the hassle — instead, I'd advise you to make the most of ExpressVPN's money-back guarantee for 30 days. You can combine this offer with one of the free 2022 Oscars broadcasters to watch the Academy Awards event without committing to a long-term subscription! Just request a refund to cancel your account if you change your mind at any point during the trial period.
Watch The Oscars with ExpressVPN
3 Best VPNs to Watch The Oscars in May 2022
Key Features:
3000+ servers in 94 countries with over 160 servers in the US, UK, Canada, and Australia
Blazing-fast speeds so you can remove any chance of your streams lagging or buffering at any point
Access the 2022 Oscars even on 5 devices at once
24/7 customer support available through live chat and email
30-day money-back guarantee
ExpressVPN is a great choice for streaming The Oscars because of its blazing fast speeds. I expected my traffic to slow down when I set up my connection, but ExpressVPN's servers were as fast as my base internet speed. I streamed The Oscars live on every broadcasting service without lag, buffering, or long loading times.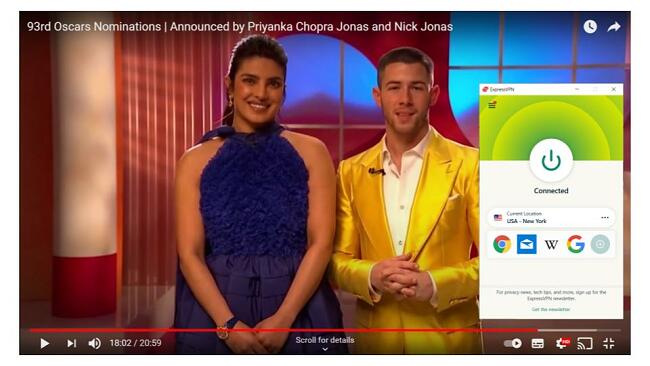 The VPN's default protocol already gave me fast connections, but I could increase my speeds with ExpressVPN's Lightway protocol. My traffic went up by 15Mbps which automatically improved the video quality to 4K. You can easily enable it in your VPN settings, and you'll notice the difference in your stream instantly.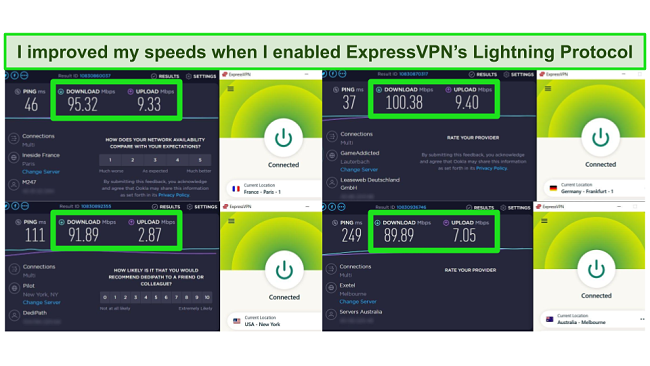 If you need to bypass censorship in China and other countries with restrictive laws, ExpressVPN can go around any firewalls to help you watch the 2022 ceremony. The VPN uses some of the toughest security protocols and bank-level encryption to ensure you won't be blocked from accessing any content online.
I noticed ExpressVPN offers slightly more expensive subscriptions than other VPNs. Don't worry — you can save even 49% when you sign up through its hidden deals page. Whether you decide to use the promotion or not, you can try ExpressVPN at no risk to you with its 30-day money-back guarantee. That way, you'll get your money back if you decide to get a different VPN. As the vendor offers "no questions asked" refunds, the live chat advisor authorized my request without trying to change my mind first. I saw the full fee was in my bank account 4 days after.
ExpressVPN also unblocks: Locast, AT&T TV, Hulu, YouTube TV, NOWTV, 7plus, CTV, fuboTV, Sling TV, and more.
ExpressVPN works on: Windows, Mac, Android, iOS, Linux, Chrome, Firefox, Safari, Amazon Firestick, Samsung TV, Amazon Fire TV, routers, and more.
Watch The Oscars with ExpressVPN
Key Features:
7900+ global servers with over 2,500 servers in the US, the UK, Canada, and Australia
Multiple optimized servers designed to provide HD streams from everywhere
Watch The Oscars on up to 7 devices at the same time
24/7 live chat and email customer help
45-day money-back guarantee
CyberGhost has servers dedicated for instant and bufferless streaming of The Oscars and other award ceremonies from anywhere. These locations are programmed to hide your traffic, unblock the platforms you want, and let you stream in the highest resolution possible. While I only found servers for Hulu and YouTubeTV, I could still use them to watch The Oscars on Locast and AT&T. I also easily unblocked NowTV with UK BBC iPlayer and Netflix servers.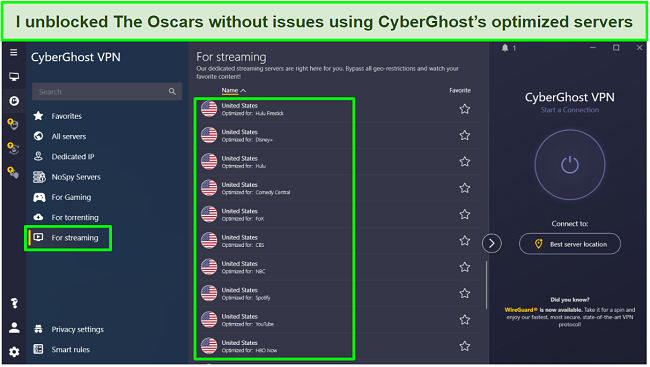 To watch The Oscars on 7plus, you'll have to connect to CyberGhost's regular servers in Australia. Though the standard servers were 10-15Mbps slower, I streamed the whole ceremony in 720p. That's still impressive as I normally get a ton of lagging when I watch anything on servers too far from me — and Australia is over 10,000km away!
If you know many movie fanatics, you can use CyberGhost to share your account and watch The Oscars even on 7 devices. My tests showed CyberGhost's speeds didn't slow down even when I maxed out my connections. This let me watch the Academy Awards in HD on my smartphone and PC, while my family enjoyed it on 2 Smart TVs and 3 iPads.
If you get CyberGhost with its money-back guarantee, you can use it for 45 days risk-free. I tried this policy out myself and requested a refund through the 24/7 live chat after 23 days of subscribing. I had to explain why I wanted to cancel, but my request was approved when I said I wasn't interested in the VPN anymore. I received the refund within 6 business days.
CyberGhost unblocks: Locast, AT&T TV, Hulu, YouTube TV, NOWTV, 7plus, CTV, fuboTV, Sling TV, and more.
CyberGhost works on: Windows, Mac, Android, iOS, Linux, Chrome, Firefox, Safari, Amazon Firestick, Samsung TV, Amazon Fire TV, routers, and more.
Watch The Oscars with CyberGhost
Key Features:
35,500+ servers across the world and over 28,000 servers in the US, Canada, the UK, and Australia
Good streaming speeds regardless of how many devices you connect
Unblock The Oscars even on 10 devices simultaneously
Responsive 24/7 live chat and email helpdesk
30-day money-back guarantee
Private Internet Access has 28,000+ servers in countries broadcasting the 2022 Oscars that can help you unblock the ceremony online. During my tests, I found that PIA's servers instantly loaded my streams and let me watch The Oscars in HD. That's because such a large server network greatly reduces the likelihood of any locations slowing down due to overcrowding. This means your stream won't buffer as you're about to find out who takes the famous statues home!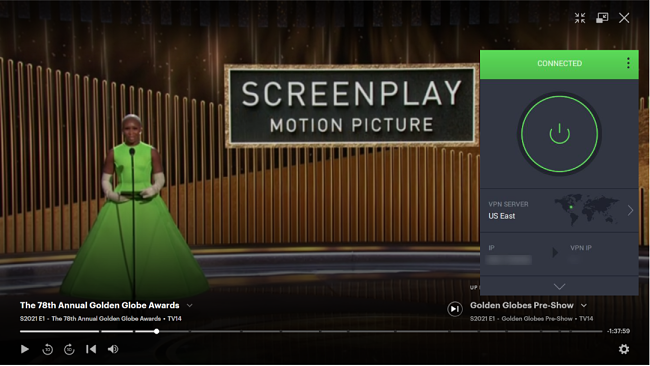 You won't have trouble connecting to a server as PIA is a great VPN to use on Windows, iPhone, Android, and other operating systems. I only had to select the country I wanted to connect to, and the VPN found the fastest server for me in 10 seconds. That way, I didn't have to worry about buffering and could appreciate everyone's designer outfits without excessive pixelation.
While I noticed slight drops in my speeds on servers half a world away from me, I had no problems watching The Oscars with close-to-zero buffering. However, you may experience minor lags if you simultaneously host a virtual watch party with your friends.
Before making a final decision, you should try PIA with its money-back guarantee. This gives you 30 days to check if you're fully happy with the service. You'll get a refund if you cancel your account through email or the 24/7 live chat within that time — I did it myself! A PIA representative offered to fix any issues, but he approved my request after I declined. I received the money in my account within 5 days.
PIA unblocks: Locast, AT&T TV, Hulu, YouTube TV, NOWTV, 7plus, CTV, fuboTV, Sling TV, and more.
PIA works on: Windows, Mac, Android, iOS, Linux, Chrome, Firefox, Safari, Amazon Firestick, Samsung TV, Amazon Fire TV, routers, and more.
FAQs on Watching The Oscars With a VPN
Is using a VPN to watch The Oscars legal?
Even though the event is under copyright laws, it isn't against the law to connect to a VPN to access The Oscars. This means you won't get in legal trouble if you use one to unblock the ceremony.
However, some countries frown upon VPN use and force your Internet Service Provider (ISP) to slow down your speeds if it notices you connect to a foreign server. Don't worry — a quality VPN can stop anyone from spying on your activity and interfering with your traffic. ExpressVPN's servers are obfuscated, which means no one will see you're using a VPN at all! It adds an extra layer of security, which is great if you'd like peace of mind while watching The Oscars. The VPN comes with a 30-day money-back guarantee so you can test how well ExpressVPN can hide your traffic and get a refund if you change your mind.
Watch The Oscars with ExpressVPN
I'm having trouble streaming The Oscars, is my VPN the reason?
It's possible, but your VPN probably isn't the main reason you can't stream The Oscars. However, if you choose one of the top VPNs for watching the 2022 Oscars, you'll be able to avoid most streaming issues.
Many official broadcasters may struggle to handle the user load on their servers during popular events, like The Oscars. This can severely impact your connection and even kick you out of the stream entirely. If you find yourself staring at the 404 error or stuck in endless buffering, try refreshing the page until it works. Very often, your ISP may also intentionally slow down your speeds to abide by copyright laws. They do that to make your broadcast unwatchable, forcing you to give up on streaming it.
I found I could avoid both issues with a secure VPN connection. A strong VPN encryption makes your traffic invisible and stops your ISP (and everyone else) from applying restrictive measures against you. Choosing a server in an Oscar-streaming country also reduces your latency — the time needed for your traffic to reach the website. This decreases your loading times and makes your connection more stable, so you're less likely to lose access to the stream.
While it's unlikely, your VPN can get blocked by streaming platforms. That happens only if specific IP addresses from the vendor's database are flagged by anti-VPN technology applied on many sites. If you can't open The Oscars stream because of your VPN, reconnect to another server and clear your cookies and cache. This will reset your connection, giving you a brand new IP address which was enough for me to continue watching the event.
If you're still having problems, ask your VPN for help. ExpressVPN has one of the most responsive teams of online advisors available through live chat. I connected to a VPN expert in less than a minute, and he walked me through all possible solutions to get my stream working. Better still, if you download ExpressVPN with its money-back guarantee, you'll be able to get instant help for up to 30 days!
Watch The Oscars with ExpressVPN
What can I use a VPN for after the 2022 Oscars is over?
The top streaming VPNs access blocked content from streaming services and TV channels (like Netflix US, Hulu, and Disney+) so you don't miss any Oscar-worthy content. You can also use them to keep up with other award ceremonies, including The Golden Globes, The Grammys, and more.
A quality VPN also gives you total anonymity and protects your data when browsing, streaming, and shopping online. By encrypting your connection, a VPN protects your information from being seen by hackers, government agencies, and advertisers. This stops ads from interrupting your streams, accidental malware downloads and lets you torrent files without any limits.
Don't Miss a Moment of the 2022 Oscars!
You don't have to miss out on The Oscars — just get a premium VPN, and you'll unblock the Academy Awards ABC on Hulu, YouTube TV, and more from anywhere. A quality service can help you stream the ceremony with zero lags and buffering while keeping your video at high quality!
Finding the perfect vendor is time-consuming, so choose one of the 3 VPNs on the list to start watching the 2022 Oscars fast. ExpressVPN is a fantastic choice with its fast speeds and top-of-the-class unblocking technology that works with the official broadcasters. You don't have to commit to it straight away as you can test ExpressVPN with its money-back guarantee for 30 days. You'll get a full refund if you decide you don't want to keep it after the awards ceremony is finished for another year. I received the money only 4 days after canceling my own subscription!
Watch The Oscars with ExpressVPN
Summary — Watch The Oscars Now With These VPNs (Updated 2022)
Top Choice