How to Live Stream the Oscars for FREE (Updated 2019)
Last Updated by Gray Williams on September 04, 2019
There is something special about watching the Oscars. You never know what may happen and it's just not the same if you have to read about it, or just look at video clips the following day.
The 91st Academy Awards are going to be held on February 24th beginning at 8:00 (EST) and is being broadcast in the US on ABC.
But what if you are outside the US? How can you live stream all the glitz and glamour coming from Hollywood?
We found a free and legal streaming site that will allow you to live stream all the excitement, from the red carpet until the final golden Oscar trophy has been handed out.
The first thing you will need is a VPN that can make it appear as if you are in the US, if you already have one that's great, but if not you will need to buy one. If you just want the VPN for the Oscar's then you can take advantage of the 30-money back guarantee and it will be a truly free experience.
Watch the Oscars with ExpressVPN
How to Stream the Oscars for Free on Locast.org in 4 Steps
Get a VPN with US servers. ExpressVPNis one of the best VPNs on the market. If you want a cheaper VPN that will also do the trick, check out Surfshark.
If you are using ExpressVPN connect to a Washington DC server and if you're using Surfshark connect with a New York server.
Go to Locast.org, it's a site that streams local TV stations. You will need to create a free account to stream, and then just choose the location that matches your server city.
Find the ABC channel on the TV guide and start the stream. (It can take a few seconds before the stream begins)
Watch the Oscars with ExpressVPN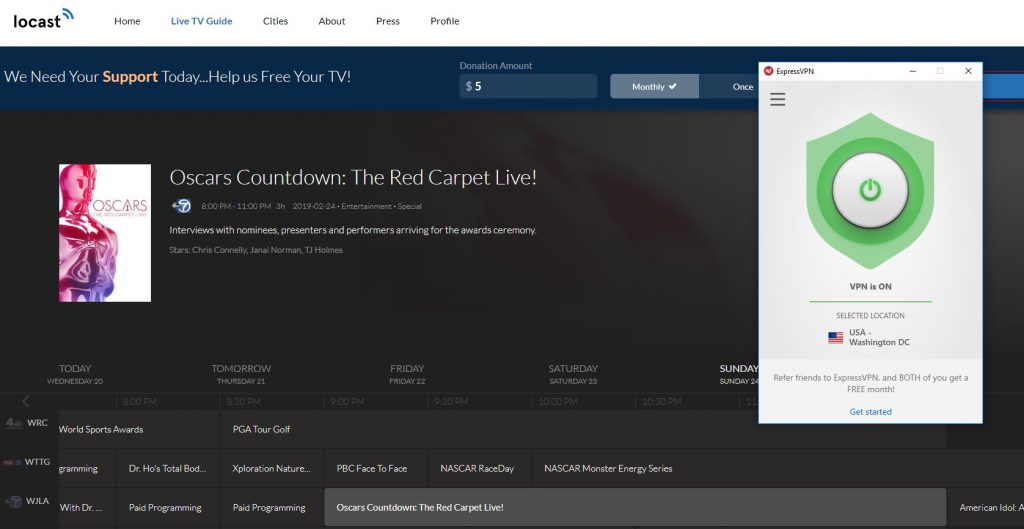 We used ExpressVPN to bypass geo restriction and access locast.org
How to Watch the 91st Academy Awards on 9NOW in 4 Steps
Another option is Channel 9 Australia, which also has a free stream as long as you have an Australian IP address.
Get a VPN with Australian servers. We usedNordVPN for our test and had no issues bypassing the geo-block.
Connect with an Australian server.
Go to the 9NOW website. You will need to create a free account and use a real Australia Post Code, if you don't have one, just put in 4000.
Click on the Live TV menu option at the top of screen and enjoy the show.
Watch the Oscars with NordVPN

We had no issues streaming 9NOW Live TV with NordVPN
The Best VPNs for Live Streaming the Oscars
Rank
Provider name
Our score
Price
Why Can't You Use a Free VPN to watch the Oscars
The simple truth is free VPNs just aren't as good as premium products. We tested TunnelBear and Windscribe, two reputable and safe free VPNs, but we got an error message both on locast and 9NOW that we were unable to stream based on our location. These error message went away as soon as we turned on the VPNs listed above. As we mentioned at the beginning, all the VPNs listed above come with a 30-day money back guarantee, which means you can cancel the account after the show and you will enjoy the show completely free.
Controversy at This Years Academy Awards
The 91st Academy Award show isn't without a bit of controversy. The Academy had initially tapped comedian Kevin Hart to be the host and MC of this years show. However, after combing through some old tweets, event coordinators found some offensive tweets spanning from 2009 – 2011. This years show will go on without a host for the first time in over 30 years.
The second controversy occurred when the Academy decided that will present some of the less popular Oscars during commercial breaks. Many big names, including Seth Rogen and Russell Crowe, blasted this decision calling disrespectful. The Academy since reversed their decision and all 24 Oscars will be presented on live television.