How to Watch the Oscars Online for FREE in 2020
Last Updated by Kate Hawkins on October 01, 2020
It's nearly time for the 92nd Oscars and this is an awards ceremony you don't want to miss! The star-studded event is airing live 9 February 2020 at 8pm EST on ABC in the US.
But what if you're outside the US? Luckily, I've got a list of global streaming channels where you can watch the Oscars for free — all you need is a VPN.
Many streaming channels will block you from watching the Oscars unless you're in a specific geographical location. With a VPN, you can change your virtual location and "trick" streaming services into thinking you're in the right country.
I've tested dozens of VPNs to find the best service for streaming the Oscars. ExpressVPN is my top choice for it's super-fast speeds and ability to get around content blocks.
Watch the Oscars with ExpressVPN!
Quick Guide: Where to Watch the 2020 Oscars Online for FREE
Locast (US) — Create a free account and watch the Oscars on ABC (the official Oscars broadcaster in the US). No subscription to ABC required.
7plus (Australia) — Live stream the Oscars for free! All you need to do is create an account.
Sky Cinema Pass on Now TV (UK) — Sign up for a 7-day free trial of Sky Cinema to stream the Oscars. Requires a UK payment method for sign up.
Tip: Choose the streaming service that is closest to your current location. This will ensure you connect to the closest VPN server to you, giving you the fastest possible streaming speeds.
Stream the Oscars from anywhere with ExpressVPN!
Live Stream the Oscars on Locast (US)
Locast is a completely free streaming service available in 16 cities across the US, including Washington DC, New York, and Philadelphia which all air ABC locally. Just sign up for an account with your email address — it's that easy!
Get a VPN. I suggest ExpressVPN as it has fast servers in all Locast service areas.
Connect to a US server in a city where Locast is available.
Visit locast.org and sign up for an account.


You'll get a verification email sent to you. Verify the email address you signed up with.
Back on the Locast website, click "Live TV Guide" and choose the city in your server location. For example, if you're connected to a New York server, select your city as "New York".


Click the local ABC channel to start live streaming!

Get ExpressVPN and stream Locast!
4 Easy Steps to Watch the Oscars for FREE on 7plus (Australia)
Get a VPN. I suggest ExpressVPN due to its fast servers in Australia.
Launch the VPN and connect to an Australian server.
Visit the 7plus website, and log in. If you're signing up for an account, you'll need to verify your email address and enter a valid Australian postcode (I entered "4074").
Click on "Live TV" and start streaming the Oscars!
Get ExpressVPN and stream Locast!
Watch the Oscars With a Sky Cinema Pass on Now TV (UK)
Tip: You can sign up for a Now TV account with your Apple TV if you don't have a UK payment method. Use your Apple ID to sign up for a Now TV account and your payment method will automatically be via your iTunes account.
Get a VPN. ExpressVPN's UK server connections are consistently fast and reliable.
Launch your VPN and connect to a server in the UK.
Visit the Now TV website.
Sign up for an account with a Sky Cinema pass. You'll need to enter a valid UK postcode and payment method.


Once you've entered your details, click "Start free trial". You won't be charged if you cancel before the 7-day free trial is up.
On the Now TV website (or app available on smartphones, smart TVs, game consoles, and more), open the "Movies" drop-down menu and select "Watch Live".


Choose the Sky Cinema Oscars channel and start streaming!
3 Best VPNs to Watch the Oscars
1. ExpressVPN — #1 VPN for Consistently Fast Streaming Speeds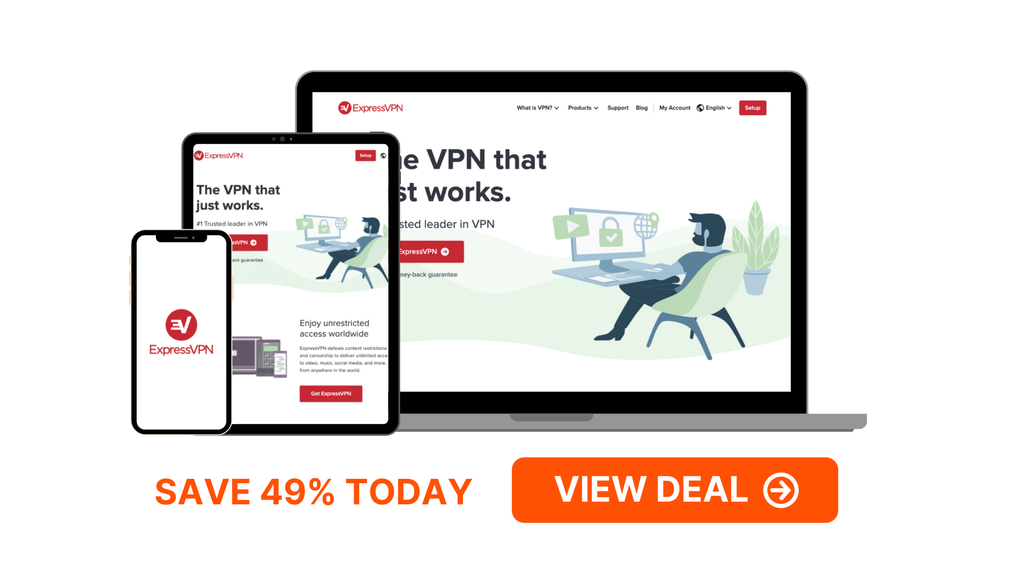 Key Features:
3,000+ servers in 94 countries, with 27 in the US, 5 in the UK, and 5 in Australia
Unlimited bandwidth for fast speeds
Best-in-class encryption
24/7 live chat and help guides on website
30-day money-back guarantee
ExpressVPN is my top choice for live streaming the Oscars because of its consistently fast speeds. I ran multiple speed tests in the UK, Australia, and the US to check speeds in Now TV, Locast, and 7plus locations. In every location, streaming speeds are reliably fast. I was able to live stream on every streaming service without experiencing lag or buffering.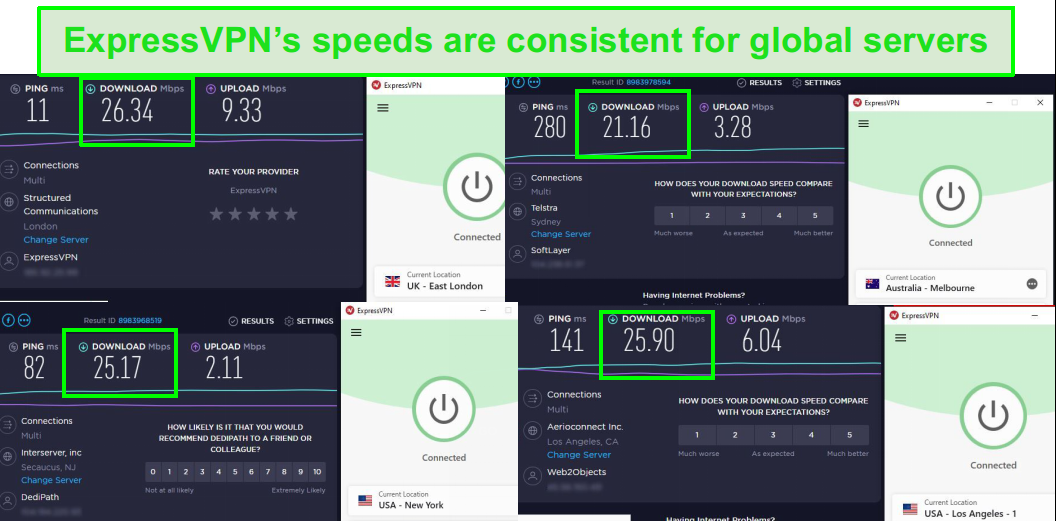 My average speed was 24Mbps, which is fast enough to stream the Oscars in HD. UK and US connections were consistently more than 25Mbps so I could stream in 4K. I was impressed by ExpressVPN's Australian server speed — only 4Mbps of difference from US servers but over twice the distance from my location!
With 24/7 live chat, ExpressVPN ensures there is always a support agent available if you have questions or need help. You can try ExpressVPN for 30 days risk-free with its money-back guarantee — stream the Oscars and get a month of VPN service for free!
2. NordVPN — Thousands of Servers are Easy to Navigate for Streaming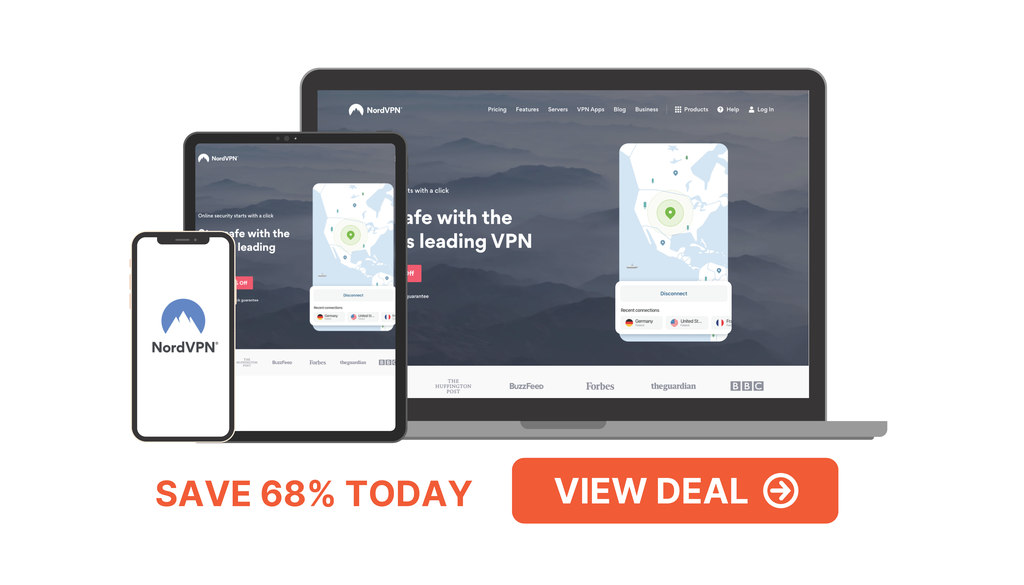 Key Features:
5,300+ servers in 59 countries, with 1500+ in the US, 600+ in the UK, and 250+ Australia
Never throttles your speed for fast streaming
Military-grade encryption
24/7 live chat, troubleshooting, and FAQs on website
30-day money-back guarantee
NordVPN has over 5,300 servers and over 2,000 in the US, UK, and Australia! This huge number means you'll find a server that unblocks Now TV, 7plus, and Locast, but not always on the first try.
Some NordVPN servers couldn't bypass content blocks and I had to change servers several times before I could unblock the streaming services. But don't worry — NordVPN makes it easy to connect to different servers so you won't have much trouble finding ones that work.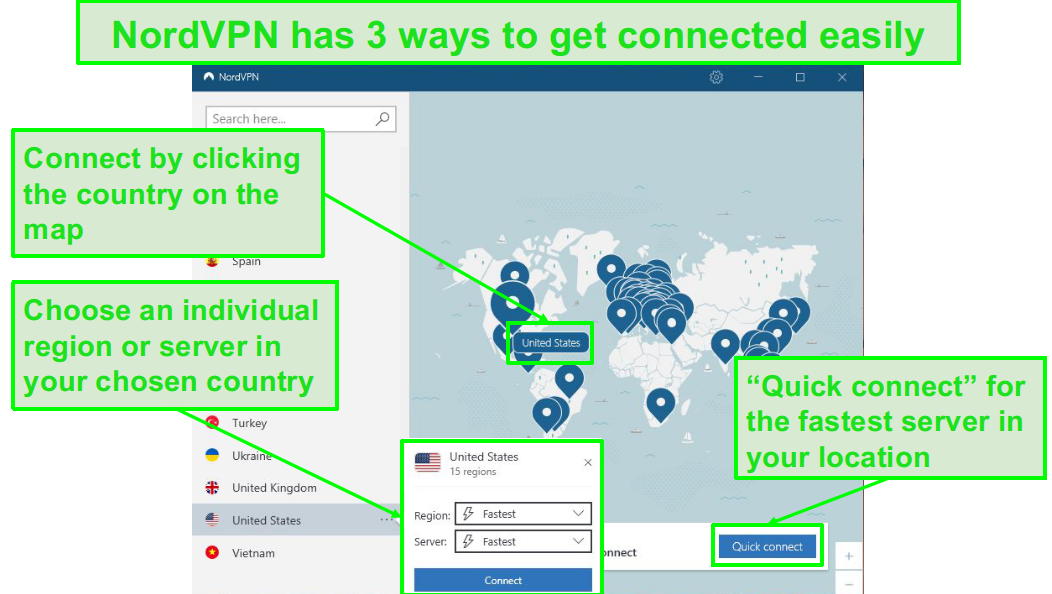 I found choosing a specific region or server had the best results. I chose servers in cities like New York and Philadelphia, as connecting randomly put me "out of service area" for regional content.
US #3575, UK #1095, and Australia #471 worked to unblock live streams. These servers gave me an average speed of 23Mbps.
I contacted NordVPN about blocked servers and found customer support was helpful and informative. Want to see how user-friendly NordVPN is? Sign up for its service today, and use NordVPN's 30-day money-back guarantee to stream the Oscars! If you change your mind, reach out via 24/7 live chat and request a refund.
3. CyberGhost — Watch the Oscars on 7 Devices at the Same Time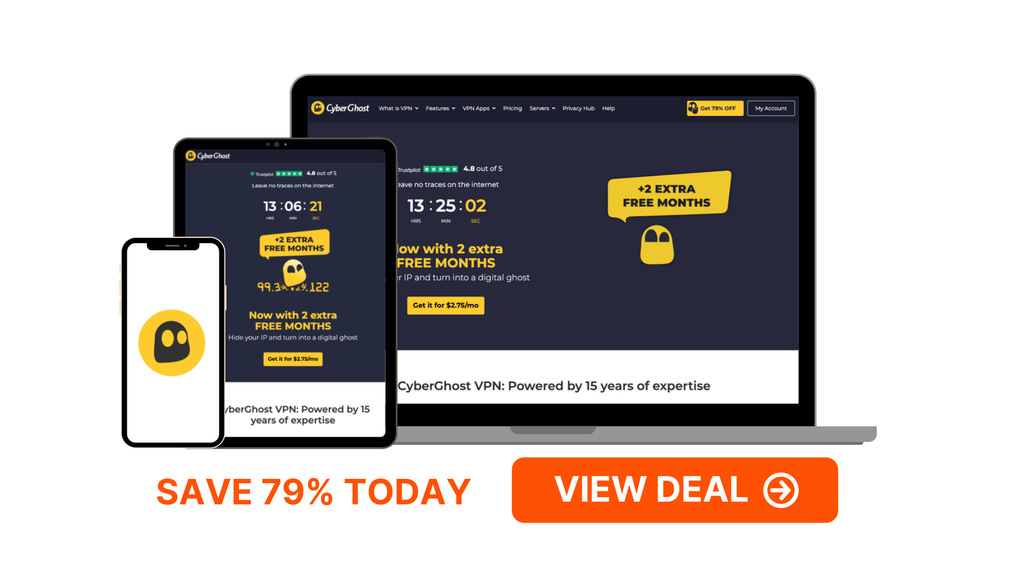 Key Features:
6200+ servers in 89 countries, with 1100+ in the US, 680+ in the UK, 100+ in Australia
No data caps for smooth streaming
AES-256-bit encryption and DNS leak protection
24/7 live chat, help guides, and FAQs on website
45-day money-back guarantee
CyberGhost supports connections on up to 7 devices at the same time — more than enough for the whole family to live stream the Oscars! CyberGhost has unlimited data to prevent slowdown, but I was concerned that multiple connections would cause lag while streaming.
I connected to CyberGhost with 5 devices simultaneously and noticed a drop in speed. Across all connections with just one device, my average speed was 21Mbps. When 5 devices were connected, average speed fell to 18Mbps. It seems like a big difference, but I found the slowdown wasn't noticeable. I could still stream live TV in HD video quality without any lag.
CyberGhost offers an impressive 45-day money-back guarantee for plans lasting 6 months or longer — so you can enjoy Oscar night (and even more!) for free!
Why You Need a VPN to Watch the Oscars
The Oscars are subject to broadcasting rights and licensing restrictions. You can only watch it on certain channels, like ABC in the US. If you're outside the broadcasting area, you'll be blocked from streaming the channel, even if you're subscribed to it. With the help of a quality VPN, you can get around those blocks to stream the content you want.
To guarantee you see every moment of the Oscars, you'll need the help of a reliable VPN service — like ExpressVPN, with its best-in-class encryption. The VPN tunnels your connection directly to the server, masking your IP address from streaming services like Now TV. Hiding your true location makes the streaming service think you're somewhere else and unblocks your content.
Watch the Oscars with ExpressVPN
FAQs: 2020 Oscars
Can I use a free VPN to watch the Oscars?
I know a free VPN sounds like a good idea, but using one isn't worth compromising your Oscars streaming experience — or your data privacy.
I've tested some of the best free VPNs available and found them to be limited in terms of server connections, download speeds, and content unblocking. I've struggled with bad video quality, endless buffering, and hitting data caps before I finished streaming.
Free VPNs also have weak encryption technology. This can leave your personal data and location information exposed through poor security practices. Some free VPNs have even been known to log and sell user data to advertisers. I value my online privacy and I don't think using a free VPN is worth the risk to my personal information.
To watch the Oscars in high quality and with strong security, you need a reliable VPN. I've successfully used ExpressVPN's 30-day money-back guarantee to stream live TV risk-free — my refund was processed quickly and I had my money back in less than 3 business days.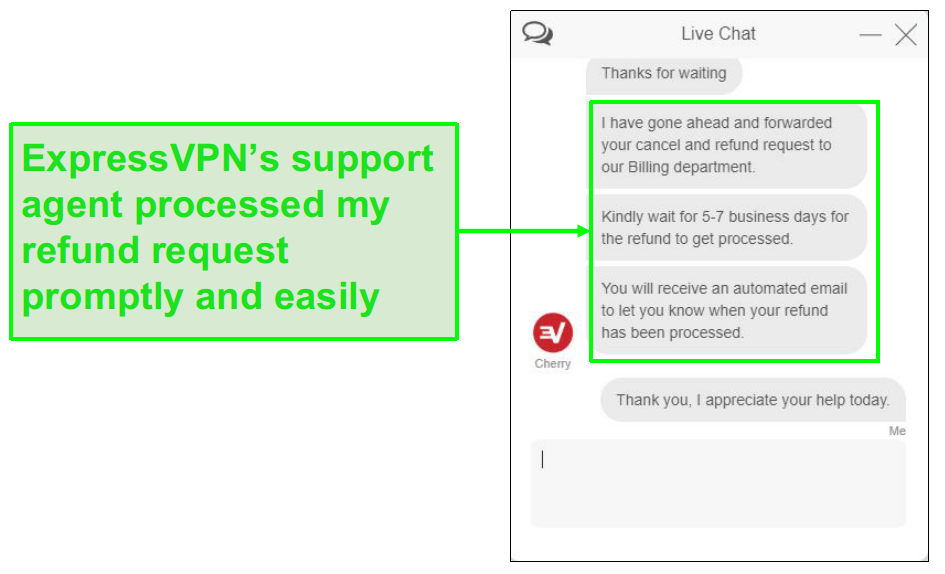 Try ExpressVPN risk-free today
What else does a VPN do besides stream the Oscars?
A VPN lets you stream movies and live TV on a global scale. Want to watch the latest Netflix Original but it's not in your location yet? You can use a VPN to access blocked content from streaming services and TV channels — like Netflix US, Hulu, and Disney+ — making sure you won't miss any Oscar-worthy performances.
A quality VPN also protects your personal data when you're browsing, streaming, and shopping online. By encrypting your connection, a VPN protects your information from being seen by hackers, government agencies, and advertisers. ExpressVPN's top-class encryption keeps your online activity secure and anonymous.
Protect your data with ExpressVPN
Who has been nominated for an Oscar this year?
Box office hits like Joker earned 11 nominations (including Best Picture and Best Actor) and Once Upon a Time in Hollywood received 9 nominations.
Netflix Originals have performed exceptionally well too, with both Marriage Story and The Irishman up for several awards. Both of these movies are streaming on Netflix US, as well as other Oscar-nominated movies like The Edge of Democracy and American Factory. You can watch them all with ExpressVPN's super-fast streaming speeds.
We're bound to see red carpet glamor from this year's Oscar nominees like Al Pacino, Tom Hanks, and Margot Robbie — you don't want to miss a moment!
Don't Miss a Moment of the 2020 Oscars!
Will Parasite be the first South Korean movie to win Best Picture? Is this the year that Scarlett Johannson wins her first Academy Award? Get a VPN so you can keep up with the results of the Oscars as it happens!
Not sure which VPN is the right choice for you? My #1 recommendation, ExpressVPN, has fast speeds and reliable server connections — perfect for hearing every winning announcement.
Better still, ExpressVPN has a 30-day money-back guarantee. You can try the VPN for a month and if you change your mind, contact customer service and request a full refund. Meanwhile, you can enjoy streaming the Oscars and using ExpressVPN to watch Netflix, Hulu, Disney+, and more!