Intego Antivirus for Windows Review 2022: Good or a Waste of Time?
Last Updated by Eric Raue on September 01, 2022
As it's better known for its industry-leading Mac antivirus, I was curious to see how Intego's antivirus for Windows compared to other top-tier antivirus competitors like Norton 360 and TotalAV.
After a month of testing, I'm happy to report that Intego's antivirus for Windows provides all-around protection against a range of cyberthreats. Its easy-to-use Windows app is a solid value upgrade from the built-in Microsoft Defender program.
However, none of Intego's packages come with extra features like a VPN, password manager, identity theft protection parental controls, or a firewall. As a result, Intego is ideal if you're looking for a streamlined Windows antivirus and you don't actually need (or want) any of these extra features.
You can try Intego on Windows risk-free with the 30-day money-back guarantee. It's easy and hassle-free to get a refund in case you change your mind. I tested it myself and got my money back in 10 days.
Got a Mac? Read the full Intego antivirus for Mac review here.
No Time? Here's a 1-Minute Summary
Security
To see how well Intego works on Windows, I downloaded sample viruses, spyware, phishing links, zero-day threats, and other malware.
Real-Time Protection — Detects 100% Of Live Cyberattacks
Intego's Antivirus for Windows performed exceptionally well at blocking new malware threats during my tests.
I assessed Intego's real-time protection by exposing my test Windows machine to various malware on the internet, including new threats that were less than a month old. I'm happy to report that Intego caught and quarantined each of my sample threats, including phishing links. Impressively, Intego didn't flag any false positives. This result surprised me since even top providers like Norton produce far more false alarms than Intego. In the same tests, Norton 360 revealed 22 false positives during a full system scan.
In comparison, Microsoft Defender found these threats as well — but it also flagged a false positive, meaning it wrongly identified an innocent file as malware. Annoyingly, Microsoft Defender kept flagging the same innocent file even after I marked it as safe.
Keep in mind that Intego can't detect existing threats on your Windows device, so you should run a full virus scan as soon as you install the program.
Virus Scans — Quick Malware Detection That Doesn't Impact Performance
You can scan certain folders, a full system scan, or a quick scan. You can also schedule scans for later. Intego's default is set to semi-weekly quick scans, but you can edit this schedule or add full scans into the mix.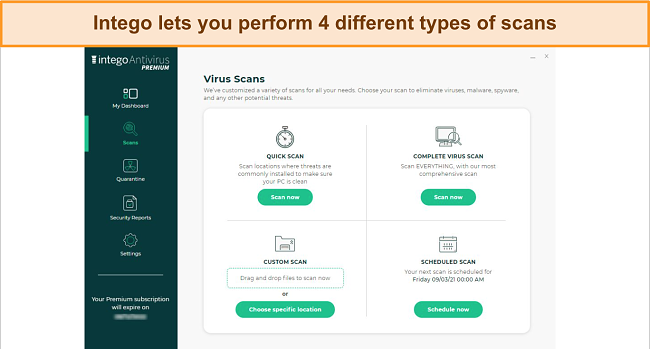 The quick scan targets locations on your computer that are at a higher risk of containing malware. The target folders change as Intego's virus definitions evolve to address new and emerging threats. During the scan, a status ticker shows you the exact location being searched.
The Quick Scan looked through over 7,600 files and only took 3 minutes and 20 seconds — a fairly standard time in comparison to other antivirus competitors. In addition to catching all the trojans I planted, the scan didn't slow down my Windows PC at all (even when I ran photo-editing software and streamed a movie at the same time!). Antivirus scans usually overload the CPU and use a lot of memory, but Intego relies on cloud-based protection for quick scans. This approach uses a remote server to run the malware scan without storing information on your computer.
The Full Scan caught each of the 6 infected files I planted on my test machine, and also didn't cause any noticeable slowdowns. The full scan examined 675,682 files and took 7 hours and 42 minutes to complete. However, I would've liked a faster Full Scan — top competitors completed Full Scans in under 2 hours.
Prevention Engine — Block Unidentified Threats Before They Infect Your Device
The Prevention Engine successfully blocked every malware sample, all of which were released in the past 24 hours. These results place Intego alongside industry leaders Norton and TotalAV, both of which achieved perfect scores against unknown threats during my tests.
Much like real-time protection, Intego's Prevention Engine detects and blocks new threats trying to infect your device. To find these threats, the Prevention Engine uses self-learning technology to flags files behaving unusually.
Quarantine — Easy to Delete, Restore, or Add Exceptions to Suspected Malware
Alls suspected malware is automatically quarantined. Just click on the "Quarantine" tab and you'll see the file in question, and have the chance to either safely delete it, restore it, or restore and exclude the file from future scans. Intego will ask you to confirm your decision, just so you don't accidentally release an infected file out of quarantine.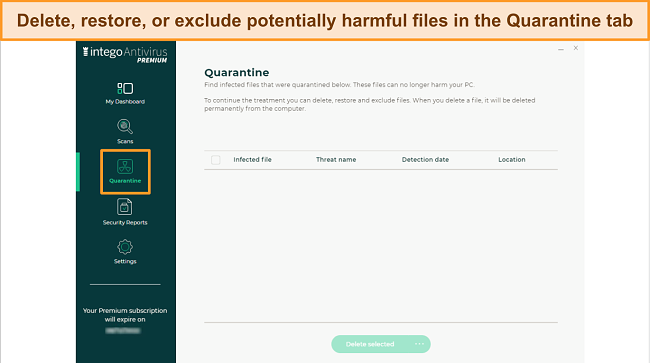 Security Reports — Easily Pull Details From Past Scans
You can review past virus scans using the "Security Reports" tab. Here you can look at reports from:
Real-time protection
System scans
Web Shield
Prevention Engine (protects from zero-day threats)
Exclusion list
While some other providers group all types of protection into a single report, I liked Intego's method of separating each report. When Web Shield blocked a website from loading, I checked the reports and immediately saw that it detected a known tracker URL that would collect my data for marketers. The report included the name of the tracker, the action taken, the threat category, the app that was affected, and the date and time it was detected.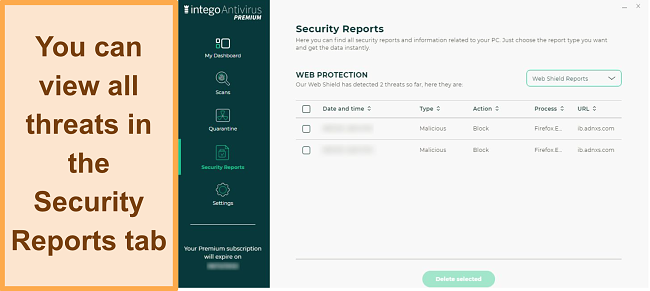 You can also add exclusions directly from the same tab by choosing "Exclusion Reports" from the dropdown menu. This displays recent exclusions accompanied by a green "Add exclusion" button. From there you can choose folders, files, websites, applications, or processes to exclude from all scans and real-time protection. Your other way of adding exclusions is using the "Security" section of the Settings tab.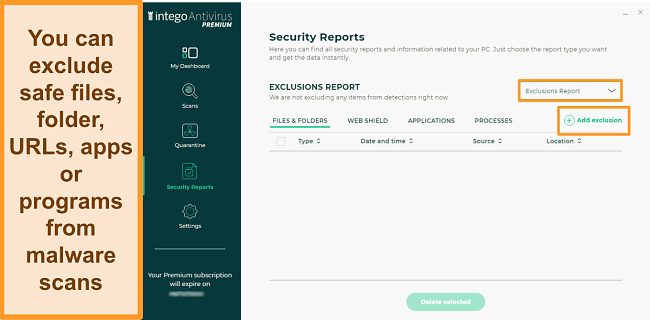 It was nice to have multiple places to whitelist innocent files since I find false positives really annoying. Thankfully, the only exception I had to add was Amazon.com, which was blocked by Web Shield. Other files on my computer, including ones picked up as false positives by Microsoft Defender, were never flagged by Intego.
If you have harmless files you need that your current antivirus keeps flagging as suspicious, try Intego and run a scan to see if they still pop up.
Cross-Platform Protection So You Don't Spread Mac or Linux Malware
Most impressively, Intego can detect and quarantine malware designed to infect Mac and even Linux-based devices. Even if you only use Windows, malware targeting other platforms can still infect and "live" on your computer — and potentially spread them to others using Mac or Linux. If you work or move files between multiple operating systems shared among family, friends, or co-workers, this type of cross-platform protection is especially important.
Features
Unlike the Mac version, Intego for Windows doesn't have an extensive range of features. You won't get a firewall, VPN, password vault, system backup, or PC optimization tools. The only feature is Web Shield, which protects you from various online threats when browsing.
Despite the lack of secondary features, Intego delivers reliable security from a range of threats, making it the perfect antivirus if all you need is malware protection.
Web Shield — Blocked Phishing Links, Malicious URLs, and Downloads
While it stopped some of my most-visited websites (like Amazon) from loading properly, Web Shield blocked every malicious link and malware download I tried to open.
Phishing is one of the most valuable tricks for hackers because they create emails, links, and even entire websites that look exactly like they're coming from a genuine company. When you try to log into these fake websites, hackers steal your login credentials so they can access your account. That's why phishing schemes are so effective and contribute to tens of billions in losses globally per year.
Ease of Use
I found Intego's Windows apps extremely easy and intuitive to use. Even beginners should have no problems, especially since Intego has helpful download and installation guides in its knowledge base.
User Interface — Simple to Install and Use on Windows
Intego works on all computers running Windows 7 and above. In addition to being easy to install, Intego is simple enough that you probably won't didn't need any of the online resources to figure out the process. Its main dashboard shows basic information, like the time of your last and upcoming scans, how many threats have been secured, and what types of protection are currently turned on. With just 5 main tabs for all its functions, it was obvious from the get-go how to use the software.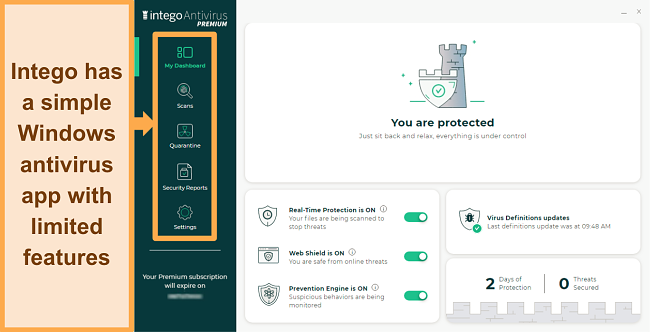 Compared to many antivirus programs I've used, Intego's user interface is extremely intuitive. In addition to being uncluttered, most of the features are self-explanatory. For those that aren't, you can hover over a small "i" icon to get a succinct explanation.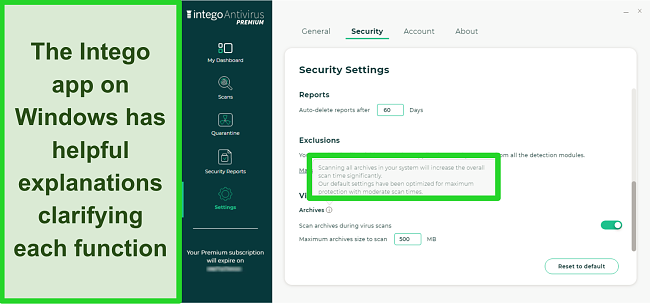 The Windows app is available in English, French, German, Japanese, Spanish, Finnish, Norwegian, and Swedish. Although this is quite an extensive range, other antivirus software had translations in over 20 languages.
Support
Intego for Windows only has support via email and a basic knowledge base, but I was pleased to find its email agents replied quickly and gave helpful answers. Unfortunately, its main support page still doesn't have a shortcut to Windows support, despite having large buttons for all its Mac products.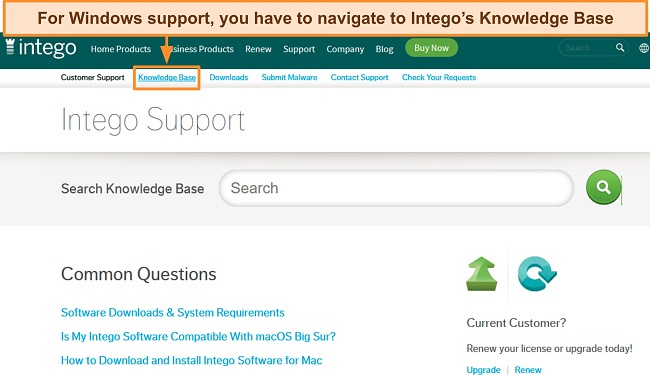 Email Support Tickets — The Only Way to Get in Touch With Agents
I reached out to a live chat agent on Intego's website and asked how the Web Shield and Prevention Engine work. The agent said live chat support wasn't offered for Windows and sent me a link to their email contact form to use instead. I only needed to submit a few details including my name, email, question, which Intego product I have, and whether I need help with technical issues or a sales question. There is a trick to skip this by emailing the support address directly, but if you don't provide enough information agents may not be able to answer your question.
Email support isn't 24/7 — agents are only available 8.30am to 5.30pm US Central Time. This wasn't a big problem since I always got helpful email replies within 2.5 hours as long as I stayed within those hours. Outside of that time frame, I still got an answer by the next business day regarding my questions.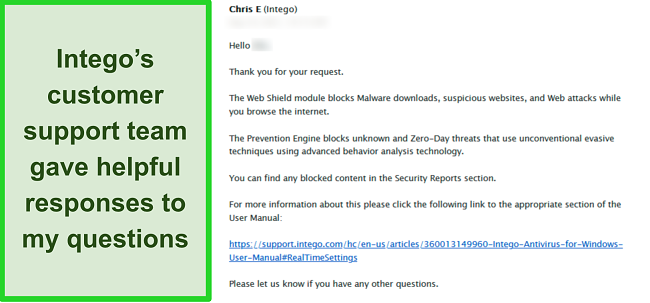 If you try Intego for yourself, you can open a support ticket to get all your questions answered. If you decide you don't like the software, it's easy to get a refund within 30 days with its money-back guarantee policy. Just send an email asking for a full refund. After getting a reason for cancelation, Intego will give you your money back.
Knowledge Base — Find Detailed Manuals and Answers to Basic Questions
Intego's online knowledge base is a great resource for basic questions regarding setting up and using the software. While most of the resources related to its Mac products (which it has offered for many years), the Windows user manual was the most helpful overall. It has chapters for every function, explaining clearly what features do and when to use them. If you're like me and prefer a visual guide, every explanation has handy images that accompany the text.
Pricing
Plan Options — Solid Basic Windows Antivirus for the Money
You can get annual plans that include licenses for either 1, 3, or 5 computers (Personal, Family, or Extended plans). The Extended plan is twice the cost of the Family, so I'd recommend the Personal or Family plan for Windows unless you really need protection for 5 separate devices.
On the Personal and Family plans, pricing is a good value for basic Windows protection — but the Extended plan is too expensive for just 2 extra device connections. If you need an antivirus for several devices, I recommend you to protect your Windows device with Norton instead. It's still a good value because, in addition to a rock-solid Windows antivirus, it comes with a complete suite of security features. Plus, even low-tier plans protect up to 5 of your computers compared to 1 device on Intego's Personal plan.
Intego Privacy Protection for Windows — Powerful VPN for a Low Price
This is essentially a white label version of the Private Internet Access VPN. It's an even more powerful and versatile Windows VPN than you get from Norton, one of the biggest names in cybersecurity.
7-Day Free Trial
The free trial automatically begins once you download and install the app. Once your 7-day trial ends, you're still eligible for the 30-day money-back guarantee if you subscribe to a paid plan.
30-Day Money-Back Guarantee
The 30-day money-back guarantee gives you a much longer period of time to test every feature. If you aren't satisfied and want a refund, all you have to do is send an email to support. When I asked for my money back, the support team confirmed my refund request right away and the money was returned to my bank account in 10 days.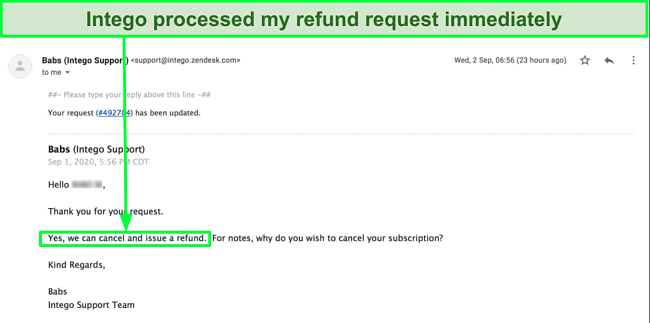 Final Verdict
Despite being bare-bones compared to its Mac edition, Intego for Windows is a solid basic antivirus and a definite upgrade from the Microsoft Defender.
The only minor issues I had were that the top-tier Extended plan wasn't really worth the price increase and the customer support wasn't live or available 24/7. If you have a pressing issue, it's nice to be able to get instant help whenever you need it. However, Intego's representatives still responded relatively fast — I never had to wait longer than 1 business day for a reply.
The best way to see if Intego is right for you is always to test it yourself, which is why I recommend you try Intego on Windows risk-free with the 30-day money-back guarantee. If you decide you want more features or it doesn't work as expected, it's easy and quick to get a full refund.
FAQs About Intego Antivirus for Windows
Will Intego slow down my computer?
No. Intego is such a lightweight app that you'll barely notice any slowdowns even during full system scans. It performed better than the industry average, using little of my system's processing power and memory. Even when I performed demanding activities like playing a first-person shooter or watching Netflix in 4K, I didn't encounter performance issues.
Does Intego work on Windows, Android, and other devices?
Intego has a range of dedicated apps and plans for both Windows and Mac. The Mac app is far more extensive than the Windows one, with extra features like a Mac optimizer and parental controls. There used to be an iOS antivirus as well, but Apple pulled it from the App store. If you already own it you can still get support, but otherwise, you can only scan iOS devices for malware by connecting them to your Mac first. Then run a scan while both are connected, and Intego will search your iOS device as an external drive.
Does Intego include a VPN?
No, there's no VPN included in the Windows antivirus package. However, you can buy its Privacy Protection VPN as an add-on. It works on both Windows and Mac, plus it's based on the same technology as Private Internet Access, which is one of the top VPNs on the market. The Privacy Protection plan also come with the same 30-day money-back guarantee as the antivirus.