Does PureVPN Work With Netflix in 2020

Last Updated by Nick Soucy on October 01, 2020
When you sign up for a VPN for access to a greater range of online content, it's frustrating to find that not all providers are compatible with all services. For most people, if a VPN can't stream Netflix, that's the deal breaker.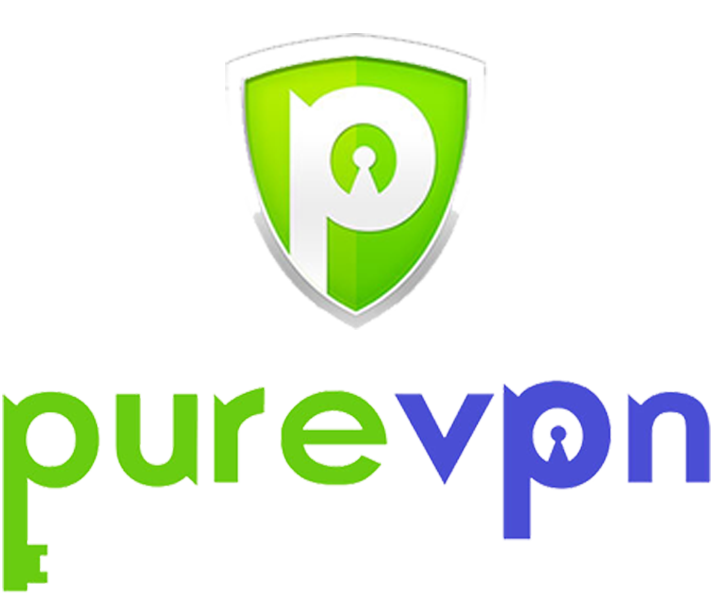 So, you forage through the dense forest of
VPN providers
. The
free VPNs
don't tend to work consistently with Netflix, so don't waste time with those. However,
even paid VPNs present mixed results
.
Can PureVPN Unblock U.S. Netflix Content?
If you've encountered mixed reviews about PureVPN and their ability to unblock regional Netflix content, you're not alone. In fact, the success rate of many VPNs trying to stream Netflix seems to fluctuate continually.
Inconsistencies can be attributed to Netflix designing more sophisticated algorithms to block proxy servers like those used by VPNs.
The good news is that, at the time of writing, PureVPN is working well with U.S. servers for Netflix. We do recommend you chat with a customer assistant before subscribing to make sure they aren't having any new problems.
You can click here to and get a PureVPN coupon, the longer the contract you sign up for, the better the savings.
9 Steps to Unblock Netflix with PureVPN
Step 1: After creating an account with Pure VPN, you will log in and be brought to a screen with connection options. Since you want to watch Netflix, click on the Stream box.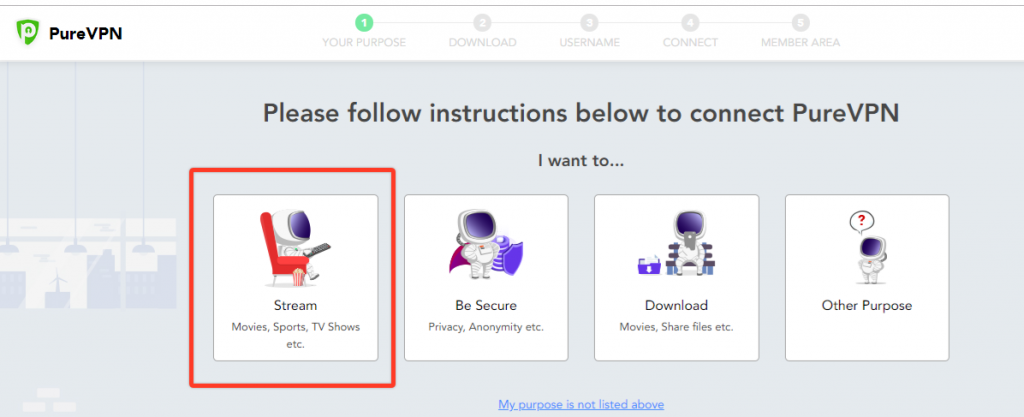 Step 2:
Choose your
preferred method of streaming
. For this example, the Google Chrome extension.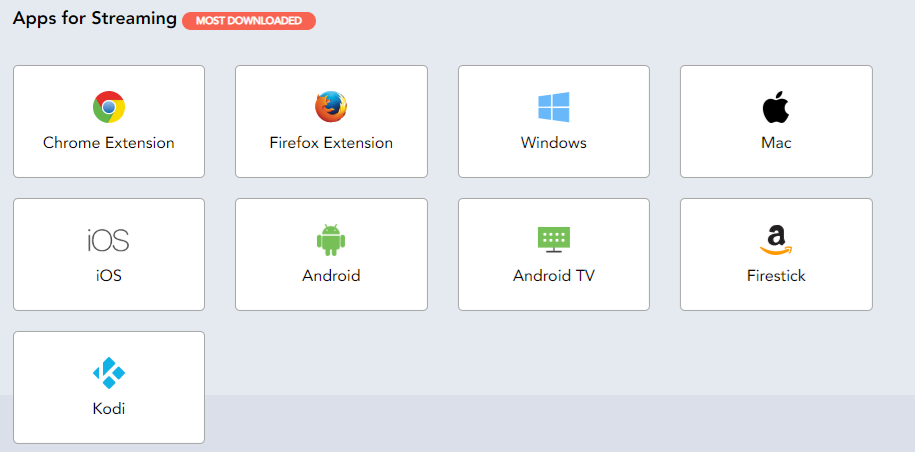 You'll be redirected to the
Chrome Web Store
, where you'll see PureVPN is
the app
you'll be adding.

Step 3:
Click on "
Add to Chrome
"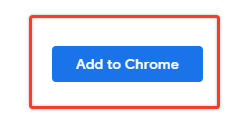 Once the
browser extension installs
, you'll be taken to a page that walks you through the setup. You'll want to have
your PureVPN login and password
handy. It was emailed to the account you used when signing up.
Step 4: Click the green PureVPN icon that's now in the upper-right of your Chrome browser.
Step 5:
Enter your
username and password
and click the
login button
.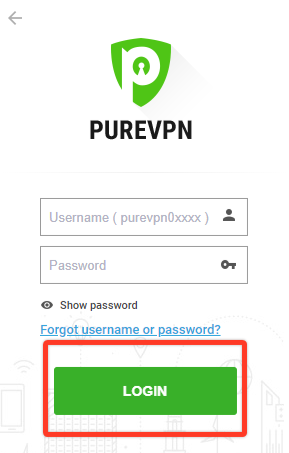 Step 6:
Once logged in, you'll see a
Connect button
. Click it to log onto the PureVPN server.
Step 7: Once connected, select Popular Websites and choose Netflix U.S.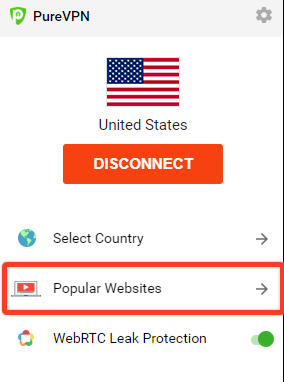 Step 8:
You'll be taken to the
Netflix login page
. Enter your
usual Netflix credentials
.
Step 9: Start streaming your favorite shows.


Success!
Why Can't You Always View Netflix in Different Countries?
Netflix operates under complex content licensing and distribution regulations for its streaming programs. That means some shows and movies will be on their platform for years, and some will disappear after a few months.

It also means that some of your favorite
American content like The Office is restricted to U.S. audiences
only. It seems unfair, but that's how the contracts were drawn up.
Actually, it's not just U.S. content that gets geo-restricted. There are over 190 countries that have a unique Netflix library with a variety of local TV shows and movies only available in their specific region.
However, you bypass these region-based content blocks with a high-quality VPN. Usually.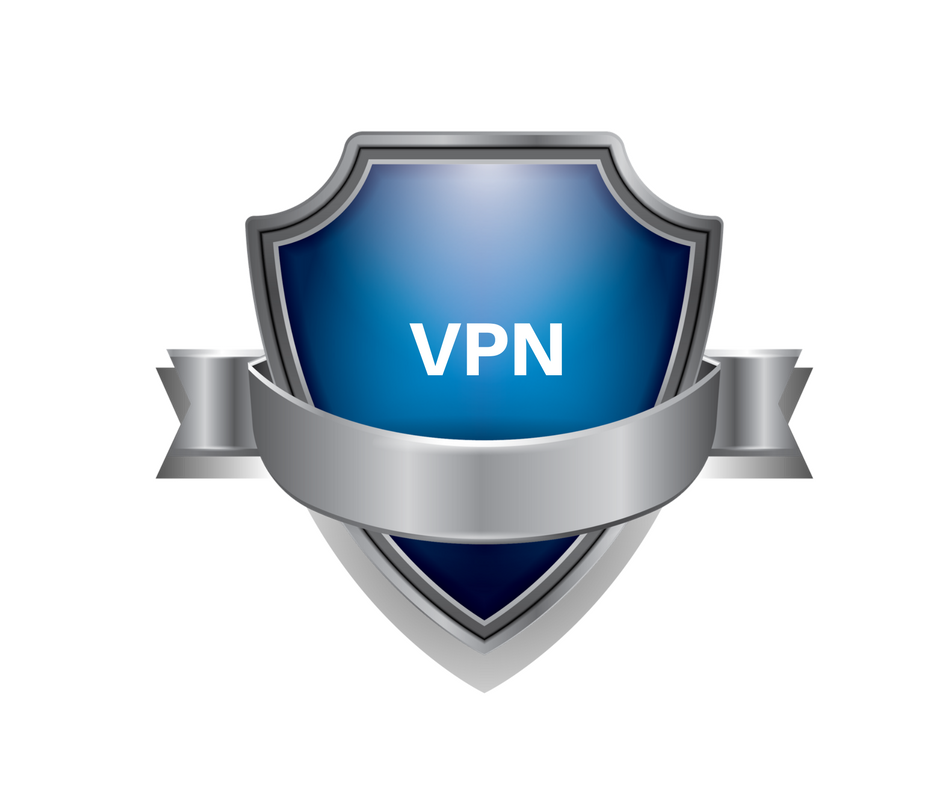 The
key technology of a VPN
works by deceiving a website into believing you are in a country with access permission. However, as we mentioned above, Netflix has developed an ever-evolving algorithm with a pretty impressive track record for noticing when people are using VPNs. When they see it, they quickly block the VPN user's access.
Not all VPNs are created equally, meaning most of them are ill-equipped to counter Netflix's proxy signal block. Unblocking Netflix is an impossible problem for most of the unpaid VPNs, but if you invest in a better-quality paid subscription, you increase your chances to watch your favorite streaming series.
We did some research for you and personally tested PureVPN on desktop using the Chrome extension, and it works reliably if you select a U.S. server.
Of course, sometimes even the best VPN service signals are spotted by Netflix's multiple firewalls. This is one of the most persuasive arguments for making sure your VPN has a money-back guarantee.
Luckily, PureVPN's refund guarantee lets you test out a longer-term commitment without worry.
Is PureVPN a Good Choice?
PureVPN does have robust attributes: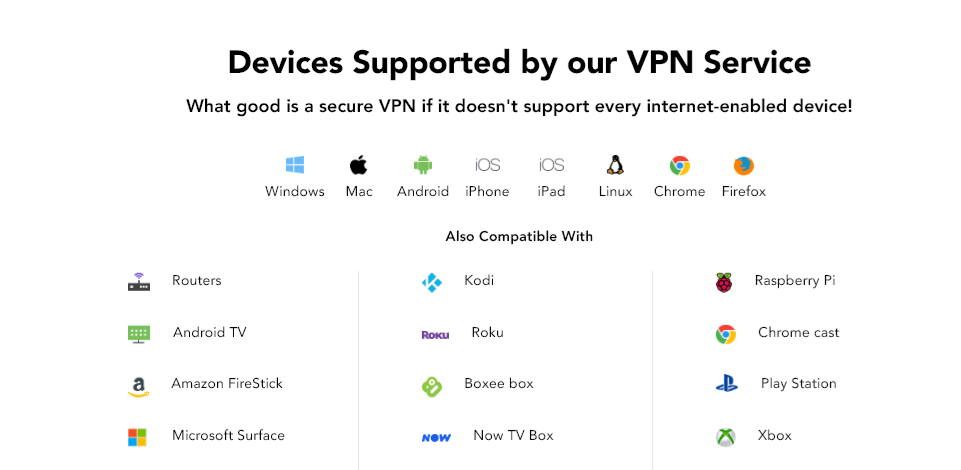 Support for all devices
Affordability
Easy setup and interface
Ample servers in dozens of countries (over 2,000 servers)
Money-back guarantee
An automatic kill switch
Plenty of suitable security protocols, including the best one – OpenVPN
Ability to connect five devices at once
However, PureVPN does also have cons:
They keep some user data logs and share with government agencies
Users have reported occasional DNS/IP address leaks
Final Thoughts
Even though customer service told us that United Kingdom-based servers would work, they won't unblock American content.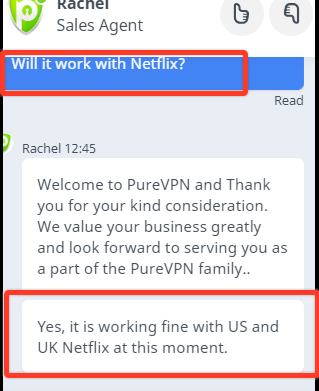 However, we tried the UK, France, Germany, and others, but were prompted with the same error message.
Pardon the interruption
You seem to be using an unblocker or proxy. Please turn off any of these services and try again. For more help, visit netflix.com/proxy.
Error Code: M7111-5059
So, if you want to unblock local content from the U.S., you'll have to rely on their American servers only.
If this doesn't sound full-proof enough for you,
we highly recommend three other VPNs with better success rates
:

Fastest VPN speeds
3,000+ global servers
Unblocks Netflix, Hulu, etc
Zero logs
Watch US Netflix with ExpressVPN
5,000+ global servers
SmartPlay
Use six devices simultaneously
CyberSec

3,700+ servers worldwide
Unlimited bandwidth and traffic
Great for torrenting
Access to Netflix