How to Watch CBS From Anywhere in 2022
Last Updated by Kate Hawkins on July 01, 2022
I am a big fan of CBS shows, but was disappointed to find out recently while traveling for work that I couldn't access my online account. I was trying to stream Survivor and despite being a paying customer, I was greeted with this upsetting message:
"Oops! This video is unavailable in your region."
This is because CBS used advanced geoblocks to detect my location through my IP address. However, my 6+ years as a cybersecurity expert have shown me that a good VPN is perfect for bypassing geoblocks and quickly allowed me to get back into my paid Netflix account and stream the latest season of Survivor.
Through testing, I found that not all VPNs can unblock CBS. To save you time, I tested the top 30 VPNs and came up with 3 that seamlessly worked. ExpressVPN proved to be the best for streaming as it has an extensive server network that reliably unblocks your paid CBS account even while you travel abroad. ExpressVPN is backed by a "no questions asked" 30-day money-back guarantee, so you can try it with CBS for yourself completely risk-free and request a full refund if it doesn't meet your expectations.
Quick Guide: 3 Steps to Watch CBS From Anywhere in 2022
Get a VPN. I recommend ExpressVPN for its super-fast servers that allow you to stream in Ultra HD without lags. Luckily, you can try ExpressVPN for yourself as it's backed by a 30-day money-back guarantee.
Connect to a US server. ExpressVPN has a vast network of speedy servers in the US, so you'll never run into slowdowns that ruin your CBS streams.
Start watching CBS Live! Log into your CBS account online or through its app and start watching the shows you pay good money for, even when you're on a blocked IP.
How a VPN Can Help You Watch CBS in July 2022
You can only access your CBS account if you're in Canada, Australia, or the US because of regional licensing agreements. If you're travelling outside CBS's coverage area and not using a VPN, its advanced algorithm will prevent you from accessing the streaming service. That means that despite being a paying subscriber, you won't be able to watch CBS if you ever travel abroad. Even when in the US, CBS can sometimes have issues recognizing your IP address and you might have issues accessing your account.
A VPN encrypts your internet traffic and disguises your identity online by pushing your connection through a secure tunnel to one of its private servers. This hides your real IP address and temporarily assigns you a new one based on the server you're connected to. By connecting to a US VPN server while traveling abroad, you can regain access to your paid CBS account and get full value for your streaming dollar.
However, not all VPNs are capable of bypassing geoblocks set up by CBS and other streaming services. If you want a fast connection, I recommend you get ExpressVPN for its lightning-fast speeds and 30+ servers. ExpressVPN will ensure you never have difficulties connecting to CBS and watching in HD quality.
Note: While using a VPN doesn't violate CBS's Terms of Use, it may if you're primarily viewing CBS content outside the country in which you established your account or if you're in a geographic location where CBS isn't available.
The Best VPNs to Watch CBS in July 2022
Key Features:
Over 3000 servers in 94 countries around the world
Lightway protocol for fast, reliable connection
Connect up to 6 devices to a single account
Around-the-clock live chat and email customer support
30 days risk-free money-back guarantee
ExpressVPN's superfast servers enable you to reliably stream CBS shows live in HD. All ExpressVPN servers are optimized for streaming, and its extensive server network in the US ensures you're never connecting to an overloaded server. During my tests, all US servers I connected to were fast enough to stream in HD at any time of day with no buffering pauses. I even ran speed tests on servers in faraway countries (which tend to be slower, since your data has to travel farther). No matter where I connected, my speeds were super-fast with ExpressVPN.
If you're visiting countries with strict censorship, be guaranteed that ExpressVPN's military-grade encryption, DNS leak protection, and data protection policies ensure that you stay anonymous and invisible online. ExpressVPN is the only VPN on this list that can slip through China's strict firewall. Just keep in mind that most non-approved VPNs are illegal in China. While the government doesn't pursue VPN users aggressively, I don't recommend breaking the laws of any country whether you use a VPN or not.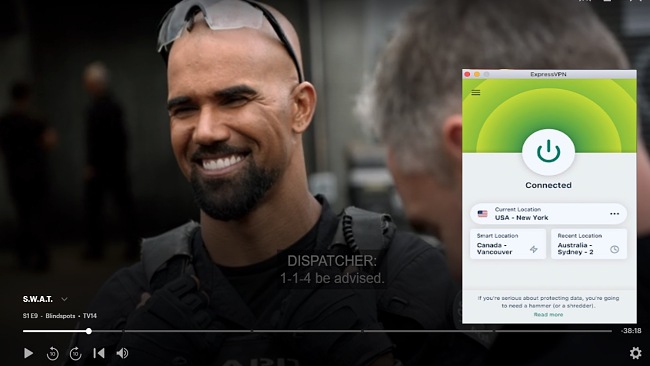 Apart from its extensive network of fast, secure servers, ExpressVPN comes with a split tunneling feature that enables you to use other apps without a VPN. Split tunneling lets you route selected apps through ExpressVPN's servers, while others access the internet using your local IP address. This is helpful if you want to do things in the background while you watch, like check your online bank account. This would usually set off fraud alerts and block your account, due to your bank's website detecting the VPN server. With ExpressVPN's split tunneling, I could watch SWAT on CBS from a US server even while checking my bank balances with no problems.
If you don't want to just take my word for it, you can test ExpressVPN out for yourself to see if you like it. If you're not satisfied with its service, you have up to 30 days to claim a refund. I subscribed to ExpressVPN and after 15 days of using the service, I requested a refund through the 24/7 live chat. The representative processed my request without question, and I got my money back within 5 days.
ExpressVPN also unblocks HBO Max, Kodi, Amazon Prime Video, SHOWTIME, Spotify, Netflix, Vudu, ESPN, BBC iPlayer, and more.
ExpressVPN works on iOS, Windows, Android, macOS, Playstation, Xbox, Router, Chromecast, Firefox, and more.
July 2022 Update! ExpressVPN has dropped prices for a limited time to a crazy $6.67 per month for the 1-year plan (you can save up to 49%) + 3 months free! This is a limited offer so be sure to grab it now before it's gone. See more information on this offer here.
Key Features:
Over 7900 servers in 91+ countries around the globe
Enjoy access to your favorite shows on smart TVs and gaming consoles
Up to 7 devices connected to a single account
24/7 customer support via live chat or email
45 days money-back guarantee policy
CyberGhost comes preloaded with streaming servers optimized specifically for watching buffer-free TV on CBS. Just click the arrow button to open the server menu, and select "For Streaming." Then find the CBS server and double-click to connect instantly. It unblocked my paid CBS account right away, and I got reliably lag-free video watching my favorite shows like Clarice and All Rise.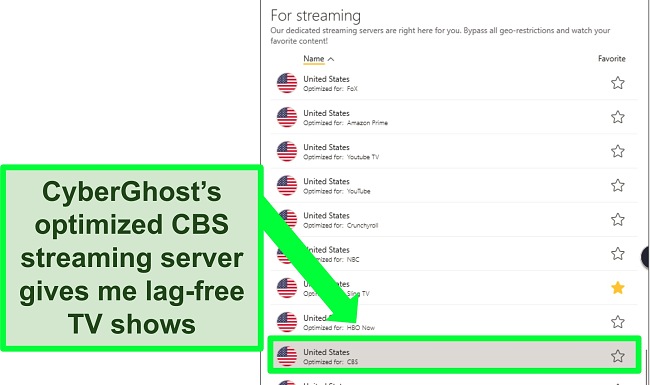 If the CBS streaming server ever slows down for you due to overcrowding, I got great streaming speeds on CyberGhost's location-based servers in the US as well. No matter which server in the US I tried, I got lag-free video for shows like NCIS: Los Angeles and Tough as Nails. My colleague in British Columbia got similar results testing CyberGhost's servers in Canada. With 11 options in the US and 3 in Canada, you'll get easy access to lag-free CBS shows regardless of which of the 2 countries you live in.
Since I like to watch CBS on my phone and tablet while I travel, I was glad to find that CyberGhost supports up to 7 simultaneous connections with a single account. While most VPNs struggle to keep up with bandwidth requirements when you watch on 2 or 3 devices, this wasn't a problem with CyberGhost. I was able to connect my windows laptop, iPhone, and 3 other devices during my tests and watched Undercover Boss with no buffering except for a few seconds at the beginning.
I was also happy to find out that CyberGhost has a strict no-logs policy so that none of your browsing activities are ever recorded. With headquarters in Romania, it isn't subjected to the rules of the Five, Nine, or Fourteen Eyes countries. These are nations (like the US and UK) that violate your online privacy and share the data with one another. By being based in a country with user-friendly privacy laws, CyberGhost keeps you safe from government surveillance and data collection.
It's common for VPN providers to have different interfaces, features, and protocols across other platforms, but CyberGhost ensures that the quality of service across all platforms is the same. During my tests I found its easy-to-use interface is intuitive to navigate across all its apps, even if you're a new VPN user. This is just as true on PC or mobile as it is on tablets, smart TVs, streaming boxes, and other devices. You can even install it on your router (which protects all the devices on your home network).
You can try CyberGhost with CBS risk-free for 45 days with its money-back guarantee. If you're not satisfied, you can unsubscribe and ask for a refund as long as it's still during the refund period. After I tested CyberGhost for 15 days, I canceled my subscription and asked for a refund using the 24/7 live chat. The representative processed my refund request with no questions, and I got my money within 5 days.
CyberGhost also unblocks Youtube TV, Amazon Prime Video, ESPN, Roku, Twitch TV, Vudu, Netflix, Hulu, Disney+, HBO Max, DAZN, and BBC iPlayer.
CyberGhost works on Linux, Android TV, Router, Chromebook, Windows, iOS, macOS, Android, Apple TV, Amazon Fire Stick, and Router.
July 2022 Update! You can subscribe to CyberGhost for as low as $2.29 per month + get extra 3 months free with the 3-year plan (save up to 83%)! This is a limited offer so grab it now before it's gone. See more information on this offer here.
Key Features:
35000+ servers located in 80 countries
Fast streaming speed with military-grade security
Connect up to 10 devices at the same time to a single account
24/7 live support service to answer your questions
30 days money-back guarantee policy
PIA has the largest server network of any VPN I found that unblocks CBS. With PIA you have so many server options, you'll never have to deal with slowdowns due to overcrowding like with lesser VPNs. Live TV requires a speedy connection to avoid stuttering and pixelated quality. With PIA's extensive network, even when I watch CBS during primetime hours my streams are perfect thanks to PIA's extensive network.
I found PIA very easy to set up and navigate — I was able to connect to a US server in less than 40 seconds and log into CBS. Working with my colleagues abroad to test servers in the US, Canada, and Australia, we were able to unblock CBS and watch The Equalizer with zero lag. I personally connected to the Denver, Chicago, Texas, and New York servers and watched with no problems.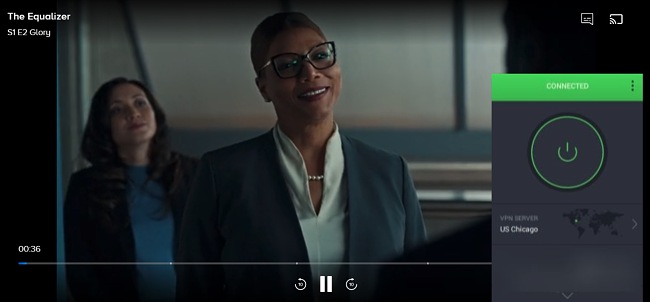 One nice perk about PIA is you can increase your streaming speed by switching encryption protocols. This means that I could easily improve the speed of my streaming sessions on CBS by selecting 128-bit encryption in PIA's connection settings. 128-bit encryption isn't quite military-grade so it might not protect your data quite as powerfully. However, if you're just watching live TV it makes sense to sacrifice a little bit of security for smoother streams since the risk is incredibly low.
PIA can also unblock other streaming sites you subscribe to like Netflix, Amazon Prime Video, HBO MAX, Disney+, and more. Since I subscribe to 3 different services, it's important to have a VPN that can unblock them all. Thanks to advanced technology, PIA can consistently get around location and proxy errors on every site I tested it on. I was eve able to connect to multiple devices at the same time, so I could create watch parties to stream CBS and other channels with my friends.
If you're the type of person who likes to try before you buy, you can use Private Internet Access risk-free with its money-back guarantee of 30 days. If you decide you don't like it and want to watch CBS with a different VPN, PIA lets you ask for your money back via online support ticket. It took a little longer to process than the other VPNs on this list (which offer refunds over live chat), but an agent still got back to me within 30 minutes. I had my money back in just 3 business days.
FAQs on Watching CBS With a VPN
What is the difference between the CBS Channel, CBS online, and the CBS App?
CBS online refers to streaming CBS live through its website or online streaming platforms such as Hulu or YouTube TV. You do not need cable to stream CBS online, instead you just need to sign up for an account with one of the streaming services that offer CBS.
The CBS app (rebranded as Paramount+) can be downloaded for free, and used to stream all CBS shows and content on your mobile device with a subscription. The app is also compatible with Roku, Apple TV, Amazon Fire TV, Chromecast, Android TV, PlayStation, and Xbox.
The CBS channel refers to the original cable network. It can only be accessed by cable or a satellite provider such as DirecTV, DISH, and Spectrum. It is available across several local channels within the US. If you're a subscriber but you're traveling abroad and need to catch up with your favorite shows, you can still access CBS online with your cable account. You can also watch on the CBS app using any of these top VPN providers. I would recommend ExpressVPN to seamlessly stream shows both on CBS online and through the Paramount+ app, since it unblocks both easily.
Can I watch CBS for free?
While you can watch some CBS shows and content for free online and on the Paramount+ app, you'll need to pay for a subscription to access its entire library of content. Streaming platforms like Hulu, YouTube TV, and the Paramount+ app also have free trial periods so you could at least watch CBS for free for a short period.
You can pair a streaming service's free trial with a money-back guarantee provided by the 3 VPNs recommended in this article. CyberGhost is a super affordable option, with plans for just $2.29 per month. Plus, it works on up to 7 devices so you can watch CBS for free with family or friends. After you're done watching, you can just use its 45-day guarantee to get your money back.
Watch CBS with CyberGhost risk-free
Where can I stream CBS online?
If you subscribe to CBS services, you can connect directly through the CBS website (CBS online) or the Paramount+ app (the rebranded CBS all access app) from Canada, Australia, or the US.
However, if you're traveling outside the service area and still want to watch CBS online with your account, you can watch CBS on the CBS website and the Paramount+ app. CBS is also available through Hulu and YouTube TV. To access any of these services you'll need a quality VPN to log into your paid account and watch your favorite CBS shows. I would recommend ExpressVPN for its fast speeds that allow you to stream online in ultra HD.
Stream CBS online with ExpressVPN
I'm connected to a VPN, why can't I access CBS?
Free VPNs don't usually work, but you shouldn't encounter any issues if you use any of my top VPNs. If you're still experiencing problems logging in and watching CBS shows with a VPN, you can try to:
Unplug your router, wait 10 seconds, plug it back in, and try connecting again
Connect to a different server
Restart the VPN
Reinstall the VPN
Reboot your device and reconnect
Contact your VPN's customer support
If you need to troubleshoot problems, it's much easier to find a solution when your VPN has 24/7 live chat support. That's why I prefer providers that have agents ready to help all day and night. Every VPN I tested for this list includes 24/7 chat, but I got some of the fastest reply times with ExpressVPN. Even after midnight on a weekend, I always get a reply within just 1-2 minutes. You can try ExpressVPN for yourself worry-free as it's reliable 30-day money-back guarantee ensures you'll get a full refund if you're no longer interested.
Start Watching CBS from Anywhere Today!
With a quality VPN, nothing will restrict you from accessing your paid CBS account while you're abroad, at work, or using blocked public IP addresses. By connecting to a server with access to a CBS streaming service, you'll be able to watch all your favorite CBS shows from anywhere without stress.
Out of all the VPNs I tested, I would recommend ExpressVPN for its speedy servers, hassle-free setup, and servers optimized for streaming so you get lag-free shows on CBS. You can even try ExpressVPN with CBS for yourself risk-free for 30 days. If you decide it's not for you, simply request a refund using the 24/7 live chat feature. It won't take more than a week for you to see the money back in your bank account.
Summary — Watch CBS Now With These VPNs (Updated 2022)
Top Choice