How to Remove a Virus From iPhone and iPad in 2022
Last Updated by Vanessa Teng on September 01, 2022
Battery draining at the speed of light? Seeing unwanted pop-ups? Or did you find a new app you don't recognize? These are all signs that your iOS device might be under a cyberattack.
I know people say you can't get viruses on your iPhone and iPad – and that's true to an extent because of Apple built-in defenses. However, you're still exposed to a range of online threats, like phishing links, unsecured WiFi networks, and hackers. It's even worse if you've jailbroken your iOS device as you're vulnerable to all the above, as well as malicious apps harboring viruses and malware.
The best way to remove threats and protect your device is to download a powerful security app for iOS, like Norton 360. It can flag and block dangerous files, networks, links, SMS texts, and even warn you when any personal details have been released on the Dark Web.
Protect your iOS device with Norton
Quick Guide: 3 Easy Steps to Remove a Virus on iPhone and iPad
Get an iOS antivirus app. Norton 360's app is the best for iPhone and iPad in 2022 with web browsing protection, a free VPN, WiFi scanner, and more.
Launch the app. Norton 360 automatically scans your device for security and privacy threats, and shows you how to fix any issues.
That's it! Keep the app running in the background for constant protection.
Protect your iOS device with Norton
The Best iPhone and iPad Apps for Virus Removal (Tested in September 2022)
Key Features:b>
Blocks viruses, phishing links, hackers, unsecured WiFi networks, and spam
Includes a VPN with unlimited bandwidth (30 servers in 79 countries)
Supports iOS 12+ on iPhone, iPad, and iPod Touch
Use on 3 devices at the same time
60-day money-back guarantee
Norton 360 is the best antivirus app for your iPhone and iPad. It's packed with advanced privacy and security features, including a device scanner, WiFi network scanner, no-logs VPN, and Web Protection feature. There's even a Dark Web Monitoring feature that tells you if any personal information has been leaked – for example, your credit card number, address, driver's license, or mother's maiden name.
Upon installation, Norton 360 will run a quick scan to check for any security risks. When I ran a scan on my iPhone, I was alerted that my iOS version was out-of-date. I was also prompted to set up the Web Protection feature, which constantly filters and blocks all suspicious sites, links, and attachments.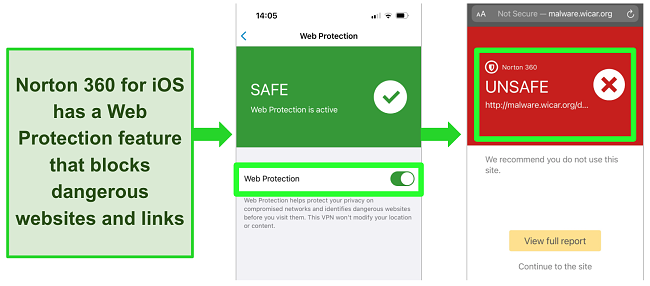 I also activated the Secure VPN, which has an ad tracker blocker and an auto-connect option. When I connected to a public WiFi hotspot at my local cafe, Secure VPN immediately turned on when it detected an unsecured network. The WiFi scanner even gave me a security rating of the connection. Once I switched back to a secure connection at home, the app automatically turned off the VPN.
There are 3 plans you can choose:
Norton Mobile Security: 1 iOS device with protection against unsafe SMS texts, websites, and Wi-Fi networks
Norton 360 for Mobile: Secure VPN and Dark Web Monitoring, plus the above
Norton 360 Deluxe: 3 device connections (including PC or Macs), plus the above
I suggest Norton 360 for Mobile if you're only looking to secure 1 iOS device. However, Norton 360 Deluxe provides the most value as you can protect all your devices and there's a huge 60% discount for the first year.
Either way, you can sign up for Norton with the 60-day money-back guarantee. This is the longest money-back guarantee out there and it gives you a generous amount of time to test every feature on your iPhone or iPad. When I tested the refund policy, I simply requested a refund over 24/7 live chat and it was approved in 5 minutes. The money was back in my account in 5 days.
Protect your iPhone or iPad with Norton 360
Key Features:
Filters iOS browsing activity and blocks all threats
Comes with a VPN (free and paid tiers available)
Supports iOS version 12.0+
Use on 1 device at a time
30-day money-back guarantee
Bitdefender is a lightweight app that keeps your iOS devices safe at all times. The Web Protection feature constantly scans all the websites and apps you're visiting, and will flag anything malicious asking for sensitive personal information. At 53MB, Bitdefender didn't affect the performance of my iPhone when running in the background.
As soon as I launched the app, Bitdefender ran a quick scan to check for any security issues. None were detected – although like Norton 360, I was told to update my iOS to the latest version.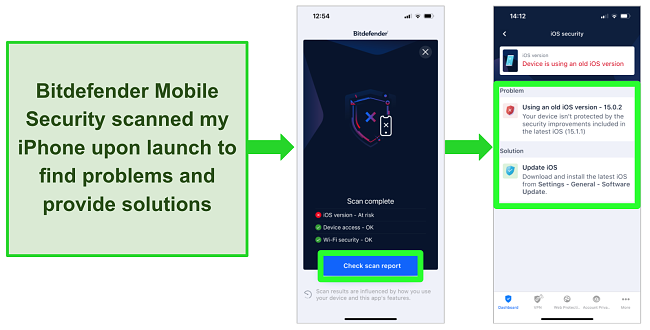 I also ran the Account Privacy scan, which lists a history of data breaches involving my email address. I was aware of many of these breaches at the time, but I was impressed at how Bitdefender listed breaches from more than a decade ago.
Like Norton 360, Bitdefender comes with a VPN. You can either access in-app or download separately. There are 27 server countries to choose from and speeds were excellent.
Bitdefender Mobile Security has a free version with limited features, including threat scanner, Account Privacy feature, and VPN. Unfortunately, the free VPN only provides 200MB of daily data and you can't manually pick your server location. There are no restrictions on the paid version, including the VPN, and you also get access to the Web Protection feature.
The free plan is good enough to run a basic check, but I strongly recommend the paid version if you want real-time protection for your iPhone or iPad. The combination of the VPN and Web Protection feature will keep you safe from all types of cyberattacks. The paid plan includes a 30-day money-back guarantee, so you can download Bitdefender Mobile Security on your iOS device and test it out before committing to a subscription.
Protect your iPhone or iPad with Bitdefender
Key Features:
Protects your device with WebShield and secure VPN
Features a Device Locator in case of theft
Comes with Optimization Tools to boost your devices' performance
Supports iOS 9.0+ (iPhone, iPad, and iPod Touch)
30-day money-back guarantee
TotalAV Mobile Security has a comprehensive range of security features and iOS-specific optimization tools. This app is ideal if you're a power user and you want to get the most of your iOS device. However, it does take up the most space with a file size of 195.9MB.
Like Norton 360 and Bitdefender, TotalAV has a VPN, data breach checker, and WebShield filter for blocking risky websites that might contain malware or phishing scams. In tests, all these features worked well. The VPN has unlimited data and it even auto-connected when I launch Safari's private browser.
TotalAV also has plenty of unique features, including a photo manager, device locator, battery monitor, and even an in-app secure browser. The photo manager was a standout tool that I haven't seen often – it freed over 1.2GB of space on my iPhone by checking for duplicates, filtered photos, and burst photos, and allowing me to delete them immediately.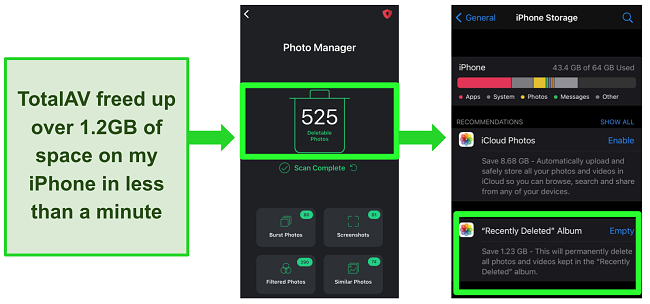 Unfortunately, all these premium features come at a cost as TotalAV is the most expensive app on this list. It does come with a 30-day money-back guarantee though, so you can try TotalAV on your own iOS device and get a refund if you don't like it. I tested the refund policy to make sure it works, and the customer support team approved my request in less than 5 minutes over the phone.
Protect your iPhone or iPad with TotalAV
Other Ways to Remove a Virus From iPhone or iPad
Delete suspicious apps – When you see an app you didn't download, it's very likely that it's there to compromise your device. Don't tap on it because it might execute malicious software. Instead, delete it, and it should go away.
Clear website data – This removes cookies, especially tracking cookies from any third parties that are watching your browsing history and habits.
Restore a backup – Try restoring your iOS device to a version before it starting having problems. This previous version takes your device back to a time when it's not infected.
Reset to factory settings – This returns your device to its brand-new state, deleting everything in your storage along with the malicious files.
Protect your iPhone or iPad with Norton
Top Tips to Protect Your iOS Device From Viruses
Antivirus apps like Norton are your best bet for protecting your iOS devices from cyberattacks, but if you take additional precautions, you can better protect your phone. Here are the top tips for protecting your iOS device from viruses:
Update Your Device Regularly
An outdated system could open up a gateway for viruses to enter. Apple takes the security of its products seriously – if there's a security loophole, it'll be fixed immediately and included in the update. If you don't install updates regularly, hackers could take advantage of these security loopholes and get into your iPhone or iPad.
Don't Jailbreak Your Device
Jailbreaking your iPhone gives you more freedom over interface customization, but it's just not worth risking the safety of your iOS device. When you jailbreak your iPhone or iPad, you're exposed to apps that aren't vetted by Apple. This increases the risk of downloading malicious apps and lowers your ability to ward off cyberattacks.
Only Download Apps From the App Store
All apps on the App Store are sandboxed, meaning each app is checked thoroughly for viruses and malware before it's available for download. Only downloading apps from the App Store helps a lot with keeping your iOS device safe.
Don't Connect to Public WiFi Networks
Many public WiFi networks are unsecured, which means hackers can use them to steal your information, see your messages, and plant malware onto your iOS device. You could even accidentally connect to a fake hotspot and be vulnerable to attacks that steal your login information. To receive an automatic alert when you're about to connect to an unsecured network, you can try Norton 360's WiFi network scanner – it even turns on your VPN so your internet traffic is immediately encrypted.
Don't Open Attachments From an Unfamiliar Source
Attachments from strangers or links could potentially be malicious programs. As soon as you open them, the malware, spyware, or virus would execute and perform what they're designed to do – which is usually to steal your private data or infect your device.
FAQs: iPhones, iPads, and Viruses
Can I really get a virus on my iPhone or iPad?
If you haven't jailbroken your device, then the risk is low. However, this doesn't mean you're 100% safe from online threats like spam, phishing websites, spyware, and unsafe WiFi networks. Cyberattacks are growing increasingly sophisticated and it's often too late to invest in precautions after you've already been hacked.
For maximum protection on your iPhone or iPad, it's worth investing in a mobile security app like Norton 360. You're better protected not only against viruses (if you have a jailbroken iOS device), but you'll also be kept safe from phishing scams, unwanted third-party spying, and other cyberattacks.
How can I tell if there's a virus on my iPhone or iPad?
You can run a scan with an antivirus app – it saves you a lot of trouble as it does the checking and vetting for you. However, you can also look out for these signs:
Apps crashing repeatedly
Seeing apps you didn't download
High cellular data usage (even though you haven't used it much)
Overheating iPhone or iPad
Battery draining faster
Seeing pop-ups even when the browser is closed
The risk is much higher if you've jailbroken your iOS device. Every app on the App Store is "sandboxed", which ensures that no app can access other apps' files or make any changes to your iPhone or iPad. Apple deploys its own processes to make sure every app is clean before it's released on the App Store. However, jailbroken iOS devices operate outside the "sandbox" system, which increases your iPhone or iPad's exposure risk to malicious apps and third parties.
What's the best antivirus for iOS?
I suggest you check out a mobile security app like Norton 360 to protect your iOS device from cyberthreats. While the threat of viruses is low, your iPhone or iPad is still vulnerable to online attacks from websites, SMS messages, attachments, and unsecured WiFi networks.
Norton 360 automatically secures you from public WiFi hotspots, blocks phishing links and dangerous sites, and even has a free VPN that encrypts your internet traffic from hackers. You have almost 2 months to test every feature before committing to a subscription as every subscription comes with a generous 60-day money-back guarantee.
Protect your iPhone or iPad with Norton
Keep Your Phone Safe with a Premium Antivirus App
Apple's devices are built to be safe, but that doesn't mean it's completely immune to online attacks. While there are ways to detect and remove viruses on your Apple devices that are free, the best way to secure your device and sensitive data is by using a top-tier antivirus.
Norton Mobile Security protects your iOS device from a range of advanced online threats. It even has a 60-day money-back guarantee, giving you plenty of time to try it out risk-free. I tested the money-back guarantee myself, and it was easy and quick to get a refund over 24/7 live chat. The money returned to my account in only 5 days.
---
Summary – Best Antivirus for iPhone and iPad in 2022
Top Choice