3 Best Free Adobe XD Alternatives With Similar Features! [TESTED in 2023]
Quick Summary: I tested dozen of free design software, but couldn't find something that comes close to Adobe XD in terms of UX/UI design. However, Figma was a decent alternative, and you can get it completely for free.
Adobe XD is a powerful prototyping tool for mobile, desktop, and web-based apps. However, while it's pretty easy to use, it requires a powerful computer to run smoothly. While it might be an ideal choice for professionals, I wanted to find a free alternative for students, new developers, and small businesses. I tested over 20 free programs, and for the most part, I wasn't impressed with what I saw. I could quickly see why these programs were free. They lacked the great features that come with Adobe XD and frequently crashed or were blocked by my antivirus as a potentially dangerous software.
However, I found a few free options that were close to Adobe XD, so I could prototype and develop my apps. My top choice is Figma. It's a web-based product design program, with the tools for creating and prototyping development-ready software. Figma has a customizable workspace that you can adjust to the size of multiple devices and makes it easy to hand your design to developers. However, there is no desktop app or offline mode, the interface can be clunky at times, and it doesn't have as many advanced features as XD.
Quick Guide: The 3 Best Free Adobe XD Alternatives
Figma: "Always Online" software for creating, editing, designing, and prototyping software for all platforms.
Sketch: Templates for app design, smart components for interactive features, but the app is only compatible with Macs.
InVision: The cloud-based software combines UX and UI tools to support the entire design process, but you can't swipe to the next screen on a prototype.
What I Look for in a Free Adobe XD Alternative
The most important thing to me is finding a free program that allows me to continue working. I found that I was continually getting stuck with a lot of the free programs. They just didn't have the features and tools that I had with Adobe XD. Therefore, I needed to ensure it fits the following criteria.
Ease of Use: I always prefer using software that is intuitive and easy to use. As long as a user has a basic background in interface design, it shouldn't be difficult to quickly get acclimated to the new software.
Basic and Advanced Tools: Having the right tool is key to any software. There also has to be an option for adding interactive components, like buttons, polls, and maintaining consistency for multi-page apps or websites.
Prototyping in a Live Environment: A live prototyping environment allows me to see the design and functionality of the site as a user would. Not only can I test the buttons and touch compatibility, but I can also see if there are any design issues or bugs I should be aware of before moving on to the development stage.
Real Time Collaboration: If you work with a team, real-time collaboration is a must-have feature. It is so convenient, saves time, and makes it easier to avoid issues that will delay the workflow.
Free: While the completely free programs I tested were not very good, I included freemium programs that included all the basic features and tools one would need to replace XD.
Best 3 Free Adobe XD Alternatives with Similar Features
Vector networks allow for multiple segments per vector node
Generates code for easy transformation from design to production
Add interactive elements and features
Use FigJams to create interactive whiteboard meetings
Figma is an all-in-one design cloud-based software that has the tools for editing graphics, designing apps or websites, and creating mobile game interfaces. One of the benefits of Figma is that as a web-based platform, it has an "Always On" policy. This allows for easy collaboration, real-time editing, and access from any computer.
It excels as a prototyping software for all platforms. Use the design tools and customizable workspace to add hotspots, buttons, polls, and other interactive features. Then, use the preview function to simulate the user experience and search for improvements from a UX perspective or find bugs. When you're finished with a design, you can generate SVG, CSS, and dedicated coding languages for Android and iOS devices.
With Figma, the attention to detail helps put it as the top alternative for Adobe XD. It created a vector network, which gives designers more control over lines. Whereas a standard vector design limits the number of segments from a vector node to one, Figma allows multiple segments from each node. The media library is compatible with all types of file formats, so you can easily insert them onto the design.
The FigJam is an interactive Whiteboard session that you can use for online team meetings. You can add lines, shapes, text, and add videos or animation to help illustrate an idea. The person running the meeting can choose to give editing access to other viewers or keep it as a "view only" session. I found the FigJam to help streamline the design and creative process and cut down on the time it would normally take to get feedback from other members of the team.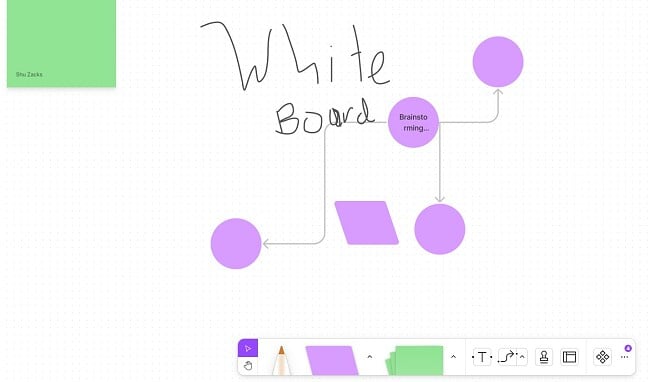 Figma has a free option. While all the premium features are available to use and you get unlimited drafts, the number of design files and FigJams is limited to three each.
Precision editing and design tools
Automatically sync your work to the cloud
Import PHN, JPG, Bitmap, PDF, SVG, AI, PSD, and more
Web based tool is available on all platforms
Sketch is a tool that specializes in designing the user interface for websites, mobile apps, games, and computer applications. It also has a vector design tool that I use for creating logos, posters, and banners.
You can start with a template or work from a blank canvas. Either way, you'll have access to design tools like smart guides, interactive elements, a large font library, cloud storage, and real-time collaboration.
The drag and drop design editor is easy to use, so you can arrange the interface the way you want.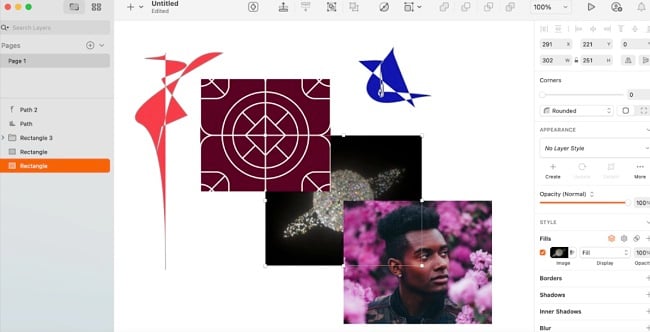 I found that one of the helpful features is the reusable components. It's for a component that will appear multiple times in the design, and by designating it as a reusable component, it can be inserted anywhere with a click. It removes some of the repetitive or busy work from the design so I can focus on other aspects of the project.
The pixel-perfect feature automatically adjusts the pixels to a fixed position. If one of the layers in your design has a pixel fraction, the feature will automatically fix the design error and align it with the nearest pixel edge.
Once a project is ready for testing, Sketch can create a prototype either in the browser or through your Mac app. It gives you a chance to check for bugs or elements that aren't working properly.
Unfortunately, there are areas where it just doesn't match up with XD. For example, it doesn't have 3D Transforms, automatic responsive resizing, auto-animate, or cloud integration.
While there is no completely free version of Sketch, you can test it for 30 days risk-free. It's important to note that while the app is only available for Mac, you can access the browser platform from a PC with access to all the tools.
3. InVision: All-In-One UX/UI Software with Digital Whiteboard
Inspect tool guides you from designing to coding with dev-ready specs
Quickly build a documentation site
InVision was initially designed as an integration for Sketch before it was developed into a full-scale software. The platform is completely online, which makes it easy to share the design with others, and receive instant feedback, comments, and real-time collaboration.
It was designed to be an all-in-one type app, that can be used from initial sketching through the testing stage until it's ready to be published. InVision has a sync app, ensuring that your design is always up to date, even if you worked on a different device or gave editing access to other users. The Version History feature lets you track all changes to the interface. I found this helpful in making sure that no nothing gets accidentally deleted or added to the design.
InVision doesn't have the option for device preview, voice prototyping, keyboard & gamepad support, or a content-aware layout. If these features are necessary, I recommend sticking with Adobe XD.
InVision is compatible with many third-party plugins and addons that makes up for some of its limited features. There is a free version of InVision that allows you to create three documents and work with teams of up to 10 people. You'll also have access to most of the features, including prototyping and collaboration.
When Adobe XD Isn't For You…
Adobe XD is an excellent product design and prototyping tool. It's part of the Adobe Creative Cloud, a collection of high-quality image and video editing software, which can improve the design quality of your interface. While I couldn't find as comprehensive software like Adobe XD, here are 2 alternatives that were close enough:
If you want an integrated whiteboard platform, Figma should be your top choice. You can create 3 free FigJam sessions, which allow you to set up an interactive whiteboard session, complete with shapes, lines, pens, video overlay, and more to streamline the creative process.
If you prefer a browser-based platform, Sketch is hosted in the cloud and can be accessed from any device. While the design tools are not as precise as XD, you won't have to download anything to your computer.
FAQ
Is Figma free?
Yes!
Figma has a completely free account option
. While it includes all the major design tools, collaboration features, and FigJam whiteboard meeting, you are limited in how many of these you can use. I found that the free option is a great way to get started without any long-term commitment, and it allows you to design, prototype, and export your first few projects.
Is Figma secure?
As a cloud-based platform, Figma encrypts all data both at rest and in transit. It uses Amazon's Virtual Private Cloud (VPC) to block any unauthorized network requests and to prevent hackers from viewing your work. I tested the Figma apps for Mac and Windows, and I didn't find any viruses, spyware, malware, or other malicious files.
It's important to download the official app
and avoid downloading a cracked or pirated version, as these tend to be outdated and can have harmful files added to the installation program.
What is better, Adobe XD or Figma?