Visit Private Internet Access Website!
PIA VPN Review 2023: Too Cheap to Be Good?
Private Internet Access Overview March 2023
Private Internet Access (PIA) has several unique features that help it stand out among the competition, like an adblocker that works so effortlessly and seamlessly that I couldn't imagine browsing the web without it.
If you're concerned about privacy, PIA's headquarters in the US within the Five Eyes intelligence alliance might give you pause. Despite following local standards, PIA maintains that it has a no-logs policy and keeps customer data safe with anonymous payment methods like Bitcoin and gift cards. If you're suspicious about these claims like I was, you can look into PIA's open-source code or try PIA's features for yourself for free for 30 days with its money-back guarantee. If it's not for you, simply cancel your subscription and reach out to customer support for a full refund.
March 2023 Update! You can subscribe to PIA for as low as 2.11 $ per month + get extra 3 months free with the 2-year plan (save up to 82%)! This is a limited offer so grab it now before it's gone. See more information on this offer here!
Don't Have Time? Here's a Short Summary (1-Minute Read)
Is PIA Fast? It's Fast Enough
I wanted to make sure I could accurately assess whether or not PIA was fast, so I tested several different servers and protocols to get an idea of its performance. While it's not the fastest, its speeds are enough.
Speed Test Results
Without using a VPN, I usually get about 180-200Mbps, but I expect slower speeds with a VPN due to routing data through various global servers. While testing PIA, I found that I had a wide range of speeds that seemed to be aligned with how far away the server was. I had the fastest speeds in the US and Europe, but they severely dropped in Australia and Asia.
PIA has a preferred server option that gives you the fastest connection based on your location. The best speeds I got from these were just short of 100Mbps, which were almost half of my normal speeds. Even with the farthest server (Sydney) at 24Mbps, I could still enjoy my favorite shows in HD.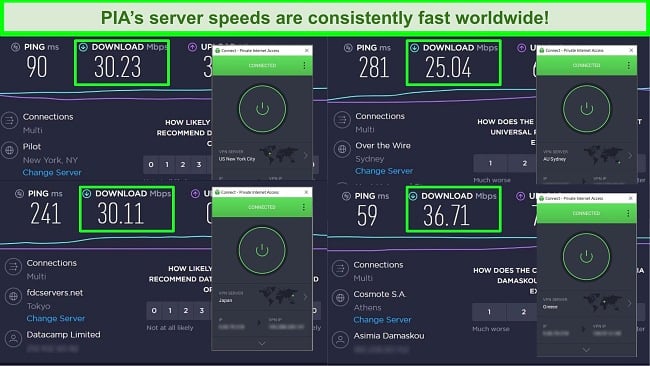 I heard that using the WireGuard protocol could cause some loss of speed when enabled. To test this, I turned on WireGuard for all servers in settings then I reran the tests with the new server protocol. I saw a limited loss of speeds when using WireGuard at no more than 5Mbps on average. Even when using a slower server in Australia, I still could do relatively demanding tasks.
I noticed the automatically selected server changed throughout the day but was usually a location close to me. I generally had fast speeds of around 100Mbps, which was a good choice if my server location was flexible. If you want to pick a specific server location, PIA's desktop interface shows the current speeds on a given server, so you can select the fastest one in the region you're interested in.
Why Most Speed Tests are Pointless & How We Correctly Test VPN Speeds
Speed determines how fast content uploads. Since a VPN encrypts your data, it usually takes a bit longer to send your data back and forth, which can slow down your connection. However, if your ISP deliberately slows down your connection (also known as throttling) a VPN might increase your internet speed. Testing a VPN is somewhat pointless because new servers pop up and affect speed. Your speed can also differ according to your location, so your speed test might not match ours. Having said that, we tested the speed in numerous locations to provide you with the average.
PIA has over 35000 servers worldwide in more than 84 different countries and 90 server locations, giving it one of the most robust server networks among premium VPNs. The company states that it owns its servers hosted in third-party data centers worldwide. It also has virtual servers in locations that had previously been removed due to regulatory restrictions in countries like Brazil and Russia. You can find them with the globe logo on desktop and mobile.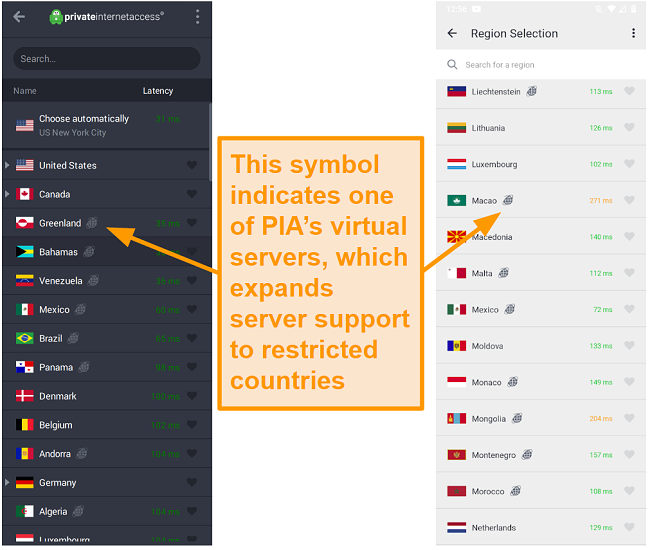 For an extra layer of security, you can use a geolocated server to disguise your connection through another server. I ran several DNS leak tests to ensure that the host country's location couldn't be detected. I was pleased to find the Greenland server was detected, even though I was actually routed through Amsterdam. This proves that your real location will definitely be hidden with heavy and reliable encryption. You can find a list of these special servers with their true locations on PIA's website.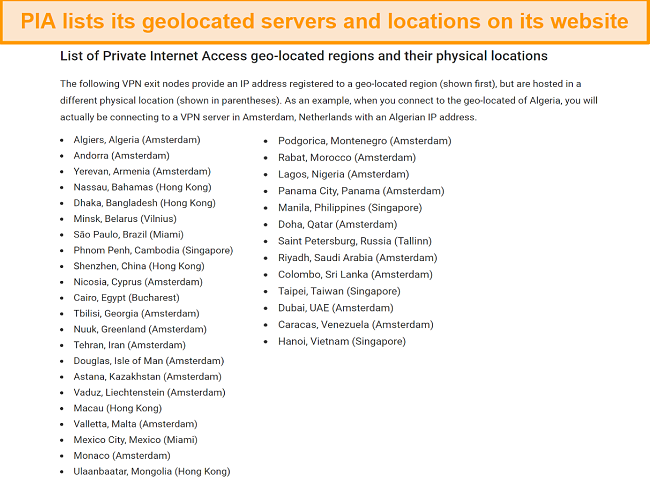 PIA uses bare-metal physical servers for improved performance and better speeds as they lower latency. Even the virtual servers are routed through dedicated bare-metal servers in secure data centers. Each server has one location, which helps to ensure that the connection you have is more stable. Using bare-metal servers also allows PIA to control the server environment in its entirety, ensuring that it meets security requirements and is appropriately maintained.
Is PIA Good for P2P? Yes, and No-Logs Keeps Your Data Safe!
PIA emphasizes its support for P2P file sharing on its homepage, which is excellent for anyone looking for a VPN to download files safely. Its no-logs policy ensures there's no record of what you do while connected to the VPN, making it essential for sharing large files over the web.
Since PIA doesn't have dedicated servers for P2P sharing, speeds can sometimes be slower. To improve this, PIA offers port-forwarding to open up faster connections.
Does PIA Work in China? It Might With a Few Steps Before You Travel
While PIA has several resources to help customers get around firewalls in China, its support team was unable to confirm that it's 100% successful. The customer service agent suggested using the OpenVPN or WireGuard protocol to increase my chances of getting past blocks while abroad.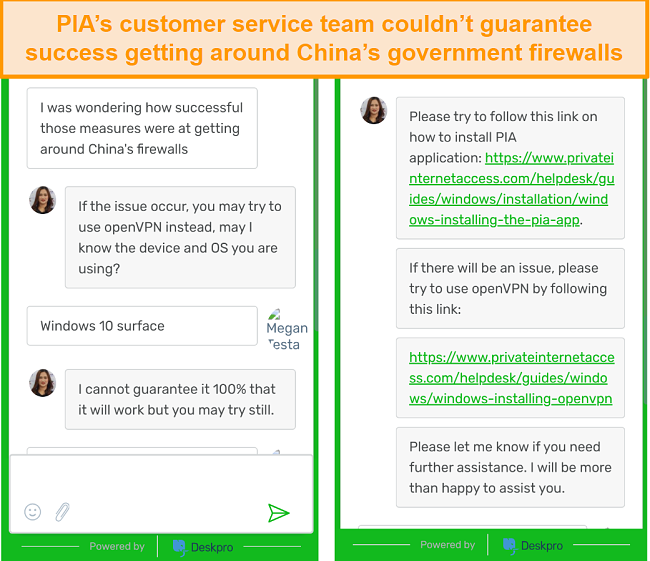 If you regularly travel to China and need a VPN that will definitely work whenever you're abroad. ExpressVPN is one of the top VPNs proven for getting around rigid government restrictions and firewalls anywhere.
Security
One thing I really like about Private Internet Access is its full suite of unique features that you can customize for your needs. For starters, you can choose between AES 128- and 256-bit encryption. The program has 128-bit encryption as the default, which is a great option to maximize speed and security. If you need more protection when you're using unsecured WiFi, you can switch to 256-bit encryption in the Connection tab within the settings menu.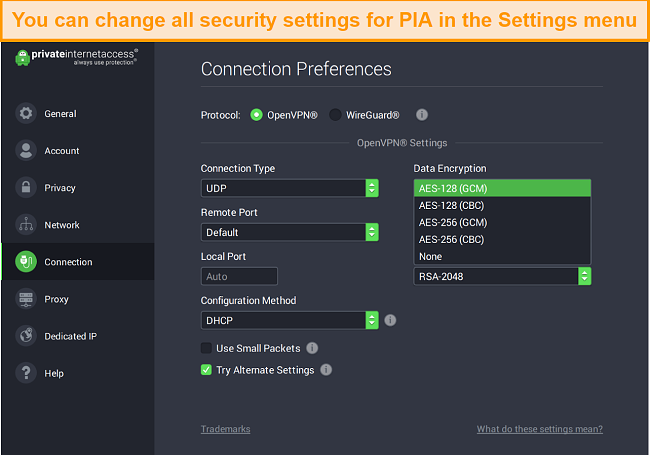 You can also select which VPN protocol you'd like to use in the Connections tab. PIA defaults to the OpenVPN protocol, which is currently the most common security protocol. You can also increase your protection to the newer and safer WireGuard protocol without sacrificing any speed. Since there's no drop in speed, I recommend using WireGuard for the extra level of security, especially if you plan to download files.
PIA's Split tunneling feature allows you to designate which apps go through the encryption tunnel. This allows you to safely download files with VPN encryption, while keeping your online activity unencrypted to maintain faster speeds. The option can be turned on from the Network tab in the Settings menu. There have been problems with split tunneling for some versions of Mac OS 11.0 and iPhone, so it might not work for these devices.
You don't have to worry about your data being compromised if you lose connection to one of PIA's secure servers, thanks to its automatic kill switch. You can customize this feature by turning it to either "off," "auto," or "always." If your connection to a server drops, "auto" only stops incoming data from getting your information, while "always" cuts your network entirely if you lose connection with the server. I recommend using the "always" setting to ensure your data is kept completely safe all the time.
While its name sounds trustworthy, Private Internet Access has had a rocky history. In 2018, PIA's parent company London Trust Media (LTM) hired Max Karpeles as the new CTO. Karpeles was the former CEO of Bitcoin exchange Mt. Gox, previously ousted from his company for manipulating data to harm his clients. The chairman and co-founder of LTM hired Karpeles anyway to give him a second chance. In 2019, PIA was acquired by Kape Technologies, an internet company initially known as Crossrider. This company had a history of creating predatory advertisements, developing such a notorious reputation that it eventually had to be renamed. With the new name, Kape also changed its shady practices.
While it seems that its dark history doesn't impact the end-users of PIA as proven by its widespread transparency in the platform and reports, it's important to be aware of the company's history before you subscribe. Despite its past, I can confirm that my security was never compromised by malware or ads during my tests.
Get PIA's advanced security features
Privacy
Private Internet Access truly lives up to its name in its privacy features. To ensure each of PIA's servers were airtight, I ran several leak tests on different servers, including both the bare-metal and geolocated servers. I found the results showed that I was in the location of the server I was connected to, without detecting my real location.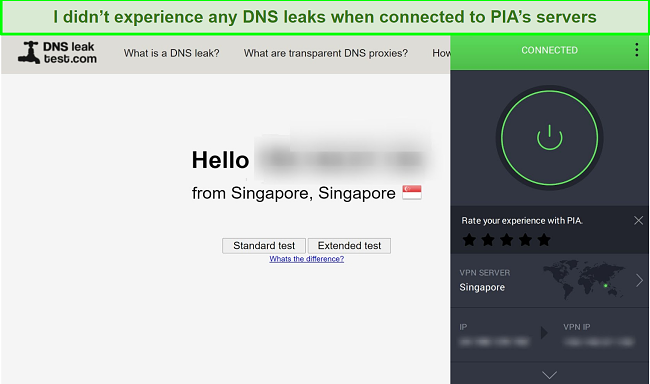 PIA has a well-documented no-logs policy, which means it doesn't record any customer data. Some VPNs will keep track of their customer's activities while connected, but PIA doesn't record any of this. The only information PIA keeps on file is a record of your email address and payment method, as stated in its privacy policy. For extra caution, you can create an email strictly for your PIA account and use an anonymous payment method, like cryptocurrency or gift cards. This helps to decrease the amount of personal information that can be traced back to you.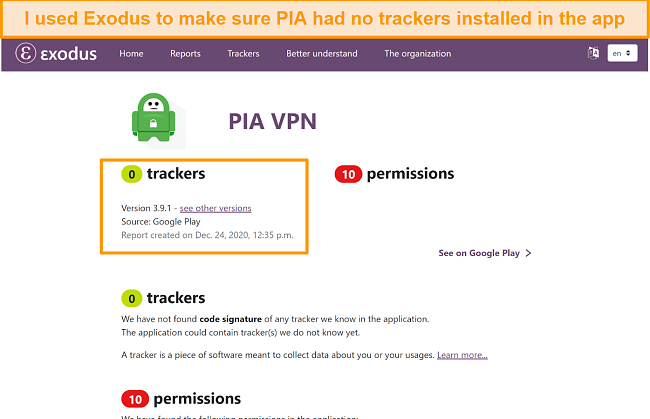 If you're worried about Private Internet Access being located in a Five Eyes country, you should find comfort knowing that it has repeatedly fought litigation where governments asked for customer data. In a 2015 court case in Florida, PIA stated that it didn't log any customer data under threat of perjury and had nothing to share when requested by the court.
When Russia demanded that all web providers keep customer data for a year, PIA pulled all servers out of the country in 2016. PIA has only recently resumed service in Russia by relying on geolocated servers based in Tallinn.
Since these incidents, PIA has committed to publicly releasing regular transparency reports to tell customers how many times it's been asked to release data to local governments. These reports are hosted on PIA's website, where you can see the latest report and an archive of all previous reports going back to December 2018.
PIA is one of few VPNs that runs on an open-source platform, which means that you can look into the source code to make sure there's nothing questionable buried in the program.
Without requiring a membership, Private Internet Access has a free private browser for Android and iOS called InBrowser. Each time you leave the app, it deletes your cache and cookies. This keeps advertisers from tracking your browsing habits and your mobile browsing secure. PIA makes money off InBrowser by showing you 2 HTML-based ads on the start screen, but that's it. These ads are generally plain text and don't use cookies, which helps to keep your session anonymous.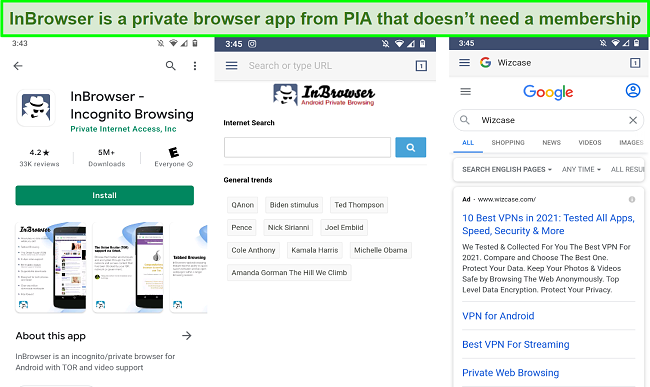 Although PIA's parent company Kape Technologies is known for its aggressive advertising, I was able to browse the internet without any annoying pop-ups with MACE adblocker. After I turned it on, I went to an ad-riddled website, like Speedtest.net. I found that all of the ads were removed entirely just by pressing a button in the PIA desktop client under "Quick Settings". The feature is so seamless that I keep it on full-time to remove ads while browsing my favorite sites.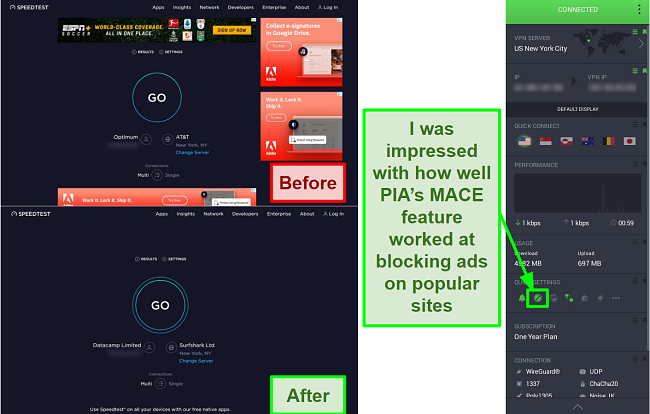 Server Locations
Australia
Austria
Belgium
Brazil
Canada
Czech Republic
Denmark
Finland
France
Germany
Hong Kong
Hungary
India
Ireland
Israel
See all supported locations...
User Experience
- 9.5
/ 10
Downloading PIA onto your computer couldn't be more simple.
1. Go to the Private Internet Access website and click the Download tab. The website will automatically detect your operating system, providing you with the version of the software you need.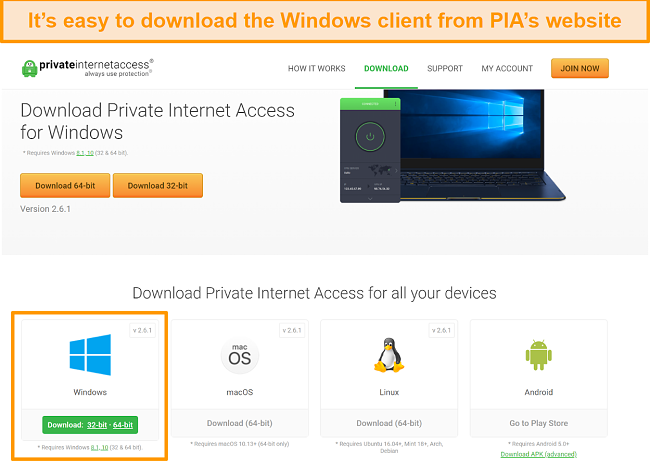 2. After downloading the installer, install PIA using the installation wizard.
3. PIA will appear in the hidden icons dock on your taskbar. Click the icon for the desktop client and select a server and connect.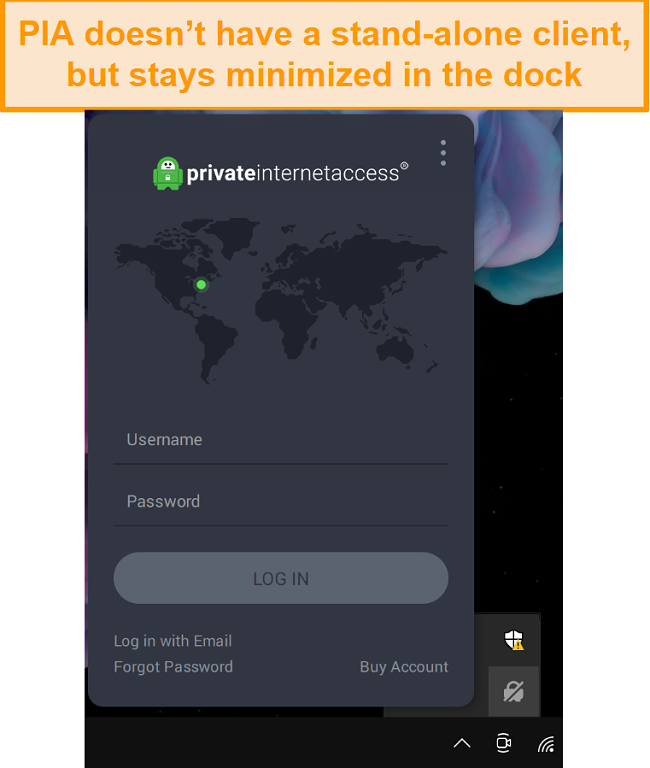 While I mainly tested PIA on my Windows and Android devices, it also works on Mac, Linux, Android, and iOS. If you prefer to use its browser extensions, it's compatible with Chrome, Firefox, and Opera. You can take advantage of this wide range of device compatibility as PIA allows you to have unlimited simultaneous device connections.
I also tested PIA on my Android device and it was very simple to use. I usually find that there's a big difference between the desktop client and the mobile version. However, PIA's Android version works almost exactly like the desktop version, so it was easy to get connected.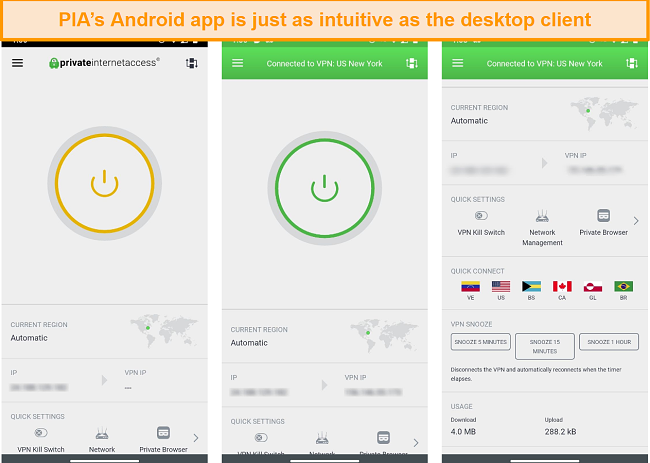 For additional compatibility, you can control Private Internet Access through your command line using the "piactl" command. This allows you to connect to the automatic server and disconnect from the command line. This works great for web developers, who may need the ability to control their VPN without getting the graphical user interface (GUI). All you have to do is type "piactl connect" or "piactl disconnect" to manage PIA.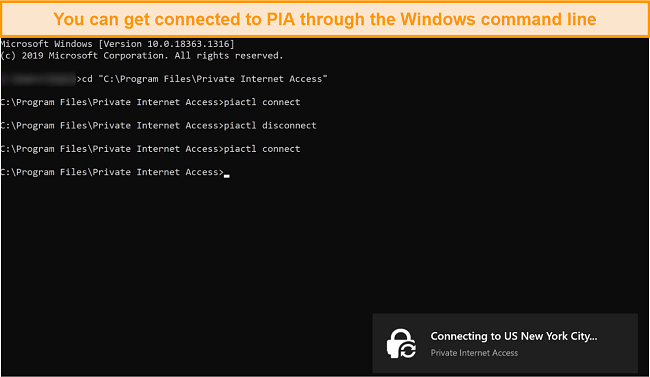 While operation through the command line isn't necessarily useful for everyone, it's another unique feature for PIA. The levels of customization and compatibility make it one of the most diverse and exciting VPNs I've used.
PIA has a few official support channels, including a very robust knowledge base, email support, 24/7 live chat, and Twitter support through @PIASM.
Each time I started a support chat, I rarely had to wait more than a minute before getting connected to an agent. Whenever I asked a question, the representatives usually sent me an article from the PIA knowledge base. While I prefer getting a simple answer right away, the articles were still relevant.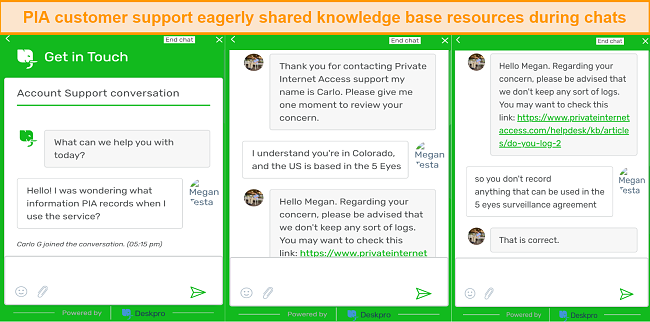 Despite getting redirected to PIA's knowledge base, I was really impressed with the extent of information in some of the articles. The forums on Private Internet Access's website and Reddit were filled with a ton of information about PIA's features and troubleshooting tips. The VPN had representatives on the Reddit forum and its knowledge base community to provide accurate information and answer questions.
How We Test Customer Support and Why Should You Care
We personally test the customer support team of every VPN we review. This means asking technical question through the live chat feature (where applicable) and measuring the response time for email questions. Whether you need to connect to a specific server, change your security protocol, or configure a VPN on your router, finding a VPN with quality customer support should be important to you.
March 2023 Update! You can subscribe to PIA for as low as 2.11$ per month + get extra 3 months free with the 2-year plan (save up to 82%)! This is a limited offer so grab it now before it's gone. See more information on this offer here!
Private Internet Access has a variety of unique payment methods, including:
Credit Cards (Visa, Mastercard, American Express, and Discover)
PayPal
Cryptocurrencies (Bitcoin, Litecoin, and Ethereum)
Popular retail gift cards (Starbucks, The Home Depot, Walmart, and more)
You can anonymously pay for your PIA membership using gift cards for popular retailers through its trade-in process. To get this feature, you have to go to the payment screen, where you can select which retailer's gift cards you want to trade-in.
If you want to get the most features for your money, PIA's 2-year + 3 months subscription is currently the best deal. It also comes with a 1-year subscription to Boxcryptor, a cloud encryption service that can be used to protect your Dropbox, Google Drive, iCloud, and other cloud storage platforms on an unlimited amount of devices.
Taking advantage of the 30-day money-back guarantee is super easy. When I tested it, all I had to do was reach out to PIA's customer support through live chat. I told the agent that I wanted to cancel my account, and the agent asked if there was anything they could do to troubleshoot. I explained that I didn't need the service anymore and wanted a refund. You should note that the agent needed my invoice number to confirm my identity to cancel my account. Without me asking, the agent resent my original invoice to the email I signed up with. After providing this number, the agent processed my request in seconds and I got my money back in 4 days.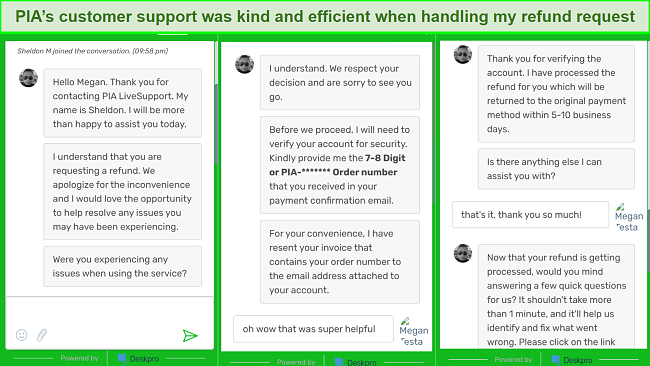 One of the unique features about PIA's refund policy is that you can take advantage of it every 3 months. This information is listed in its Terms of Service under the Refund category.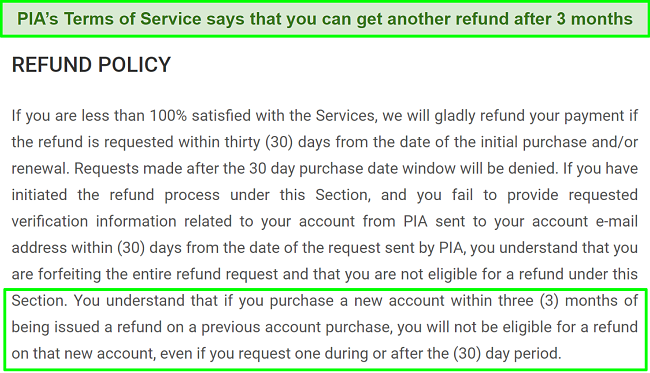 If you want to try PIA's 30-day money-back guarantee, I recommend signing up for the 1-month membership, as yearly memberships are charged in full when you sign up.
Private Internet Access offers the following plans
Final Verdict
While Private Internet Access may not be as well-known as some other VPNs, it's easily one of my favorite VPNs on the market. With powerful security features, a large server network, unmatched customization, and anonymous payment methods, it sets itself apart as a VPN that adapts to your needs. You won't have any issues getting connected as it works on up to 10 devices, so you're protected however you connect to the internet.
Don't just take my word for it — you can try PIA risk-free for 30 days, so you can see if this VPN is a good fit for you too.
Try PIA's 30-day money-back guarantee today!
FAQs About PIA
Is Private Internet Access any good?
Yes, it's pretty good. PIA is one of the strongest and most versatile VPNs available with its wide range of customizable features. I was particularly impressed with its unique adblocker that eliminated ads on even the most congested websites.
One of my favorite PIA features is its range of anonymous payment methods. You can keep your identity totally private by paying with Bitcoin or gift cards from major retailers like Starbucks or Walmart.
PIA offers some of the most robust security features on the market, including AES 256-bit encryption, WireGuard protocols, and a kill switch. It has more protocol options that also lets you prioritize speed or security. While it may not be the fastest VPN out there, PIA provides speeds fast enough.
Can I get PIA for free?
You can't get PIA for free, but you can use PIA for free for 30 days with its money-back guarantee and get a refund. While you'll have to pay upfront for your subscription, you can get your money returned as long as you cancel before the end of the trial period.
Getting a refund is super easy. All you have to do is reach out to an agent on the 24/7 live chat and tell them that you want to cancel your account. If they ask you how they can keep your business, just tell them that you don't need the service anymore, and they'll process your refund quickly.
Is PIA safe?
PIA is one of the safest VPNs available with military-grade encryption, a kill switch, and WireGuard protocols. While you might be worried about PIA being headquartered in the US and within the Five Eyes data sharing alliance, you don't have to worry since its proven no-logs policy helps keep your information private.