As far as servers are concerned, SmartyDNS has a limited number. Nevertheless, the ones it does have are positioned in some of the most popular areas of the world. The bottom line is that there are only a few locations and servers, but you will usually be able to find one near you to access the content that you wish to access.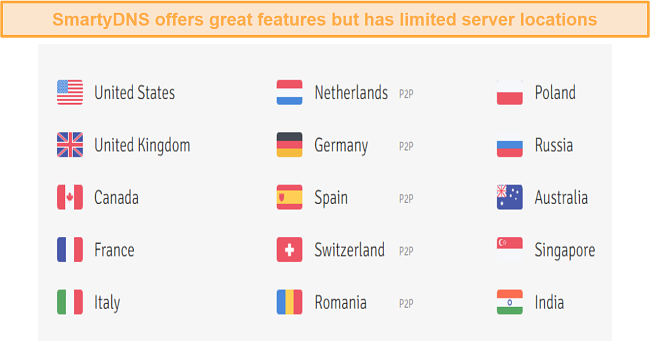 SmartyDNS has an overall network of 20 servers located in 15 countries, which can lead to server overload when the network is busy. The company offers servers in the following countries: the Netherlands, Germany, the United States, France, Italy, Spain, Romania, Switzerland, the United Kingdom, Russia, Singapore, Canada, Australia, Poland, and India. The servers are all fast, and some of them are also dedicated to P2P traffic.
SmartyDNS uses the strongest encryption methods available to protect your traffic online from anyone trying to intercept it and exploit it. It offers a variety of industry-standard features including OpenVPN, a functional kill switch, as well as effective leak protection. IKEv2 is surprisingly the default protocol of the VPN, even though OpenVPN is believed to be the industry standard. So, keep in mind to switch to OpenVPN as soon as you begin using it.
In addition to DNS leak protection, the security service uses 256-bit AES encryption — the strongest encryption that makes it impossible to decrypt your traffic as long as your computer is connected to SmartyDNS servers. If you visit their support page, you'll learn that the AES-256 encryption is used with the L2TP/IPSec, SSTP, OpenVPN, IKEv2, and SoftEther protocols, while PPTP protocols employ 128-bit MPPE encryption. For my tests, I used OpenVPN since it is currently considered the gold standard of secure connections based on the 2048-bit encryption that it utilizes.
SmartyDNS also offers you protection against websites knowing your preferences and linking them to your identity to spam you with personalized ads, and it masks your torrent traffic so you won't receive copyright notices or other annoying letters from your ISP. However, not all of its servers are designed to be P2P-compatible.
SmartyDNS is equipped with a kill switch as well, providing you with the necessary protection in case of a connection failure. It can be used as a standalone feature, and it allows you to pick which apps are to be shut down when the connection drops. SmartyDNS runs its own DNS servers as well, protecting your personal information against unauthorized access.
With the software, you can enforce leak protection for DNS, IPv6, and WebRTC. It is built into the client, and you can enable it from your app's "Connection Guard" settings page. The good news is that it actually works. I was not able to identify any DNS leaks based on information found at ipleak.net. Additionally, there were no WebRTC leaks detected. The result is exactly what you want to see — it offers reassurance that SmartyDNS's Windows client adheres to its privacy obligations.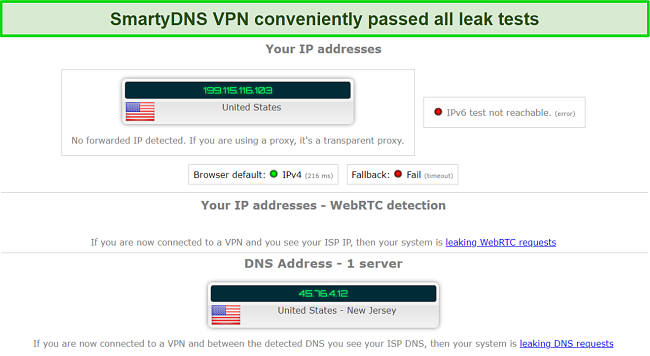 Based on my tests and the results obtained, it can be seen that SmartyDNS has no leaks at all. When I connected to their Manchester server, I was assigned the IP address 199.115.116.103. The image above shows that neither my IP address nor my location was revealed – my privacy was maintained. Overall, I can say with confidence that SmartyDNS is an effective leak-free VPN.
The provider claims that no connection or activity logs are kept, nor is there any information pertaining to your network activities while using SmartyDNS, making it impossible to link specific network activity to individual users.
Here's a snippet from their privacy policy: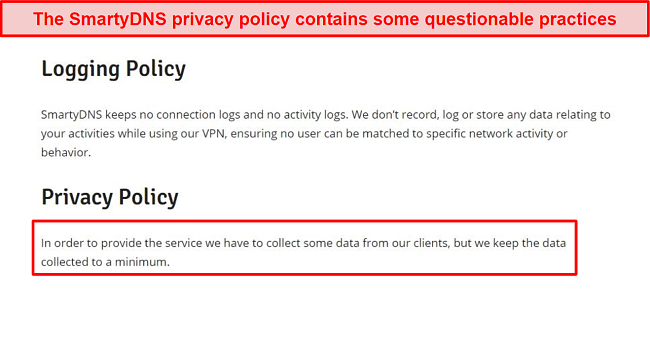 In addition, the company mentions that certain data will be collected from clients, but that the data collected will be kept to a minimum. The provider does not tell us what constitutes this "minimum" and all we have is their word that no meaningful logs are being collected.
When signing up with SmartyDNS, you can choose to provide SmartyDNS with certain personally identifiable information, but this is not required. You will however need to enter a valid email address before you can sign up.
If you are looking for a VPN with a no-log policy that is transparent and devoid of loopholes, then you may want to stay away from this one, due to their data storage policy. I recommend going with ExpressVPN as it has a proven record of keeping the privacy of its users uncompromisingly secure.
SmartyDNS supports torrenting and peer-to-peer traffic but only on selected VPN servers. The P2P servers supported are clearly identified within the app's server list, spanning a total of 5 countries, including the Netherlands, Romania, Spain, Switzerland, and Germany.
It was very easy for me to download torrents quickly and easily when I used the closest downloading server. Additional options and settings are not required for this. Just make sure that you are using one of the P2P-compatible servers.
With SmartyDNS's no-logs policy, torrenters will be able to use it freely without worrying about their privacy. You are also kept safe with a kill switch, which safeguards your IP address from being exposed in the event that the VPN connection drops. The only functionality that is missing from the app is port forwarding.
Since I wasn't able to perform the test myself, I can't guarantee SmartyDNS will consistently bypass China's internet censorship. However, my live chat conversation with SmartyDNS technical support revealed that the VPN does work in China, but you'll need to use the OpenVPN protocol in the SmartyDNS app or the SoftEther protocol to accomplish this.
To be honest, I won't be surprised to hear that it failed to work in China. Obviously, to bypass the Great Firewall of China, you'll need a VPN that offers obfuscation technology that SmartyDNS clearly lacks. The most strategic method to ascertain the possibility of SmartyDNS accessing internet service is to download the VPN before traveling. If you need to connect to a VPN while in China, then I would suggest that you try a reliable anti-censorship VPN service like ExpressVPN.