Private Tunnel has a limited network of servers with only 50 in 12 different countries, but I still found it easy to find a connection. I tested 2 US-based servers and all of the international servers to see how fast I could get connected.
With the exception of 2 servers (Hong Kong and Canada), I connected to each server in less than 3 seconds even though I'm based in New York. This made it incredibly easy to connect around the world and start browsing the internet.
| | |
| --- | --- |
| Server Location | Connection Time (Seconds) |
| Amsterdam, Netherlands | 2.8 |
| Atlanta, US | 1.9 |
| Frankfurt, Germany | 2.2 |
| Hong Kong | 15.5 |
| London, UK | 2.1 |
| Madrid, Spain | 2.3 |
| Milan, Italy | 2.3 |
| Montreal, Canada | 13.9 |
| Paris, France | 2.1 |
| Stockholm, Sweden | 2.3 |
| Tokyo, Japan | 2.6 |
| Zurich, Switzerland | 2.4 |
Private Tunnel VPN encrypts all data going through its servers with 128-bit AES encryption and masks your IP address. This helps to protect your connection when going through public WiFi access points.
However, Private Tunnel lacks a kill switch on its applications, which is an important security feature that's standard on almost all other providers. If the connection unexpectedly drops, your unencrypted information could be exposed to prying eyes.
I was also concerned when I tried to connect to a server in Tokyo. I found that there was an unexplained DNS link that detected my connection from New York rather than from Japan. After I tested 8 different servers, I only found this suspicious behavior only when connected to Private Tunnel's server in Japan.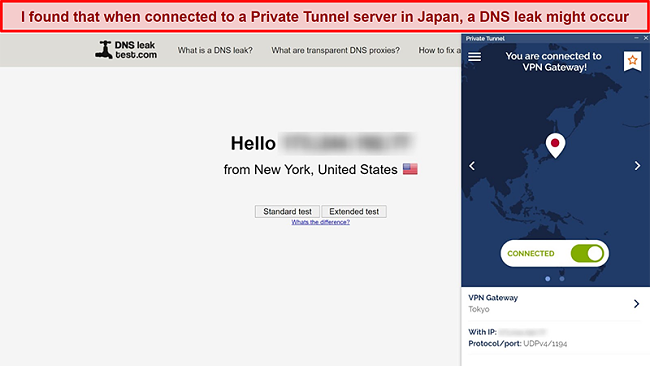 Private Tunnel's privacy policy might give you pause as it's not as anonymous as with other VPNs. It doesn't have a no-log policy, and it actually collects your information during sign up and browsing sessions that can be shared with third parties, like law enforcement agencies.
Since I use a lot of VPNs, I'm used to tight privacy policies that secure your identity from any online risks. However, Private Tunnel collects a lot of data, including your email, billing information, and IP address that you connect to its service with.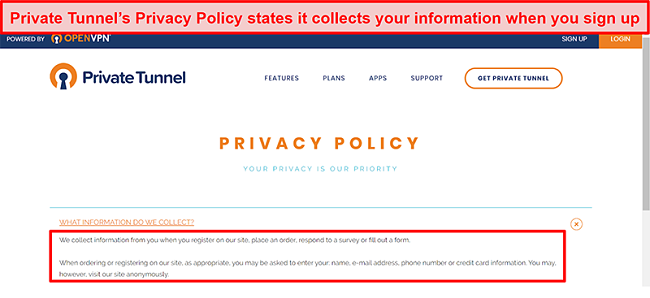 Private Tunnel collects your IP address when you connect to its servers according to its Privacy Policy. It also records the amount of data sent through the connection and how long the connection lasts for.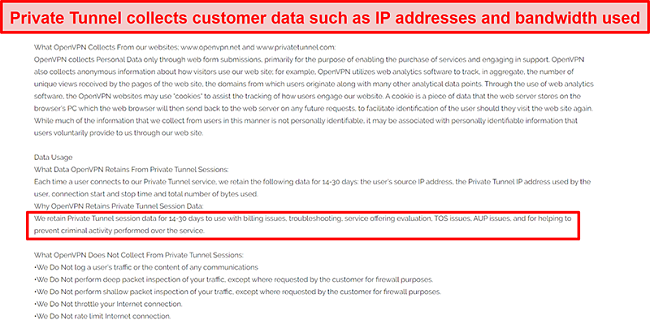 You must agree to have your data collected each time you use Private Tunnel's services on the website, computer program, or app.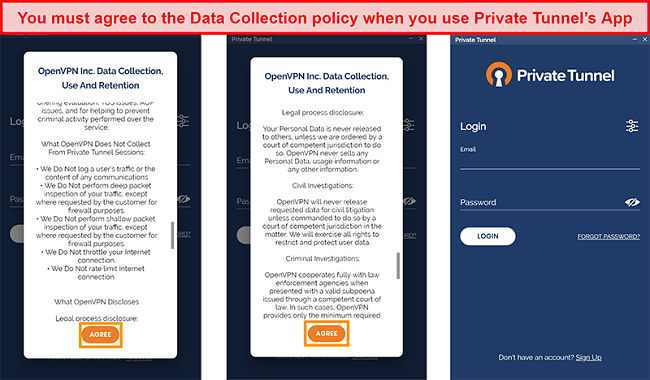 This data collection policy ties into Private Tunnel's Terms of Service, which state that illegal activities aren't permitted on its service. By using the service, it's important to know that you're implicitly agreeing to these Terms of Service. If you're interested in using Private Tunnel to get around government censorship or watch content from other countries, you could actually be violating these Terms of Service.
If Private Tunnel receives a government request for this information, it can turn your data over to law enforcement, which puts your personal information at risk.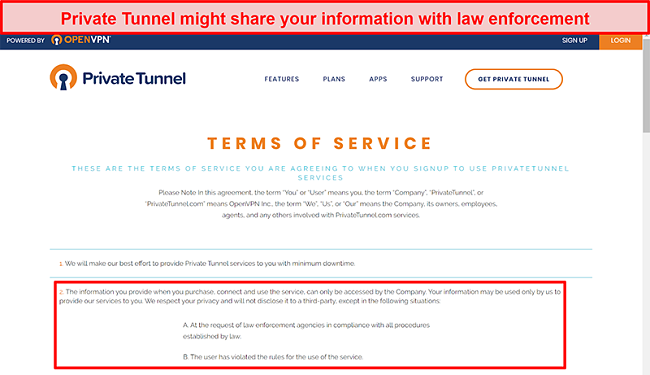 Private Tunnel is forced to keep customer data because it's located in the US, which is a member of the "5 Eyes" intelligence sharing alliance that tracks internet use in the countries involved. This means internet service providers and VPNs are required to keep records of their customers. Any time you use an internet service provider or a VPN based in one of these countries, your data is recorded and can be used against you. That's why when you select a VPN to use, you should make sure the company isn't located in a country within the data sharing alliance.