EyeZy Overview May 2022
After looking through eyeZy's website, it seemed like the perfect parental control app. It had all the fantastic features I usually look out for, like web monitoring, files finder, and app control.
I was curious to see if eyeZy was as good as advertised. I planned to install it on my teenage son's iPhone and see how it would perform. I was disappointed that I needed to jailbreak the iPhone to get full access to all the features. To get the full effect, I decided that I would install it on my son's iPhone without jailbreaking and on my teenage daughter's Android. This way, I could fully test it and see whether it's worth buying.
I found this special link that gave me a discount on the subscription package. I purchased the single-month package, so I could test it out before committing to a long-term package. eyeZy has a 14-day money-back guarantee, but you have to explain why you're unhappy with the product and see if the customer support staff can fix the issues.
Features
7.5
Web Monitoring, Web and Application Control, Phone Call Monitoring, GPS Location Tracking, and Social Media Monitoring require users to jailbreak an iPhone to work.
eyeZy's features ticked every box on my must-have list like keystroke recording, website monitoring, apps and internet control, and even usage time schedule. Read on to understand how each feature works.
Dashboard – Well designed to give a complete overview
The eyeZy dashboard is excellent. The monitoring app collects so much data from my kid's phone that it would be overwhelming without a nearly perfect dashboard.

The graph in the center of the screen gives a general overview of the children's activities on their phones. This allows me to see who they are messaging or calling plus links to the websites they visit. On the bottom half of the dashboard is a map with a live location and location history.
The menu on the left-hand side of the dashboard separates each of the monitoring features. Open any of the links, and you'll get a complete breakdown of what they're typing, pictures, calendars, social media, and much more.
Keystroke and Screen Recording
I was so excited to try out this feature. So I was pretty surprised when I didn't see it on my dashboard. This was a little unsettling given that, on its website, eyeZy advertises that it has an advanced keystroke capture tool that's designed to help you see everything your child types on their phone. So I contacted support to figure out this issue and see if they could help me.
The customer agent was so helpful, and they explained that I couldn't access the keystroke recording function without jailbreaking my kid's iPhone. To do this, I needed to install specific software in my mac and in my child's phone to gain complete access to my kid's phone.
Here's a snippet of our conversation: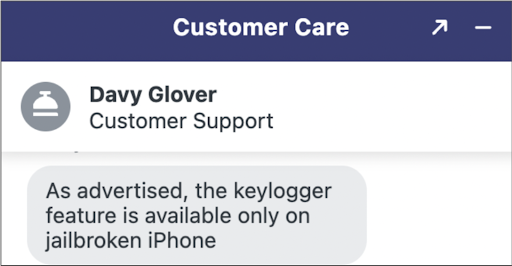 This was very frustrating because I didn't want to jailbreak my kid's iPhone. The reason is, doing this would expose their phone to viruses and hackers, plus I'd lose the warranty I have on their phone. If this is a concern for you and you simply want a parental control app that works without extra processes, I'd recommend you check out Qustodio.
Instead of jailbreaking, I downloaded eyeZy and installed it on my daughter's Android. I checked the parental dashboard a few hours after installing the app, and I was happy to see how clear everything was. The Keyboard Logger shows me exactly which apps were being used, and exactly what my daughter was saying.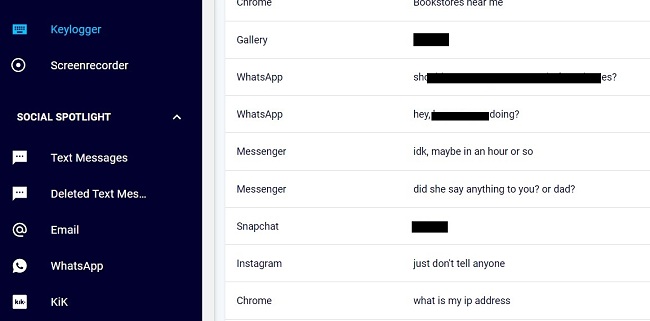 There is the option to sort the results by app, which makes it easier to find specific types of conversations. Otherwise, the Snapchat or messenger chats which are problematic at times, can get lost among all the other things she types. It would be nice if there was a search feature or keywords that would trigger notifications so I don't have to scroll through text that is mostly harmless.
The screen recording automatically takes a screenshot and uploads it to the dashboard every time a new action occurs on the phone. I like this feature even more than the keylogger because it's visual. It lets me see exactly what websites my daughter is visiting, screenshots of chats, and SMS messages, so there is no context that I might lose by reading one side of the conversation recorded by the keylogger. The one downside of the screen recording is the number of pictures I have to scroll through to see if there is anything concerning that I should know about.
Social Spotlight (Android Root Required) – Stay informed with whom your kids are interacting
When I first saw the Social Spotlight feature, I assumed it was extra and unnecessary. After all, I just finished saying how eyeZy records everything my kid's type and takes screenshots of each new action. So, what benefit does this feature add? Plus, I needed to root my daughter's phone for it to work.
After using eyeZy for a few weeks, I can see the benefit. The keylogger only records my kid's side of the conversation, and the screen recorder takes hundreds of screenshots with no real filter system.
Social media monitoring makes it easy for me to check out specific websites and see what kind of conversations my children are having and if I need to block them from the app. I can check if they are being bullied, talking about inappropriate topics, or just being kids and having fun with friends.
eyeZy monitors the following social media and messaging networks:
| | | | | | | |
| --- | --- | --- | --- | --- | --- | --- |
| SMS & Deleted SMS | email | WhatsApp | Telegram | Tinder | Line | Hangouts |
| Kik | Viber | Facebook | Snapchat | Skype | Instagram Messages | |
Phone Analyzer – See Who Your Kids Are Talking To
Screen records and keyloggers are great for all things text, but they don't do very much when it concerns who your kids are talking to. While eyeZy doesn't record phone conversations, it does allow parents to see the phone's contact list and call log.

When I looked at the Phone Analyzer section on the dashboard, I was happy to see that it detailed who made those calls and the duration of the call. I found out that one of my daughter's classmates kept calling and hanging up after a few seconds in an attempt to annoy her.
Accurate GPS Tracking and Wi-Fi Monitoring
Installing eyeZy on my kids' phones means I never have to wonder where they are (as long as they have their phones on, which is always). The app has access to the phone's GPS and updates it every few minutes.

When combined with the Magic Tracker feature, which for reasons I don't understand, is listed in a different section of the dashboard, you can create a geofence to receive live updates when your kids enter or leave a specific area. It also stores the location history, so I was able to go back and make sure that my children weren't skipping school or sneaking out at night when I wasn't checking the app dashboard.
eyeZy is integrated with Google Maps, which is great when you need directions for how to get to where your kids are hanging out.
One feature that I haven't figured out is Wi-Fi monitoring. It updates the dashboard with the name of the wireless network and technical details about the router. I'm not sure what helpful information this adds, but I guess it can't hurt to know.
Block apps, Websites, and Wi-Fi
eyeZy lets me do more than just monitor where my kids are and what they are doing. It also gives me the control to prevent them from using their phone in a way that I don't approve of. This means that I can create a blocklist of websites that I don't want them to access, whether porn, fantasy sports, games, gambling, or just a site that I don't want them on, and block it from opening.

The downside to this feature is that unlike a web filter, which blocks by categories and keywords, I have to know the websites I want to block or get them by checking out the kids' browsing history.
The app also compiles a list of all the apps that are installed on the kid's phones. I can go through the list and block the ones I disapprove of. For example, I noticed that my daughter was on TikTok for way too long and needed a break, so I blocked it.

The one thing I believe is missing from this feature is the ability to set time limits for each, like Qustodio lets me do. I don't mind that my daughter has TikTok or Netflix, but it would be nice if I could give her an hour a day for each instead of blocking it completely.
I challenged my kids to find a way to get around these restrictions. They tried using a VPN and going to websites in incognito mode but were unsuccessful. The only bypass they figured out was downloading a no-name browser which couldn't enforce my blocklist. However, I was able to block the browser, and they had no solution for that.
Social Calendar Access
Out of all the apps I have tested, I've never actually encountered one that lets you see your child's calendar. With this feature, I felt so in control, knowing that I could see my kid's schedules and be able to determine where they would be, at what time, and with whom.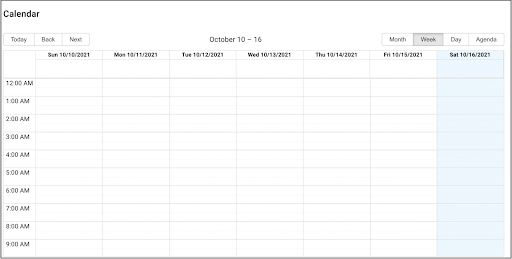 Files Finder
eyeZy impressed me with how well it retrieved the data and files on my kid's phone. A few minutes after installation, I was able to see all the pictures, notes, contacts, emails, and even reminders on my kid's phone. The dashboard is structured very well, and you can see all the media files on one panel. You can also see category-specific media by clicking on the side of the dashboard.


Installation
9.0
eyeZy's installation was straightforward. I appreciated how easy it was to install the app, set it up and get going. When I purchased my subscription, I logged in to the online dashboard, created my account, and instantly got a prompt to connect to my kid's devices.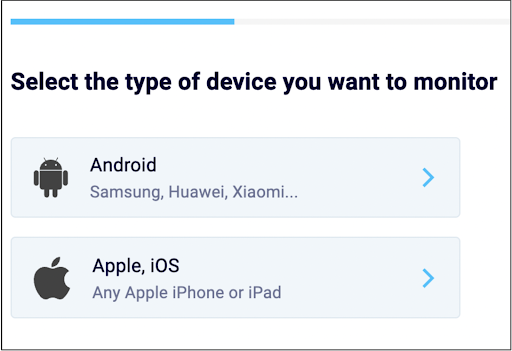 The app used my kid's iCloud account to sync up with their devices. After which, I downloaded the app on my kid's phone and set it to the 'kid' version. Even before downloading the app, I could access all my kid's device information on my dashboard. The data sync was instantaneous.
The installation for Android was very straightforward. After I chose Android and entered my payment information, I received a download link in my email. I opened it on my daughter's phone, followed the prompts, and was connected in just a few minutes.
Ease of Use
8.0
eyeZy has a modern dashboard that's easy to use and navigate. I didn't even need a software wizard guide to find my way through the dashboard. All information is available on one panel, and you can click on individual categories to see more detailed data.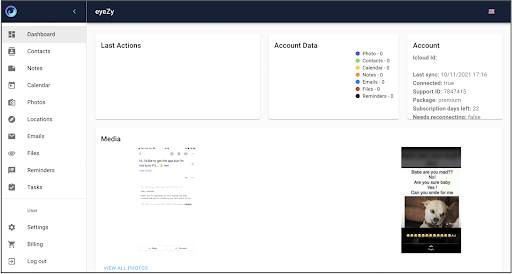 I do wish that there were some more intuitive ways to organize all the data eyeZy collects. There are hundreds of items within each category, and keeping up with it can feel like a full-time job.
The apps for iPhone and Android are always running in the background of the kids' phones. Once the installation was complete, I didn't have to take their phones and make updates, changes, or configure anything.
Support
7.0
If there's anything I'd improve in my whole experience with eyeZy, it's customer support. During my first interaction with eyeZy, I ran into a billing issue and reached out to the support team using the chat feature available on the website. But instead of a live chat, the site automatically created an email ticket for me. This was unexpected, given that eyeZy has a live chat option in its contact list.
However, that didn't deter me because I really wanted to try out eyeZy's software. Unfortunately, the team never got back to me about my issue. It was a frustrating wait, considering that I needed help urgently.
After successfully buying a subscription, I clicked on the chat button again, and interestingly this time, I was able to speak to a live agent on the website. This was a sign that eyeZy either doesn't prioritize inquiries from non-subscribed customers or provides different support methods at different times.
Pricing
8.0
eyeZy is an affordable app. It offers 1-month, 3-month, and 12-month subscription plans where the 12-month plan is the most discounted and the 1-month plan is the least discounted. Each of the plans includes access to all the premium features (assuming that the target phone is compatible with them). However, you need to install extra jail-breaking software to get full access to the premium features it provides.
The price is only for a single license. If you want to monitor multiple devices, you will need to purchase a subscription for each device.
eyeZy says it has a 14-day money-back guarantee. However, after looking at the refund policy, you can only get a refund if you experience technical issues in the first 14 days that can't be fixed by the customer support team.

This is why I recommend starting off with a one-month subscription, even though it's a little more expensive, instead of committing to 6 months or a year. You can use this special link to get a discount and reduce the subscription price.
FAQ
Is eyeZy safe?
eyeZy is safe to use but it requires you to jailbreak iPhone devices in order to access the advanced monitoring features. It also requires you to root Android devices in order to use the social spotlight feature.
Can I limit specific apps for my kids with eyeZy?
While there is no way to limit app use time, you can block apps completely. iPhone users will need to jailbreak the phone for access to this feature. This is so that eyeZy can bypass iOS restrictions and give you full control over the apps in your kid's phone.
Can I monitor my kid's social media activity using eyeZy?
eyeZy has a Social Spotlight section dedicated to monitoring the top social networks, emails, and text messages. However, to use this feature, you will need to jailbreak or root the phone. If you don't want to take this step, check out Bark which is the best parental control app for social media that I've reviewed.
What operating systems support eyeZy?
eyeZy supports both Android, and iOS. If you want an app that is supported on computers, I suggest trying Qustodio as it offers more device integrations.
EyeZy offers the following plans