Updated after "Leaked" Winamp app was published
After years of neglect, Winamp got a technical facelift in an attempt to regain the trust of its millions of users worldwide. Once the most popular media player, Winamp disappeared from view for years, only to reemerge thanks to a leaked copy of an updated version that was distributed online.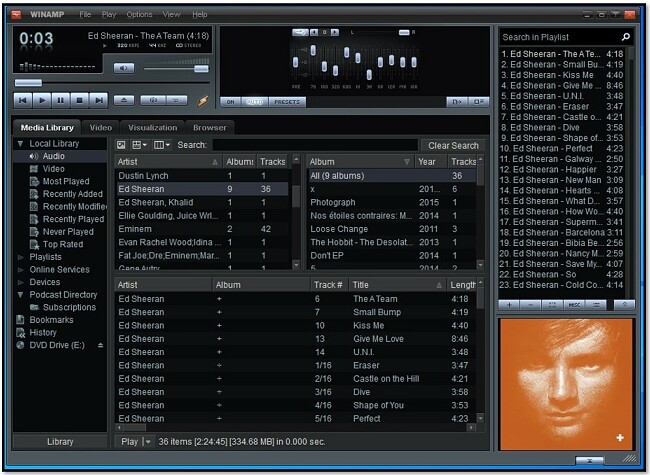 In this rebirth, Winamp is attempting to become a single app solution for all your media needs. It can play all types of audio and video files.
Winamp 5.8 has several skins, so if you want to use the classic design from the early 2000's you have that option as well.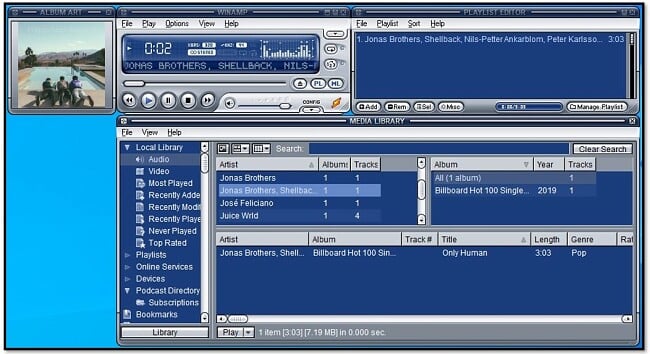 How to Download Winamp for Windows
Click on the DOWNLOAD button to visit the official Winamp Site.
Click on the DOWNLOAD button just under the Winamp llama.

After the file downloads to your computer, click to open and it and choose the RUN option.
This will open the installer. You can choose either the custom or standard installation. There is no bloatware or extra programs, so choosing the standard installation is a safe option. Click NEXT to proceed.

Here is where you can choose which skin, or design, you want as your default look. Make a choice and click NEXT.

Now you can choose the types of files you want to be associated with Winamp. When you're done, click FINISH.
After the settings are saved, Winamp will automatically launch.

How to Setup A Winamp Playlist
After installing Winamp you'll be able to set up playlists for both audio and video formats. The process is easy to follow.
When you first open the program, a pop-up window will open and ask you to ADD MEDIA TO LIBRARY.

This will open a folder tree. Find the folder where your music or movies are located and click ADD. Note: With this method, you will add the entire folder to your playlist.

You can also add individual files by simply dragging and dropping the file from the folder onto the Winamp player.
How to Uninstall Winamp from Windows
If you're not enjoying Winamp, or want to try some Winamp alternatives you can easily uninstall the program from your computer.
Winamp Overview
I'll be honest, I have no idea what is going on behind the scenes with Winamp. After years of being ignored, it was purchased by Radionomy, who updated the software – but only after it was already leaked. This updated version came with promises of more updates and renewal, but after the initial re-release it hasn't been updated since 2018.
It's definitely a functional media player with some nice features. There is a visualization option that opens a video screen with patterns, and colors that move to the beat of the song.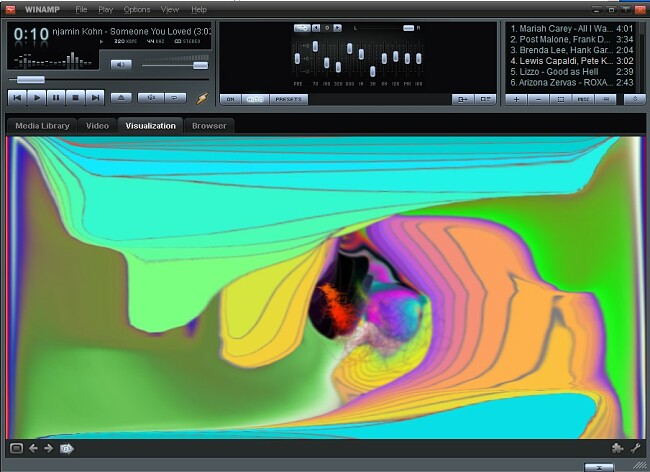 One of the stranger features in Winamp 5.8 is the browser. I'm not sure why they decided to try and add it to a media player. I played around with the browser and it was fairly buggy, with some scripts being unable to run, and opening secondary browsers when clicking on links.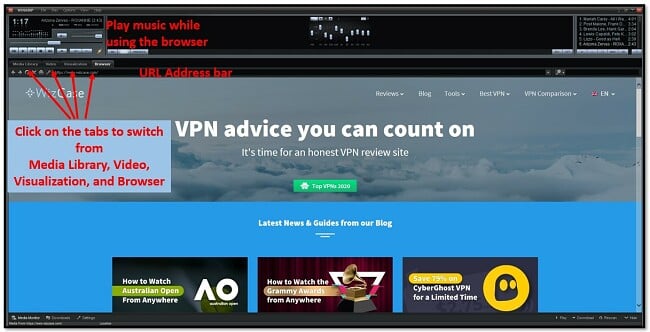 Alternatives to Winamp
There are plenty of better options when it comes to media players to use. Here are just a few of them.
Windows Media Player: It comes pre-installed on most Windows computers and it's a more than capable Winamp replacement. One of the best features is that you can create and save multiple playlists.
VLC Media Player: VLC is more than just a video player. It will play just about every audio and video format and you can set up playlists for both types of media.
FAQ
Is Winamp dead?
I'm not sure what the future holds for Winamp, but the latest 5.8 version was last updated in 2018. It isn't dead yet, but it's unclear whether we can expect any updates or improvements on this once great media player.
Is Winamp safe?
I tested Winamp in VirusTotal and the file came out clean. But you will want to make sure that you download the software from the Winamp website. I didn't test the browser for security, but since there have been no updates since 2018, I wouldn't trust it for secure browsing.
Does Winamp 5.8 work on Windows 10?
Even though it was released before Windows 10, the program has no trouble running with Windows 10.
Can Winamp 5.8 play FLAC files?
Yes, since the early days of Winamp, it can play FLAC files without any special plugins.
Can you listen to podcasts on Winamp 5.8?
If the podcast has an RSS feed, you can load it to the Winamp player and new podcasts will be available as they are released.
Does Winamp 5.8 allow multiple playlists?
Of course. You can create playlists for working out, relaxing, partying, and more. There is no limit to the number of playlists.
Visit Winamp Website