Twitch is a leading live streaming video service for PC gamers, meaning that you can use the service to broadcast yourself playing video games, view the streams of other players, and interact with them.
Another interesting part of Twitch is that it allows you to monetize your broadcasts as you stream. This means that you can make money while playing your favorite games, provided you can get a good following.
The Twitch app is free for anyone to download and you can follow the simple instructions below to get started.
How to Download and Install Twitch on Your Computer for Free
Click on the Download button on the sidebar to go directly to the official Twitch download page.
Under Desktop Apps, click on the "Download" button as shown below to get the desktop application.

Go to your download folder and double-click on the setup file to start installing the app.
Once the installation completes, click on the "Sign Up" button to create your account. Fill out the required registration details and click "Sign Up" at the bottom to proceed.

You can now start using Twitch for broadcasting your games or following your favorite channel.

How to uninstall Twitch from your Computer
If Twitch isn't the video game live streaming service for you, or you just want to stop using Twitch, below is an easy way to uninstall the application from your PC.
Type Add or Remove Programs in the Windows search bar and click the Enter key.

Scroll and locate Twitch on the list of installed programs, then click the "Uninstall" button.

Once the uninstallation wizard opens, confirm that you want to remove the software, and it will be deleted from your computer.
If you want to try out other video game live streams platforms, check out the free alternatives below.
How to disable or delete your Twitch account
Disabling your account will temporarily deactivate your profile and content but your user information will still be intact. Deleting your account permanently wipes your data and you cannot recover it. To disable or delete your Twitch account, follow the instructions below:
Open the application and click the account profile button.

Go to Settings and click on Account Settings.

You will be directed to the disable account page on your browser, where you will be required to provide your username and password. Scroll down to "Disabling Your Twitch Account" at the bottom of the page and click the link shown below. Submit your reason and click "Disable Account".

If you'd like to permanently deactivate your account, go to the Delete Account page. Follow the process as described in step 3 above and click "Delete Account".
Overview of Twitch
Twitch has grown with millions of users every month, and has become the top platform for online gaming and even esports content. In fact, besides gaming, millions of people gather live to chat, interact, and create their own entertainment.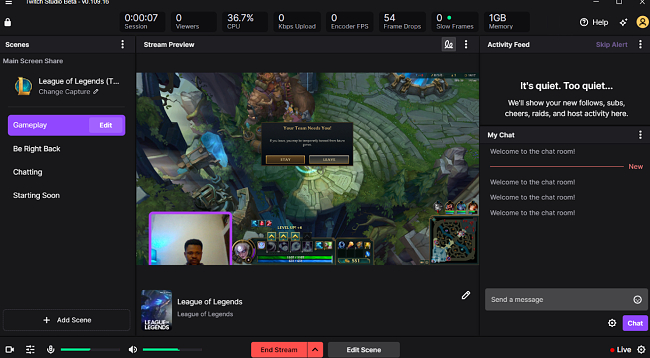 Twitch Studio also comes loaded with starter layouts and overlays, which help you effortlessly personalize the graphics of your stream. In addition to having express access to all the Twitch you love (VODs, clips, memes, live streams, etc.), the application is fast and even allows you to support the streamers you love with subscriptions and Bits. Plus, the Twitch Desktop App brings you more features you won't find on the web version.
Features of Twitch
Twitch offers tons of features to users and here are some of the most popular:
Compares to Social Network: Twitch comes loaded with all the needed features for great interaction, putting it almost in direct competition with social network sites like YouTube, Instagram, and Facebook. The chat feature, Live stream, and option to follow channels and broadcast via your own channel make Twitch a great place for anyone looking to enjoy great content.
Chat: As a Twitch user, you can follow and DM other users and each stream has its own unique chatroom. In the chat room, users can connect and interact freely. You can even use the Pulse feature (similar to Twitter or Facebook timeline) to post status updates. You can also like, share, and comment on other people's status updates.
Servers: Each community – belonging to a particular stream on Twitch – is assigned a server. Whether your stream goes offline or online, these Twitch communities can always interact 24/7 with text and voice rooms.
Dark Mode: Unlike previous versions, Twitch Studio now has a Light and Dark mode. The Dark mode is sleek and makes everything pop out so good, while being more friendly to your eyes. But if that doesn't work for you, you can always freely switch back to the Light mode.
Stream Categories: Another interesting feature of Twitch is the option to select a category before you stream. The essence of this is to make it easier for other users to find your stream on the Twitch platform. There are lots of categories to choose from, with each having a custom tag to further optimize your visibility. Some categories are Just League of Legends, Chatting, Fortnite, Minecraft, and Counter-Strike.
Connect with Friends: When you start using the Twitch desktop app or mobile app, the Friend Sync feature will help you find all your friends from across the creator-verse.
Voice and Video Calls: When it comes to personal interactions, the best you can do on the web version of Twitch is to message your friends privately with Whispers. However, on the desktop app, you can go a step further to get even more personal with voice and video calls.
Mods and Addons: The app comes with CurseForge, the popular game mod community, where you can get thousands of mods and addons for games like World of Warcraft, Skyrim, Minecraft, and many more.
Free Alternatives to Twitch
YouTube Gaming: YouTube Gaming is one of the best alternatives to Twitch. It is the official YouTube app that lets you broadcast your game videos live, and stream content by other users. You can also watch the most popular video game channels in the world right from the platform.
Facebook Gaming: With Facebook Gaming you can create and follow gaming content, with either Facebook website or app. Facebook Gaming is a great place to start if you're targeting gamers looking to grow and build a solid social media following online.
StreamYard: StreamYard is a live streaming platform that allows you to stream multiple platforms simultaneously. The application has a simple, user-friendly interface for both beginners and pros. Connect your camera and microphone, and make use of the many unique features of StreamYard to start streaming to your favorite platforms.
FAQs
Is Twitch free?
Yes, it is free, and you can watch any streams you want for free. You don't also need to log in or have an account. But with an account, Twitch streamers can offer monthly subscriptions to their followers. The proceeds are split 50/50 between Twitch and the streamer.
Is Twitch secure?
While Twitch has affirmed that user data, login credentials, and payment information are safe, incidents of hacks and exposure of content by malicious third parties have been recorded. And for kids, there's also the concern of exposure to unpredictable content, meaning that parents need to put controls in place.
Generally, you want to be careful how you put out your info in public places, especially on live stream platforms. Also make sure to download Twitch from the official site to avoid exposing your device to spyware and viruses.
How do I make money on Twitch?
You can become a Twitch Affiliate or Partner (you must have grown from the start to build plenty of followers), and start making money from selling games on your channel. You simply need to stream yourself playing a game that's available in the Twitch store.
Other ways of making money from Twitch include Twitch Bits, Ads, brand sponsorships, donations, subscriptions from followers, and merchandise.
Visit Twitch Website