The beauty of Todoist is its simplicity. Create your to-do list, add subtasks, create recurring tasks, and schedule things to do in the future.
Todoist will automatically sync your list to all your devices, so you won't have any excuse for not completing a task. It tracks your progress and the number of tasks that you complete daily or weekly, and award you with Karma points. While you can't actually do anything with the Karma you accumulate, it is a good motivational tool that can help push yourself to complete a set number of tasks.
How to Download Todoist
While Todoist has a web browser interface, I strongly recommend downloading the software to your Windows or Mac. You can open it quickly, it's easier to use, and let's be honest you'll use it more frequently than you would then the web-based version.
Click on the Download button located on your sidebar to quickly jump to the official Todoist download page.
Download the file that was built for your operating system.

Once the file finishes downloading, click on the installer file to begin the installation.
There is no bloatware or added software included in the download, so you can click Next several times and then Install.
Once the installation is complete, Todoist will start. If you already have an account, just log in, otherwise create a new account.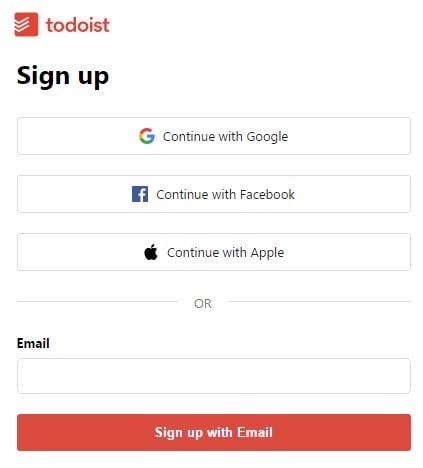 How to Uninstall Todoist
Open the Windows settings by typing Add or Remove Programs in the Windows search bar.

Scroll down until you see Todoist and click Uninstall.

You'll have to grant permission for the uninstaller to run and Todoist will be removed in under a minute.
Todoist Overview
After years of writing to-do lists on little scraps of paper, I decided it was time to find an app that would help me organize my life. After testing several other programs, I found the cloud-based Todoist and while it's not perfect, it did help me stay organized and motivated.
Todoist Features
While some free apps limit an account to a single device, Todoist has no such limitation and instantly syncs your list across all platforms.
Schedule: You can organize the coming week, month, or even year by adding the date that you want each task completed.
Recurring events: This is one of the better scheduling features I've seen on a free organizational app. When creating a task you can type in whether you want it to occur every day, every week, only on specific days, or a specific time frame, for example, Every Monday ending on January 23.
Integration: Todoist works with the leading organizational apps and tools, such as Google Calendar, WebEx, Slack, Clockify, and much more to help you stay on top of all your various tasks.
Tracking: Stay on top of how many tasks you complete each day and how many are overdue. This will help motivate you to complete your tasks on time. Set goals for yourself and see if you're able to reach them every day.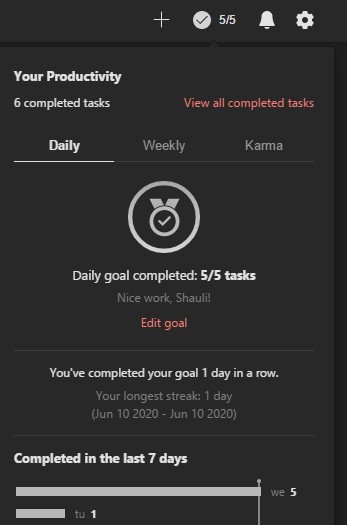 Set Priorities: Not all tasks have an equal level of importance. There are 4 color-coded priority levels that will help you get organized in an effective manner and you decide which tasks to do first.
Multiple Themes: Personalize Todoist to your liking with several different theme options.

What is Todoist Karma?
Todoist added a point system, known as Karma, that can be accumulated as you complete your tasks. You can get more points for completing higher priority tasks and meeting your daily and weekly goals. You can lose points when things aren't completed on time or your goals aren't met.
While there is nothing that you can do with your Karma points, I found that it did help motivate me on days I didn't feel like being productive. It can also be used as a motivating factor if you're going to use Todoist with your team at work or your family as you try and see who has the most Karma points at the end of the week or month.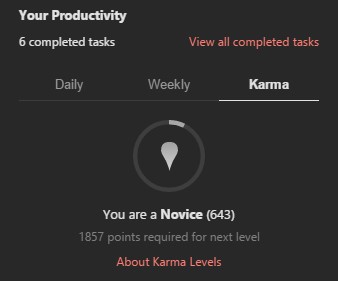 FAQ
🤑Is Todoist Free?
Creating and scheduling tasks, collecting Karma, and syncing across all devices is free with Todoist. However, there are some great features that you can only use if you purchase an annual subscription. This includes but isn't limited to:
Adding notes to a task
Setting reminders
Additional themes
Create personal labels
Activity log
😁Is Todoist secure?
All data and tasks on Todoist are saved to the cloud. It's secured with AES 256 encryption, and when the data is sent, it's also protected with TLS 1:1 encryption.
🤓Does Todoist sync with Google Calendar?
Yes! Google Calendar is one of the leading apps and programs that can seamlessly integrate with Todoist. Once you integrate your calendar with Todoist, any task that has a specific date or time will automatically be added to your Google Calendar.
Visit Todoist Website