Perhaps the most challenging solitaire game around, Spider Solitaire is a two-deck solitaire game that has frustrated players for years. The goal of the game is to build eight stacks of suited cards from A – K. It comes in three levels, with each one getting progressively more challenging. It's a great game to kill some time while in between classes, meetings, or when you just have some spare time.
How to Download Spider Solitaire for Free
Click on the Download button on the sidebar and a new tab will open to the official Spider Solitaire page in the Microsoft Store.
Click on the Get button and a pop-up window will ask if you want to open the Microsoft application. Click the Open Microsoft Store button to continue.

Once the Microsoft Store opens to the Spider Solitaire download page, you can "Get" the game, and it will be instantly installed on your computer.
How to Uninstall Spider Solitaire
If Spider Solitaire isn't the right game for you, there are plenty of other thinking games that you can download. Check out some popular free alternatives to Spider Solitaire below.
Type Add or Remove Programs in the Windows search bar.

Scroll through the list of installed programs until you find Spider Solitaire and click Uninstall.

Windows will completely remove Spider Solitaire from your computer.
Spider Solitaire Overview
The object of Spider Solitaire is simple, arrange all the cards in order and in the same suit, from King through Ace. After you complete a set of cards, it will be removed from the gameboard. To win, you'll have to remove all the cards. Sounds simple, right? In reality, it's a challenging card game that will have you thinking two or three moves ahead.
There are three Spider Solitaire games; the rules are the same for all three; the only difference is the level of difficulty.
Single Suit: All 104 cards are the same suit. This is the beginner level as it's much easier to create complete sets.
Two Suits: The difficulty level is slightly increased as a second suit is introduced.
Four Suits: The most challenging level, it uses two complete decks.
Setting Up Spider Solitaire
Spider Solitaire is a two-deck solitaire game, which means that you'll have to deal with two of each suit and a total of 104 cards. The playing board is divided into three sections:
Tableau: There are ten columns that are filled with cards. The first four columns have six cards each, and the remaining six columns each have five cards for a total of 54 cards.
Stock: The remaining 50 cards are in the Stock, and you can draw additional cards from here when needed.
Foundation: This is where the cards are moved to once an entire set is complete.

How to Play Spider Solitaire
You can move cards from one tableau to another, provided you are placing the card on another card that is one number above it, regardless of suit. Using the screenshot above as an example, you move the 6 of hearts on the 7 of diamonds. This will uncover the card under the 6. However, whenever possible, you should place the card on another card with a matching suit because the only way to move multiple cards is if they are the same suit. Going back to our example above, if you place the 6 of hearts on the 7 of diamonds, you wouldn't be able to move the 6 and 7 stack over to the 8 of diamonds. However, if you take the 6 of diamonds and place it on the 7 of diamonds, they can both be moved to 8 of diamonds.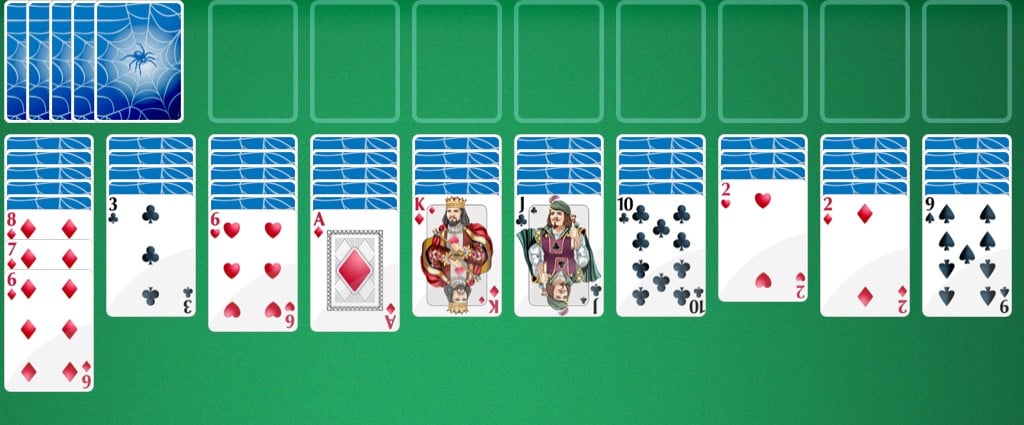 If you have stacks with multiple suits, only the bottom cards can be moved. Looking at the image below, the 6, 7, and 8 of diamonds could theoretically be moved together, since they are all a matching suit. Unfortunately, there is no 9 showing on the board, so the cards above it are all stuck, and the J of spades can't be moved to the Q of spades. There are still a few moves left to be made here, that can open uncover more cards and perhaps help organize the stacks.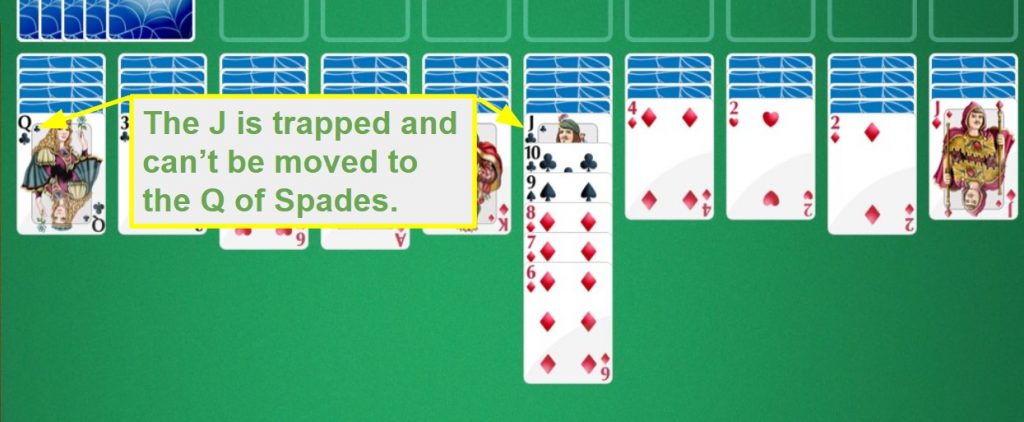 If you have an empty tableau, any card or run of suited cards can be moved on it. There is a helpful "Hint" button that can suggest a move if you're stuck. You can also undo any move if you're not happy with it. When you're all out of moves, click on the Stock and one new card will be dealt onto each tableau.
Winning the Game
Once you have built a complete set of suited cards, it will automatically be moved to the Foundation. While it will feel good to move the first set, to win the game, you'll need to complete all eight sets of cards to fill in the Foundation section.
Track your Score and Stats
If you like to challenge yourself, Spider Solitaire keeps all sorts of game statistics. It tracks how many games you've played, wins and losses, winning streaks, and how many moves it took for a win. You can collect trophies when you reach a certain number of wins for each level as well. There is also a timer that runs while you're playing so you can race your friends and see who can win in the shortest amount of time.
Customize your Game
Spider Solitaire gives you the control turn on and off the scoring, timing, and showing the number of moves. It also gives you control over the look of the gameboard. Choose the theme, card set, card back, and background of your choice.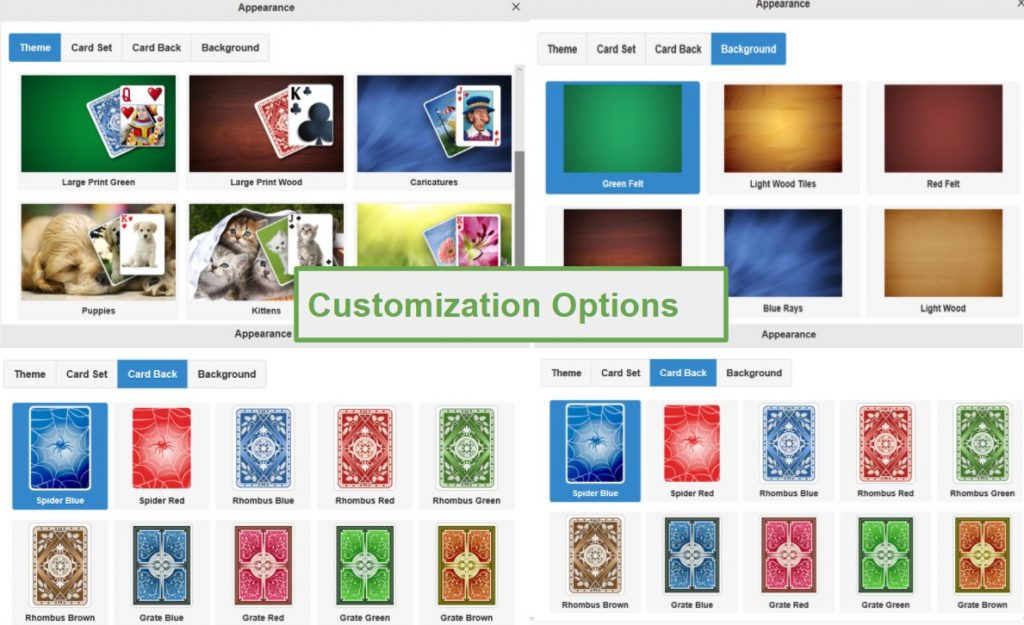 Free Alternatives to Spider Solitaire
If you're looking for more brain games, try out these fun alternatives.
Candy Crush Saga: It may seem like a mindless colorful game full of sweet, sweet candy, but to win, you will have to think about each move, look ahead two or three steps and then decide which candies should be removed from the board. The strategic aspect is one of the reasons it's one of the most popular games in the world.
Tetris: A classic thinking game, all it takes is one wrong move, and you can quickly lose control of the falling blocks in Tetris. It may start off slow, but as you progress through the different levels, the bricks start falling faster, and you'll have to make instant decisions about where each block should go.
FAQ
🤑Is Spider Solitaire free?
There are many different versions of Spider Solitaire online, and you might come across some that cost money. However, if you follow the steps in this article, you will download the 100% free version of Spider Solitaire.
😇Is Spider Solitaire safe?
While I can't speak for all versions of Spider Solitaire, I personally tested this file for viruses and malware, and it was completely clean. It's always recommended that you download the official version, that way you won't have to worry about someone adding bloatware, spyware, or viruses in the installer.
😐Why can't I play Spider Solitaire at work or school?
Some employers or schools block games with a firewall. Thankfully, with the right software, you can easily bypass the firewall and play whatever games you want. The best software to bypass a firewall is a VPN. If you're not sure what a VPN is, I recommended you read our Beginner's Guide to VPNs, otherwise check out the best VPNs for bypassing firewalls here.
Visit Spider Solitaire Website