Sending emails while working can seem too formal sometimes, especially when you need to start an ongoing communion or get instant feedback while working on a project. This is one feature that sets Slack apart from other business communication tools. Although it comes with different paid packages, the features you get for free are enough to run your small business without hitches.
You can use Slack for messaging, team meetings, video calls, file sharing, and it supports integration with other important work tools like Loom, DropBox, GitHub, and MailChimp. This means you can use your favorite tools without leaving Slack.
Another unique feature of Slack is that you can create multiple channels depending on the number of teams you have and add people to them. Because of its ease of use and affordability, Slack became a common work tool within a short time.
To get the free version of Slack, follow the download instructions below.
How to Download and Install Slack for PC for Free
Click on the download button on the sidebar to go directly to the Slack Download page.
Click on the Download button to proceed. This will start the download process.

Once downloaded, start the installation by double-clicking the setup file.
You need your work email to start using slack. You can connect your account by clicking the button below.

Next, the app will redirect you to your browser, where you will enter your work email to get started.

Head over to your email and get the verification code sent to you. Enter it in the box to verify your email.

Now you can create your first workspace or join your company's existing workspace.
How to Uninstall Slack
If Slack isn't the right communication tool for you, you can completely remove it from your computer in a few easy steps:
Type Add or Remove Programs in the Windows search bar and hit Enter.

Search for Slack on the list of installed programs and click uninstall.

Confirm that you want to delete the app and the uninstallation wizard will remove it completely from your PC.
If you're still looking for a work communication tool, check out the free alternatives below.
Slack Overview
Slack is a work communication tool that features plugins and integrations that make for seamless communication at work. With Slack, small and mid-sized businesses can maintain productive teams and sustain collaboration at work. Like Microsoft Teams and Skype, Slack has a unique way of allowing communications run simultaneously in different groups while also providing you with direct messaging.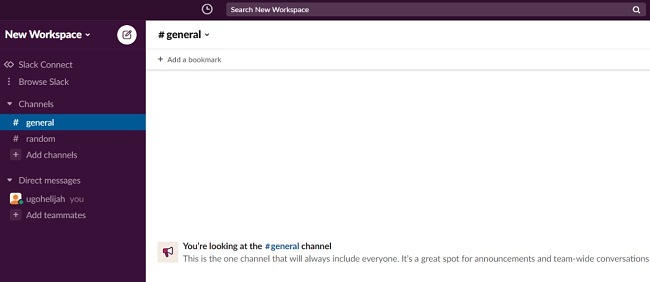 Conference voice and video calls can take up to 15 persons for the Pro and Business plan, but are limited to just one-on-one meetings in the free version. Similarly, you have unlimited access to your message history in the app, but this is capped at 10,000 of your team's most recent messages. You also get 10 free integrations with other important work tools like Trello and GitHub while using Slack for free.
Slack allows you to share an unlimited amount of files, and other work documents. But that communications via Slack are not end-to-end encrypted, leaving user data vulnerable to hackers.
Features of Slack
Personal profiles for each employee
Customize notification to your preferences
Share unlimited amount files, including documents, videos, and images
Integrations with other work tools like Google Docs, Trello, GitHub, and Loom
You can review previous messages
Search button to find team members, files, and channels
Free 5GB storage space for free the version
Workflow builder custom workflows
Work in channels with people outside your company
Two-factor authentication (2FA) for security
Send direct messages to people outside your company
Voice and video calls (screen sharing available with paid versions)
Free Alternatives to Slack
Google Chat: Google Chat is free for every person using a Google account. It is one of the best alternatives to Slack. You also have access to Google Meet with which you can make audio and video calls. All you need is your Google or Gmail account.
Chanty: Designed for small and medium-sized businesses, Chanty allows one-on-one communications on both public and private channels, you can use video and audio calls, and add up to 10 members for free. There is no limit on your searchable message history and it integrates a built-in task manager for seamless organization of your tasks.
Microsoft Teams: Once you subscribe to a Microsoft Office 365 plan, you'll be able to use Microsoft Teams. The Freemium version of the app allows you to add up to 100 video call participants. Also, you'll have access to other essential features like team chat, audio/video calls, and app integrations.
FAQs
Is Slack free?
Yes! Slack is free. Follow the instructions above, and I'll show you how to download the free version to your PC.
Is Slack secure?
As long as you download the software from the official Slack website, you won't have any issues with viruses, malware, or spyware. Stay away from "cracked Slack" download sites as these are often infected with different types of malware trackers.
What is a channel?
Slack uses a feature called channels to organize conversations into dedicated spaces. You can create channels for any project, topic, or team. This brings clarity to work and helps in facilitating discussions with the right team members. Channels can either be private (limited to specific team members) or public (open to all employees).
Read More