Free Chat and Video Software
Ideal for both business and personal use, Skype continues to make online communication easy. Make free, high-quality video and voice calls, chat, or send files (up to 300MB) to contacts all over the world.
How to Download Skype for Free on Windows
Click the DOWNLOAD button to go to the Skype site.
Click on the GET SKYPE FOR WINDOWS button.

Click on the downloaded file to begin the installation process. When the installer window opens, click INSTALL.

Once Skype is installed the client will open. Click on the LET'S GO button and either log in or create an account.

Skype Overview
If all you know about Skype is that its an instant messenger app that also has voice and video chat, then you've missed some of the best features. With Skype, you can avoid expensive international calling plans, either by making free calls to other Skype users or taking advantage of the incredibly inexpensive VoIP service. You can even set up voicemail and have it forward calls to your regular phone if you're away from the computer.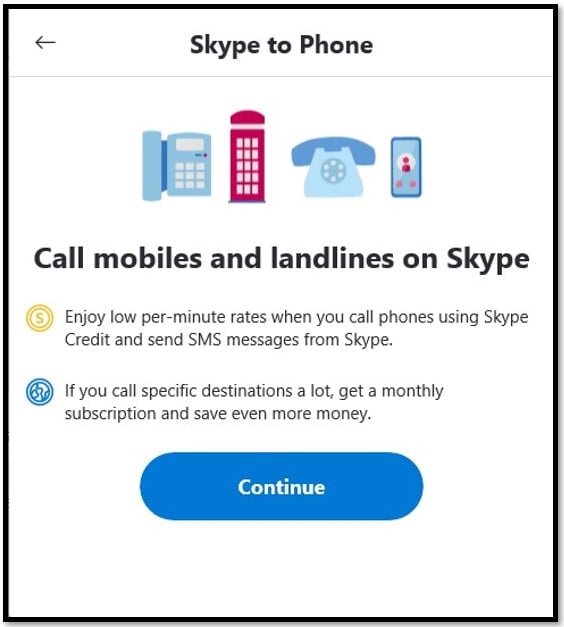 There is a Meet Now feature that is ideal for group video chats or business meetings. Invite participants with a link and share your screen, record the call, mute and unmute microphones and much more. A regular Meet Now has a limit of 25 participants, while a Skype for Business account allows up to 250 participants to join a room.
Some of the features you'll get with a free Skype account are:
Free calls to Skype users
Group Calls
Skype to mobile phone SMS
Video Messages and chat
Sharing your screen with groups
Dedicated Skype number
Skype to phone (both landline and mobile) calls
Integrates with Microsoft Office apps (Word, Excel, Outlook, PowerPoint)
How to Uninstall Skype
If Skype isn't for you, or you're just not using it, removing it from your Windows computer is a simple process, that will take less than 2 minutes.
Open the System Setting and go to Add or Remove Programs. You can easily find this by just typing Add or Remove into the Windows search bar.

Scroll down the list until you find Skype. Click on it and then select Uninstall. If you have multiple versions of Skype installed, you'll have to remove them both.

That's it, there is no need to restart your computer after the uninstallation is complete.
Alternatives to Skype
Skype isn't for everyone, so if you're still looking for a communication software check out these alternatives to Skype.
Google Hangouts: Hangouts functions like Skype, serving as an instant messenger app that enables video and voice chats. If you are based in the US or Canada, you can take advantage of free VoIP calling. However, users in other parts of the world will require a subscription to access the VoIP feature.
WhatsApp: This is a great option if you just need instant messaging, voice calls, and video chats on your mobile device. It recently introduced group calls, but it's limited to 3 people. There is no group video chat.
Zoom: For businesses looking for a free video-conferencing solution, Zoom is a great choice. It allows you to share your screen, record the meeting, transfer files, and have up to 100 participants. There is a 40-minute time limit for meetings that include three or more people.
FAQ
Is Skype really free?
All of the basic features of Skype are free. This includes chats, Skype to Skype calls, video chat, and file transfers. However, if you want to call phone or mobile numbers — you will need to put money into your account.
How much does it cost to call Skype to phone?
The price fluctuates based on where the call is made to, not from. You can either purchase a monthly subscription or add Skype Credit to make an international call.
Is Skype safe?
As long as you download an official copy of Skype, it is a safe download. Microsoft doesn't even include any bloatware or additional programs with the download. However, the downside of a free service is that there are plenty of users who create accounts with the intention of scamming and spamming unsuspecting users. Don't accept connection requests from people you don't know, and definitely don't accept file transfers or click on links sent from people you don't know or trust.
How can I find a contact who uses Skype?
You can search for people by name, username, or E-mail. Once you find someone you can send them a request and if they accept, you'll be able to contact them.
Where is Skype located on my computer?
If you don't specify a location during the installation process it will be stored on your C: drive. By default, Skype will put a shortcut icon on your desktop to make it easy access.
Read More