Sketch is a web-based User Interface (UI) design tool that helps designers create web designs, apps, and vector graphics like logos. Its innovative user-friendliness makes creating designs so much easier and faster.
Sketch offers powerful features like smart guides, shortcuts, templates, plug-ins, reusable smart components, numerous fonts, cloud storage, and real-time collaboration.
You can start using Sketch today using their free 30-day trial. That should be enough if you just need it for quick editing tasks. Follow the steps below and I'll show you how to download Sketch for your Mac for free.
How to Download and Install Sketch for Mac for Free
Click on the Download button on the sidebar to open Sketch's official homepage.
Create a free Sketch account by clicking on the "Get started for free" button. You don't need to provide any credit card details to get started.

Fill in the form and verify your new account by clicking on the activation link sent via email.
This will get you set up and ready to use their web-based app.
However, if you own a Mac, you can download the app by selecting the "Help with Sketch" tab on the left side of the dashboard.

Proceed to click on "download Mac app."
The app will automatically be downloaded as a Zip file.
Extract the application and install it on your computer.
Once you sign in, it will connect with your web account, and you are good to go.
Sketch Overview
I find Sketch to be a remarkable digital design tool, known for its impressive features and clean design approach. It provides a vast library of images and plugins, handy collaboration tools, intuitive drag and drop functionality, convenient template management, the ability to create prototypes, and seamless integration with various third-party applications.
Sketch has an uncluttered and minimalist dashboard that allows designers to work with minimal distractions despite its many features. Its dashboard layout is so straightforward and intuitive that anyone can use it. You don't need a lot of time to get your way around Sketch; it took me approximately 45 minutes to learn everything.

What makes Sketch stand out is its endless plugins and integrations. This makes it easy to start and finish a project in the app instead of depending on multiple apps to get the job done. This expedites the design process and makes it easier.
Features
Sketch has some of the useful features to offer within the design category.
Collaboration tools: Since it is a web-based app, you can share your design with anyone via the web irrespective of their computer's operating software. They can view the designs on the web, download files and even offer feedback on any ongoing projects.
Additionally, if you are a Mac user, the app has a coediting feature that allows multiple designers to work on the same file in real-time. This eliminates any versioning conflicts that may occur if the designers work independently.
Intuitive design: Sketch has intuitive keyboard shortcuts that you can use to make the design process more user-friendly and less stressful. Additionally, it has a reusable components feature that classifies and categorizes specific design components as reusable. This eliminates repetitive actions and makes the creation process faster.
Besides that, Sketch also has smart guides that help you align objects with complete precision. Coupled with its drag and drop feature, it makes it so easy to use for beginners and seasoned design professionals.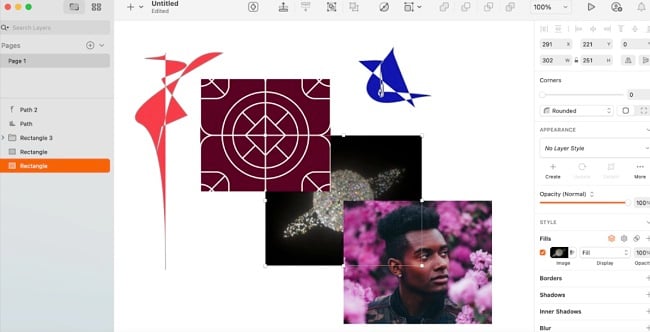 Reliable Sync: When working with Sketch, you never have to worry about losing your work. You can save your designs on the cloud and access them using your Mac or any other device on the web. Additionally, you can push automatic updates to collaborators to keep everyone in sync as you make any design changes.
Prototype creation: You can quickly test your designs within Sketch by creating prototypes on a browser link or your Mac app. It provides live comps that preview what happens when you interact with the design via clicks, swipes, or tapping. Thereby allowing you to see how your design would look and feel in a live environment.
Pixel perfection: This feature helps to position pixels perfectly within a design automatically. If a design has a layer containing pixel fractions, You can round to the nearest pixel edge within the app and automatically fix your design.
Import and Export: Sketch offers the freedom to import as many assets as you need to create your project. You can import:
PNG, JPG, TIFF, and WebP bitmap images
SVG and EPS files
SVG code
PDF documents
AI and PSD files
On the other end, you can export your assets as PDF documents, Bitmap, and Vector images.
How to Uninstall Sketch
If Sketch isn't the right design software for you, you can easily uninstall it from your Mac by following these steps:
Open the applications folder on the left panel of the finder.
Locate Sketch and move it to the bin.

Once you've moved it to the bin, select Empty Bin.
If you want to try another UI design software, check out the free alternatives below.
Free Alternatives to Sketch
AdobeXD: Created by Adobe, it is one of the best UI designers that creatives can easily access and use on both Mac and Windows platforms. It comes packed with features that help designers create, prototype, and collaborate on projects. It also gives you access to the creative cloud that allows you to manage all your projects from a central cloud hub.
Figma: This is a web-based UI design application with all the tools you need for editing, design, and wireframing. Since it's web-based, it allows for seamless collaboration with different users, which means you can easily hand off work and get feedback on designs without a lot of hassle.
FAQs
Can you use Sketch on Windows and Linux?
Unfortunately, Sketch is exclusively available on macOS. However, their platform is browser-based, and users can access Sketch tools online. They can access designs, inspect elements, and download assets straight from their browser account.
Download Sketch now!