Accidentally deleting a program on your computer can be frustrating and, in some cases, costly. That's where Recuva can help. It's a free app that scans your Windows computer and can recover and restore deleted files, such as documents, pictures, emails, and music.
While there is a premium package, you can download Recuva for free – just follow the simple steps below.
How to Download Recuva for Free
Click on the Download button on the sidebar, and you will be taken directly to the Recuva download page.
Click on the Download button under the Free version, and the file will instantly download to your computer.
Double click on the file to open the installation wizard and click Install.
How to Uninstall Recuva
If you already found the file you're looking for and want to delete Recuva, it can be removed in 3 simple steps. If you weren't able to recover the deleted file, check out the list of Recuva alternatives below for other file recovery programs.
Type Add or Remove Programs to your Windows search bar.

Scroll through the list of programs until you find Recuva and click uninstall.

Give Windows permission to remove the program, and it will quickly be deleted.
Recuva Overview
Recuva is a free app developed by the same team that created CCleaner, an excellent computer cleaning tool. It runs a deep scan of your computer to track, locate and restore any deleted file, whether it was deleted from the Recycle Bin or was deleted from a virus or bug. Recuva can even find and repair data that is corrupted, damaged, or lost on a reformatted drive. It can also find files that were deleted from an external hard drive, such as an MP3 player or USB stick. Not only can Recuva find your deleted files, but it also has an advanced deletion tool that will completely remove a file, so it can never be recovered.
Extremely Easy to Use – No Technical Knowledge Needed
Every time you open Recuva, a recovery wizard will open as well. This can be extremely helpful if you know exactly what type of files you're looking for, or on what drive the file was originally located.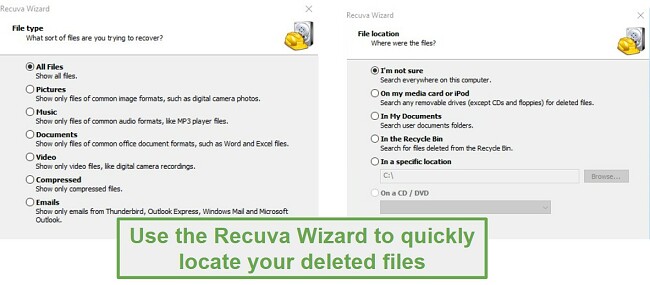 If you're not sure, or you just wish to run a search and see what files are found, you can tell it to search for "All Files" and choose the "I'm Not Sure" option when it comes to the drive location. Recuva will then run a quick scan of all the files and folders on your computer. When I tested Recuva, this scan took about 20 seconds, checked over 75,000 files, and returned well over 100 results.
The results are color-coded, with a dot next to each file indicating the likelihood it can be recovered.
Green: High probability
Orange: Likely
Red: Doubtful it could be recovered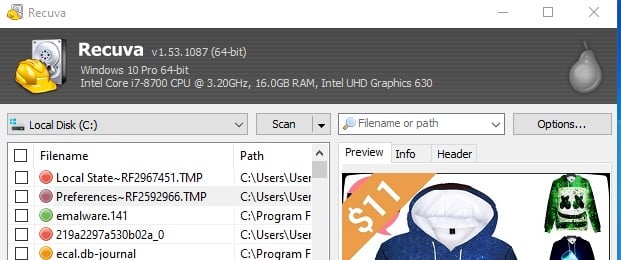 The results include detailed data about each file:
Name of the File
Original location
Last date it was modified
File size
Preview of the file (when available)
What, if anything, has happened to the file after it was deleted. This is more common in situations where a file is reformatted or written over.
Once you find the file you are looking for, you can click on the checkbox to the left of the filename if you want to recover multiple files at once, or just highlight the file and right-click your mouse. Then select "Recover Highlighted" or "Recover Checked." Then, choose a drive or folder where you want the file to be restored to, it's recommended that you don't place it back in the original folder. While Recuva is very good at removing files, there's always a chance it won't be able to, even if it has a green circle. With that being said, it can't harm your computer or the file if you try and are unsuccessful.
If Recuva doesn't find the file you're searching for with this basic scan, it does have the option for a deep scan. This will dig even deeper into your computer's system and examine hidden folders. The deep scan will take much longer than the basic scan, and can take up to an hour or more.
Free Alternatives to Recuva
Stellar: An easy-to-use program, Stellar has two scanning options; basic and deep scan. Before the scan begins, you can instruct the app "What to Recover" and "Where to Recover Drive." These help the scanner work more efficiently as it searches for deleted files.
Recoverit: Using an Advanced Deep Scan algorithm that searches the computer's data structure, Recoverit can undelete all types of files including, documents, music, videos, email, and more. It can also restore files from external drives and those that were deleted or corrupted by a virus.
FAQ
?Is Recuva free?
Recuva is a freemium software, which means you can get the basic package 100% free or upgrade to the premium package and get some extra features. The free version of Recuva will conduct complete scans and undelete most files.
? Is Recuva safe?
As long as you follow the steps above and download the official version of Recuva. I tested the file in VirusTotal, and it wasn't flagged by any of the 65 antivirus programs for viruses or malware. The software is regularly updated, so if there is a vulnerability discovered, it is quickly fixed.
?What benefits does the Recuva pro version have?
There are some files that are more difficult to undelete, and the free version of Recuva just can't undelete it. For these types of files, you will benefit from using the Recuva Pro version. Other benefits include virtual hard drive support, automatic updates, and advanced levels of customer support. You can also bundle Recuva together with other Piriform products like CCleaner, for a more complete suite of computer maintenance tools.
?Is there a mobile version of Recuva?
Unfortunately, there is no Recuva for Android or iPhone. The software will only work with Windows PC.
?Can Recuva recover deleted Word documents?
Yes. Word documents are just one of the many different types of files that Recuva can recover, even after it's been deleted from your Recycle Bin. It can also repair a Word document that has been corrupted or destroyed by a virus. If you know the name of the document, you can type it in the search bar or just select Documents in the Recovery Wizard for quicker results.
?Why should I download Recuva?
It happens to everyone, a file is deleted, whether by accident or you just didn't think you'd need it anymore. However, rarely is it really deleted from your computer, it's just located in a hidden or inaccessible folder. Recuva is free software that will scan these folders and recover the files for you. Recuva can also scan external hard drives, USB sticks, MP3 players, and CD/DVDs and recover deleted files there as well.
Visit Recuva Website