Since the release of Cross Worlds, the sixth and latest iteration of the Ni No Kuni game series, many fans of the game have expressed delight at its rich content and enjoyable combat. Like the previous games in the series, Ni No Kuni: Cross Worlds retains intriguing effects and offers you a gameplay experience that is similar to Genshin Impact.
Ni no Kuni: Cross Worlds features a cast of interesting characters, a compelling storyline and a great number of freebies.
If you're ready to dive into what Ni No Kuni: Cross Worlds has to offer, follow the instructions below, and I'll show you how to download and install the game on your PC for free.
How to Download and Install Ni No Kuni: Cross Worlds on Your PC for Free
Click on the download button on the sidebar to go directly to the Ni No Kuni: Cross Worlds download page.
Click on "Download" to proceed. The Netmarble Launcher for installing the game will be downloaded to your PC.

Accept the License Agreement and click Install to continue.
After installing the Netmarble Launcher, you'll see a menu for Ni no Kuni: Cross Worlds game, along with a "Begin Install" button. Confirm the installation by clicking this button.

Once the installation completes, click "Play". This will take you into the game environment.
Agree to the Terms of Use and select a server. Here, you'll need to create an account if you're new to Ni No Kuni: Cross Worlds. If not, sign in with your existing account.

After signing up on your PC, you'll have to open the game on your mobile device to link your account. This is a temporary arrangement until the full version of the game is available for PC players.
In your phone, open the game and tap on the link icon, then select any of the sign-in options and use the details you created in step 7 to sign in. This will automatically link the game on your phone.

After linking the game on your phone, return to your PC and click anywhere on the game screen. Now you'll be prompted to download the game.

Wait for the download to complete and enjoy Ni No Kuni: Cross Worlds!
How to uninstall Ni No Kuni: Cross Worlds from your PC
If you are no longer interested in playing Ni No Kuni: Cross Worlds, here's an easy process to uninstall the game from your PC.
Scroll and locate Netmarble Launcher on the list of installed applications, then click the "Uninstall" button.

Once the uninstallation wizard opens, confirm that you want to uninstall Netmarble Launcher and the software will be removed from your computer. Once the game launcher is uninstalled, Ni No Kuni: Cross Worlds will also be removed from your PC.
Alternatively, you can use the Netmarble Launcher uninstaller file to remove the launcher from your computer.
Go to Program Files>Netmarble>Netmarble Launcher.
If you would like to play other similar games, check out the free alternatives below.
Overview of Ni No Kuni: Cross Worlds
Each game in the Ni No Kuni series has a unique story, and so is Cross Worlds. For PC users, this game is still in its Beta version, so it's still under development. In the game, you will be welcomed as a beta tester for an upcoming fictional virtual reality game called "Soul Divers", which transports you to the world of Ni no Kuni. The animation and character design are beautiful, the lighting is good also, and the soundtrack is top-notch.

The original story of Ni No Kuni follows the interesting story of a young boy who loses his mother but learns of a fantasy world that is in need of help. He goes into this fantasy world to help save it and he would also be learning more about himself along the way. As the game progresses through the subsequent episodes, we see a thematic thread about people in the real world trying to figure out how they belong in a fantasy world.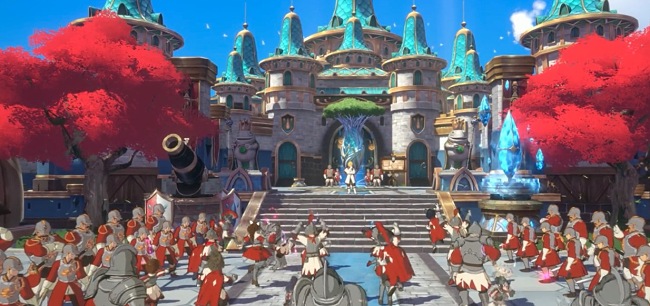 In Cross Worlds, you'll see a similar narrative but it has a different approach. Due to technological advancement, people can now be placed in body pods to participate in virtual reality experiences. The game gives you the feel of an experiment that resembles the story of Assassin's Creed. Although Ni No Kuni: Cross Worlds gives you the usual experience of both the real and the fantastical world, its distinct story makes it a standalone title. After the AI introduces you to the world of Ni No Kuni: Cross Worlds, you can do anything from saving the world to becoming the leader of their nation.
Features of Ni No Kuni: Cross Worlds
Rich Storyline
One of the distinct features of this title of NBi No Kuni is the rich storyline. You will be taken into a brand new world in the virtual reality game, Soul Divers, where a mysterious girl, named Rania, entrusts you with a mission. Rebuild your kingdom and push back the enemies to save both the real and fantastic worlds.
Five Unique Characters
You can choose the Engineer, Destroyer, Swordsman, Witch, or Rogue.
The Engineer is a genius, who is always hungry for knowledge, as well as a weapons expert who can wield different firearms such as rifles. The Engineer is a female character who also happens to be a reliable ally on the battlefield.
The Destroyer is a giant warrior and florist who loves to put smiles on people's faces. In this new world, he uses his great strength to defeat evil. He is also a trustworthy ally in battle.
The Noble Swordsman is a handsome young office worker who's always wearing a never-say-die attitude. He plays the Soul Divers game in order to find a new challenge to break up the monotony of his day-to-day life. But in the virtual world, this young man is a noble swordsman who is fearless on the battle frontlines.
The Witch is a simple, beautiful magician. She is capable of wrecking terrible damage to the enemy in the new world. She is a magical perfectionist that uses a flying spear and nimble feet.
The Rogue is a mischievous, young boy known for his playfulness and incredible speed on his feet. In the Ni No Kuni world, he is a ranged damage dealer capable of confusing his enemies with volleys of arrows and quick movement.
Familiars
You can go into the mysterious world of familiars. They are more like minions that you can recruit to do your bidding. Collect familiars and send them on adventures to get rewards. The familiars are loyal friends that share your adventure in Ni no Kuni: Cross Worlds.
Four Great Locations
Ni no Kuni: Cross Worlds takes you on expansive and thrilling journeys through great locations.
The Eastern Heartland is a mysterious land littered with ancient ruins and mysterious and peaceful landscapes.
The Burning Desert is another interesting location to explore in Ni no Kuni: Cross Worlds virtual world. This is a vast desert in the southern Summerlands. There are also many sights and sceneries to explore here.
The Witch's Wood is a mystical forest shrouded in an endless night. But you can create beautiful memories with friends under the moonlight. It's also likely you spot one or two witches roaming in the night.
Winter Wonderland is a beautiful land of snow and ice, where you'll find the giant yetis. This is also a place to meet new friends.
Kingdoms
This is your own kingdom in the new world. It is the place you make memories with friends and share delicious feasts. You can add a personal touch of decoration to your kingdom using the built-in customization effect. Change the shape of the trees, the color of roofs, etc.
But evil is coming and you have to rise up with your friends and allies to defend and save the kingdom from invaders and monsters. Engage in Relic Wars, a tough fight between your kingdom and others to claim powerful relics.
Lead your kingdom to emerge victorious from the battles and become the Capital Kingdom. As the ruler of the Capital Kingdom, you can set policies that affect every other player on the server.
Official Territe Token (NKT) & Asterite Token (NKA)
Ni no Kuni: Cross Worlds has now introduced a gameplay-based blockchain system that gives you an opportunity to play to earn. You can earn Territe by playing a Familiar Adventure or by hunting monsters in Chaos Fields.
To get the Asterite, you have to participate in competitive content in-game. You can later exchange Asterite for Asterite Tokens (NKA). I, as a player, have the option to convert in-game currency into Territe and Asterite tokens, which can be used outside the game in various ways, such as trading them in stores, exchanges, or engaging in buying and selling transactions with other players.
Free Alternatives to Ni No Kuni: Cross Worlds
Diablo Immortal: Diablo Immortal is another massively multiplayer online role-playing game, released almost simultaneously with Ni No Kuni: Cross Worlds. You can choose any of the characters that appeal to you, but your major role is to wage war against dark forces seeking to overrun the World of Sanctuary.
Tower of Fantasy: Tower of Fantasy is another role-playing game where you will participate in a story-rich narrative and engage in fiery combat across the casting world of aliens. The game combines exploration-based missions and object quests. You can team up with other players to enjoy the adventure together on the fictional planet of Aida.
Overlord II: Overlord II is an action role-playing video game that follows the 2007 video game called, Overlord. The chaotic minions and the new Dark Master are on a mission to smash a human realm. Overlord II follows a very rich storyline that's full of highly-engaging combat.
FAQs
Is Ni No Kuni: Cross Worlds free?
Ni No Kuni: Cross Worlds is a free-to-play massively multiplayer online role-playing game (MMORPG). Follow the guide I provided above to download and install Ni No Kuni: Cross Worlds on your PC for free.
Keep in mind that the PC version of the game is in a Beta trial, and is still under development. Watch out for the final release.
Is Ni No Kuni: Cross Worlds secure?
Can kids play Ni No Kuni: Cross Worlds?
Yes. The game is actually rated T for Teens. The content is appropriate for younger children, too. The violence level is very low. If your kids have played the Minecraft Survival mode, it's pretty much the same level of violence.
Download Ni No Kuni: Cross Worlds now!