A free account on MEGA will get you a whopping 25 GB of cloud storage. While MEGA offers such massive cloud storage space for free, it is only free for the first 30 days of using the service. It is an excellent solution for anyone looking for short-term cloud storage that offers lots of storage space.
MEGA uses top-level security and privacy protection to keep user data encrypted and secure and it gives you lots of suitable file sharing features for sharing sensitive data, plus several layers of protection to secure any link you share. However, if you want to use features like setting expiration dates and passwords for the links, you have to upgrade to a paid subscription.
Follow the instructions below and I'll show you how to get started with MEGA for free.
How to Download and Install MEGA on Your PC for Free
Click on the download button on the sidebar to go directly to the official MEGA download page.
Select a suitable download option for your operating system.

Follow the on-screen installation instructions and wait for the installation to complete. Click finish to end.

Create a free account on the next page to start using the MEGA app on your PC. Follow the instructions to confirm your account.

Select how you want to sync your data between your computer and the cloud storage. MEGA will run a sync for a few minutes. Once done, it is ready for use.

How to Uninstall MEGA from Your PC
If you're no longer interested in using MEGA cloud storage platform, here's an easy way to delete your account and uninstall the MEGA sync app from your computer:
To delete your account, launch the application and go to Settings>Account>My Account.

You will be redirected to your account on the website. Scroll down and click "Delete account". Confirm by clicking "Yes".

To remove the application from your computer:
Type Add or Remove Programs in the Windows search bar and click the Enter key.

Scroll and locate MEGAsync on the list of installed programs, then click the Uninstall button.

Once the uninstallation wizard opens, confirm that you want to remove the software, and it will be uninstalled from your computer.
You can try any of the free alternatives below if you prefer to use a different cloud storage solution.
Overview of MEGA
MEGA is a secure cloud storage service that offers you a seamless way to save your most important work and files on a secure cloud platform that uses excellent end-to-end encryption.
MEGA uses zero-knowledge encryption for stored data and encrypted link sharing to keep your files protected from unauthorized third-party access. There's also a two-factor authentication that gives you an extra layer of security on your cloud storage. Finally, MEGA gives you a unique password recovery key that you can use to recover your password in the event that you lose it.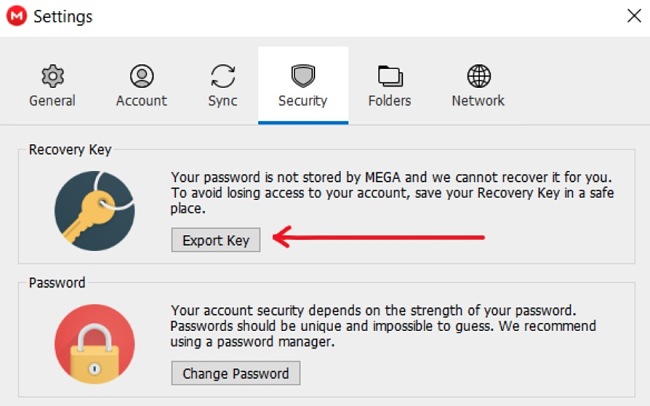 MEGA also offers you some other useful features to make the experience of every user richer. It usually saves and retains previous versions of any file you have uploaded. It can be used for collaboration; there's a chat feature that's available both on the MEGA website and the desktop app, which allows you to communicate with others working on the same file or documents.
However, MEGA may not be the best tool for cloud collaboration, as it does not feature any integration with third-party applications. Another downside is that some users may find the paid plans rather on the high side. If this doesn't work for you, you can check out the free alternatives below.
Features of MEGA
Massive free storage space.
Speedy file upload and download.
Instant communication and video conferencing.
Features an in-app collaboration with a chat option for instant communication.
Multiple file-sharing options – share links with different permission levels.
All files and data are saved with end-to-end, zero-knowledge level encryption, along with two-factor authentication.
Automatically creates a sync folder on your drive, which is where all your files are synced.
Free Alternatives to MEGA
Microsoft OneDrive: I want to tell you about OneDrive, a no-cost cloud-based file-hosting service designed to offer a secure way for storing and sharing files and documents. With OneDrive, you can effortlessly synchronize your files across various devices, making it a convenient solution for managing your data. If you use the web version of Microsoft Office, you can also use OneDrive as a secure storage space for your documents.
Dropbox: Dropbox is the most popular file hosting application. Dropbox offers you 2 GB of free cloud storage space and other features, such as file synchronization, personal cloud, and client software. You can order your files into your Dropbox on one computer, and you can access them on any of your other computers or devices where you have Dropbox installed.
Google Drive: Google Drive is completely free, and with your Google account, you can store up to 15 GB worth of files in the Cloud. Google Drive is a safe and secure cloud storage platform where you can save documents, photos, and videos. You can share using people with different permission levels.
FAQs
Is MEGA fast?
Uploading to and downloading files from MEGA is relatively fast. When compared to other popular options, MEGA still stands out. For instance, it takes roughly 8 minutes and 40seconds to upload a 1 GB file to MEGA and about 7 minutes 30 seconds to download the same file from MEGA with a good internet connection.
Download MEGA now!