The Kindle App is a freeware that lets you access and enjoy your favorite Kindle titles as though you were using a Kindle device. Initially, Amazon Kindle subscribers could only use the Kindle device to buy, download, and read books on Kindle. But that has since changed, as you can also access your Kindle account from both mobile devices and computers.
Currently, the desktop version of the application is available for PC and Mac users and is free. It works just as fine as a Kindle device. There's a lot you can do with the app, ranging from accessing many free ebooks and reading online to downloading books, changing the font size, highlighting and adding review notes, and using the listening feature.
Follow the guide below, and I'll show you how to download the Kindle desktop app on your computer for free.
How to Download and Install Kindle on Your PC for Free
Note: You will need your kindle user account to be able to use Kindle on your computer.
Click on the Download button on the sidebar to go directly to the official Kindle app download page.
On the download page, select the "PC & Mac" option by clicking on it. The download will begin immediately.

Go to your download folder and double-click the Kindle Installer for PC file to start the installation process.

Sign in to your Kindle account or click on the "Create your Amazon account" button to create a new account for free.

You can start shopping and downloading your favorite books!
How to Uninstall Kindle from Your Computer
If you're no longer interested in using the Kindle desktop application on your computer, you can easily remove it by following these simple steps:
Type Add or Remove Programs in the Windows search bar and click the Enter key.

Scroll and locate Kindle on the list of installed programs, then click the Uninstall button.

Once the uninstallation wizard opens, confirm that you want to remove the app, and it will be deleted from your computer.
If you want to try out similar applications, check out the free alternatives below.
Overview of Kindle App
Kindle is designed with special features to make it easier for book lovers to find and read any book they want to read. The application is free, but you have to part with some money to purchase most of the books you want. You can also use the Kindle app to access your Kindle Unlimited membership and download some free titles. Other perks include info on the latest bestsellers and new releases.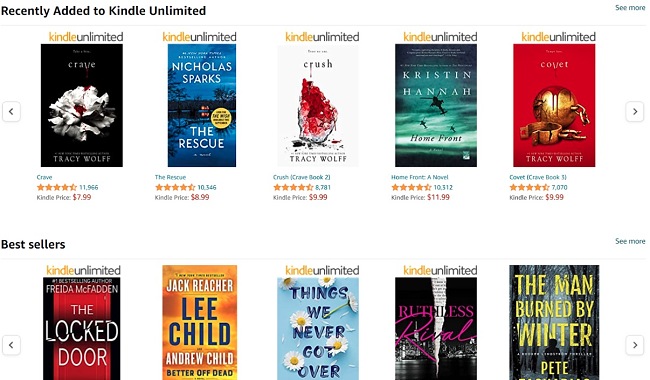 Kindle comes with some features that enhance your reading experience. You can look up words, people, and places while you read; you can adjust the font size; track your reading progress; add review notes and highlight specific sections; and when you can't read, you can listen instead. Another fantastic feature included in Kindle is its ability to sync across devices so that you simply continue from where you stopped on a particular book if you switched devices.
Features of Kindle
Dictionary & X-Ray: Instantly breeze through words you don't know with X-Ray, Wikipedia, Lookup, Instant Translations, Dictionary, and search within your book.
Font Adjustment: Given the uniqueness of each reader, Kindle provides the option to personalize your reading experience. You can tailor your preferences for margins, font size, style, color, text alignment, background shade, and other aspects according to your liking.
Track Your Reading Progress: While you read, you will see a progress tracker at the bottom of each page indicating how far along you are in the book or how many chapters you still have to go.
Record Your Thoughts With Notes & Highlights: Save and capture important moments in your books; use the highlight feature to add bookmarks and notes about places you'd like to revisit or share with others.
Hop, Skim, and Jump: Quickly go through the pages, jump to a particular section of the book, or get a bird's-eye view of your book using Page Flip.
Audiobook Integration from Audible: If you're too tired to read or just want to be told the story, you can switch to listening to the Audible audiobook right on the app. Alternatively, you can read while Audible narrates the book to you at the same time. You can also use the inbuilt "Alexa" feature to read your book to you.
Word Wise: This is an interesting feature available to children and anyone reading a book with too many unfamiliar words on Kindle. Once you enable Word Wise, the meaning and synonyms of the word will be displayed above it.
Free Alternatives to Kindle
Calibre: Calibre is a free, cross-platform, and open-source ebook library management software developed by a community of users for users. Calibre lets you organize your existing e-books into virtual libraries, and it supports displaying, editing, creating, and converting ebooks from one format to another, as well as syncing books with a variety of e-readers. You can edit in EPUB and AZW3 formats.
Project Gutenberg: Project Gutenberg is a free online library of over 60,000 eBooks. You can choose from free EPUB and Kindle books, read them online or download them. Project Gutenberg offers you lots of the greatest literature in the world, with a focus on older works for which U.S. copyright has expired.
FBReader: FBReader is a popular cross-platform ebook reader for Linux, Windows, Android, and other platforms. The main supported formats in FBReader are EPUB, FictionBook, HTML, plucker, PalmDoc, zTxt, TCR, CHM, RTF, OEB, and plain-text. The app is fast and highly customizable, and it supports cloud synchronization.
FAQ
Can I get free books from Kindle?
While Kindle doesn't offer users free books, there are Kindle plans that you can subscribe to and get unlimited access to thousands of Kindle books. Prime Reading, for instance, offers you unlimited access to a rotating catalog of ebooks and audiobooks, one free pre-release ebook every month from editors' picks, including top books and articles from magazines and comics.
With a Kindle Unlimited subscription, you are free to explore over 2 million books, thousands of audiobooks, and free magazine subscriptions across different devices.
Download Kindle now!