Hootsuite is the premier social media management tool for small and big brands who want to build a powerful social presence and connect meaningfully with their audiences. It is a highly used tool among social media managers and marketers. And that's no surprise given its excellent content scheduling, planning, analytics, social listening, and team collaboration features.
Hootsuite supports all major social media platforms, including Twitter, Facebook, Instagram, Youtube, Pinterest, and Linkedin.
Follow the steps below and I'll show you how you can download Hootsuite and manage up to 10 social profiles with access to all features free for 30 days.
How to Download and Install Hootsuite for PC for Free
Since Hootsuite is a web-based application, you don't need to download it on your PC, and you can use it online. Here are the steps you need to take to get a Hootsuite account:
Click on the Download button on the sidebar to visit the Hootsuite Free Trial page.
Click on the "Start your free 30-day Trial" button.
Fill the form to create your account. Your card won't be billed until your free trial period is over.
Once your account details are verified, fill out the four survey questions, and you are good to go.
Hootsuite Overview
Hootsuite seems daunting for a first-time user because of its numerous features. However, it is very user-friendly and easy to learn. It offers short in-app guides explaining how to use its different features and has a video guide that will get you oriented with the program in less than 15 minutes. It becomes like second nature as soon as you get the hang of it.
Hootsuite excels as a scheduling tool because of how user-friendly it is and the unique features it offers its users. For instance, it has the most app integrations compared to other scheduling apps.
Features
Content publishing & scheduling
You can create posts within the Hootsuite dashboard using the composer tab. It allows you to add text, links, hashtags, and images. Additionally, it shows you a mockup of how your post will look depending on the platform you want to post.
Hootsuite gives several posting options:
Schedule your post for later
Post immediately
Save your post as a draft
Duplicate your post on other accounts
Post and reuse it later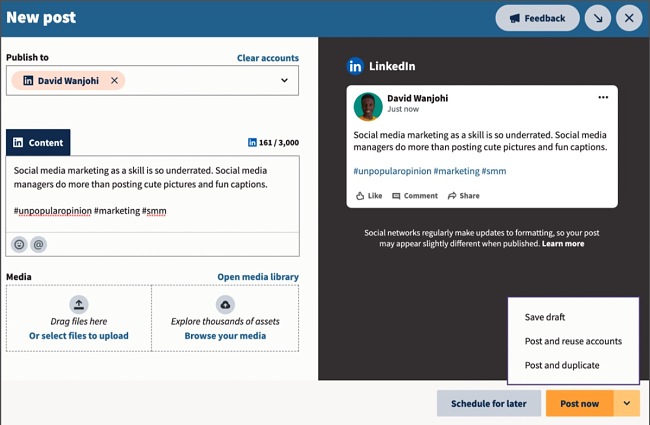 If that's not enough, Hootsuite also has a new beta feature that allows you to batch compose messages.
Content planning
Hootsuite has a publisher feature where you can see all your content in a calendar. It's super helpful because you can see how a week, a month, or a quarter looks like in advance. You can also see past, scheduled, draft, approved, and even rejected posts. This is super helpful if you operate as a team.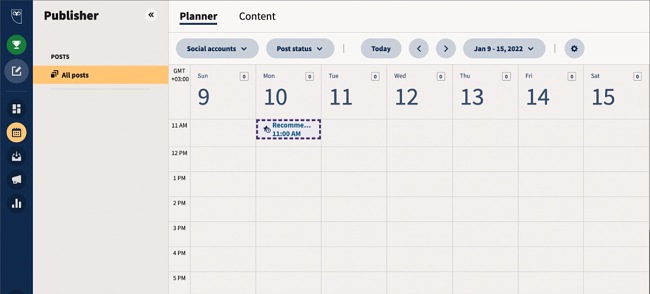 Social listening
You can select industry keywords, hashtags, and trends to monitor in your streams dashboard. The dashboard displays updates from your chosen topics and allows you to stay on top of the social conversations happening in real-time.

Audience engagement
With Hootsuite, you can reply to messages and comments from all your social media accounts within the inbox tab. This is super convenient because you can keep track of conversations with your audience. Additionally, you can assign messages and comments to other team members if you have a team account.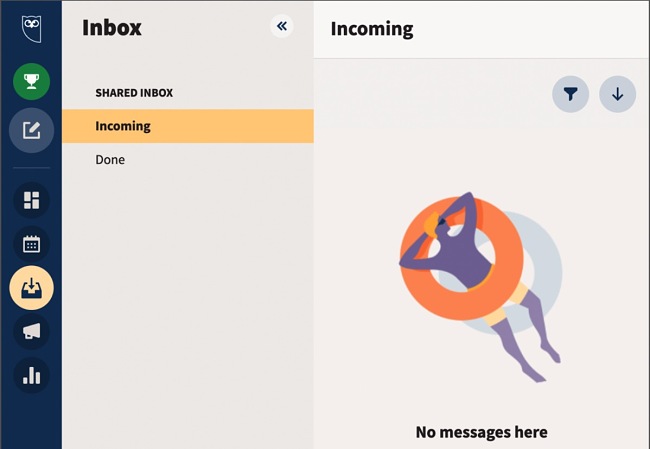 Analytics and reporting
Hootsuite offers brief overview analytics plus detailed insights on brand awareness, audience growth, post engagement rate, inbound engagement, and link clicks. However, if you want more detailed reports like best publishing time and post performance, you have to upgrade your plan.

Team collaboration
When possessing a team account, you hold the capability to designate roles and permissions to your team associates and distribute posts and messages to them. This feature brings a significant shift as it consolidates team responsibilities within a singular dashboard, allowing everyone to monitor ongoing activities collectively.
App integrations
You can connect Hootsuite with third-party apps like Adobe Creative Cloud, Airtable, Canva, Hubspot, among others, to improve your workflow processes and productivity. Some integrations are free, while others are premium and require payment.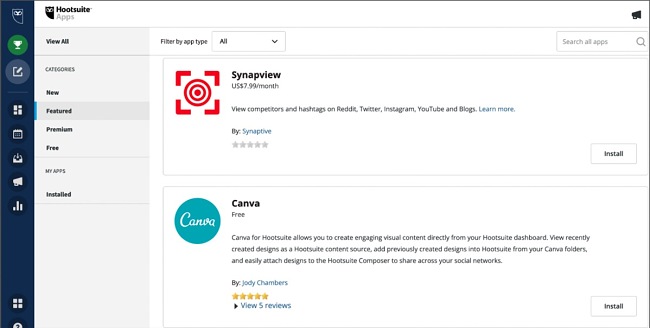 How to Uninstall Hootsuite
As highlighted above, Hootsuite is web-based, so there isn't an actual uninstallation process. In case you are unsatisfied with the application, you can deactivate your account by:
Click on the profile icon on the bottom right of your dashboard.
Select "Manage my Plan," which will redirect you to your billing details.
Once on that page, scroll down, and you'll see several options you can use to terminate your account.

You can "cancel an upcoming paid subscription" if you plan to keep your account on Hootsuite, or you can "delete account" to disable your Hootsuite account permanently.
If you are still looking for a great social media tool, check out the free alternatives below.
Free Alternatives to Hootsuite
Buffer: One of the most affordable social media scheduling tools for people who want a great tool that won't break the bank. It offers features like publishing, analytics, and engagement. It offers a free plan with basic features.
Sprout Social: Best known for the customization options it offers to users. For instance, you can customize your account plan according to your preferences and get customized pricing plans. It offers specialized analytics for each channel to help you keep up with social trends.
FAQs
Is Hootsuite secure?
As long as you
get the software from the official Hootsuite site
, you won't have any issues with viruses, malware, or spyware. The software is web-based so you won't run into any security issues since you don't have to download and run it on your computer.
Does Hootsuite offer 3rd party app integrations?
Download Hootsuite now!