Since it was published in 2002, the Grand Theft Auto: Vice City has made the fictional character Tommy Verceti a renowned, yet admirable, criminal in the eyes of gamers across the world.
Like many other versions of GTA games. Grand Theft Auto: Vice City is an action-adventure game that is played from a third-person perspective. During the game, the player lives through the story by controlling Tommy, the now respected criminal.
Although Rockstar Games charge gamers to download their games, you can get a free version of the Grand Theft Auto: Vice City by using an Android emulator on your PC to enjoy the new 40+ cars, locations, and tools added to the doggedity of this exciting game.
How to download and install Grand Theft Auto: Vice City for free
At the right hand corner of this article, you will find the Download button. Simply click on it and you will be redirected to the GTA: Vice City download page.
On that page, click the Fast Download button and your download will begin immediately.
Because the PC version is paid and this is a hack for the free version, you will need to use an Android emulator to install and play this game after download. There are several Android emulators available, including NoxPlayer, QEMU, ePSXe, and a host of others. For this guide, we will be using Bluestacks as our Android emulator. Go ahead to download and install Bluestacks. After that, continue to step 4 below.
Go to your Downloads folder and run the downloaded GTA: Vice City file. The Android emulator will automatically suggest to run the installation.
When the installation is completed, you will find a GTA: Vice City shortcut/icon on your desktop.
Click the icon to run the game. The Android emulator will run the game by default.
How to Uninstall Grand Theft Auto: Vice City
If it turns out that GTA: Vice City wasn't as appealing as you expected, you can check out other free alternatives that provide a really cool gaming experience.
If you find one that appeals to you and still want to uninstall GTA: Vice City from your PC, follow these steps below.
Because GTA: Vice City wasn't installed as a traditional Windows or Mac software, you will be unable to uninstall it through the control panel (for Windows) or in the Applications folder (for Mac). Instead, run your Android emulator and you will find the GTA icon on the homepage.
Hover your mouse above the icon and right click to show a short options menu.
Select uninstall and confirm that you really want to uninstall GTA: Vice City from your PC.
The game will be out of your PC in a moment.
Grand Theft Auto: Vice City: Overview
GTA: Vice City ultimate version is a nudge from earlier versions of the Grand Theft Auto. This version presents heightened gamer's experience, 40 more cars, scenes, and weapons. Although it appears to be a bit more challenging than previous versions of the game, it provides easy hacks for difficult stages, better road map, and more intriguing actions.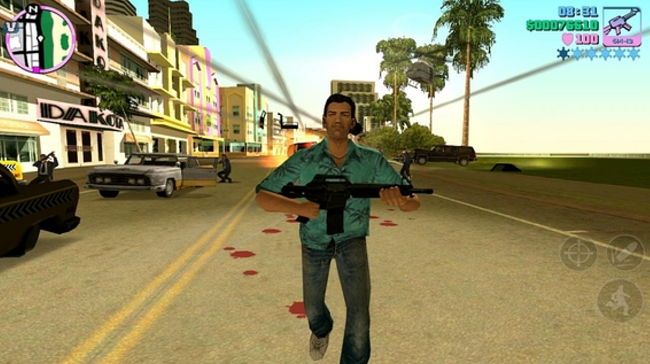 Compatibility with the MoGa Wireless Game Controller and various USB gamepads enhances its user-friendliness. This allows you to easily enjoy your preferred game using the joystick or controller that suits you best.
Also, the controls are not set in stones. You can modify them and choose custom controls that fit your persona.
Furthermore, you can choose to game in whichever language suits you best, including English, French, Italian, German, Spanish, Korean, Russian, and Japanese.
Free alternatives to Grand Theft Auto: Vice City
1. Max Payne 3: Rockstar Studios took over Remedy Entertainment's creation after they published Max Payne 1 and 2. In the third version of the third person shooter game, Rockstar Studios incorporated custom control features, compatibility with several USB gamepads, and adjustable visual graphics settings.
Being incorporated as one of Rockstar's games, players can join the Rockstar Social Club, an online community of gamers, to share cheats, measure stats, and do so much more. Max Payne 3 Mod is available with Android simulation and you can download it for free.
2. Fortnite: I consider this game as Battle Royale's finest and most successful invention of all time. It's an online game, 100% free, and offers an insanely competitive experience for gamers. In Fortnite, about 100 gamers fight to the finish and the last man standing wins.
Over time, however, the Fortnite community has grown aggressively and gamers around the world can connect with themselves, form teams to fight against other teams, and have the times of their lives.
FAQs
Is Grand Theft Auto: Vice City free?
Not entirely. Rockstar Studios usually sell the game to players that wish to download the game. However, if you follow
the steps described here
, you will be able to download and play the GTA: Vice City on your PC for free.
How can I uninstall the GTA: Vice City from my PC?
Simple! The GTA: Vice City software isn't installed directly on your computer. Rather it is installed as an Android application through the Android emulator. Attempting to uninstall it like other traditional software on your PC may prove abortive. Simply
follow these steps here
to uninstall GTA: Vice City from your PC.
Can I download GTA: Vice City directly on my Android phone instead?
Of course, you can. Since the game is paid for on the Play Store, you can follow steps 1 and 2 in
this above section
. Then transfer the downloaded file from your PC to your Android phone by using
ShareIt
, Xender, email, or any medium. On your Android phone, click the file and run the installation process like other apps.
Read More